Best Canned & Wet Dog Food for Senior Dogs: Top 5 in 2023
Not a substitute for professional veterinary help.
Your dog is your best friend, and you want to do everything you can to care for them. That is doubly true when your dog reaches the senior stage of their life. Whether you've been with your dog for their entire life or adopted them when they were already seniors, they love you unconditionally, and you want what's best for them.
One of the most crucial (and oft-overlooked) things that will shape your dog's quality of life is the food you provide for them. Far too often, dog owners simply grab the most accessible dog food, or the first one they see on the shelf. But, the fact is, many of these basic dog food brands contain additives and other ingredients that are harmful to dogs of any age. And senior dogs have even more specific dietary needs that these cheap brands fail to meet.
For just a few dollars more, you can provide your dog with the nutrition they need. Another challenge with feeding older dogs is that once they reach a certain age, many dogs lose their appetite. A great way to help address this issue is to feed your dog canned food, which is more aromatic and flavorful.
However, even once you decide to invest in high-quality canned dog food for your senior dog, it can be challenging to figure out which one is the right choice. There is an intimidating number of options branding themselves as "healthy" dog food alternatives; how do you sort through all that and figure out which one is the right fit for your best friend?
No need to worry, we've done the work for you. Simply follow along with our handy guide, and you'll know everything you need to know.
Best Wet Dog Food for Senior Dogs
Now that you know what to look for let's break down the best canned dog food for senior dogs. Here are our top five options:
OUR PICK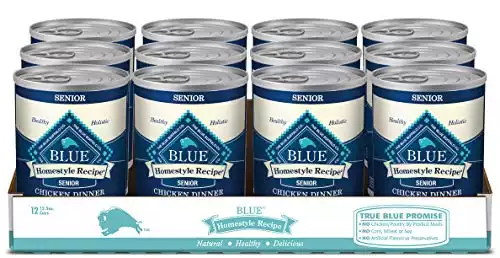 Blue Buffalo Homestyle Recipe Senior Chicken Dinner with Garden Vegetables Canned Dog Food is packed with real, whole ingredients. The primary ingredients are chicken, chicken broth, and chicken liver. The recipe is designed to be as delicious as possible while packing in a lean protein to maintain muscle mass.
The rest of the main ingredients are all whole foods as well. Carbohydrates come from brown rice, oatmeal, and sweet potatoes, and the recipe has fresh, garden-grown veggies including carrots and peas. The formula is gluten-free as well. It also has glucosamine and chondroitin for joint support and a variety of vitamins and minerals.
Blue Buffalo is rated 4.7 out of 5 stars by Chewy users, and 97% say they would recommend it to others.
Pros

High-quality whole ingredients
Joint support, immune support, coat health
High-quality fiber
Cons

Runny texture can be messy to eat
Slightly incomplete vitamin profile
High-quality fiber
RUNNER-UP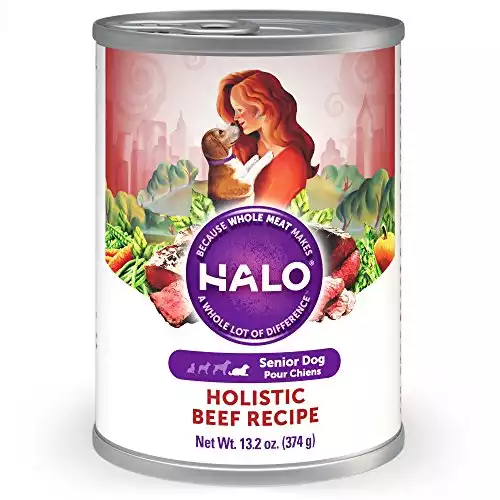 Halo Senior Dog Wet Food
Give your best friend what he naturally craves with Halo Holistic Senior Canned Dog Food. Feeding your furry friend a holistic diet makes a whole lot of difference thanks to this delicious food made with real, whole-meat protein and never any meat-meals or by-products.
CLICK HERE FOR LOWEST PRICE
We start with a very balanced senior dog food in Halo Senior Dog Wet Food. Every quality dog food, no matter the age, should always start with a whole protein as the first ingredient. Halo Holistic definitely meets that standard, with whole chicken, chicken broth, and chicken liver as the top three ingredients. There is no rendered meat meal anywhere on the ingredient list.
The carbohydrates include oat bran, and there are real, garden-grown vegetables like peas and carrots for a healthy source of carbohydrates. The formula consists of glucosamine and chondroitin for joint support, which is very important for older dogs, especially larger breeds.
Halo Holistic also contains salmon oil, which provides omega-3 fatty acids, which helps promote a healthy coat and fight dandruff. It's also packed with vitamin and mineral supplements to improve general health.
No dog food is perfect, and Halo Holistic is no exception. The carbohydrates are a bit higher on the glycemic index than some competitors, and it is a bit lower in fiber than some others on this list. But overall, this is an excellent, well-rounded senior canned dog food, and it is well-reviewed by users. It is rated an average of 4.3 out of 5 stars on Chewy, and 94% of users would recommend it to others.
Pros

Diverse sources of lean protein

Joint support and coat support

Vitamin supplements for immune health
Cons

Lower in fiber

Simple carbs
Vitamin supplements for immune health
ALSO GREAT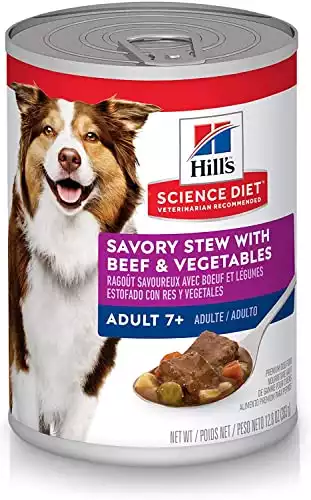 Hill's Science Diet Senior Savory Stew is another excellent option. The first ingredients are beef and pork liver, excellent sources of whole protein. Chicken is one of the most common hereditary allergens for dogs, so if your dog has issues with chicken-based food, this is an excellent alternative.
The carbohydrates are derived from brown rice, wheat flour, and dried beet pulp. These are largely lower-glycemic complex carbohydrates. It also comes with several whole veggies for fiber, including carrots, peas, and spinach. The whole food is covered in tasty gravy and is sure to whet your dog's appetite.
Flaxseed provides omega fatty acids to promote coat health, and there is a wealth of vitamins and minerals included in the recipe, curated to boost brain and immune health.
Unfortunately, there is no glucosamine and chondroitin for joint health, and omega fatty acids only come from flaxseed and not fish oil. But this is an excellent, popular option overall. Hill's Science Diet is rated 4.7 out of 5 stars on average, and 97% of users would recommend it to others.
Pros

Alternate source of lean protein

High in fiber

Complex carbohydrates
Cons

No joint support

Minimal omega fatty acids
Complex carbohydrates
ALSO GREAT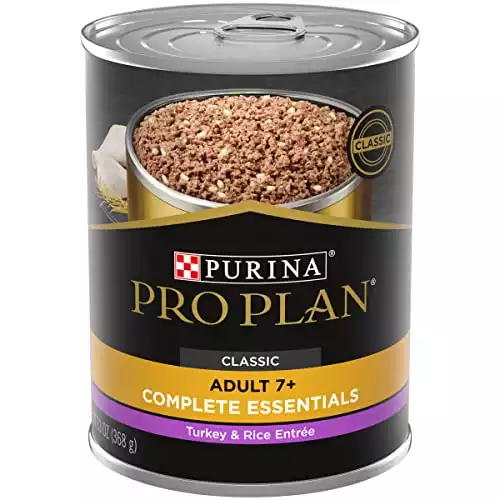 One of the more affordable high-quality senior canned dog foods is Purina Pro Plan for Senior Dogs. The first ingredient is pure beef, followed by poultry. The recipe is made up of hearty whole bites of beef drenched in a tasty gravy, designed to be as appealing as possible for your dog.
The carbohydrates come from wheat gluten, rice, and cornstarch. The recipe is designed for easy digestion, which can be a major plus for aging pups. Biotin and omega-6 fatty acids combine to promote maximum coat health, and the recipe features a wide array of vitamin and mineral supplements.
Unfortunately, this recipe features the cheapest, high-glycemic carbs on the list. That is a trade-off for the lower price. It also doesn't have any ingredients for joint support. But if you're looking for a lower-cost option that still has many quality features. The average rating on Chewy is 4.6 out of 5 stars, and 94% of users would recommend the product to others.
Pros

More budget-friendly

Delicious flavor

Immune support and coat health
Cons

No joint support

High-glycemic simple carbs
Immune support and coat health
ALSO GREAT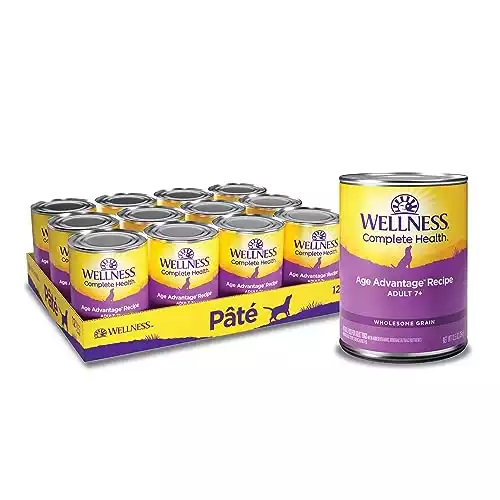 Wellness Complete Health Senior Formula is an excellent higher-end option for senior dogs, focused on all-around fitness. The recipe is made with a tasty variety of proteins, including whole chicken, whitefish, and chicken liver.
The recipe is loaded with low-glycemic healthy carbs like ground barley and sweet potatoes, along with flaxseed and canola oil to provide omega fatty acids. The only vegetable is carrots, but the recipe does have a large amount of glucosamine and chondroitin for joint health—a must for aging dogs particularly of large breeds.
The recipe also has prebiotics and probiotics to promote digestive health, calcium, and phosphorus for dental health, and an array of vitamins to promote a healthy immune system.
Unfortunately, the recipe doesn't have much in the way of real fruits or veggies to provide healthy fiber, and it's a bit more expensive than some alternatives. But it has a rating of 4.4 stars out of 5 and 92% of Chewy users would recommend it to others.
Pros

Diverse sources of lean protein

Diverse sources of complex carbohydrates

Joint support, immune support, coat health
Cons

Slightly pricier than some alternatives

Minimal fiber for digestion
Joint support, immune support, coat health
Just like humans, dogs' health and nutritional needs dramatically change as they age. And just like humans, there are no hard and fast guidelines for what every dog of every age may need. We'll give you specific dog food recommendations shortly, but first, there are several key factors you'll need to consider to find the best food for your best friend.
At What Age is My Dog Considered Senior or Geriatric?
The way a dog ages varies from individual to individual, and from breed to breed, but there are a few rules of thumb based on their size. Smaller breeds can live to be 15 to 20 years old and are considered senior at around eight or nine. Larger dogs will live to be 12 to 15 and are considered senior around six or seven.
Of course, much of it is also based on your dog's weight, activity level, genetics, and more. Rather than switching at a certain age, pay attention to changes in your dog's weight or behavior, and consult with your veterinarian if it may be time to switch to senior dog food.
Why is Canned Food Beneficial to Senior Dogs?
Canned food doesn't necessarily have any nutritional benefits over traditional dry food. With a few exceptions, canned food typically contains comparable ingredients to the same-style dry food alternatives supplied by that brand. So why is canned food beneficial to senior dogs?
Put simply: canned food is better for senior dogs because it's delicious. Many older dogs begin to lose weight because their senses of smell and taste begin to fade, and their appetites wane along with them. Most dry food isn't particularly flavorful; canned food, in contrast, is much more appealing to most dogs.
If your dog isn't eating, they aren't getting the necessary nutrients to sustain their energy and stay in good health. If your senior dog has begun losing weight, canned food can be a great solution.
What are the Nutritional Needs of a Senior Dog?
Just like humans, dogs' metabolism slows as they age, meaning their dietary needs will change.
When they first reach their senior years, obesity can be a concern as their metabolism and activity level slow, meaning they may need a type of dog food with fewer calories overall than when they were younger.
However, as your dog continues to age, the opposite is often true. Elderly dogs can begin to lose weight and muscle mass due to loss of appetite and the natural effects of aging. Loss of muscle fiber can put a significant strain on the immune system and affect your dog's ability to respond to stress.
That means it's vital that your senior dog gets a diet that's high in protein. A study showed that 13-year-old Beagles need 50% more protein than two-year-old counterparts. However, you should check with your veterinarian to see if your dog is showing any signs of kidney disease; if so, a high protein diet could do more harm than good.
Further, while many people associate fat content with weight gain, that isn't necessarily the case. Healthy, unsaturated fats can help older dogs sustain energy. That is definitely something to look for if your dog has shown limited energy recently.
Another thing to look for is the fiber content. Senior dogs dealing with weight control issues will want high fiber content. Fiber can be useful for dogs that aren't dealing with weight issues as well, as it can help regulate blood sugar and prevent constipation.
One more element to check for is the presence of vitamins, minerals, and supplements. Older dogs can suffer from hypertension or high blood pressure, but they can be prone to dehydration as they age. That means rather than eliminating sodium from their diet, you should simply look to reduce it.
Another nice bonus to look for in senior dog foods is the amino acids glucosamine and chondroitin. These naturally occurring supplements help support joint and cartilage health. That can be of particular importance, as one of the most significant health issues facing older dogs is joint deterioration and hip dysplasia. These supplements can help your dog remain active and mobile later in life.
Still Trying To Decide On The Best Canned Food For Senior Dogs?
Your senior dog loves you unconditionally and relies on you to care for them. The best way to provide them the nutrition that they deserve is to invest in high-quality canned dog food. Depending on your budget and the specific nutritional needs of your best friend, you can't go wrong with any of the options on the list above.
However, we believe Blue Buffalo Homestyle Recipe Senior Chicken Dinner with Garden Vegetables Canned Dog Food is the best option overall. While it is a slightly runnier texture than some other competitors, it meets just about every nutritional need of most senior dogs. It's high-protein, low-calories, packed with real ingredients. Further, it offers immune support, joint support, omega fatty acids, and loads of fiber.