Best Collars for French Bulldogs: Top 5 Picks for 2023
Not a substitute for professional veterinary help.
Your French bulldog no doubt enjoys going on walks just like any other dog, especially since it's a breed known for being quite active. French bulldogs are also very curious and love to explore the world around them.
This is why it's up to you, as a caretaker, to choose a collar that'll accommodate your pup's needs. Mainly, the collar should allow them to comfortably breathe and walk around.
To help you make the right decision about this, we've gathered below the important features to keep in mind when choosing a collar for your dog. We're also going to highlight our five best collars for French bulldogs.
5 Best Collars for French Bulldogs
OUR PICK

A dog owner can never go wrong choosing a collar with a simple and functional design.
That's why this Keep Safe model from Petsafe is a great option for owners who value easiness over fashion.
That said, this collar is made of nylon and features a metal belt.
As a safety measure, the strap is break-away, meaning it unlocks in case an object is caught in the collar.
It also unfastens if the collar becomes too tight around your dog's neck. This helps prevent any strangulation incidents.
PROS

Perfect choice for energetic bulldogs

Convenient break-away, safety strap
Simple design that's easy to take on and off
CONS

The break-away feature may not always work
Convenient break-away, safety strap
Simple design that's easy to take on and off
RUNNER-UP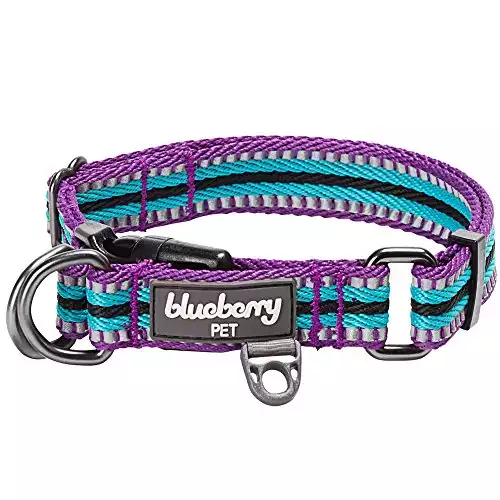 Nothing beats a homemade collar.
This Blueberry Pet collar is handcrafted from sturdy polyester and comes in a variety of sizes.
It also features a thick buckle and an adjustable strap. In other words, it's the best option for both adult Frenchies and growing pups.
Not just that, but this multi-stripe collar features a soft, nylon webbing.
This material doesn't rub against your bulldog's fur. This means that you don't have to worry about bald spots appearing.
In addition, the fun, rainbow stripes are stylish and adorable.
PROS

Durable, breathable material

Multiple adjustable points

A quick-release buckle

CONS

Some owners often struggle with unfastening the buckle
Multiple adjustable points

A quick-release buckle

ALSO GREAT
Frisco Patterned Polyester Dog Collar
The Frisco Patterned Dog Collar is a retro-inspired, elegant collar that is sure to make your pup the most stylish canine on the block. Designed for everyday wear, this collar prepares your four-legged friend for adventures outdoors and provides comfort and security during your daily walks.
CLICK HERE FOR LOWEST PRICE
Frisco collars are the most suitable option for highly energetic French bulldogs.
This patterned collar model is made from high-quality polyester with an inner nylon webbing.
Plus, the material is covered with a nickel coat that gives the colorful collar a polished finish.
Since the material is lightweight, this collar won't make your pup uncomfortable or restrict its breathing.
This product also comes with alterable straps and a strong metal buckle.
As a bonus, the collar features a separate ID ring for your dog's name and your contact info.
PROS

Highly adjustable around your pup's neck

Lightweight and durable material
Easily washed with mild detergent and lukewarm water
CONS

The material can't withstand aggressive chewing
Lightweight and durable material
Easily washed with mild detergent and lukewarm water
ALSO GREAT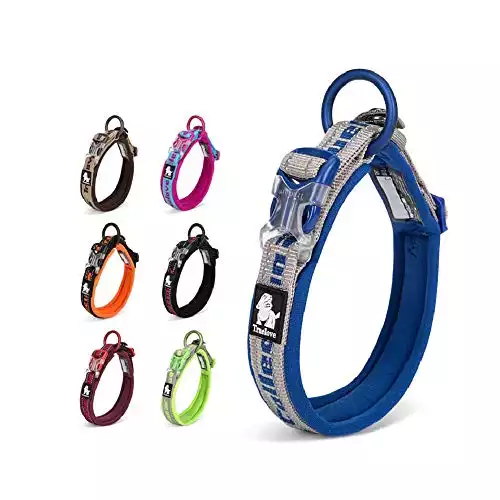 A reflective collar is an option all Frenchie owners should consider.
Reflective nylon material increases the visibility of your dog on evening walks.
This helps you spot them easier if you decide to let them explore on their own for a bit.
That's not the only bonus to this Kismaple collar, though.
This model is polyester-made with an inner, soft, mesh padding that doesn't chafe against your dog's fur.
The collar comes in eight different colors and sizes too.
PROS

A lightweight buckle that quickly clips and unclips

Easily adjustable collar for a perfect fit

Better visibility at night

CONS

Can't be washed or else the material will wear out
Easily adjustable collar for a perfect fit

Better visibility at night

ALSO GREAT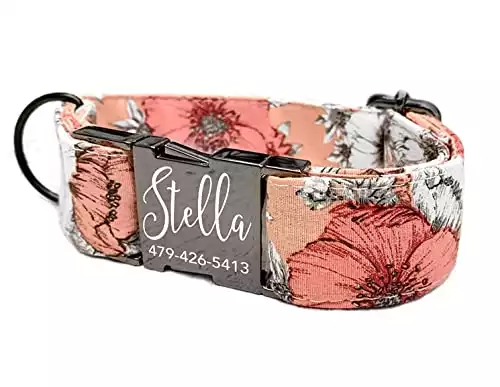 For a more personal touch, we recommend this collar.
You can engrave your Frenchie's name on its metal buckle, alongside your contact info too.
You also get to choose what material you'd like the collar to be; in addition to picking out the fabric's color or print.
These collars are handmade and feature a zinc-alloy, adjustable slide.
However, you can customize the size and length to what fits your Frenchie best.
PROS

Customizable, handcrafted material

Long-lasting and hard to chew on
Comfortable nylon webbing
CONS

The engraved info might fade if your pup scratches it a lot
Long-lasting and hard to chew on
Comfortable nylon webbing
How to Pick the Best Collar for French Bulldogs
French bulldogs are what we call brachycephalic dogs. This dog breed is known for its short, thick neck and its small nose.
As a result, Frenchies can't breathe very well. This makes them prone to get choked easily and to tire out quickly.
That, however, doesn't stop French bulldogs from wanting to go on walks and see the world surrounding them.
So, you'll need to keep their unique anatomy in mind as you pick out a suitable collar.
To sum it up for you, here are the nine rules to go by:
Before anything, measure your dog's neck, leaving space for two fingers to slip in
Look for durable materials. Your safe bets are polyester and non-abrasive nylon
Collars that are handmade from sturdy materials are welcome
Avoid leather collars as they become thin over time and act as a choking hazard
Collars padded with nylon webbing put less strain on your Frenchie's neck
For comfort, choose a collar with inner leather or soft, nylon webbing
Pick a collar with multiple solid buckles for proper adjusting
Don't choose a leash with the collar since leashes choke your Frenchie
Steer clear from martingale, flat buckle, and prong collars as they're not suited for thick necks
As a golden rule, the collar you choose for your bulldog should be made of breathable fabric that helps them explore the world in comfort.
Any dog owner definitely wouldn't like their pup feeling uncomfortable on walks.
To avoid this, we recommend getting the Petsafe collar. Out of the five best collars for French bulldogs that we mentioned above, the Petsafe Keep Safe Break-Away Collar model is the most functional.
Not only is the collar made from soft, durable material, but it also protects your puppy from choking hazards.