Best Dog Food for French Bulldogs With Gas: Top 4 Picks
Not a substitute for professional veterinary help.
If you are in a hurry and just want to find out what the top food for Frenchies with gas is, then we recommend the Blue Buffalo Life Protection Formula as the best food for French Bulldogs with gas.
Something doesn't smell right, does it?
You might be wondering who the culprit is behind cutting the cheese, but no one else is around, except for your Frenchie that is. Aha! Now what?
Well, now your pet is feeling a bit gassy, letting out some unpleasant odors.
Walking around with a bloated stomach isn't exactly the most comfortable experience for the four-legged friend.
Luckily, there are several formulas out there that will provide the needed nutrients to promote a healthier digestive tract for a Frenchie.
Stick around to know more about the best dog food for French Bulldogs with gas.
Why Your French Bulldog Is Farting Excessively
Reason #1: Too Much of a Certain Nutrient
It can be too much of any nutrient that causes your Frenchie's flatulence.
Too much fat intake, carbohydrates, fermented foods, fiber, and dairy, for instance.
Adding too much fat to the French Bulldog's diet will lead to weight gain and make them more prone to farting.
Meanwhile, excessive carbs and fiber slow down the digestive system and allow food in the stomach to ferment and cause gas buildup.
Feeding a Frenchie fermented food is a no go as well.
These can include cauliflower, broccoli, beans, and cabbage.
We're not the only ones that have developed an intolerance for dairy.
French Bulldogs can also develop lactose intolerance, so be wary of this food group.
Reason #2: Eating Too Fast
The expression, inhaling your food, literally applies to a French Bulldog's feeding habits.
We all know how excited dogs can get when it's mealtime.
Once the food bowl goes down, their heads are buried in there until every piece of kibble is sucked away.
This feeding habit can be the cause of a French Bulldog's excess gas. It's called aerophagia or swallowing air.
That air has to go somewhere, right?
Luckily, there are now food bowls designed to slow down your pet's munching.
Reason #3: Food Intolerances
There are certain foods you can't feed your French Bulldog unless you want your house to reek of dog farts.
One of them is spicy food.
Not only will it cause flatulence, but it can lead to an upset stomach, vomiting, diarrhea, and pain.
Apart from that, food intolerances might not be as obvious right away.
French Bulldogs could be intolerant to certain proteins like chicken, in which case, you'd want to switch their protein source.
Reason #4: Lack of Proper Health
Laying around for hours on end can put a toll on a French Bulldog's digestive health.
Lack of exercise can cause gas build-up.
Having said that, an absence of a healthy lifestyle can involve eating too many fats.
Chances are, if a Frenchie is ingesting too much fat, they'll be more vulnerable to gas.
Keep in mind that fat, like carbohydrates, takes a while to digest.
Dog Food for French Bulldogs with Gas
When it comes to dog food, the options are practically endless.
It's natural to get confused about which to pick.
We've narrowed it down to the ones below to make things easier for you and your Frenchie's digestive tract.
OUR PICK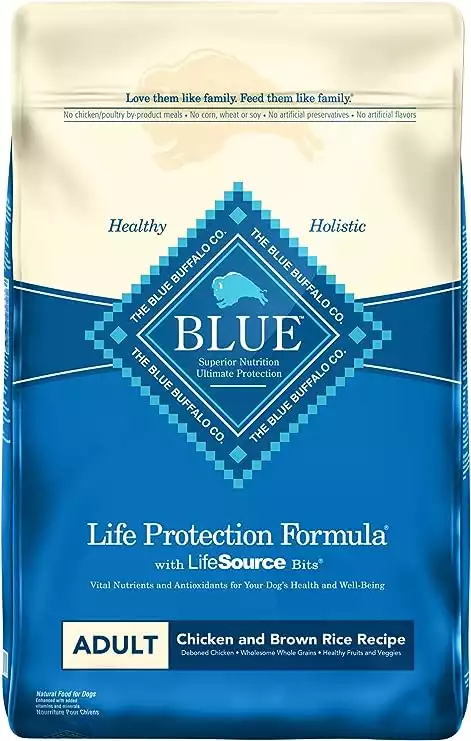 When you get bloated, you might reach for some yogurt, unless you're lactose intolerant.
The dairy product contains multitudes of probiotics that are ideal for gut health.
Your dog may need some of these probiotics.
Blue Buffalo's dog food will be able to supplement a French Bulldog with the needed amount of probiotics to keep the gas at bay.
The best part about this product is that its soy, corn, and wheat-free. The ingredients are all naturally sourced.
The only downside here is that it may prove to be a bit on the pricier side.
PROS

Contains probiotics for optimal gut health

Doesn't contain soy, corn, and wheat
Has vitamins and minerals that promote joint health
CONS

A bit expensive
Doesn't contain soy, corn, and wheat
Has vitamins and minerals that promote joint health
RUNNER-UP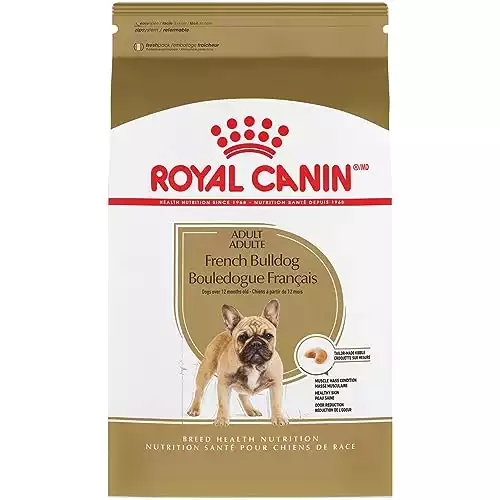 This established brand has been around since 1968.
Royal Canin has been known to provide pets with the needed balance of vitamins and minerals.
Since it's been around for so long, it created specialized dog food for a lot of breeds, like the French Bulldog.
That means the dog food is perfectly catered to their dietary needs and restrictions.
It's even tailored to a Frenchie's jaw structure.
PROS

Specialized for French Bulldogs

Promotes good skin health
Easily digestible

Prevents strong stool odor
CONS

Not for picky eaters
Promotes good skin health
Easily digestible

Prevents strong stool odor
ALSO GREAT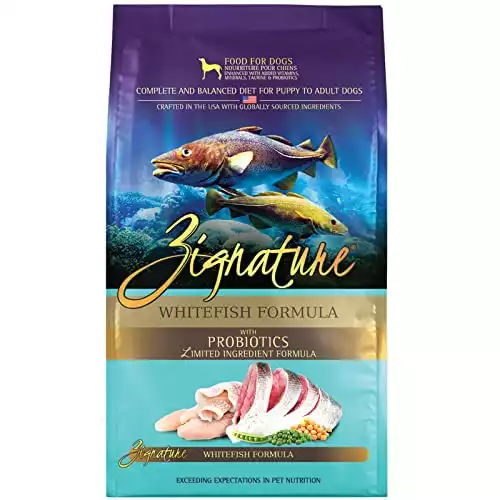 It can be difficult to pinpoint where your French Bulldog's allergies are coming from.
The solution might be lessening the risk of exposure by offering fewer ingredients in their diet while still maintaining a healthy balance.
Zignature's grain-free component is composed mainly of protein.
It's also free from gas-inducing ingredients such as soy, wheat, dairy, and corn.
If you have a picky eater, Zignature would be the best option since it's made of such refined ingredients.
The taste of whitefish in this particular product is prominent and quite appealing.
PROS

Soy, wheat, dairy, and corn-free

Delicious for your Frenchie
Pure ingredients
CONS

Premium price tag
Delicious for your Frenchie
Pure ingredients
ALSO GREAT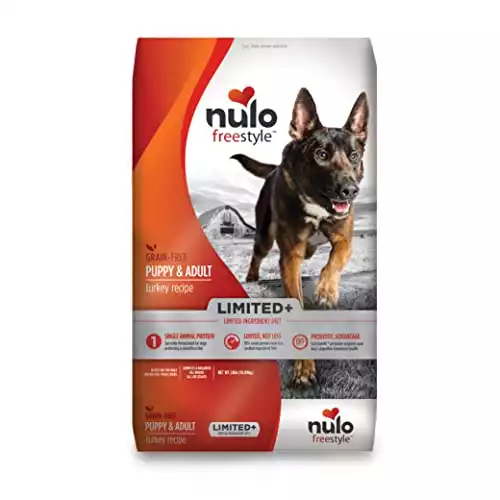 Most dog kibbles contain additives and fillers, but not Nulo.
This brand doesn't cut corners when it comes to dog food.
The brand provides a French Bulldog with a healthy dosage of protein and GanedenBC30 probiotics to blow over any gas.
Thanks to its low-carb formula, your Frenchie will feel less lethargic and way more active.
This will help in increasing bowel movements to avoid any stomach discomfort.
PROS

Refined ingredients

Contains probiotics
Low in carbs
CONS

Can be too smelly
Contains probiotics
Low in carbs
As a French Bulldog parent, it's crucial to understand how sensitive your pet's stomach can be.
They might not even be able to handle chicken!
The best thing to do is to visit a vet to know if your furry friend has any allergies.
That way, you can avoid all those farts linked to your dog's food intolerances.
We hope this guide has helped you figure out which dog food to get for your farty Frenchie.