Best Food for French Bulldogs with Sensitive Stomach in 2023
Not a substitute for professional veterinary help.
If you are in a hurry and just want to find out what the best food for Frenchies with sensitive stomach are, then we recommend the Nulo Freestyle Grain Free Dry Dog Food as the the best food for French Bulldog with sensitive stomach.
Although French Bulldogs are small breed dogs, nutrition is a major part of their health and has a major impact on their quality of life.
However, in some cases, your Frenchie might be suffering from a sensitive stomach that can be easily triggered by certain types of food.
Luckily, there are plenty of brands nowadays that make specialized types of food for such dogs, and that's where this article comes in handy!
In today's guide, we'll walk you through 5 of the best food for French Bulldogs with sensitive stomachs.
So without further ado, let's dive right in!
Best Food for French Bulldogs with Sensitive Stomach: The Top 5
OUR PICK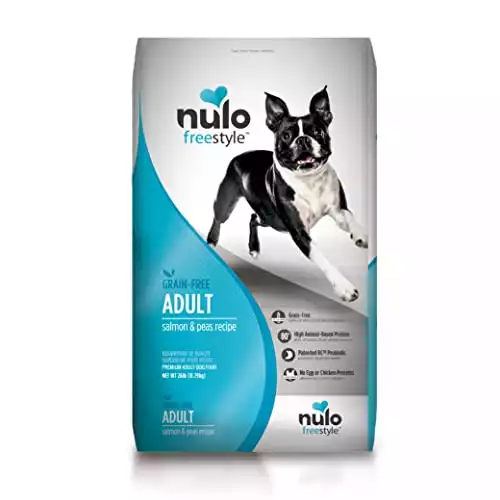 When it comes to sensitive stomachs, there aren't many companies that make products as reliable as Nulo, which is why we recommend this one.
Nulo Freestyle dog food is a grain-free formula that uses a high-quality animal-based protein that isn't sourced from chicken or eggs.
Instead, 80% of the formula is made from light salmon and lamb while the rest is sourced from peas.
In addition to the gentle formula, the dry dog food also has probiotics, which are specific types of good bacteria that help in making the digestion process much easier and eliminate stomach aches and excessive gas production.
The formula also supports a healthy immune system and has low glycemic ingredients to avoid raising blood sugar levels.
Moreover, the food is delicious and packed with vitamins like vitamin B6 (pyridoxine) and B3 (niacin) as well as minerals like phosphorus and calcium for healthy bones.
Top Features

Delicious ingredients that are sourced from highly digestible proteins

Rich in micronutrients, including essential vitamins and minerals
Balanced formula with grain-free and gluten-free ingredients
RUNNER-UP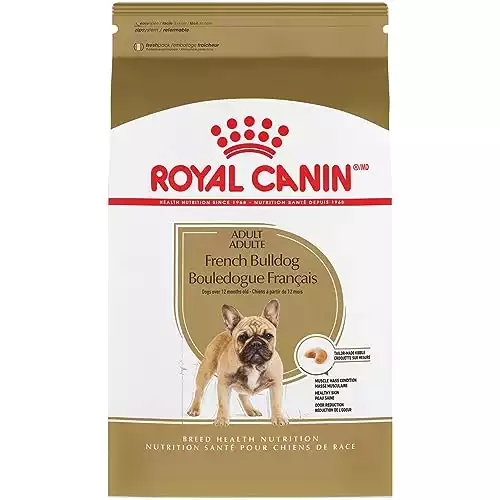 Royal Canin is known for making delicious dog food that addresses specific species' needs.
Since most French Bulldogs are known for having a sensitive stomach, this specialized formula is an excellent pick for mildly sensitive stomachs.
One of the best things about this formula is that the kibbles are specifically designed to be easily chewed by the Frenchie's smallmouth.
We also find the content of this food unique when compared to some other options on the market as it also contains L-carnitine, which is essential for muscle growth and maintaining a healthy body.
Royal Canin fortified this formula with just the right amount of fibers so that it's not too much or too little, so it keeps the stool and gas smell to a minimum.
Top Features

A special diet that is designed specifically for French Bulldogs

Highly digestible formula with just the right amount of fibers
Rich in proteins and L-Carnitine for a healthy build
ALSO GREAT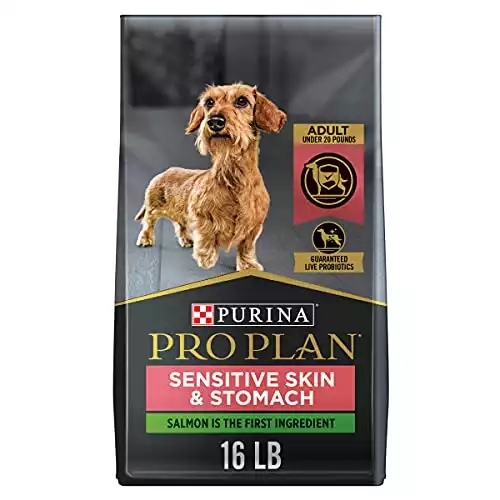 Purina Pro Plan Sensitive Skin and Sensitive Stomach
Keep your small dog feeling his best with Purina Pro Plan Brand Sensitive Skin & Stomach Small Breed Formula adult dry dog food. This highly digestible dog food formula features salmon as the first ingredient, and every high-quality ingredient is carefully selected for a specific nutritional or functional purpose.
CLICK HERE FOR LOWEST PRICE
Next up, we have another excellent formula that is specifically designed for sensitive stomach and skin.
Purina is easily one of the largest pet food manufacturers in the world with over 100 years of experience in making dog food.
This formula has been in continuous development for decades to strike a balance between tastiness and staying healthy.
The Pro Plan dry food here is specifically designed for small dog breeds like French Bulldogs, so it has exactly the right amounts of nutrients that they need for a healthy diet.
The food is also rich in high-quality proteins as well as fatty acids that are essential for maintaining a healthy build, all the while not using any ingredients that can cause troublesome digestion, thanks to its probiotic content.
Top Features

Rich in proteins and omega 6 fatty acids

The probiotic content improves digestion and boosts immunity

Specifically designed over the years for small breed dogs

ALSO GREAT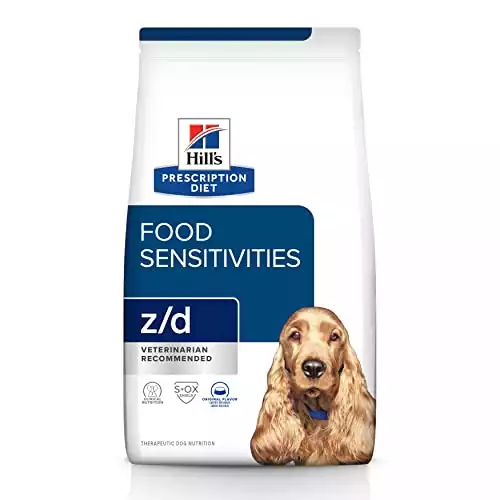 Hill's Science is another major dog food producer with tens of decades of experience under its belt.
The formula here is specifically designed for small dog breeds too, so it checks all the boxes when it comes to essential nutrition for French Bulldogs.
This dog food is rich in probiotic fibers that are necessary for healthy digestion and improved immunity.
Additionally, the food is rich in healthy fatty acids like omega 6 as well as essential nutrients for the health of the skin and bones, such as vitamin E, minerals, and amino acids.
As for the taste, this one tastes great and a lot of dogs enjoy it.
The ingredients in the food are made from high-quality sources to ensure maximum palatability and healthiness.
Top Features

The highly digestible formula that doesn't cause stomach ache and heavy gas production

Delicious and enjoyed by a huge range of French Bulldogs
Specifically designed for small dog breeds and meeting all their nutritional demands.
ALSO GREAT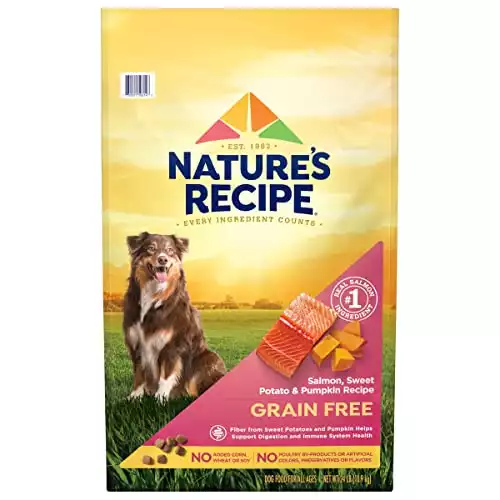 Nature′s Recipe Grain-Free Dry Dog Food
Nature's Recipe Grain-Free Easy-to-Digest dry dog food offers exceptional quality with real salmon as the No.1 ingredient. Made with all-natural ingredients, including healthy sweet potatoes and pumpkin, plus added vitamins, minerals and nutrients to help your dog thrive.
CLICK HERE FOR LOWEST PRICE
Last but not least, if you're looking for an organic recipe that doesn't use heavy preservatives or artificial flavors, you should definitely consider Nature's Recipe dog food.
This formula is sourced from products of poultry without adding any artificial ingredients that can cause stomach upsets for Frenchies.
Additionally, delicious and light salmon is the star ingredient of this food, which is ideal for dogs.
Moreover, the food is rich in necessary fibers to ease digestion and comes at a very decent price, which makes it a good choice for buyers on a budget!
Top Features

Affordable price tag

Delicious and sourced from poultry and salmon as well as high-quality carbs

Free from colors, preservatives, and artificial flavors

There you have it!
A brief guide that walks you through the best food for french bulldogs with sensitive stomachs.
Luckily, there's a wide range of options that are grain-free and specifically designed for easy digestion.
However, if you're looking for a great recommendation, you should try the Nulo Freestyle Grain-Free Dry Dog Food.
This one isn't only gentle on sensitive stomachs, but it also has a huge range of micronutrients that your Frenchie needs for healthy growth!
If you want a food formula that is specifically designed to fulfill the nutritional needs of a French Bulldog, you can Royal Canin Breed Health Adult French Bulldog Dry Dog Food.
This one is not only easy to digest, but it also tastes great, so the translation from old food will be noticeably smooth!