Best Toys for German Shepherds: Top 8 Picks for 2023
Not a substitute for professional veterinary help.
German Shepherds are quite a handful, to say the least.
They're large and fill up a lot of space, but size aside, they're extra active.
These fellows hate sulking around, and most of their day is spent playing and jumping around.
While letting your dog play inside the house is cool, you don't want to find your furniture chewed off.
And you certainly don't want to see your smartphone lodged between the pup's teeth.
So you need a toy to distract your dog and keep him busy.
Here, we'll list the best toys for German Shepherds, so you can take your pick according to what your dog prefers.
You can't go wrong with a Kong toy.
The company has been leading the industry for years, and almost every dog owner has at least one Kong toy.
The classic chewy ball here is the perfect gift for your German Shepherd.
It's virtually indestructible, so your dog can chew on it as hard as possible.
You can also fill it with treats, so your dog will appreciate it even more.
You can fill it with biscuits and let your dog fish them out, or maybe put some peanut butter to keep your dog excited.
The toy can be incredibly handy when your dog is teething or suffering from chewing problems.
Its rubber is also ultra-durable, so you won't see a scratch on it, no matter how hard your dog tries.
If you want to train your dog to run in tight spaces and maneuver different surfaces, this training tunnel may be your savior.
It's a collapsible tunnel that you can fold after you're done to store it anywhere with ease.
When you open it, the tunnel attaches to the ground using eight stakes that come with the purchase.
However, some users reported that they're not tough, so you may need to buy stronger ones to keep using the tunnel, particularly if your dog runs forcefully.
Keep in mind that you need a large space for this tunnel.
If you have a backyard or a large lawn, it'd be the perfect toy for your German Shepherd.
You can then use the tunnel for multiple applications, including training for running.
If your dog is a tough chewer, this toy can help him overcome stress.
Its concept is pretty basic—two tennis balls attached by a nylon line for tugging.
The nylon is two-ply, so you don't have to worry about tearing it off.
The tennis balls are made of durable rubber that can withstand your dog's tough teeth.
Not to mention, it's pretty bouncy, so you can throw it on long distances easily.
The tug toy is perfect for outdoor play, and your dog can keep using it for long hours.
In addition, the rubber edges are soft, so they won't hurt his mouth.
What's better than catching your large, mighty German Shepherd cuddling his goofy toy?
If your dog is one for cuddling, this loofa toy may become his best buddy.
It's not only perfect for a fetch or toss game, but it also squeaks, which doubles the fun!
The toy ships in random colors, so you don't get much say.
However, you can choose one of the four sizes available according to your dog's age.
The loofa toy is perfect for dogs because it's chewy and cuddly.
You can use it for a fetch game in the morning, then put it next to your dog at night for a sleep cuddle.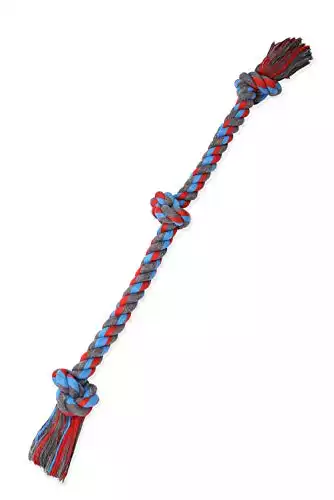 Mammoth Flossy Chews Tug Dog Toy
Rope Knotted Dog Pull Toy Designed with a tug shape for creating interactive play, this colorful tug features tight, sturdy knots, making the tough dog toy perfect for tugging and tossing, and a good toy for dogs to catch, hold and carry easily.
CLICK HERE FOR LOWEST PRICE
If you don't prefer the Chuckit tennis balls, you may opt for this Mammoth rope.
It's made for tough chewers, making it perfect for German Shepherds, especially for those in the teething phase.
The rope is made from 100% natural cotton, so it'll withstand your dog's sharp teeth with ease.
Its fibers are also good for flossing, and it's thick enough to fit into your dog's entire mouth.
If your dog loves fetching games, you can use this rope instead of the conventional balls.
No dog can say no to a squeaky toy. When the toy is also spiky, the fun doubles.
This squeaky spiky ball from Gnawsome may be the best gift you can get your German Shepherd.
These fellows love to chew on whatever they find, and this toy will provide just that.
It's good for dental health because it helps the dogs strengthen their teeth.
When the ball bounces on any surface, bright LED lights are activated.
So, your dog won't only enjoy bouncing his ball around; he'll also get to see it brightly glowing as it jumps up and down.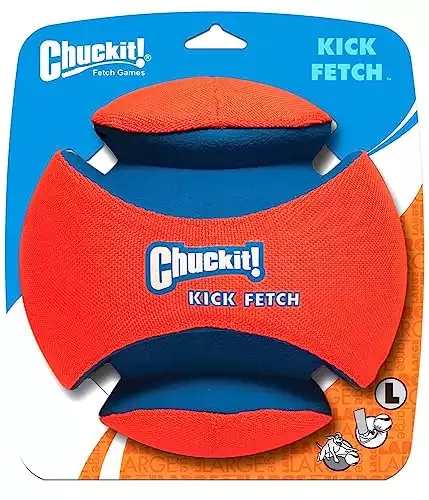 Chuckit Kick Fetch Ball Dog Toy
The Chuckit! Kick Fetch ball is designed to get both pets and pet parents moving for fun, interactive play. Each time pet parents kick the Chuckit! ball, the deep-grooved design creates a random, exciting bounce, satisfying dogs' chasing instincts.
CLICK HERE FOR LOWEST PRICE
If your dog is bored of traditional fetch toys, you may want to give this ball a shot.
It has an innovative design with deep ridges to lodge easily inside your dog's mouth.
If your dog attempts to bite it from any direction, his jaw will go around it easily.
The fabric uses Max Glow technology, which glows in the dark for better visibility.
That way, you can play at night with your dog comfortably.
The ball features durable construction, so no matter how hard the dog chews, the fabric won't budge.
The stuffing inside is made of rubber and foam, which are both gentle on the dog's jaws and gums.
Plus, the ball is floatable, so you can use it for pool play.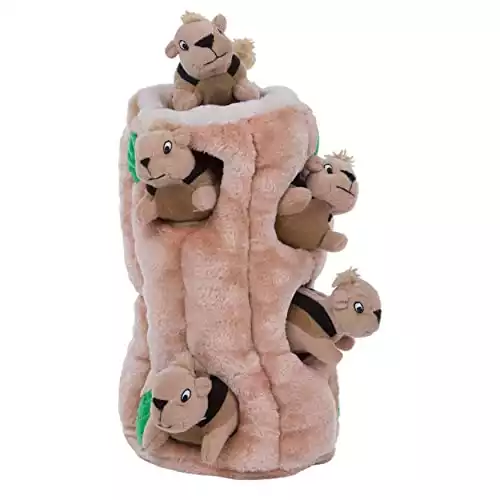 Outward Hound "Hide A Squirrel" Dog Puzzle
Outward Hound's hide and seek plush dog puzzle was designed specifically to eliminate boredom, encourage positive play, and feed your dog's natural hunting instincts. 2-in-1 interactive play means double the fun with options to play fetch or hide and seek to keep your dog mentally-stimulated.
CLICK HERE FOR LOWEST PRICE
If your pup is up for innovative play, he'll love this squirrel game.
It's basically a hide and seek game for squirrels, where your dog keeps taking them out and putting them in the designated holes.
You can keep tossing the squirrels and let the dog look for them.
Then, he'll try to put them in the holes in the trunk.
Although the squirrels are made with durable materials, they may still tear if the dog chews hard enough.
In this case, you can always buy new squirrels separately.
As you can see, there are multiple toys you can get for your German Shepherds.
These dogs love being active and running around, so any toy that can be fetched will be a good choice.