Best Brush for French Bulldog: Top 4 Picks for 2023
Not a substitute for professional veterinary help.
If you are in a hurry and just want to find out what the top brush for Frenchies is, then we recommend the JW Gripsoft Pin Brush as the best brush for French Bulldogs.
Frenchies indeed have short coats, but that doesn't make it any easier to groom them.
These fellows are fussy, and if they don't like their brush, they'll show it.
Back in the day, buying a brush for your dog was as simple as going to the store and getting the standard brush that everybody gets.
Now, there are tons of different features, from dual brushes to grooming gloves and other innovative features.
To choose the right one for your pup, you need to browse the market's options first.
Here, we'll help you choose the best brush for a French Bulldog by listing the market's top options.
4 Best Brushes for French Bulldog
OUR PICK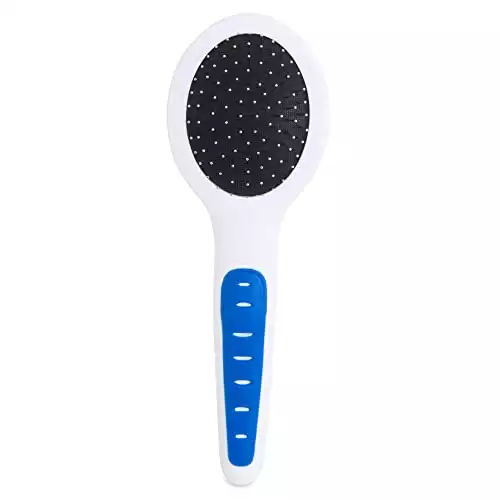 If you're on a tight budget, the JW small pin brush is perfect for small Frenchies.
It was designed for small dogs, so it's not hard to maintain a right angle while grooming.
This doesn't only result in even grooming, but it also means no wrist fatigue after brushing your pup's hair.
The brush's handle uses Gripost technology, which provides a non-slip grip and an ergonomic handle to keep your wrist comfortable.
The brush has soft and small pins, and it's designed for everyday use.
So, you don't have to worry about irritating your dog's skin.
Although the brush is small, it's ideal for untangling matted coats and removing dandruff and dirt.
Its size also gives you an advantage because you'll be able to get into areas hard to reach with larger brushes.
However, bear in mind that it's only meant for small breeds because of its size.
PROS

Affordable price

Comfortable non-slip grip
Easy to grip and control
CONS

Some users reported that it's not good with complex tangles
Comfortable non-slip grip
Easy to grip and control
RUNNER-UP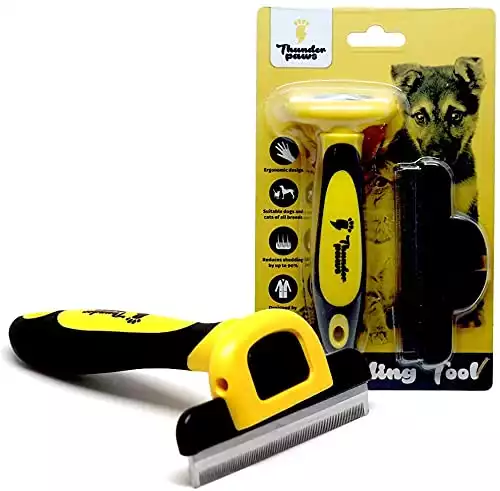 Frenchies are shedders, and they do it all year long.
If your dog is shedding more hair than you can handle, this brush from Thunderpaws may be what you're looking for.
Instead of the nylon bristles, you're used to in most brushes, this one comes with a stainless steel comb that removes all the dirt and dander from your dog's coat.
The manufacturer claims that the comb can reduce shedding by up to 95%.
The good news is, that the brush is suitable for both cats and dogs, so you don't have to buy multiple brushes if you have multiple pets.
The comb's teeth are gentle and soft, so they won't irritate your pet's skin.
The bad news is that some users reported that the comb removes some actual hair along with the dander.
So if your Frenchie has naturally thin hair or is prone to hair loss, it may be wise to look for another option.
The comb is removable, so you can take it off for cleaning.
Additionally, the brush has an ergonomic handle and an eyelet for easy storage on any rack.
Its price is more than most options on this list, but it's worth it.
PROS

Protective cover available for storage

The comb is removable for easy cleaning

Versatile and suitable for both cats and dogs

CONS

It may be hard to maintain a good angle using the comb
The comb is removable for easy cleaning

Versatile and suitable for both cats and dogs

ALSO GREAT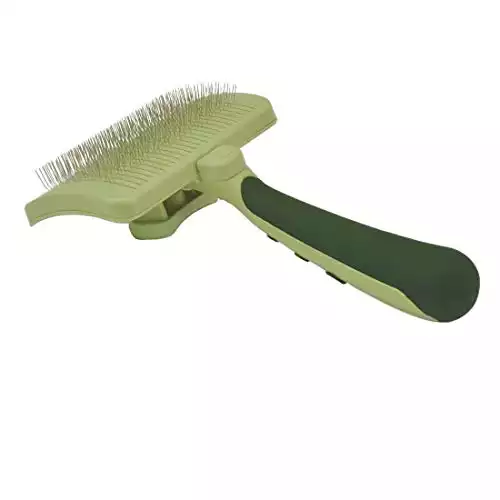 The Self-cleaning brush from Safari is designed exclusively for dogs with one coat layer.
It features soft bristles positioned right next to each other, which helps you catch all the dander and loose fur on your dog's body.
That's not the best feature on the brush, though—it's definitely the self-cleaning feature!
The Safari brush dons a spring button that cleans it within the blink of an eye.
All you have to do is press the button, and the brush will release all of the dog hair stuck in the bristles.
Additionally, the brush is designed to protect your hands from fatigue, thanks to the comfortable grip handle.
You won't have to keep brushing over and over as you do with other brushes.
The Safari's pins are designed to catch the dander with minimal effort.
They also won't irritate your dog; the bristles are soft and gentle.
Lastly, there are two sizes available from the brush, so you can choose the size that fits your pup and your hands.
PROS

Easier than ever to clean

No hand fatigue, thanks to the smart design

Soft on the dog's skin

CONS

The wire pins can bend when you brush too hard
No hand fatigue, thanks to the smart design

Soft on the dog's skin

ALSO GREAT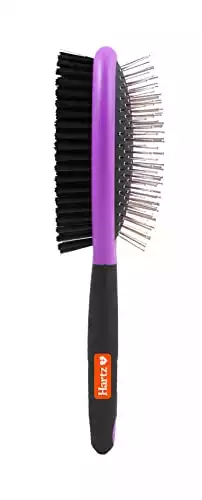 Hartz Groomer's Best Combo Dog Brush
FOR THICK COATS
Regular brushing helps maintain a healthy and shiny coat by massaging the skin and activating its naturally moisturizing oils. Hartz developed their Groomer's Best grooming tools with help from professional groomers, for everyday de-shedding and detangling.
CLICK HERE FOR LOWEST PRICE
If your dog has a relatively thick coat, this dual brush from Hartz will be a life savior.
It features two sides: one side with stainless steel pins and one side with soft nylon bristles.
The brush is designed so that the side with the pins detangles the dog's coat and removes all dander on the body.
Then, you use the side with the bristles to smoothen the hair on the dog's body and encourage the production of natural skin oils.
Although most Frenchies have a single-layer coat, some brindle breeds have two layers.
This brush is ideal for grooming their hair.
The good thing about the brush is that you can use it for multiple dogs.
So, if you have a Frenchie and a couple of other dogs, you only need to buy one brush.
The brush also has an ergonomic handle that won't hurt your wrists, even if you use it for a few minutes straight.
PROS

Suitable for different species of dogs

Competitive price
You can use it to spread the conditioner
CONS

The nylon side may be a bit challenging to clean
Competitive price
You can use it to spread the conditioner
In our opinion, the best option on our list above is the JW Gripsoft Pin Brush.
It's small, convenient, and affordable. Plus, it's made for small breeds, so there's no doubt it's suitable for your Frenchie.
If your dog tends to shed a lot of hair, you may want to get the Thunderpaws comb instead.
It's highly effective for preventing shedding.