French Bulldog DNA Testing
Not a substitute for professional veterinary help.
DNA testing kits have been around for quite some time now, and they've become a huge trend recently because they offer a wide range of benefits to users and help us know about our ancestors.
A few years back, kits that are specifically used for testing dogs' DNA have started appearing both online and in pet supply shops.
If you're interested in trying this kit out on your Frenchie, this article has got you covered. Today's we'll walk you through an in-depth French Bulldog DNA testing guide to answer all your questions. Let's jump right in!
How Does Dog DNA Testing Work?
The process of testing a dog's DNA is composed of two main parts. The first one is gathering enough DNA samples from the dog, and the other one is getting the sample tested.
For the first one, you'll collect the DNA sample according to the instructions provided by the testing kit you're opting for.
In most cases, the process is fairly straightforward, and all you need for the job is a swab from the dog's cheek from the inside.
After successfully collecting the DNA from your Frenchie's mouth, you'll send this sample to the DNA test kit provider in order to get tested.
There, the testers will compare the DNA sample provided to a huge database that includes hundreds of thousands of other DNA samples.
After extensive testing, the results are usually sent back to the tester within a specific period of time, which varies according to the DNA test provider.
The results are usually a PDF report that includes a complete breakdown of the heritage of your French bulldog as well as other critical information about their genetic makeup by percentage.
The Benefits of Testing Your Frenchie's DNA
Testing your Frenchie's DNA comes with a lot of benefits. Let's have a quick look at some of them:
Gives You More Knowledge About the Breed

Whether your French Bulldog might seem like a pure-bred or hybrid, your dog's ancestral history might include several genes that you are not aware of.

When they're puppies, a lot of dog breeds might look the same. In fact, according to the UK Mirror, a woman had a puppy that was supposed to be a Frenchie but turned out to be a totally different breed!

One of the easiest ways to find out the percentage of your pooch's purity is through DNA testing.

Identify Potential Health Risks

One of the main reasons why a lot of people test their dog's DNA is revealing health risks. Since many potential health complications are related to the dog's genetics, using DNA testing can show you whether your Frenchie is at risk of any of these conditions (including the level of risk).

Predict Personal Traits

While each individual dog has its own set of traits and behaviors, many of these personal traits are actually inherited from their parents and ancestors.

A great way to predict several personal traits and prepare for them from an early age is DNA testing.

This includes some problematic traits, such as destructive behaviors, excessive biting, aggression, etc.

Helps You Put Together a Healthy Life Plan for your Frenchie

Lastly, based on all the previous points, it'll be easier for you to compile a healthy life plan for your French Bulldog.

This plan will help maximize your dog's immunity and preparedness against potential diseases and stay happy with a very high quality of life as they advance in age.
Is Dog DNA Testing Regulated?
Popular human DNA test kits, such as 23andme or Ancestry,  are usually monitored and regulated by The U.S. Food and Drug Administration (FDA).
However, on the other hand, dog DNA test kits are yet to be regulated by an authoritative body. Despite that, dog DNA testing companies often promise a very high level of integrity and self-monitoring through rigorous processes of internal and external quality control.
For example, several dog DNA test kits use labs that are accredited or evaluated regularly by the United States Department of Agriculture (USDA).
What is the Best DNA Testing Kit for French Bulldogs?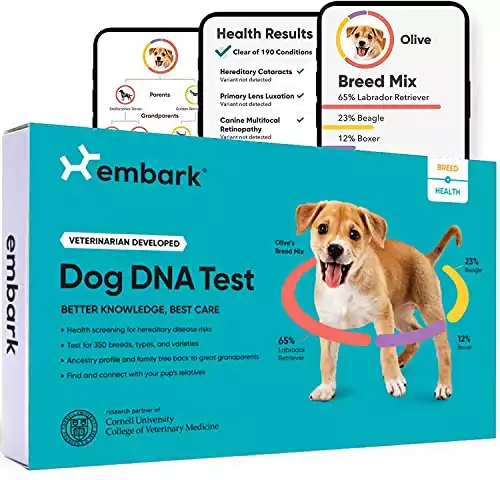 Embark | Dog DNA Test
This advanced testing kit uses research-grade genotyping to screen more than 350 dog breeds and tests for over 230 genetic health risks, giving valuable insight into your pet's health. The test also tracks your dog's lineage back to great-grandparents and identifies similar breeds. Developed to be user-friendly, all it takes is a simple, painless cheek swab, and in just 2-4 weeks, detailed results are delivered via a personalized dashboard.
CLICK HERE FOR LOWEST PRICE
There are plenty of great options where you can test a dog's DNA. However, one of the best kits to consider for French Bulldogs is Embark.
What's great about this kit is that it has one of the largest DNA databases that include over 350 dog breeds, so it guarantees extremely accurate results.
Additionally, the kit providers offer a variety of after test services that aren't found in many other options out there, such as:
One of the best disease screening services that check the French Bulldog's health against more than 500 hereditary diseases
Creates a remarkably interactive report that will help you navigate through each element with plenty of explanation and further details
The service gives back to the dog community through donations on every sale
Creates a specialized care plan for your pooch, maximizing their quality of life
Very simple sampling process and pretty quick and accurate results
How to Use Dog DNA Kits Properly
Now that you have a better idea about dog DNA testing, here's a quick guide to help you use the DNA kit properly for the most accurate results:
Start by buying a proper dog DNA kit, such as Embark or other options out there.
Make sure your doggie is relaxed and bring out a treat to get them to produce some saliva in their mouth
Take the sample brushes or cotton swabs from the test kit package without touching the ends.
Open your dog's mouth and place the swabs between their cheek and gums.
Pinch your Frenchie's check while twirling the swabs in the mouth for a few seconds.
Put the testing swabs in a sterile cup for 10 to 15 minutes until they dry up.
Repeat the previous steps with any additional testers or swabs provided
Treat your doggie for being a good boy/girl!
Place the swabs in a packet (usually comes with the kits), then follow the mailing instructions provided with the kit, and wait for the results.
This wraps it up for today's guide about French Bulldog DNA testing, as you can see, the process is extremely beneficial and easy to pull off.
If you're interested in trying out DNA testing for your pooch, click here for more information about embark.