7 French Bulldog Rescues in Georgia [Updated for 2023]
Alex Vicente • Updated on August 2, 2023
If you're looking to find a French Bulldog Rescue in Georgia you're in the right place.
Before you check the French Bulldog rescue centers below, please make sure you're aware of how big a responsibility is to foster or adopt French Bulldogs.
Frenchies have been increasing in popularity over the past few years and according to the American Kennel Club (AKC) they are ranked as the #2 breed in America (1). For this reason, the umber of abandoned puppies and adult french bulldogs has also increased. Rescues and shelters are always looking for loving families to adopt frenchies.
You need to know they may have pre-existing medical conditions and may need to be followed by a vet periodically.
You should also be aware that animal cruelty is a punishable crime.
The rescue centers below are presented in no particular order.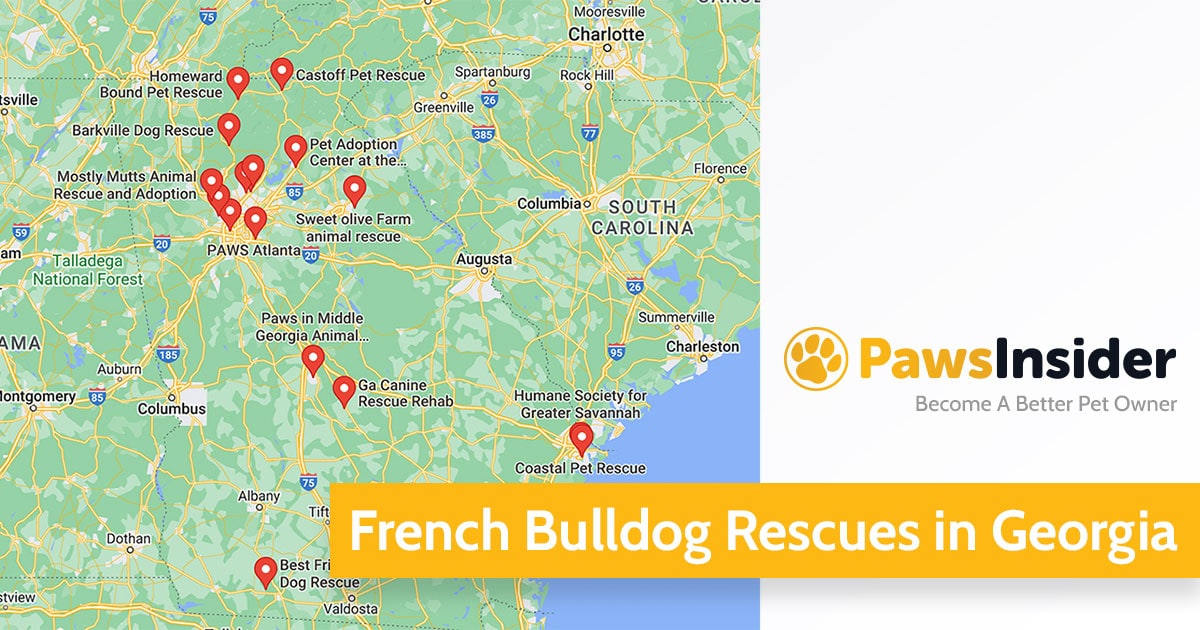 Table of Contents
French Bulldog Rescue Network (Nationwide)
The French Bulldog Rescue Network (FBRN) works to rescue, rehab, and rehome French Bulldogs that are in need from breeding facilities, import brokers, shelters, private rescue organizations, owners, or good samaritans.
FBRN is made up entirely of volunteers who care for and foster these dogs while also imparting knowledge and instruction to foster families or new owners.
Their mission is to find healthy, love-needing French Bulldogs their forever homes.
Rescue and Adoption Details
Rescue Me (Georgia French Bulldog Rescue) (Watkinsville, GA)
Rescue Me (RM) is a network dedicated to finding loving homes for all dog breeds, including French Bulldogs, cats, and other animals.
All canines in the network's care are spayed or neutered. Rescue Me's Animal Rehabilitation Centre is also based in Watkinsville, Georgia, and was created by Jeff Gold, a Watkinsville, Georgia local.
Rescue Me, one of the top pet rescue shelters, has been operating for a long time
Rescue and Adoption Details
Angels Among Us Pet Rescue (Alpharetta, GA)
Angels Among Us Pet Rescue (Angels Rescue) was formed in 2009 by a few individuals dedicated to helping the rising number of unwanted, abandoned, neglected, and stray dogs and cats in animal control facilities and other high-risk circumstances around Georgia.
This organization has saved the lives of nearly 20,000 dogs, cats, puppies, and kittens in just 10 years because of the generosity of donors, fosters, and other volunteers.
Angels Rescue activities are financed by tax-deductible contributions from caring individuals and organizations.
Their purpose is to "Rescue One Until There Are None," and they attempt to follow this principle every single day.
Rescue and Adoption Details
Best Friends Dog Rescue (Cairo, GA)
Best Friends Dog Rescue (BFDR) was founded in 2001 as a non-profit, no-kill organization that gets no government assistance.
It is a certified adoption agency that places 100% of its rescued animals in good homes.
They rely entirely on individual donations.
BFDR's goal is to create a society that promotes ethical pet ownership and humane animal care by promoting spay and neuter services to reduce pet overpopulation in low-income communities.
All of their animals are checked, vaccinated, and spayed/neutered, prior to adoption.
Rescue and Adoption Details
Homeward Bound Pet Rescue (Blue Ridge, GA)
Homeward Bound Pet Rescue (HBPR) is a non-profit 501(c)(3) organization based in Gilmer County, Georgia.
It has an all-volunteer team committed to the rescue and rehabilitation of homeless domestic animals that have been abandoned, surrendered by their owners, or saved from high-kill county shelters.
HBPR offers these animals the required medical care and attention, as well as assistance with psychological, social, and socialization issues, before placing them in caring homes through adoption.
Rescue and Adoption Details
Address: 215 Wishon Rd, Blue Ridge, GA 30513, United States
Phone: 706 698 4663
Email:
Website: hbpr.org
Events: See upcoming events here
Forms:
Donate: Donations here
Coastal Pet Rescue (Savannah, GA)
Coastal Pet Rescue (CPR), formed in 2003, is a non-profit 501(c)(3) organization devoted to rescuing the lives of homeless, mistreated, and neglected dogs and cats in Savannah and neighboring regions.
CPR rescues animals and offers foster care, veterinary care, and sterilization for those that would otherwise be killed in county animal shelters.
They also provide foster care for animals surrendered by owners who can no longer care for the pets or are unwilling to keep them in their homes.
Rescue and Adoption Details
Paws Ranch Rescue & Animal Sanctuary (Savannah, GA)
GRRR is a modest 501(c)(3) rescue organization in Savannah that covers Chatham County in coastal Georgia as well as the adjacent areas.
Its mission is to rescue senior and small breed dogs from owners who are no longer able to care for them, from public shelters that do not have a "no-kill" policy, and from circumstances in which a senior or small breed dog has been abused or neglected.
GRRR dogs are spayed or neutered, and they get thorough veterinarian care, vaccines, and microchips.
All of their rescued dogs are cared for in responsible foster homes until they are adopted into carefully vetted forever homes.
Most of the senior dogs rescued are placed in permanent foster homes, where GRRR covers all of the dog's expenses for the rest of their lives.
Rescue and Adoption Details