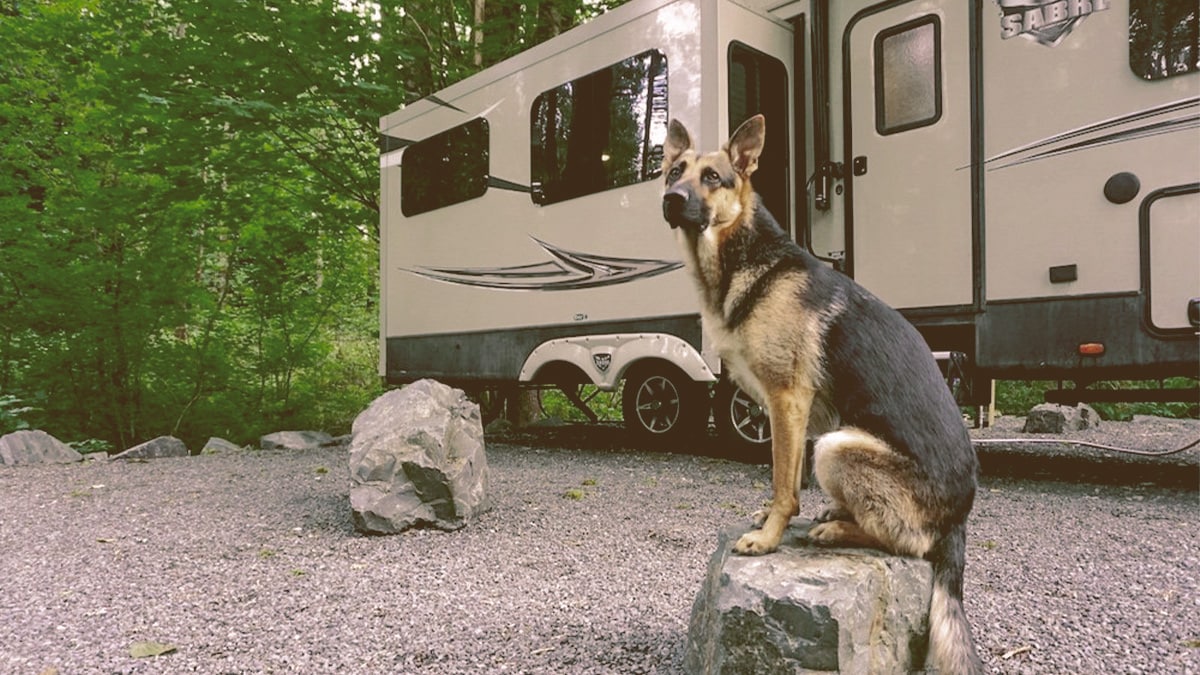 A Guide To RV Living With Dogs
Alex Vicente • Updated on August 28, 2023
This review contains affiliate links. Read more here.
Not a substitute for professional veterinary help.
While out on the open road in your RV, life is pretty sweet. It seems you can have everything you want or need while living and traveling in an RV. But, what if you need a little more companionship? Some people living in RVs choose furry friends to join them on their adventure with great success. Dogs are a common pet for those living and traveling in RVs.
When you have a dog while RV living, to ensure you live in harmony together, you must consider the dog's:
Cleanliness
Diet
Happiness
Health
Safety
Living in an RV with your dog requires comfortability with tight spaces.
The essential things for RV living with a dog are the same things a dog owner should consider when living with a dog at home. The only difference is that there is a lack of space and a constantly changing environment for you and your dog to enjoy, explore, and experience. This guide has all of the tips and tricks for RV living with dogs. Read on for the most comprehensive advice on RV living with dogs.
Table of Contents
How Can I Keep My Dog Safe in an RV?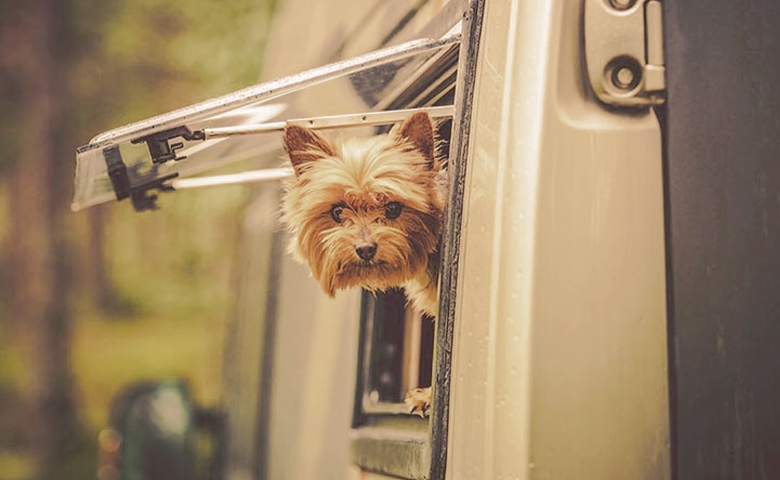 Safety is the top priority for all dog owners while RV is living. The constantly changing environment outside of your RV space and the small amount of square footage inside your RV make safety difficult and even a scary thought for some RV-living dog owners. There are several things that you should do that help keep your dog safe in an RV.
These safety precautions are primarily preventative:
Set up dog security routines
Establish emergency preparedness plans
Have safety supplies on hand
Planning is essential for the well-being of your dog's safety in an RV. By taking the time to do so, you will keep your dog much safer.
Safety for your pup is more difficult in the tight living conditions of an RV. The environment outside of your RV is also frequently changing and may be secluded. Being prepared for emergencies and keeping your dog calm and secure is essential for keeping your dog safe while living with it in an RV.
Obviously, because you are moving in the vehicle, safety inside is paramount. You also visit many different places in your RV, and sometimes outside is dangerous for your dog. No matter if the perceived dangers for your dog are within or outside of your RV, there are some key actions that you should take to keep your dog safe in an RV.
Interior RV Safety for Your Dog
Safety inside your RV for your dog helps alleviate feelings of anxiety and stress for both you and your canine companion. There are several areas of concern for the dog when the vehicle is in motion and when the RV is stopped or parked in a place for an extended period of time.
Most of the actions you should take for your dog's safety include controlling the climate and physical space of the RV.
Bringing comforts and safety items from home and storing them in your RV for emergencies is recommended by dog organizations such as the AKC.
Here are some of the essential actions that you should take for your dog's safety and your peace of mind while traveling with a dog in your RV.
Keep the Air Conditioner on When It's Hot
Anyone who has traveled for long hours in a car knows how hot the metal box of the vehicle gets. Now, imagine facing that heat with a fur coat on! Dogs generally need cooler air and should receive air-conditioned spaces, especially during hot summer months.
The energy costs for your running air conditioner are a necessary evil while your dog is alone in your RV. Sure, you could buy and install a temperature-controlled and automatic vent fan. But for some places in the world where triple-digit temperatures are typical, a fan is not enough for keeping your dog safe from the heat. Air conditioning is crucial for the safety of your dog in these conditions.
When your dog gets too hot, they can not sweat very well to cool themselves off. If you see your dog panting with its tongue out regularly, it may be time to turn the air conditioning up. Heat exhaustion and other heat-related sickness are common in dogs living in an RV. Some signs of heatstroke might be diarrhea, vomiting, red gums, inability to drink water.
Control the Climate In the RV When Your Dog's Alone
It is not always possible that RV owners living in their RV's can bring their dogs with them everywhere they go. If the weather is extremely hot or cold, you should activate the air conditioning or heating inside the RV while your dog is left alone inside.
Suppose you don't want your engine continuously running. In that case, you may consider buying a ceiling vent with an automated thermostat and fan. There are several options for rain and heat-sensing RV ceiling vent fans, and all of them are capable of delivering much-needed cooling or shelter from the cold for your dog once you leave them in your RV alone.
Some of the best-automated RV ceiling vent fans include: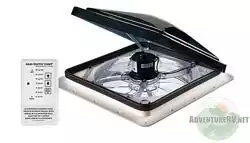 Fan-Tastic Vent 6600R
This innovative fan system boasts an automatic speed mode for maintaining chosen temperature, and a manual speed mode for flexible control. Along with a custom wall cradle for the remote, it allows seamless operation from anywhere inside or outside your coach, making the 6600R/417 an exemplary model in the Fan-Tastic Vent range.
CLICK HERE FOR LOWEST PRICE
Not only does this vent fan have a thermostat that continuously runs until the cab of your RV reaches a specific temperature, but it also gets outfitted with a rain sensor that closes the vent when it senses rain. This keeps your dog happy and cool in the heat and protects the interior of your RV when the weather is inclement.
PROS
Remote that comes with the unit
A thermostat that keeps the unit running until the desired temperature gets reached
Rain sensor that protects your dog and the interior of your RV
CONS
Rain sensor could shut off the fan even if it's hot
Must get installed professionally in the roof to minimize the danger of leaking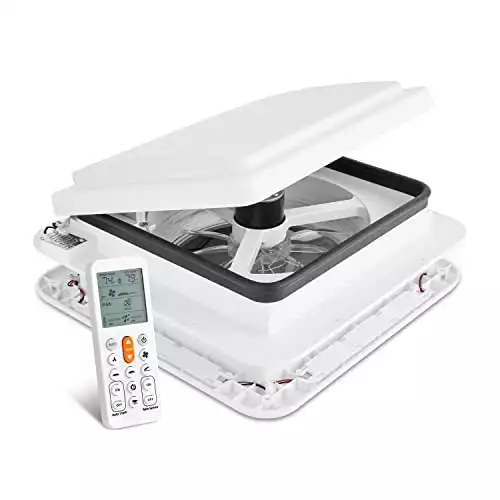 Hike Crew 11" RV Roof Vent Fan w/LED Light
Introducing the Hike Crew 11" RV Roof Vent Fan with built-in LED light; a premium, 12V 6-speed camper fan featuring automated temperature and rain sensors, electronic open/close functionality, and includes screws and garnish for installation. This model is equipped with a white lid, matching its aesthetic color and adds to its versatile features.
CLICK HERE FOR LOWEST PRICE
Another model of vent fan with a thermostat and remote is this product from Hike Crew. This vent fan does have a remote that allows for a thermostat setting and also has a rain sensor.
PROS
Less expensive than other thermostat vent fan models
It has a remote for easy use
CONS
Rain sensor could shut off the fan even if it's hot
Must get installed professionally to minimize the risk of leaking
Have a Dog First-Aid Kit On-Board Your RV
Accidents and emergencies happen, and while living in an RV, you might not have access to the store or a veterinarian. If your dog is sick or injured, you should have a fully stocked and updated first aid kit for your furry friend onboard your RV.
While out on the open road living in your RV, your dog is susceptible to injuries, illness, and dangerous situations that might require medication or first aid. There are several concise and expansive lists on the internet for the best first aid kit items for any RV traveler who is conscientious of the safety and health of their pets.
Here are some of those suggested items:
Your veterinarian's phone number and the numbers of the closest emergency veterinarian clinics are open 24 hours a day.
The phone number for a poison control center such as the ASPCA's poison control center which you could call at 1-800-426-4435
Pet first-aid literature that references illness symptoms and basic first aid actions you could take on the way to the vet in an emergency
Vaccination and health history information contained in a zip-lock bag, including a picture of your pet and any identifying information about the dog, including microchip numbers
An extra leash
Self-clinging bandages that will stick to themselves and not fur
Muzzle to keep your dog from biting (should not get used if your dog is overheated or vomiting)
A blanket of soft cloth or an emergency foil blanket
Gauze for absorbing blood
Adhesive tape for holding gauze in place
Antiseptic wipes and liquid
Cotton swabs for cleaning wounds, ears, and eyes
Hydrogen peroxide could get used for cleaning wounds or inducing vomiting
Chemical ice-pack
Non-latex disposable rubber gloves
Soft end scissors
Tweezers
Pet carrier
There are additional items to consider, such as necessary medications and flea/tick/heartworm treatments, but this list is a good start.
Exterior RV Safety for Your Dog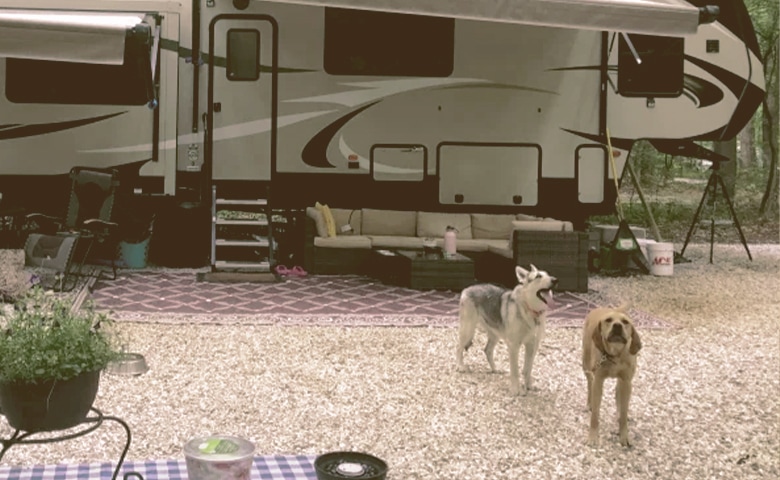 Once you park and get out of the RV, there are several ways that a responsible owner should take care of the safety of their dog. Some of these things deal with training and setting standards for on-leash or off-leash walking.
Use an Exercise Pen
Having an exercise pen that keeps your dog near your RV is an excellent option for those who have dogs that might follow their noses. A dog can get lost in the wilderness or outside of the RV, especially when it gets curious about new scents.
A Guide to RV Living with Dogs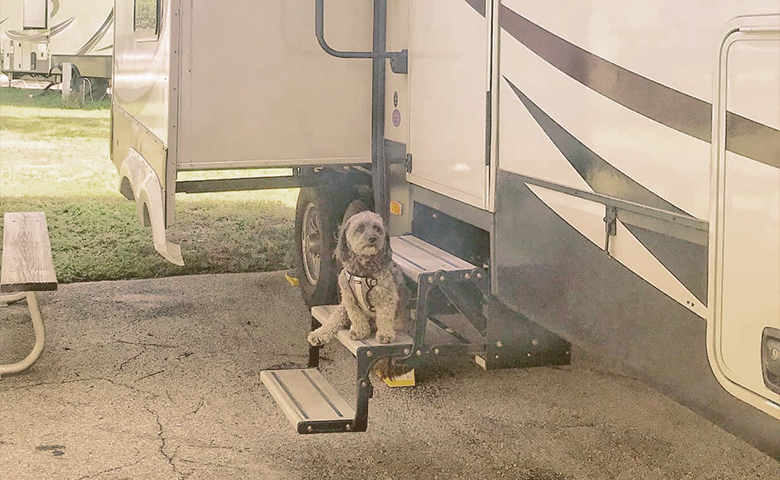 Along with safety, there are many things you should do while living in your RV for your dog. Keeping your dog comfortable, happy, and healthy while living in an RV is not difficult if you are aware of your dog's space, routines, and favorite things.
Just because you bought the RV doesn't mean that you can't make a little personal space for your furry canine friends. Finding a special place for your dog inside your RV is the best start for making a peaceful transition into RV living. Next, you could make things fun for your dog inside of your RV. Entertainment and comfortability are crucial for living with dogs inside an RV.
The guide for living with dogs inside your RV is all about comfortability and fun. Read on to find out more about setting up spaces, routines, and habits while living with your dogs inside of your RV.
Treats and Toys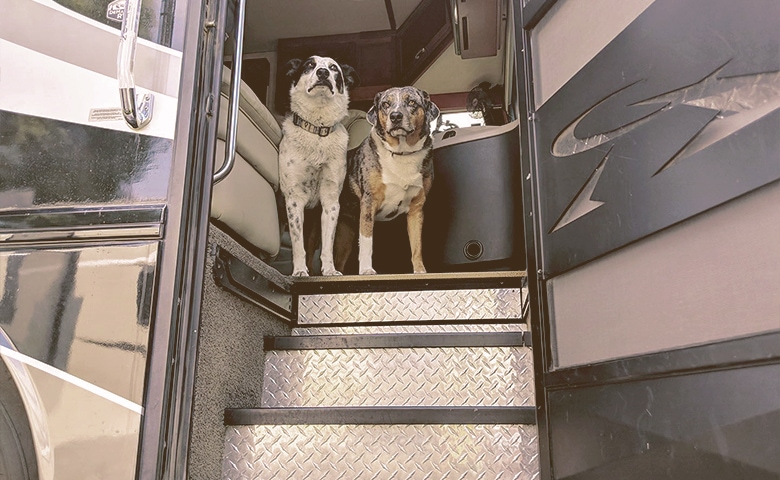 The inevitable boredom of being on the road affects your dog just like it affects you. The only thing is that your dog might start taking his boredom out by chewing on your furniture. Don't let the cramped living conditions and tedious nature of RV living get the best of your furry friend. Instead, invest in some great toys and treats that will keep him happy and mentally stimulated.
The best treats and toys for a dog living in an RV are those that don't require much space for interaction while also stimulating a more extended time playing. These might be treats like bully sticks or rawhide chews that are delicious for your doggie and also take a long time to chew down. These toys might be ones with hidden surprises like yummy treats or different toys.
Ensure your dog has his dog space in the RV picked out before letting him engage with any toys. Space should allow for some movement while keeping you and your dog safe. Also, make sure that the toys or chews won't fall apart and mess upholstery that doesn't clean easily. For example, rawhide is fine for vinyl floors but a nightmare to get out of fabric upholstery.
Choosing the suitable toys and treats for your four-legged friend to enjoy while they are cramped in your RV living situation is not always easy, but you have many choices and options. Luckily, we have narrowed down the choices based on our research of some of the best toys and treats on the market for maximum engagement and minimal need for space.
The best treats and toys for dogs living in RV's are listed below:
Cadet Bully Sticks
Cadet is the name you should trust in the pet treat world, and these bully sticks get the job done. Made from 100% natural and dried bull pizzles, these bully sticks are rugged and tough. Their flavors are smoked and are what dogs love, giving them hours of enjoyment for each stick.
Outward Hound Hide-A-Squirrel Squeaky Puzzle
Although there are some squeakers in this toy, the hide a squirrel design is excellent for those dogs who love getting their nose into tight places. The three squirrels all come with one squeaker and can fit into the hollow plush log. The holes on the sides and top allow access for your dog to place the squirrels and remove them from the plush log for hours of entertainment and fun.
Greenies
Known for their durability, Greenies are dental sticks made for dogs to chew on and enjoy. The flavor and texture are great for dogs who can spend anywhere from 30 minutes to an hour demolishing one of these Greenies.
The sticks are also formulated with ingredients and a design that aids in dental hygiene for your dog, keeping them happy and healthy.
Toy Bin
After you purchase a few toys and long-lasting treats for your dog, you'll probably realize that they need a storage place. Having an open bin in the RV for all of the toys and treats is an excellent way of organizing your dog's activities.
A toy and treat bin should be soft and open-ended so that you and even your dog have easy access to the entertaining and helpful things that stave off boredom or keep him occupied while you are out of the RV.
Food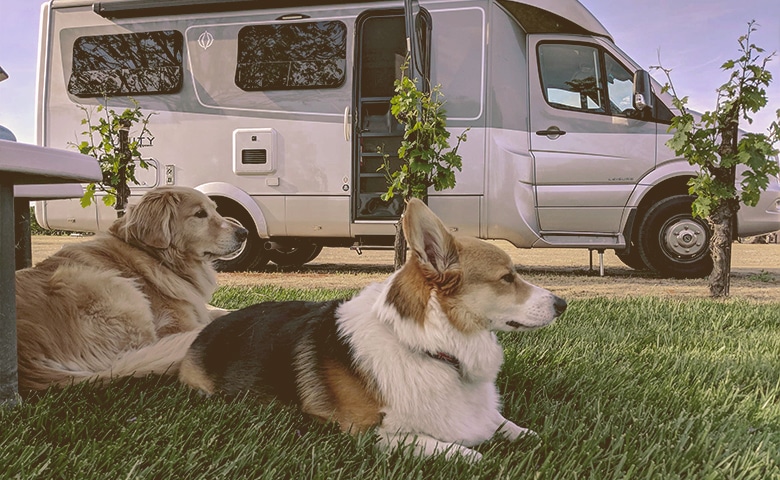 Food needs both storage and appeal for the dog who is taking part in RV living. You probably need a storage container of some kind that is small and compact enough for your dry food to fit in cupboard space. Also, wet food might get stored in the other bay of the RV. You may even require a can opener.
Finally, the bowl you use for food and water needs to be heavy enough to stay in place. You could even get a bowl holder or rubber mat that helps keep the water and food from moving or sloshing around while driving.
Some of the items for dog food listed below are great for keeping the food organized and mess-free, even if it is left out while the RV is in motion.
Super Design Mess Free 15° Slanted Bowl
The slanted design of this dog food bowl gives your dog a better angle at their food, so there is little mess around the bowl. This bowl doesn't need to get put away after use since it will not slide around or cause a mess while the RV is in motion.
The silicone seal around where the bowl sits keeps the bowl in place even while your RV is in motion. Also, the anti-slip rubber seals keep the bowl from sliding around while the dog is eating or the RV is out on the open road.
IRIS USA Elevated Feeder with Airtight Storage
Another excellent option for a feeding bowl is one that gets integrated with the storage of your dog's food. The Iris Elevated Feeder with Airtight Storage is great for keeping your RV clean and organizing your dog's food all in one place.
This dog food bowl and food storage design is excellent for RV living with your pet since it minimizes the space needed for feeding your pet. The design also comes in a lower profile model for smaller dogs.
Accessories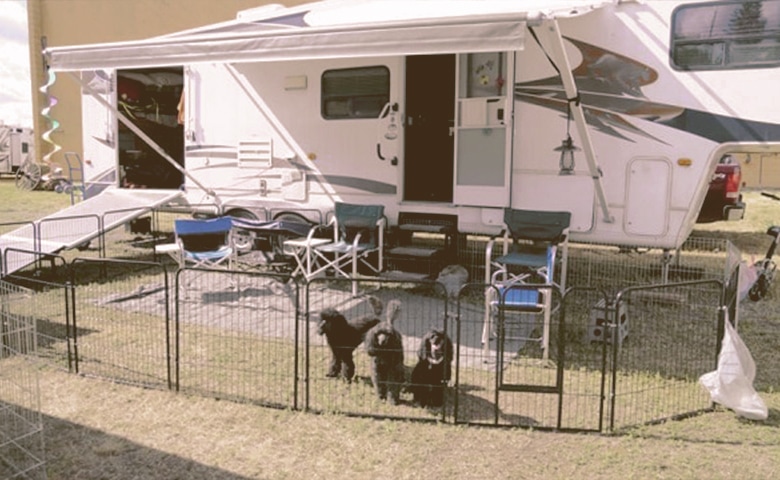 After the play, safety, nutrition, and fun and functional accessories make life better and more enjoyable for you and your pet in your RV. Some of the best accessories for dogs in your RV allow for more adventure, fun with videos and photos. They are even safe and effective for doing the things you might typically be doing, like going out at night to let your dog relieve himself.
The best accessories for your dog living in an RV are great for the owner and the pet. Ensure that you buy things that make your life easier and bring a little more joy to an already fun and adventurous experience of living in an RV with your four-legged canine friend.
Some of the best accessories that you could buy for your dog while living in an RV are:
Active Pets Dog Seat Belt
Dog space in the cab of your RV isn't enough for your furry friend while the RV is in motion. If there are seats in the rear with seatbelts, a seat belt harness is an excellent way of keeping your dog safe and secure.
The Active Dog Seat Belt is made from high-grade nylon and fits easily into any seat belt locking mechanism. Having a built-in nylon seat belt for your dog in the RV is also a great way of keeping your dog in one place while you are cleaning, bringing things in and out of the RV, or traveling on the road.
Aquapet Bathing Tool
Your dog needs cleaning and pampering almost as much as you do. When out on the road, around dirty road stop attractions, in the wilderness, parking lots, or on adventures, your dog gets dirty and stinky.
It is best to have a quick and efficient way of cleaning your dog right at your RV. This scrubber and shower hose bathing tool is excellent for its efficiency and effectiveness.
Connect the hose end made from rugged metal parts to the water outlet of your RV. Turn the water on and use the sprayer with an on and off switch to wet your dog or rinse dirty paws. The sprayer's head is also a rubber-coated scrubber with teeth that all at once helps you:
The design of the Aquapet Bathing Tool allows you to keep your dog clean and healthy while saving water. Conservation of water while RVing is essential since you may not always have the opportunity of filling your clean water tank.
GoPro Dog Harness
While your dog's safety, health, and comfortability are all priorities, living with your dog in an RV is also exciting and fun. Finding ways of incorporating your dog into these adventures with enticing and entertaining accessories is an excellent way of spending quality time with your four-legged friend. One way of spending quality time is by making adventure videos with your pup.
As you explore rivers, woods, and mountains outside of your RV living, your dog frequently gets more extreme in its action than you do. Mounting a camera from GoPro on his harness gives you incredible access and angles of the places you are visiting.
Uploading dog view videos of your RV living is also a great way of connecting with people online and on social networks. The videos are unassuming and fun while showing off the experiences you and your furry friend share.
The camera is sold separately and sits securely on the top of your dog's shoulders. The view of the camera shot is right over the ears of your pup. It is even capable of having some shaking motion detection.
Travel Water Bottle
As you and your pup get out of the RV and go on hiking adventures or exploring new places together, there may not always be access to water. Giving your dog fresh water, especially in strenuous and hot conditions, is crucial for their comfort and health. A travel water bottle for your furry companion is an excellent way of ensuring that they have quick and easy access to H2O.
Most travel water bottles for dogs have a storage chamber that keeps the water clean and cool, along with a spout. The best travel water bottles for your dog have a water spout that deposits water either into a dish or bowl that is built into the bottle. This built-in bowl makes access to the water easier, saves time and energy for you, and conserves the water in the water bottle.
The Final Bark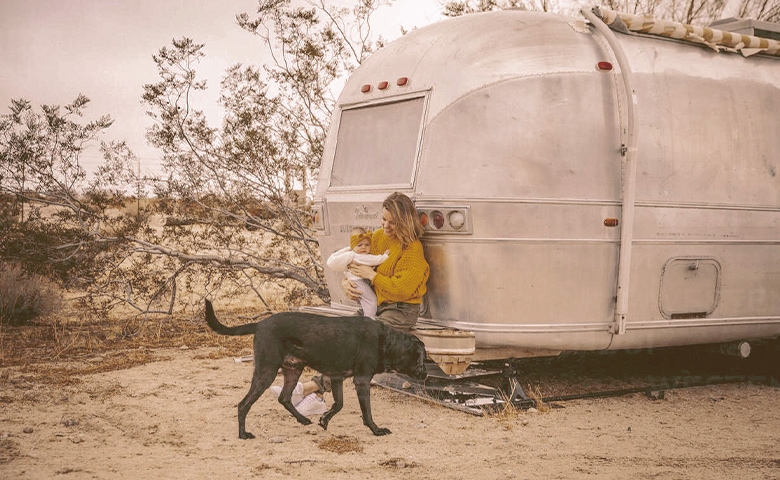 Living in an RV can be tedious and boring at times. However, with your furry canine friend by your side, there is never a dull moment! Ensure that you reward your dog for all of its companionship by providing a safe, healthy, fun, entertaining, and active lifestyle in your RV.
Remember, you share a small space with your pet, so some upgrades might be in order. Ensure that you consider all of the categories of this guide so that you and your dog will enjoy living together in an RV.