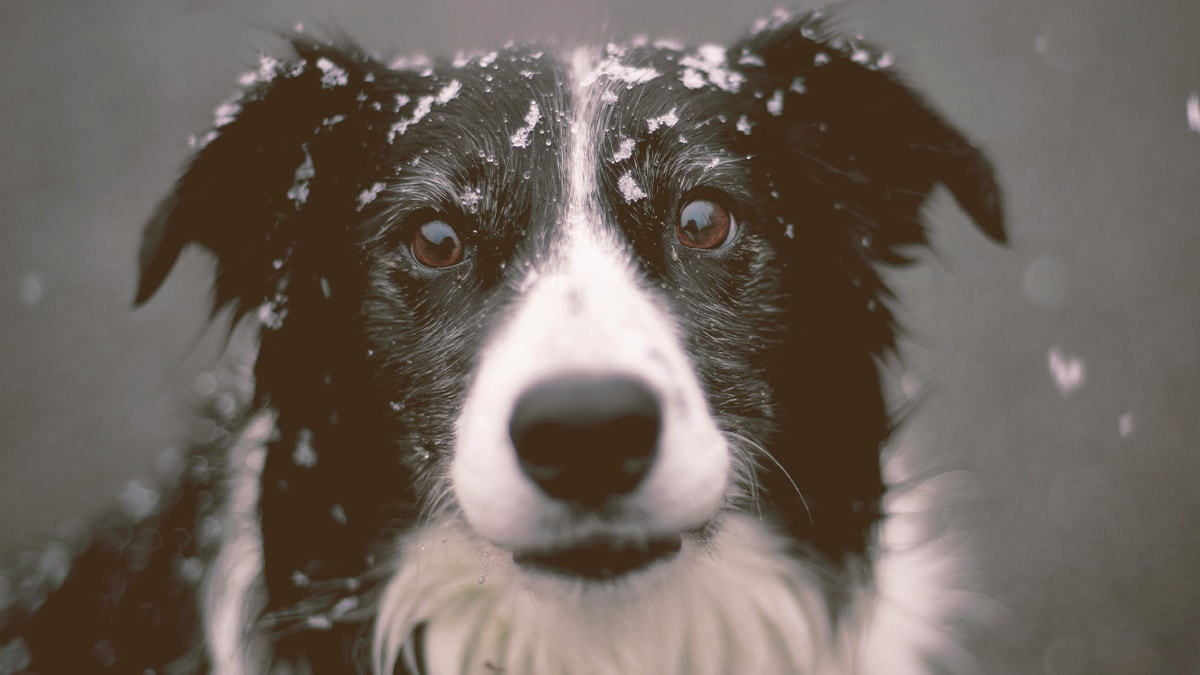 How Cold is Too Cold for Dogs? Everything You Need to Know
Alex Vicente • Updated on August 22, 2023
This review contains affiliate links. Read more here.
Not a substitute for professional veterinary help.
When the seasons shift and the snow begins to fall, many new and even experienced dog owners wonder how cold is too cold to leave their dog outside.
We don't want our pets to feel uncomfortable or even hurt, so this is an important question to consider.
Generally speaking, once the temperature is 32°F (around 0ºC), then short-haired and ill, old, or frail dogs should spend only a short time outside.
Since individual breeds can stand different temperatures, it's best to watch your dog so that you can see when they start to get uncomfortable and want to get back inside.
With over one hundred breeds of dogs all over the world, it can be difficult to determine when the weather is too cold.
Having general guidelines for your dogs is a good idea, but you should also know how to tell when they are trying to tell or show you that they are too cold.
We'll cover all of this and more below, so read on.
Table of Contents
Signs a Dog Is Too Cold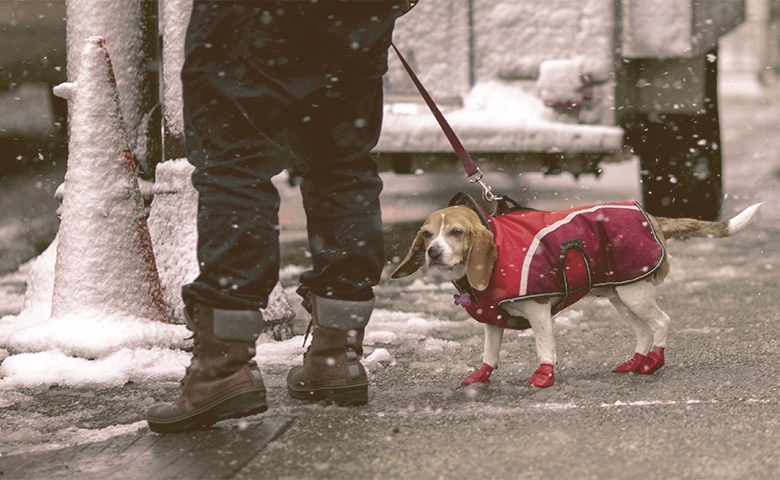 When it comes to determining how cold is too cold for your dog, one of the first things to do is to place them in one of two categories. Bigger dogs, with thick furs like Siberian Huskies and Chow Chows, are able to withstand lower temperatures than smaller dogs like Pomeranians and Daschunds.
In both cases, experts advise people to monitor their dogs for any symptoms of hypothermia. If their body temperature gets too low, warm them up and rehydrate as fast as possible. Let's discuss what signs your dog might give you if it's getting too chilly.
Despite the differences in internal body temperatures, most dogs share and exhibit similar symptoms when suffering from hypothermia or are simply too cold. There are obvious ones, like shaking, that can be seen easily, but there are also some that take a trained eye to spot. We'll go over both.
Obvious Symptoms of Hypothermia in Dogs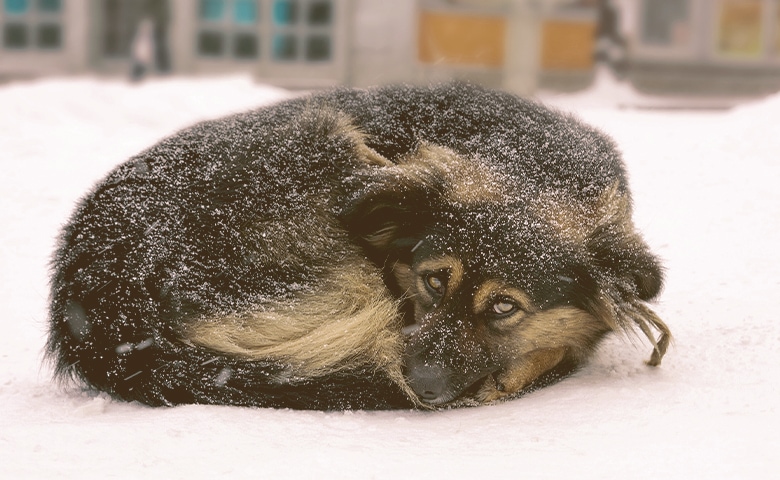 Dogs are similar to us in more ways than we realize. When people are cold, they get uncomfortable and will most likely complain about it. Your dog is no different. Usually, when your dog starts getting too cold, he will tell you.
Even though dogs can't actually speak to you and tell you what is wrong, they can express signs of discomfort in the forms of:
Whining (one of the most noticeable signs)
Searching for warm places to burrow
Shivering
Lethargy
Stumbling and Disorientation
Loss of consciousness (get them out of the cold immediately)
If you start seeing these signs, bring your dog indoors to increase their temperature and get fluids into his system. If your dog is stumbling, disoriented, or even seems to be on the verge of passing out then you need to contact a vet immediately for further instructions.
Less Obvious Symptoms of Dog Hypothermia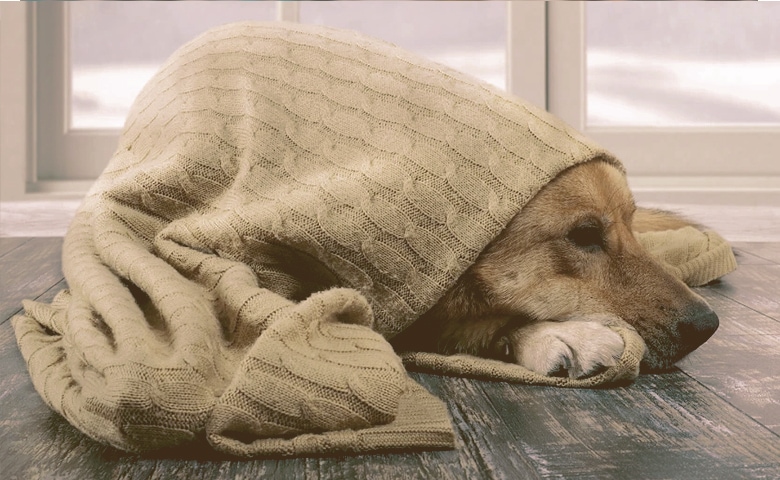 Although those are the most obvious symptoms, not every dog will show all symptoms (excusing the very severe ones, such as loss of consciousness).
Because of this, it's also useful to know the more subtle symptoms that your pup might be much too cold and needs medical attention, such as:
Pale skin
Fixed and Dilated Pupils
Stupor-like state
These symptoms may require a closer look and go unnoticed by the untrained eye. With a closer inspection, you can tell if you need to take your dog to a vet or if warming them up quickly will do the trick.
How to Quickly Warm Up Your Dog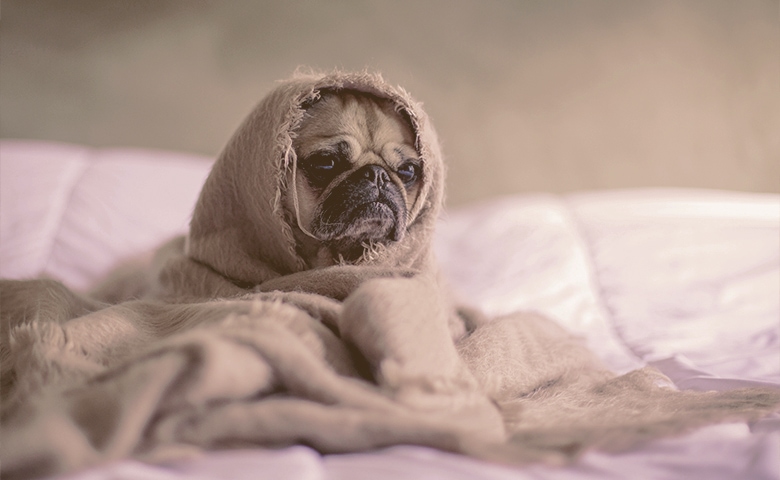 If your dog was exposed to lower temperatures, it is important to warm them up regardless. However, when they are suffering from hypothermia, it becomes a more pressing matter.
Hypothermia is a very serious situation for your dog to be in, so if you believe your dog is suffering hypothermia then the first thing you should do is contact a vet immediately. They will likely instruct you to begin warming up your dog in a controlled fashion.
The fastest way to warm up your pup is to throw a couple of blankets and towels in the dryer until they are warm to the touch. Additionally, you will also need to heat a water bottle. Be careful not to drastically change temperatures on your dog as that can also cause health issues—start by having warm (but not hot) water and blankets around them.
First, wrap the dog in the blanket(s), then, using the towel, wrap the warm water bottle and place it against the dog's abdomen. Then use a thermometer to monitor the dog's temperature every ten minutes for the next hour.
If their temperature hasn't increased by the end of the hour, you should take them to the vet right away if you haven't already. However, that may never be the case, if all goes as planned and your dog starts warming up. Once their temperature is over 100 degrees Fahrenheit, they should be in the clear, and you can remove the hot water.
Keep them in a temperature-controlled room and monitor their temperature every fifteen to thirty minutes while they are asleep. After they wake up, continue monitoring them and any signs of lethargy and seek professional help.
How To Keep Your Dog Warm During Cold Weather
However, you're not going to keep your dog copped up during the whole winter. When taking your dog on a walk during the cold, there are a few additional steps you can take to keep your dog warm and out of danger.
During cold weather, you wear winter clothes, and so should most dogs. While some are built with a natural, warm fur coat, others' bodies are not made to withstand low temperatures. Smaller dogs and those that are more susceptible to the cold should also be bundled up.
Several companies sell coats, boots, and everything you will need to keep your little bundle of joy warm. Not only do these outfits keep your dog warm but they also make them ten times cuter. Here are some of the top-ranked winter dog clothes brands:
Gooby – This brand offers great quality for low prices.
FitWarm– This brand has one of the warmest full-body pajamas for dogs that are perfect for harder weather.
Mexican Serape Blankets– Offers a variety of dog ponchos that are perfect for smaller dogs, like chihuahuas.
With the added layers, your dog should be warm enough for a walk, however, monitor for any signs of hypothermia. If your pet starts shivering or whining, it is probably time to go back inside. This simple and easy fix will keep both you and your dog warm, safe, and happy.
How Cold Is Too Cold for Dogs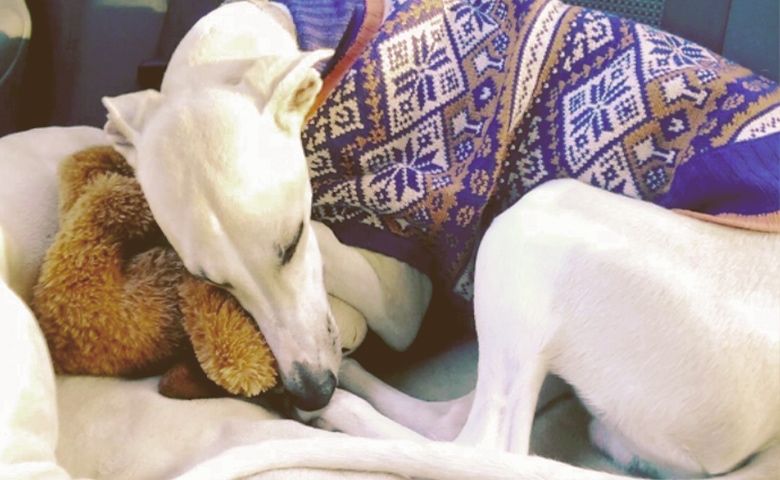 There is no magic number for that answer. There are too many factors that can affect this answer for there to be an exact number. However, once the temperature reaches the low thirties, it is best to either keep your dog inside or bundle them up.
If your dog has been exposed to low temperatures and you notice they have pale skin, appear disoriented, or are moving sluggishly, you need to contact a vet and begin warming them up immediately. The quickest way to do this is with a blanket, a towel and a water bottle, but you could also use a heating pad (that is warm to the touch), or go to a doctor. If the at-home methods are not bringing his temperature up, go to a professional and get help.
With all these tips, you should be ready to tackle the cold weather without a trip to the vet's office. The best way to monitor and determine when the temperature is too cold for your dog is to simply pay attention to them.
Sources
"Cool" test: How to tell if your dog is too cold
How cold is too cold for your dog this winter?
Hypothermia in Dogs