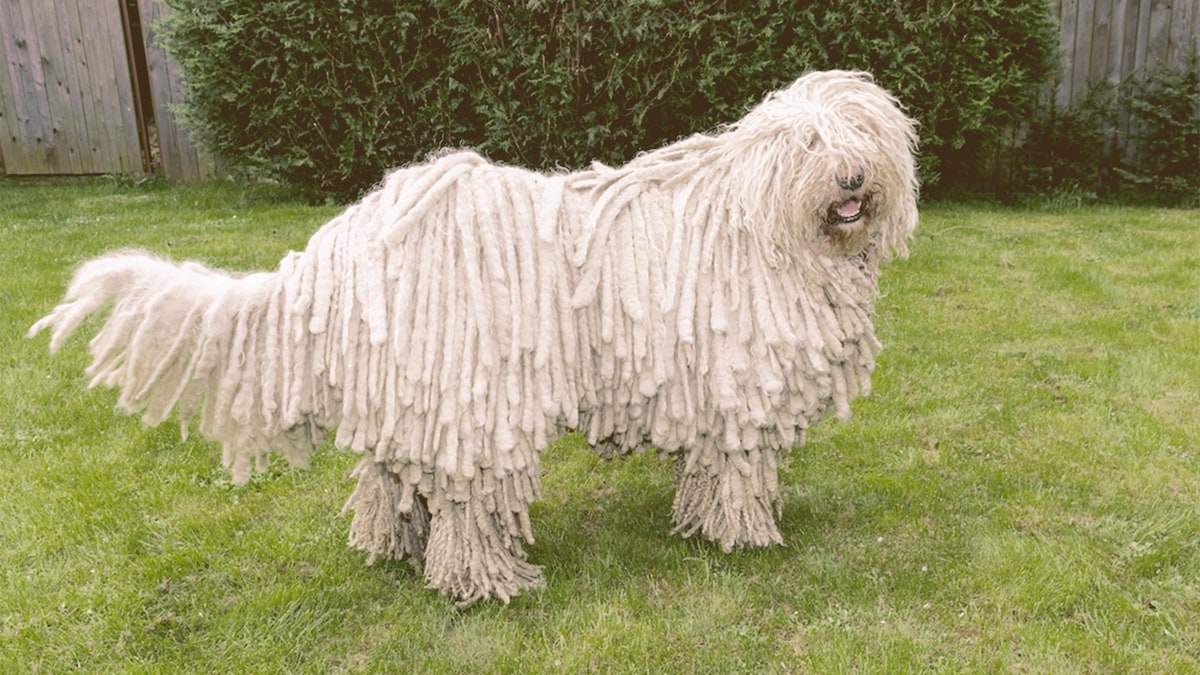 A Guide to Grooming Your Komondor
Alex Vicente • Updated on August 1, 2023
This review contains affiliate links. Read more here.
Not a substitute for professional veterinary help.
A komondor has got to be the most high-maintenance dog.
This dog's coat consists of a coarse topcoat that wraps around a softer undercoat, thereby resulting in what's known as cords.
As the dog matures into adulthood, the coats continue forming into fused cords that can be quite the task to clean.
You need to ensure the cords remain separated and that there's no dirt or debris on the coats.
Otherwise, the cords will begin clumping up and forming mats – not a pretty look!
To achieve this, you need to have a regular and consistent grooming technique.
Here's a complete guide on how to groom your komondor.
Table of Contents
To Clip or Not to Clip?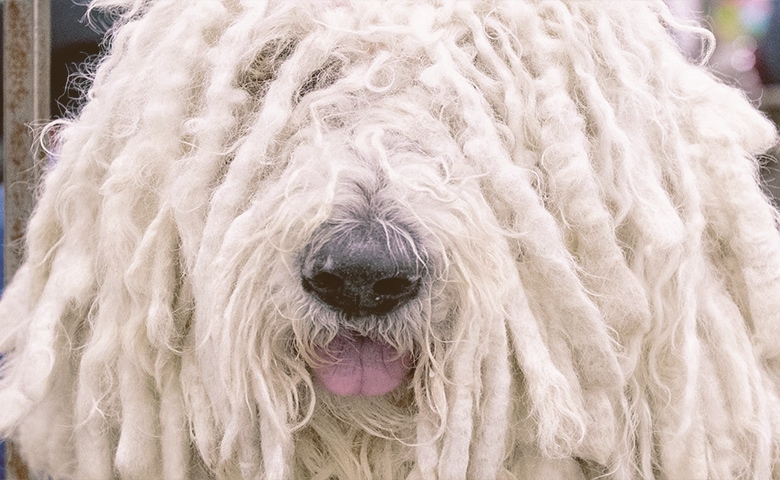 If this is your first time taking care of a mop dog, you're probably thinking clipping the dog's cords would be easier. After all, it takes a lot of time to clean all the cords and ensure they're sufficiently dry. The answer is yes. Cutting a komondor's cords makes maintenance so much easier.
However, there's a downside to clipping mop dogs' cords. In the initial stages after cutting the dog's cords, you'll definitely notice that cleaning and drying are hassle-free. The problems start when the hair starts growing again. You see, to form the cords, the adulthood coat intertwines with the puppy coat.
Shaving removes the puppy coat, and the coat that grows in after that is prone to matting and clumping, which takes longer to form cords. As a result, the resulting coat is more prone to collecting dirt and debris than the average coat, which means you'll need to clean it more often. Therefore, it's best to develop a grooming technique that doesn't require trimming your komondor's coat.
How to Groom Your Komondor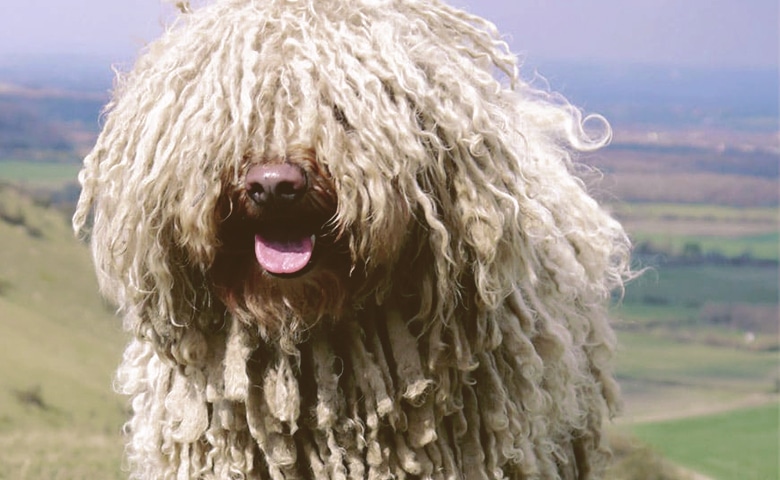 There are various ways you can groom your komondor. The method you choose will depend on how much time you have, whether your dog is a pet or a show dog, and your preferences. Below are some of the best ways to clean a komondor's coat.
The No Bathing Method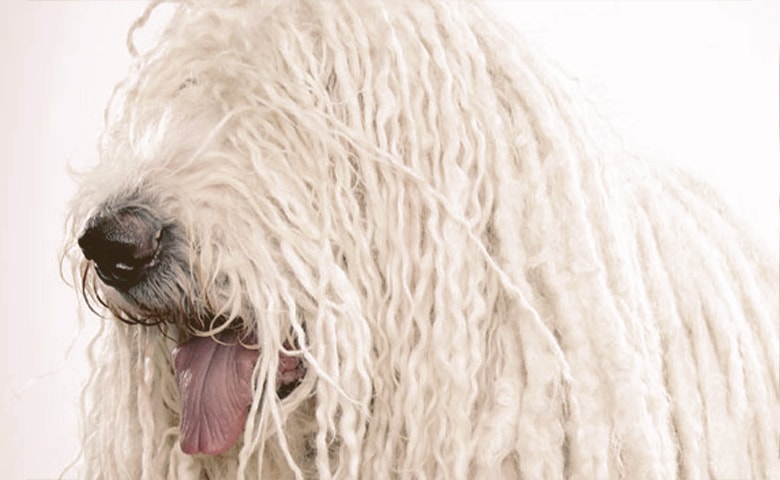 Let's face it. Komondors aren't the easiest dogs to clean. The cords take a lot of time to clean and even longer to dry. Sometimes, you may not have the time to bathe your dog, but you still want to ensure they're clean and presentable. In such cases, the no bathing method comes in handy.
What You'll Need
Cleaning Instructions
If your dog is in the puppy stage, brushing is okay. However, you need to stop doing it around 9 to 12 months because the puppy starts forming cords and losing their fur at this stage. When the cords have begun developing, your priority should be to start working to create cords. To do this:
Ensure the base of the dog's cord is the thickness of your thumb.
Next, take a section of the hair and separate it down to the skin.
Work with natural cords to ensure all the hair gets wrapped in a cord that starts from the skin and winds down effortlessly to avoid matting. You can use a mat splitter, scissors, or your fingers if need be.
Once the cords are formed and fully grown, you can trim them a bit to avoid matting. However, trimming should be avoided for show purposes.
Every few months, repeat the previous steps to ensure new growth is incorporated into the cords to avoid matting.
To keep the coat clean, run your fingers through the coat every day and remove any debris or dirt you come across.
The Bathing Method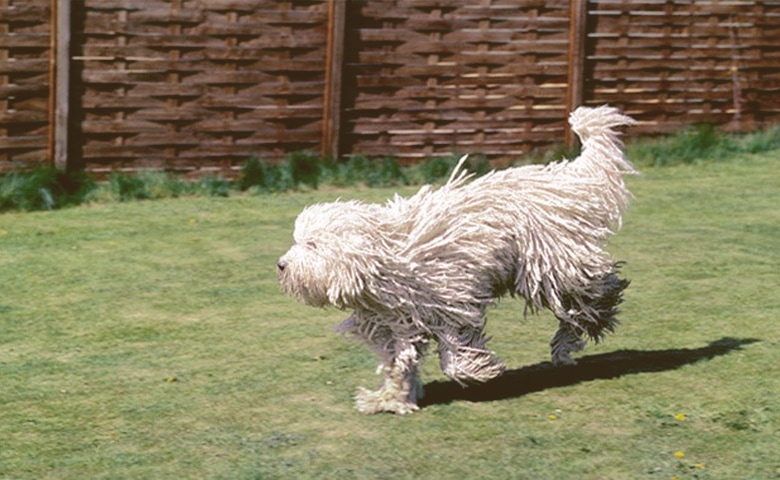 While the no bathing method is hassle-free and convenient, it doesn't work well on its own. The coat may get easily stained if you never bathe your dog. Besides, finger grooming doesn't get rid of all the dirt on the coat. Therefore, from time to time, it's essential to bathe your komondor. You should clean your dog every few weeks to monthly, depending on their activity.
What You'll Need
Shampoo
Nail clipper
Hemostat
Conditioner
Dryer
Towel
Cleaning Instructions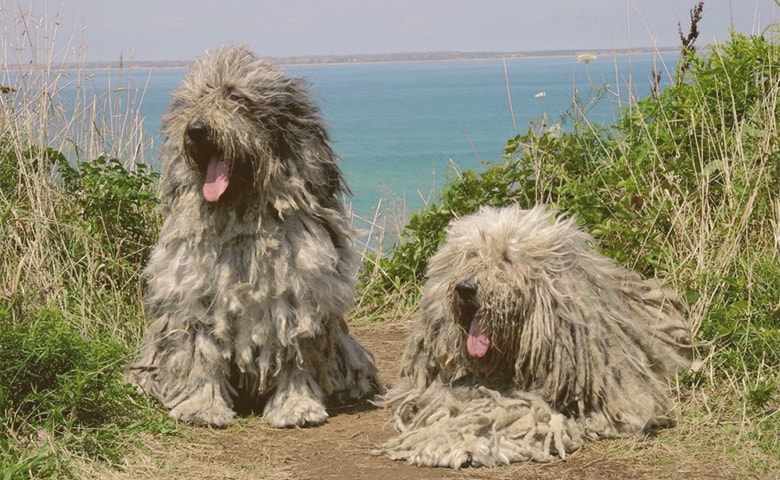 Dilute your dog shampoo and work into your dog's cords by hand to ensure you're getting all the dirt off.
Rinse off the shampoo, ensuring no product is left on the cords. You should rinse until there's no soapy water running from the cords.
Wring the cords with your hands to remove the excess water.
Apply a diluted conditioner to the cords making sure to work your hands into each section to remove any remaining debris and detangle matted cords.
Rinse thoroughly to remove the product and wring the cords with your hands as you did after shampooing.
Use a towel to pat dry the cords, then allow to air dry. This can take hours. A better alternative is to place the dog in a wire crate and aim large fans at him from different angles. You'll need four fans for a faster and even drying process. Another option is to use a clean shop vacuum to suck out the water from the cord or a dog fur dryer.
Once the coat is dry, the next step is to trim off excess hair around the paws, belly, and genitals. Trim the nails and clean the ears as well. You should also use the hemostat to remove excess hair in different parts.
How to Keep Your Komondor Odor-Free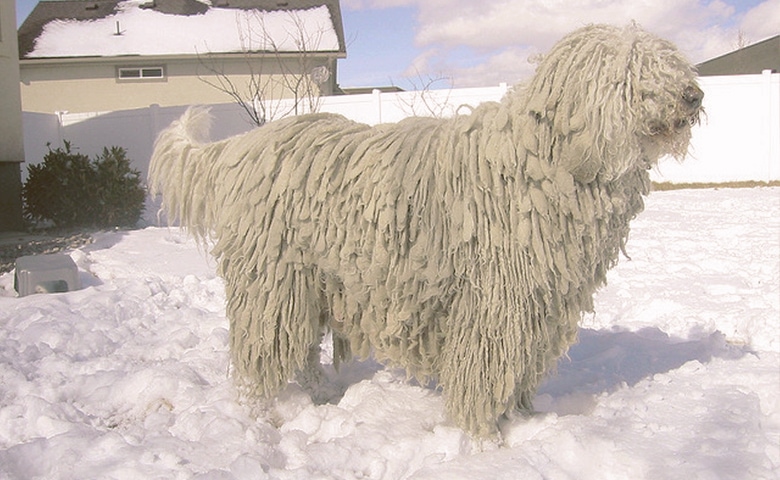 Will my komondor smell? This has got to be one of the most frequently asked questions among individuals considering getting a komondor. Mop dogs don't smell any more than any other dog breed would. With proper grooming and cord maintenance, your dog shouldn't smell bad.
Some of the things you can do to ensure your dog doesn't develop an odor include:
Cleaning around the genitals
Trimming excess hair often
Bathing when required
Ensuring the dog's coat is sufficiently dry after bathing
Important Considerations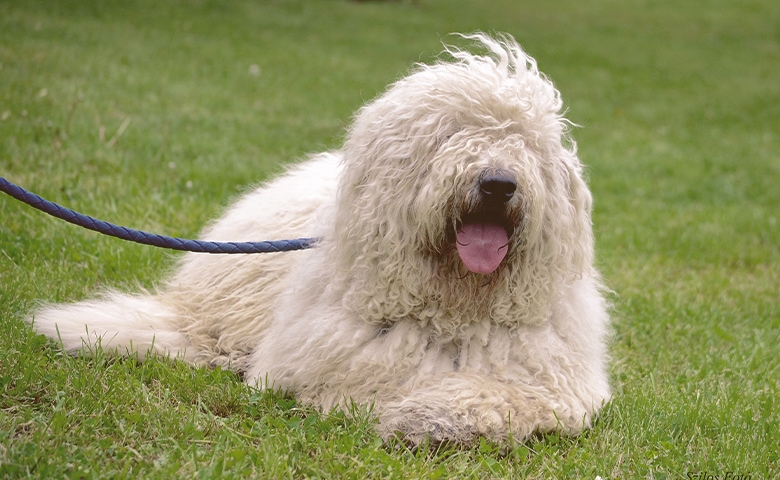 Before you take out your dog cleaning supplies, there are several things you need to keep in mind. These include:
Prioritize forming cords: Forming your komondor's cords is a daily commitment. You should do it consistently to avoid matting and clumping. Therefore, make sure you've set aside enough time to do it every day. If you can't commit to doing it every day, clipping is a better alternative.
Set aside enough time for the dog to dry: If you plan to air dry your mop dog, it's best to do it when there's sufficient sunlight. Also, ensure the dog has dried up completely. Otherwise, the coat may develop an odor, or worse, the dog may get an infection.
Consider investing in a professional dryer: Drying time can be excessive for a corded dog. A professional dryer makes things easier and faster.
Never brush a corded dog when the cords begin to form: Brushing makes it impossible to form the curls required for the coat to form cords.
Now Go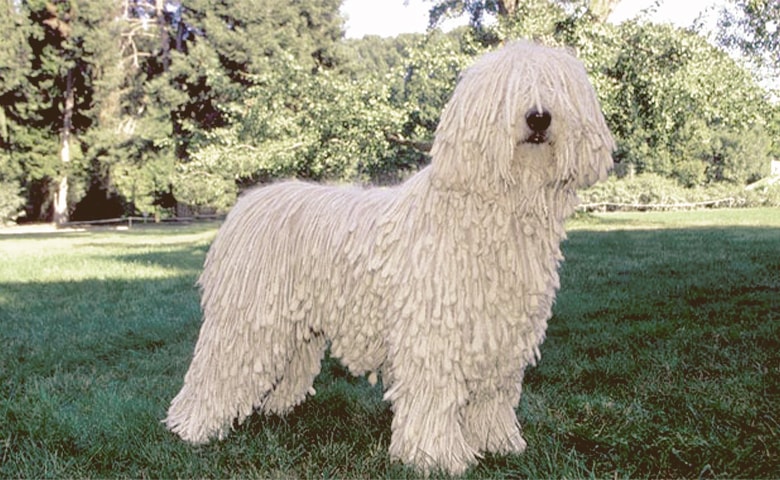 A komondor may not seem like the easiest dog to groom, but as you can see, with the right practices, it's a walk in the park. The best thing about this dog is that you don't have to bathe him or her often. As long as you're on top of forming the cords and removing dirt and debris daily, bathing is a piece of cake. So don't shy away from getting this dog. It's a show stopper and a perfect companion!
Sources
Wag Walking
Regerastace Komondor & Mudi