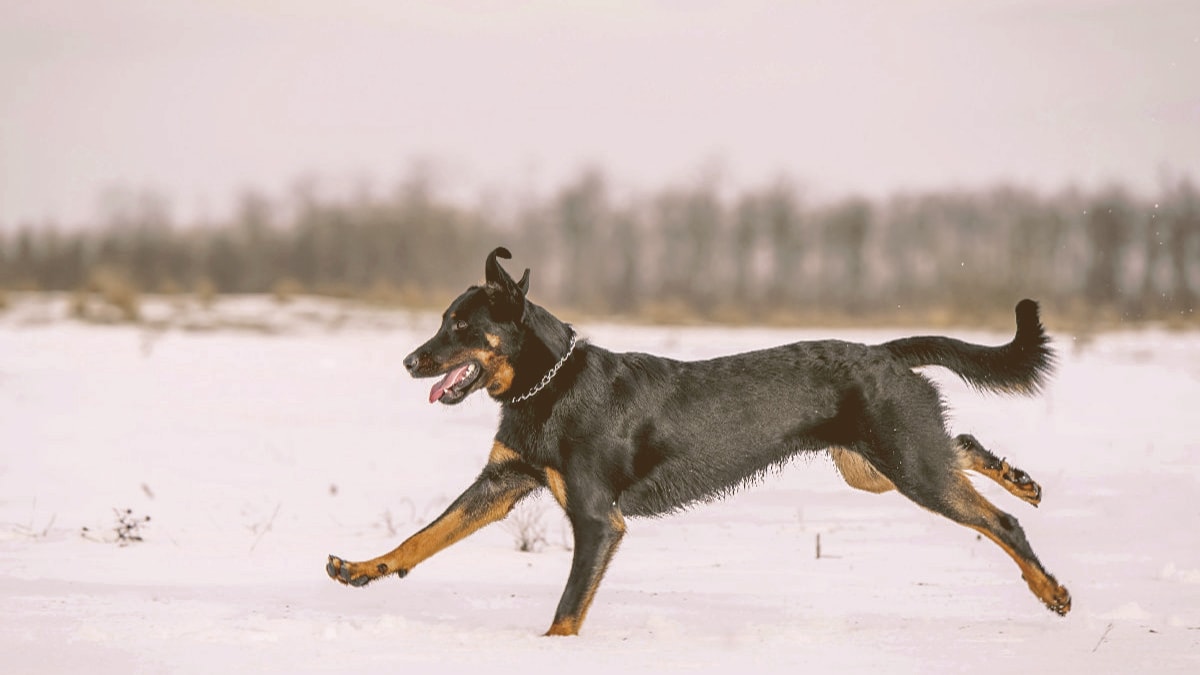 A Quick Guide to Training Your Beauceron
Alex Vicente • Updated on August 1, 2023
This review contains affiliate links. Read more here.
Not a substitute for professional veterinary help.
The Beauceron is a herding breed that originates from Central France. This handsome dog is known for its high intelligence and ability to adapt to many lifestyles. It is perfect as a family pet, exercise buddy, or guard dog. In spite of its many qualities, Beaucerons are not common outside of France. So you may have some questions about training this gorgeous creature.
Whether you are a new owner of a Beauceron or simply considering adopting this amazing canine, this guide will cover the essentials of training so you can hit the ground running. Read on to learn all about training your Beauceron.
Table of Contents
Are Beaucerons Easy to Train?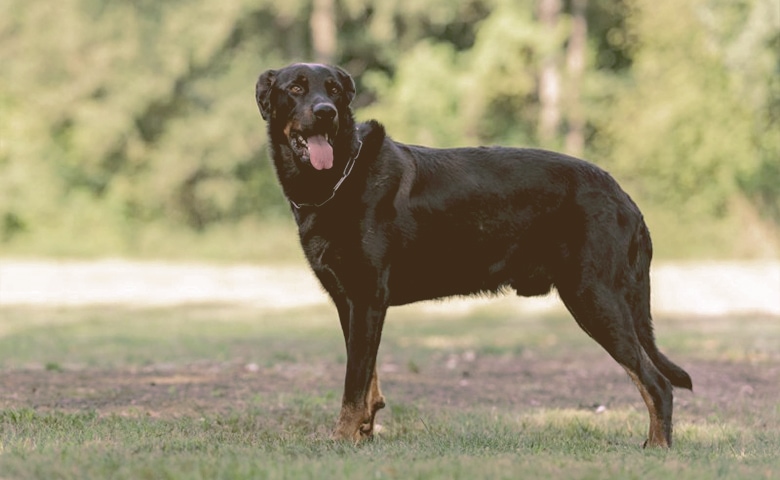 For the experienced dog owner, Beaucerons are relatively easy to train. They have traits that make them great companions and promote healthy training between owner and dog.
They are smart
They have lots of energy
They are loyal
Their high levels of intelligence make them quick learners. However, novice owners may find the breed's stubborn personality, and high energy needs difficult to handle. Still, with the right training methods, the Beauceron will become a life-long companion.
Establish a Bond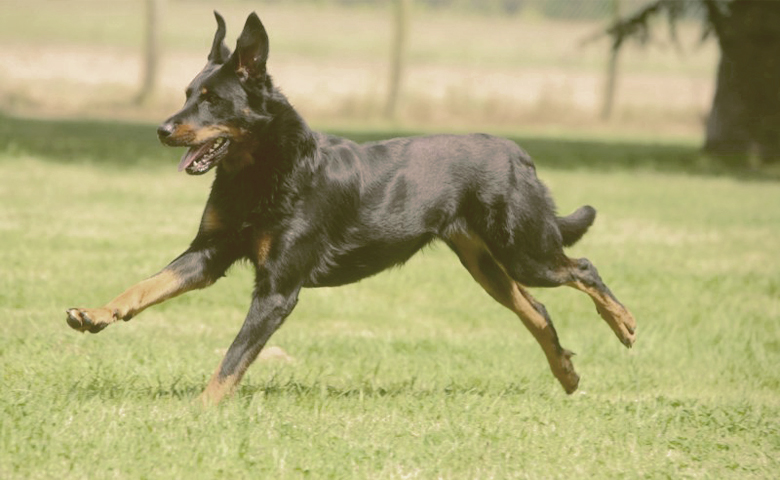 As tempting as it may be to jump right into training, the primary priority should be developing the bond between you and your canine companion. The relationship you have with your Beauceron will be the cornerstone of everything. Luckily, it is straightforward and simple to create.
Playing is the easiest way to bond with your Beauceron. A few minutes of tug or fetch each day will make you two best friends in no time. When you are busy working, simply having your dog nearby will work just fine. If you are active, going on long hikes is a perfect way to bond and tire out your pup.
Any activity that can be done together will suffice. Bonding allows for the following developmental necessities:
Remember, the Beauceron is a stubborn breed and will not hesitate to disobey orders if they have no respect for their owners.
Remember, dogs are not robots. While Beaucerons and other working breeds require a job, they need friendship first and foremost.
Be Consistent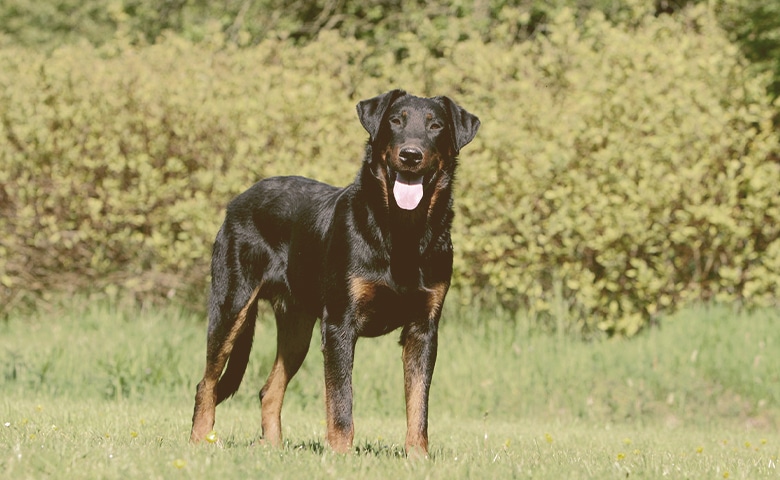 Just like with people, what dogs do most often becomes a habit. Therefore you need to constantly reinforce good behaviors while stopping and redirecting bad behaviors. The first year home will be most critical and will require the most vigilance.
Their keen minds and willfulness cause Beaucerons to test boundaries, seeing what they can get away with. You may think there is no harm in giving in once or twice, especially when your pup is pleading with his big brown eyes. However, he will grow to expect that outcome, and the habit will be much harder to break.
Consistency also means not allowing your dog to fail too often when learning new commands. Setbacks and mistakes are inevitable in training, but if your Beauceron is struggling with a new skill having him constantly fail only reinforces the incorrect behavior.
Make the requirements foolproof, then gradually increase the difficulty:
If you are teaching "stay," rather than issuing the command and exiting the room, simply take one step back then immediately reward.
Once certain your dog has the concept down, you can increase the number of steps and distance until he can stay when you leave the room.
In that scenario generates a hundred small wins, which reduce frustration for both you and your pup.
Teach Basics First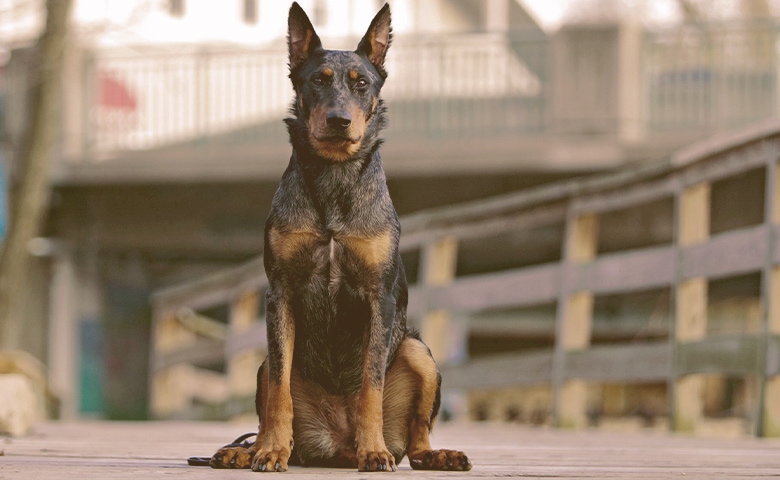 As eager as you may be to have your Beauceron run an advanced agility course, it should not be on the list of introductory tricks.
Communication is the backbone of training. Basic obedience commands are the building blocks of understanding between you and your Beauceron. Most dog trainers start with sit as it is easiest to learn and is a great way of redirecting your dog if he is engaging in undesirable behavior.
The following commands are versatile and are what every well-behaved dog needs to know. Most dogs also learn them quickly, so in a matter of minutes, you have created the foundations for communication with your dog.
"Sit."
"Down."
"Stay."
"No," or "Leave it."
"Focus." or "Look at me."
Recall
Loose leash walking
Five to 10 minutes two to three times a day will be more than sufficient when you first begin. After a few weeks, your dog will be well on his way to learning more advanced commands and tricks. Each day will present an opportunity to put these to good use, and soon enough, they will become second nature.
Tailor Training for Your Individual Dog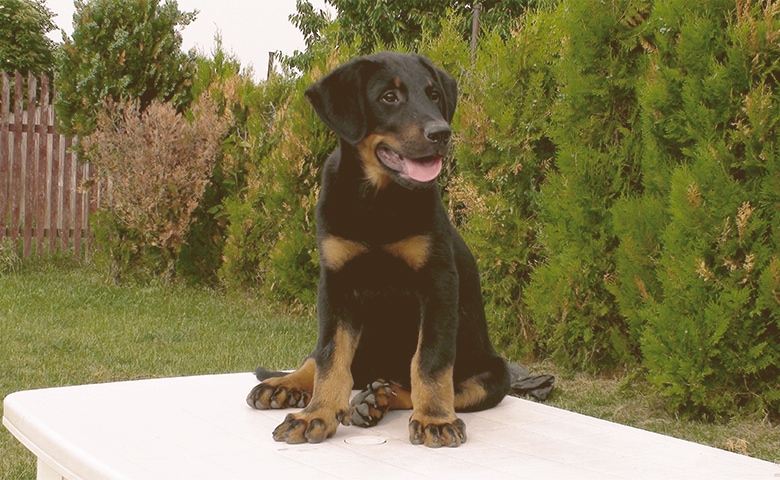 Regardless of breed generalities, each dog will have their own unique personality and temperament, just like people. It is quite possible to have a Beauceron that is a couch potato and not a fan of long walks or hikes. With that in mind, it is important to tailor training to meet your dog's specific needs.
If your Beauceron gets quickly bored of training even with the smelliest liver treat as a reward, chances are he is more motivated by play or affection than food. That means a squeaky tennis ball or a few belly rubs would be more of a reward than any treat.
Knowing what drives your dog crazy with excitement will have him eager to work for you, even in a distracting environment. Your dog's personality and needs will dictate which training methods work best.
A puppy will need more play and shorter training sessions, while an older dog would do well with less stimulation. A rescue Beauceron may take longer to socialize because of its history, so more patience and a gentler approach will be necessary.
Try Different Approaches Until One Works
Experiment with different parts of the training regimen to see where improvements can be made. Here are some things to keep in mind when creating your dog's training regimen.
Preferred reward
Age
Rescues vs. adopted from a breeder
Time of day for training
Training before or after play
Length of each individual session
The temperament of your dog
Apart from your dog's personality, you want to keep in mind your specific goals and lifestyle. How much time can you dedicate each day to training and exercise? Do you want to participate in agility sports, or would you rather a hiking buddy?
Knowing your desired outcome will create focus only on what is necessary. If you have no desire to enter dog shows, then there is no need to have a perfect heel command. Instead, that effort can be channeled to frisbee trick shots.
At the end of the day, no two Beaucerons are alike, so take the time to figure out what makes yours unique, then use that to customize his training.
Find a Community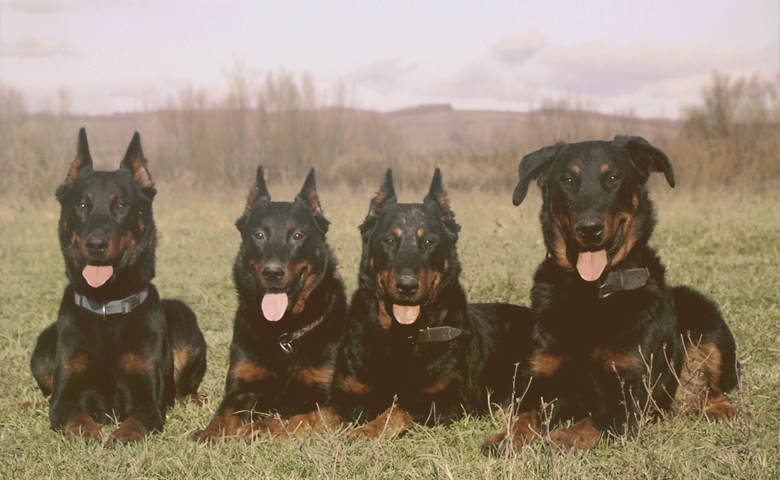 All dog owners need to remember you are not alone. Chances are the issues or quirks you have with your dog have been experienced by another owner, so do not hesitate to reach out for support.
Look for online forums
Create a social media group
Reach out to a trainer in person
Depending on where you live, Beaucerons are a fairly unknown breed. Chances are, there may not be a local group of Beauceron parents. Reddit and YouTube are great resources for connecting with other owners.
Reddit is wonderful in particular because nearly every question you could think of relating to raising and owning a dog has been answered. If it has not, you can easily ask and have access to knowledge from people all over the world. There is even a dedicated subreddit for Beaucerons.
If you prefer having an in-person network, then connect with a local trainer. She will have experience with working or herding breeds and will be an invaluable source of information. Trainers can also help you find local clubs filled with dogs that share a similar temperament and energy drive.
Sources
The American Kennel Club
The Academic Hound
Vetstreet