Should You Leave Your Dog a Night Light for Sleeping?
Not a substitute for professional veterinary help.
It's already hard as it is to leave behind our furry best friends at home, but life happens: work, errands, and the list goes on. Much like humans our dogs crave interaction and enjoy consistency – but do they have fears like humans? Can dogs be afraid of the dark, too? Should you leave a night light on for sleeping?
If your dog has not exhibited any signs of vision problems, dementia, or separation anxiety, there is no reason to leave a light on at night. Leaving the light on can disturb circadian rhythms and take away from restorative sleep.
If you have reason to believe that your dog suffers from vision problems or may be experiencing symptoms of dementia, make sure to take your dog to the vet for a consult before making any decisions. Keep reading for more info.
Dog Night Light For Sleeping
While some dogs are fully healthy and free of any vision problems, dementia, or separation anxiety, many of our furry best friends do suffer from these common ailments. In many cases, being in the dark can exacerbate this, causing unnecessary anxiety and stress to our friends.
There are numerous indicators and clues to look for to determine whether your dog would benefit from having a light on at night. Things to keep an eye out for that may indicate a nightlight could be useful for your dog include:
You know, or have reason to believe that your dog suffers from vision loss, or is fully blind.
You know or have reason to believe your older dog is suffering from memory loss, dementia, or any cognitive disorder that may disrupt their memory of your home.
Your dog exhibits signs of separation anxiety, like whining in the dark while you are away from home.
In general, if your dog does not suffer from any ailment that would somehow affect its vision or memory of your home's layout, then you should consider letting your dog sleep in complete darkness. Darkness triggers melatonin production, which is a hormone that helps both humans and animals fall asleep.
Having a light on in the dark can disrupt the production of melatonin, and therefore make it harder for your dog to fall asleep. It can also take away from restful and restorative sleep. For these reasons, you should think carefully about what your dog's needs are before making a decision.
Is My Dog Afraid of the Dark?
Those of us with fur children are constantly looking for ways to improve their quality of life. Dogs have many similar needs as human children do, and many similar fears as well. Our reasons for leaving the light on at night may vary, but for many of us, it stems from a very real fear – the dark.
While humans experience real fear of the dark, you may be wondering – is my dog afraid of the dark too? While we will never know for sure as dogs cannot communicate with us through verbal cues, we can observe reactions and make educated guesses.
Scientifically speaking, being afraid of the dark is not a very common diagnosis given by veterinarians. However, from an evolutionary standpoint, the absence of light could be seen as a natural reason to be more alert, as visibility is reduced. Moreover, the darkness may be a trigger for another issue your dog is experiencing.
As previously mentioned, for a dog who has reduced vision, darkness at night can add to anxiety and confusion as surroundings are much less visible. For dogs with dementia who forget consistencies in their life, like the layout of their home, this can be especially distressing when they can't easily find their way around.
Furthermore, dogs who suffer from separation anxiety may also be triggered by the darkness at night. The best way to know whether your dog would benefit from a night light is to use trial and error. If your dog seems to be sleeping more restfully with a light on, then you should continue doing so.
Can Dogs See Well in the Dark?
Leaving a light on at night is often for fear of the dark, or so we think – but can dogs see well in the dark, or is their vision greatly reduced like humans? Luckily dogs have much better vision than humans and can see much more in reduced light than their human parents.
Dogs are equipped with stronger vision than humans, but slightly less than cats. Experts believe that they can see in light about five times dimmer than humans. For this reason, your dog's anxiety from the dark is probably stemming from something else, and not simply from the darkness itself.
If your dog suffers from any kind of vision loss or impairment, then this won't apply. In that case, your dog may only see one or two times dimmer than humans. In some cases, a dog's vision is so limited that it is the same as humans. In this case, the darkness can be overwhelming for a dog as they can't see as well as they used to.
In this case, it's important to consider your dog's options. A night light would be a great option here, as dogs, like humans, struggle to navigate at night when they need to go to the bathroom. A night light might work in these situations.
Clues that my Dog is Afraid of the Dark
So you are trying to decide whether to leave the light on or not. Maybe your dog has preexisting conditions that are making you lean towards doing so, or maybe your dog is perfectly healthy. It's a tough decision to make as you cannot simply know how they are feeling. Instead, you must closely observe to get your answer.
There are many signs that your dog is afraid of the dark, including:
They quickly run out of any dimly lit area, or any dark room.
When the lights go out they sit and refuse to move.
They cry, whine or bark most of the time in the dark.
They exhibit destructive behavior like peeing or pooping or destroying items like a pillow.
If your dog exhibits any or all of these signs, they are more likely than not to be afraid or anxious due to being in the dark. For these reasons, it's important to consider leaving a light on at night for them to sleep. Again, this a process and you should go with what works best for you.
Trial and error will be your friend throughout the process. Try leaving a light on for a few nights in a row and see how your dog reacts. Do they sleep well throughout the night? If so, keep doing it. If not, then they may not be benefiting from having a night light, and you should remove it.
How to Promote Healthy Sleep
For puppies or dogs who have preexisting conditions, it's important to plan for bedtime. While many of us are wondering whether to leave a nightlight on or off, there is no straightforward answer, and experimentation is the best way. However, there are other factors as well that can help reduce your dog's fear of the dark.
There are methods or tools you can use to promote healthy sleep, whether with a night light or not. These include:
| | |
| --- | --- |
| Energy | By the time your dog gets to bed, they will have ideally spent a lot of their energy so they will be able to get to sleep quickly. If your dog is not getting enough activity this may also be contributing to anxiety and trouble sleeping at night. |
| Bathroom | Just like kids, and even adults, it's important to make sure that your dogs use the potty before bedtime so they can sleep through the night. If you choose to not use a night light, this will ensure that your dog is not up at night and moving around in the dark. |
| Comfort | Again, much like humans, dogs can have more restorative sleep and less anxiety if they are comfortable. This means a quality bed, a toy to snuggle with, and perhaps even a blanket. This will help reduce anxiety stemming from the darkness and promote sleep. |
| Noise | This is an obvious, but very important aspect of good sleep. Silence is important for both you and your dog to achieve restorative sleep. You may also find that your dog benefits from calming music. You can buy CDs specifically for dogs or come up with a playlist that works. |
One last method that may help your dog at night, with a night light on or without, is an anti-anxiety medication prescribed by your veterinarian. It is extremely important to note that you should always consult with a professional before starting your dog on any sort of medication.
What Night Light is Best?
If you have used trial and error and determined that your dog is indeed afraid of the dark and that they sleep much better with a light, then you may be wondering what the best night light for your dog is. As there are many options out there it's hard to narrow your search – but don't sweat it as we have already done the work for you.
There are multiple options available, but the best night lights are dim enough not to overpower your eyes at night while also being powerful enough to allow you to see what is around you. The best are also automatic, that is they can detect light and switch on and off at dusk and dawn.
As we previously mentioned, too much light can disrupt your dog's melatonin production, and therefore their circadian rhythm. If you feel that a nightlight is the best route to go for your dog, you want to make sure that your pup is not getting bright white light while trying to sleep. Dim, soft-white light is a great universal option.
The following are some great nightlight options that have the essential features you and your dog will love: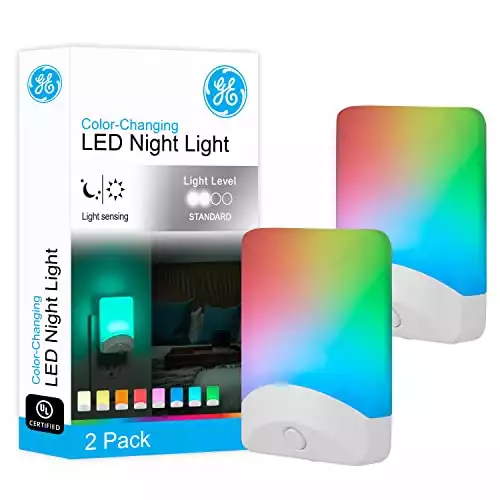 GE Color-Changing LED Night Light
These are an awesome pick, touting automatic features that mean you won't have to switch it on and off. This makes it eco-friendly and easy to use. The coolest part is that you can change the light to any color you want, right from your phone!
CLICK HERE FOR LOWEST PRICE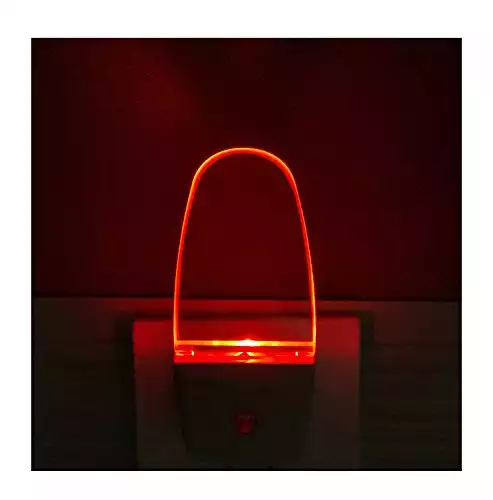 GREENIC Red Plug in LED Night Light
This night light is especially interesting as it has a red hue instead of your traditional white light. The red light is more subtle and is just bright enough for you to see, but not too bright to jolt your system. It's automatic and energy-efficient too.
CLICK HERE FOR LOWEST PRICE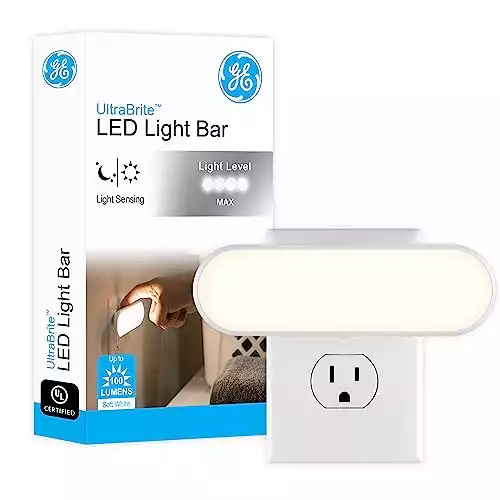 GE Ultrabrite LED Light Bar
This night light is interesting to those who hate giving up an entire light socket for your night light. The sleek design of GE Ultrabrite means you can use the second socket with no problem. It's energy-efficient and can be set to automatic, too.
CLICK HERE FOR LOWEST PRICE
DORESshop Night Light
We picked this one for its unbeatable aesthetic and utility. It produces a soft glare-free light that won't jolt your eyes at night and can be set to automatically switch on and off. The best part is you can adjust the lighting to your desired brightness.
CLICK HERE FOR LOWEST PRICE
All of these night lights are not only dog-friendly, but also human-friendly as they are all automated, and therefore energy efficient. Once you get your new night light try it out for a few nights to see how your dog reacts. You can even try changing colors if your night light has that feature!
Help, My Dog is Still Afraid!
Now, you may have tried everything including night light and your dog is still not able to sleep well at night. At this point, having exhausted all other options, your best bet may be to assist your dog in adjusting to the darkness, thereby relieving their anxieties.
There are a few ways to go about this process. You should always be patient with your pup, as this is not a quick process and will have to naturally happen over time. Here are a few suggestions to help get your dog accustomed to the dark so you won't even need a night light at all:
Method 1: good things can happen in the dark, so it's important to show your dog that. Instead of giving treats or playing with your dog in light, try turning down the darkness in a room and doing the same there. Give a treat or play a game. Over time turn the light darker as they get accustomed.
Method 2: try taking your dog for a walk at night. Make sure to bring a flashlight and light the way as you go. As you walk try turning the lights dimmer slowly and see how your dog reacts. If they are doing ok, give them a treat or cuddles to reinforce this positive reaction.
Method 3: if you are hanging out at home watching tv with your dog, try turning down the lights slowly throughout the night as you sit with him. Having your presence and support comfort him as the lights get darker. If they do ok continue to give them love to connect positivity to dark light.
Method 4: take your dog out to use the bathroom in your yard. At first, have your light on, but slowly dim it as your dog does his business. Give positive reinforcement, like calling their name or giving treats. Eventually, they will be in complete darkness. If they do well, more treats and love!
While these are just a few examples, there are many other methods that you can use. The main takeaway is that this will be a slow process that happens over weeks, and maybe months. Eventually, your dog will get more and more comfortable with the dark, and you won't even need to worry about having a night light for them at all.
While leaving a night light for your dog is a personal decision, many factors and clues can help you make the best decision for your dog. Overall, trial and error is the only way to truly determine if your dog would benefit from having a night light on at night or not.
If a night light doesn't help your dog's anxiety at night, there are many other methods out there to help pinpoint the source of the anxiety so you can alleviate it. One thing is for sure: there is no right answer, and you should always do what works for you and your furry best friend.