The 6 Best Dog Beds for German Shepherds (2023 Edition)
Not a substitute for professional veterinary help.
German Shepherds are one of the most intelligent dog breeds. They are calm, caring dogs that are popular with families. If you have one of these playful companions in your home, then you want to treat it well. One way to do that is to buy the best dog bed for German Shepherd.
The Best Dog Bed for German Shepherd
The best dog bed for German Shepherd is comfortable, easy-to-clean, and durable. These are some of the best choices on the market today.
OUR PICK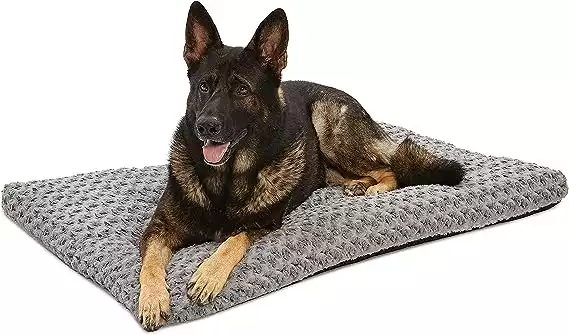 The Midwest Homes Super Plush Bed provides comfort for large dogs. The cushion is four inches thick for plenty of support. It fits inside of crates but can be placed anywhere around the house or outside, too. It has a non-slip bottom to stay in place when your dog climbs on it.
The neutral color hides pet fur and fits with many decor styles. The whole bed is machine-washable and comes with a one-year warranty. You do not have to remove the cover to wash the bed. The cover is a plush fabric with an attractive swirl.
Pros

The whole bed is machine-washable

Non-skid dots on the bottom

Dogs like the fleecy, plush top

Fits in crate
Cons

Flatten quickly

Quality-control issues

Cushion isn't as supportive as memory foam
Fits in crate
RUNNER-UP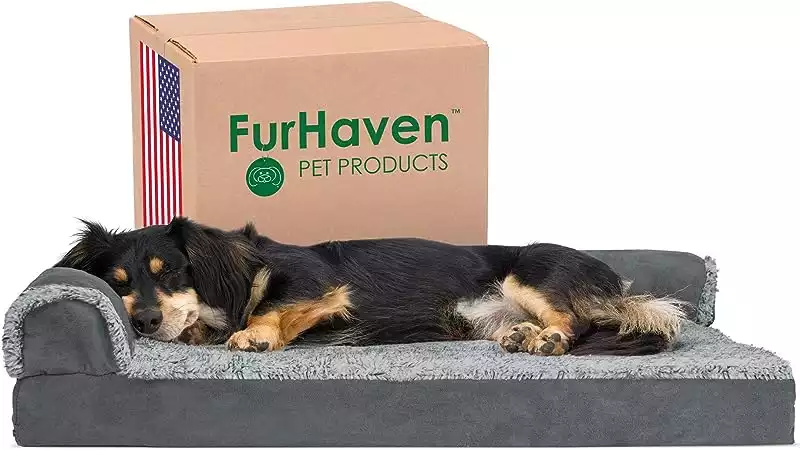 Furhaven Plush Orthopedic Sofa
Deluxe Chaise lounge Two-Tone-Faux Fur & Suede.
A luxuriously soft faux fur sleep surface is complemented by suede-covered bolsters and gusset Ultra-plush flecked faux fur provides a snuggly soft sleep surface and trims the edges of the bolster for a chic flair.
CLICK HERE FOR LOWEST PRICE
The Furhaven Lounger is in the sofa style and looks like an L-shaped chaise lounge. It has two walls so your German Shepherd can rest its head. It has supportive egg-crate orthopedic foam cushioning to help dogs that need relief from joint pain. The bed comes in several sizes to fit German Shepherds of all ages and weights.
The cushion has a machine washable cover made of faux fur. The bolsters are machine-washable micro-suede. The bed comes with a 90-day limited warranty.
Pros

Supportive orthopedic foam cushion

Machine-washable cover

Raised walls offer several sleeping options

Foam has the CertiPUR-US(R) label
Cons

Chewing dogs can get to the foam

Foam is three inches thick

Some quality-control issues with covers and zippers
Foam has the CertiPUR-US(R) label
ALSO GREAT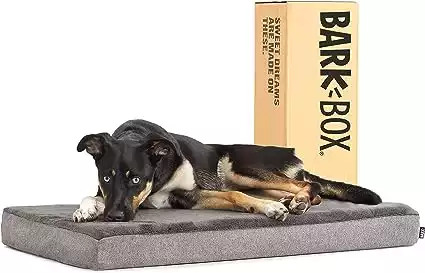 The BarkBox Dog Bed has therapeutic gel memory foam for support for all aches and pains. It has a machine washable cover with a convenient zipper and a waterproof lining. In the larger sizes, the ultra-plush foam is four inches thick and arrives vacuum-packed. It comes in several sizes for all German Shepherds. It comes in neutral colors to conceal dog fur.
The bed is portable and easy to move in and out of your dog's crate. It weighs under four pounds. The bed comes with a dog toy, too.
Pros

Lightweight

Easy to clean

Portable

Supportive gel memory foam
Cons

The zipper has quality control issues

Take about three days to inflate after shipping fully

Some wetness could leak into the foam
Supportive gel memory foam
ALSO GREAT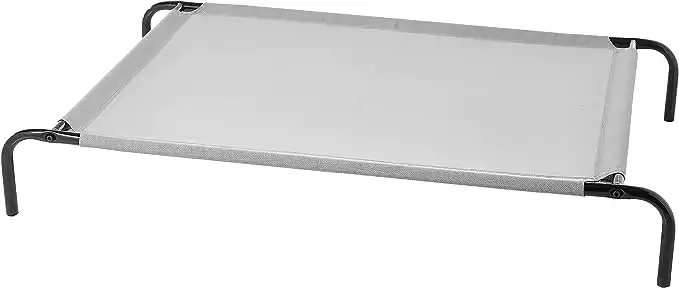 This elevated bed lifts your German Shepherd seven inches off of the ground. The metal and plastic legs arrive in pieces and include screws and a hex tool for quick assembly. It is easy to clean by spraying it with a hose or using tap water.
The cot is a breathable PVC mesh that allows for cooling airflow. It serves as a cooling mat, as well as a comfortable dog bed. The legs are curved to keep your dog safe. You can put the cot in your home or outside on beautiful days. It is lightweight and portable. As an added benefit, if you have a robot vacuum, this bed lifts your dog so you can keep your floors clean.
Pros

Portable

Easy to clean

Works as a cooling mat and bed

Easy assembly

One-year warranty
Cons

No cushion

Legs can have quality-control issues

Screws need occasional retightening
Easy assembly

One-year warranty
ALSO GREAT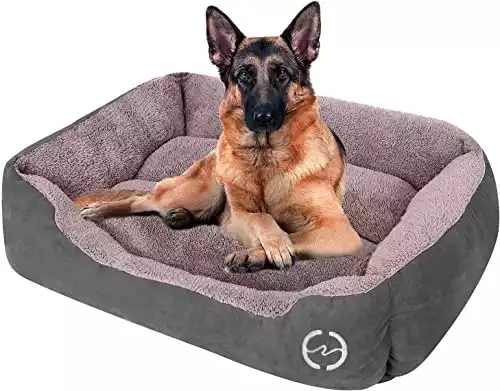 The CLOUDZONE bed lives up to its name. The seven-inch cushion offers support for large German Shepherds. The bed has a non-toxic fleece cover with sides made of cotton. The raised sides of the bed act as a pillow for your dog. The cushion is polypropylene and cotton, so it adjusts to your dog's body.
The entire bed is machine washable, and it will retain its shape. It has rubber dots on the bottom to grip the ground so it will not move when your dog is on it. The bed fits in dog crates and provides comfort for dogs of all ages.
Pros

Entire bed is machine-washable

Grippy dots keep it in one place

Fits in crates

Raised sides provide a pillow for your dog
Cons

Filling is not as supportive as memory foam

Mixed levels of padding

Quality-control issues with stitching
Raised sides provide a pillow for your dog
ALSO GREAT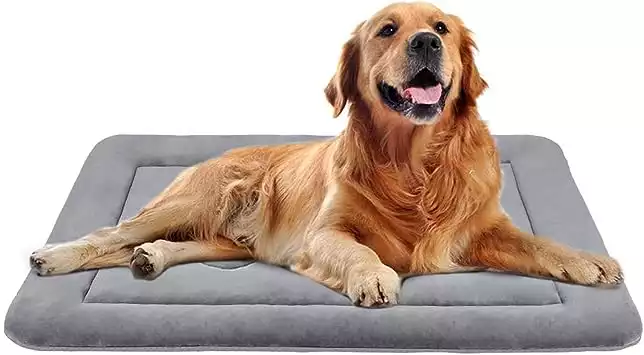 The JoicyCo bed has a fleece cover with a cushion made of plush cotton. The dog bed is perfect for crates and is machine-washable. It retains its shape no matter how many times you wash it. The bed also has a non-slip bottom, so it stays in the crate or on your floor. It is portable, so you can put it in your car or outside on beautiful days.
The bed is breathable to keep your dog cool. It is chew-resistant, so it is an excellent choice for puppies and younger dogs that still like to chew on anything and everything.
Pros

Machine-washable

Portable and fits in crates and cars

Comfortable, breathable fabric

Chew-resistant
Cons

Obsessive chewers can chew through it

Thinner than most dog beds

Can shrink after washing and drying
Chew-resistant
What Your German Shepherd Needs in a Dog Bed
Before you shop for the best dog beds for German Shepherd, there are several things to consider since German Shepherds are large dogs. According to the American Kennel Club, they can weigh between 50 and 90 pounds as adults, so the bed you choose should be able to support their weight.
Your German Shepherd will spend a significant amount of time resting on its bed, so it should be durable. Even though they are energetic dogs, they will sleep between 12 and 14 hours each day. When you buy the best dog bed for German Shepherd, you want it to last.
German Shepherds shed their coats all year long, and they usually lose their undercoat twice per year. Because of their shedding tendencies, you will want to invest in a dog bed that is easy to clean.
Dog Bed Features to Consider
Dog beds are more than just cushions that you put on the floor or in your pet's crate. They offer dogs places to relax and feel at home. Dog beds have several features that make dogs and their owners happy.
The best dog bed for German Shepherd comes with several cushioning options. These options provide different levels of support for your pet.
Some dog beds have memory foam, or orthopedic foam, which works just like the memory foam in human beds. It conforms to your dog's body, and the foam can come in a single piece or shredded.
Memory foam is supportive, but support foam offers even more support. This type of foam is a less expensive option that does not conform to your dog's body. While memory foam is suitable for aging dogs with arthritis, support foam is misleading as it can be uncomfortable for dogs that need the cradling that memory foam offers. Support foam often comes in an egg-crate design.


If you are buying a dog bed with any type of foam, be sure it has the CertiPUR-US® label on it. You also want to be sure that the foam does not contain any toxins because some dogs will chew through the covers of their beds and get into the foam filling.
Another common choice for cushioning is polyfiber, which is the little balls you might see in bean bags. Polyfiber fill is suitable for young dogs that want comfort, but do not need support. The polyfiber balls will move around your dog's body when it is lying on the bed. This is an excellent choice for young German Shepherds, but not for heavier older ones.
Finally, dog beds often have cedar chips as the cushioning element. Some manufacturers put polyfiber in these beds, too. While this might not be the most comfortable option for German Shepherds, the cedar keeps bugs and smells at bay.
When shopping for your German Shepherd's bed, you should only look at those that have removable covers. Nearly all dog beds have this because they pick up odors and dirt. The cover should have a hidden zipper to prevent your German Shepherd from playing with it and exposing the inside of the bed.
Covers come in several fabrics, including
Cotton
Polyester
Faux furs and suede
Fleece
Before you buy your best dog bed for German Shepherd, be sure the washing instructions explicitly say you can wash the cover in a machine. You cannot wash most dog beds in a machine because it would destroy the cushioning material.
Dog beds often have waterproof materials, too. These materials keep the inner cushion protected from the occasional accident. The thickness of the waterproof polyester or nylon is measured with a term called denier. The thicker the denier, the thicker the fiber. Not all beds have a waterproof element, especially the less expensive models.
Heating and Cooling Features
Dogs cannot control their body temperatures, so some pet owners like to offer their dogs beds with heating or cooling features. Cooling features often include ice sheets or gel. Heating features often need electricity. These are good choices for older dogs who need relief from joint pain.
Dog beds come in several styles, too. These offer varying levels of support, and they require varying amounts of space. Some fit in crates, while others are better suited to open spaces in your home. Be sure you order one that supports your dog's weight.

These look like little sofas, with a flat cushioned area surrounded by arms and walls. Depending on the cushioning materials, these can be supportive and comfortable for German Shepherds. You might even find some that have pillows or other accessories. The cushioning and waterproofing vary in a sofa bed.

If you have an older German Shepherd, this is a good choice. They are thicker than other styles and provide support for ailing joints. They usually have good waterproofing for older dogs that have more frequent accidents. These often have memory foam cushioning.
These are cushioned beds that are densely filled but do not have raised sides. They are usually rectangular, have fleece covers, and have different types of cushioning materials. These fit in crates.

These look like small cots and have legs that raise the bed off of the ground. The cots have a stretchy nylon fabric. They do not have cushioning material, and you can easily clean them by spraying them with a hose. These are good beds to put outside for dogs that enjoy relaxing in the sun. It is essential to buy one that will hold your dog's weight.

These look like pillow beds, but are round and have walls around the edges. They are great choices for dogs who like to curl up in a blanket or at your feet. They can have several different types of cushions and waterproofing features.
Still Trying To Decide On A Bed For Your German Shepherd?
The type of dog bed you choose for your German Shepherd should fit your dog's needs. Some dogs need a supportive cushion made of memory foam, while others are fine with thinner beds. If you have an older dog that needs joint support, then the Furhaven Lounger is the best choice, because it has certified therapeutic memory foam inside of it.
If your dog just needs a spot to claim as its own, the Midwest Homes bed is a good choice. It has a cozy fabric cover and is completely machine washable. It fits inside of crates and is lightweight so you can move it around the house as needed.