How to Wash a Dog Bed (With or Without a Removable Cover) and Keep It Clean for Longer
Alex Vicente • Updated on August 22, 2023
This review contains affiliate links. Read more here.
Not a substitute for professional veterinary help.
One of the best investments you can make is in a dog bed. A good, quality bed will last for years and provide your pet with a comfortable place to sleep and rest during the day. But how do you wash it? How can you clean a dog bed?
Washing a dog bed can be a pain, but you can take some simple steps to make it easier.
Here's how to wash your dog's bed in a few simple steps so this is no longer such a painful chore and you can keep it clean and smelling fresh!
ALSO READ: Dog Bed for Arthritis (2023 Edition)
Table of Contents
How do you wash a dog bed in the washing machine?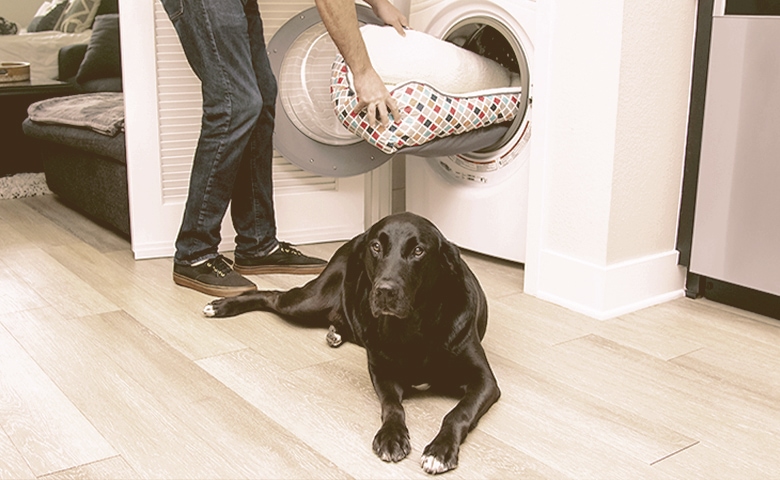 1- Vacuum your dog's bed.
Dog beds need to be vacuumed occasionally, like human beds. Use a vacuum cleaner with a hard floor nozzle attachment and start from one end of the bed and work your way towards the center.
The brush should clean up any dog hair that might have accumulated on the bed. For an extra-deep clean, push up in between the various layers of foam or fiber filling (which is not possible for all types of dog beds).
You may also want to shake the pet bed outside to get rid of loose dirt and as much hair as possible.
2- Remove Stains
Dog beds can get soiled and stained, often while pets are crawling inside or napping there. Properly removing stains from a dog bed will keep you from needing to purchase new ones in the future.
Stains should be removed as quickly as possible because they'll become more noticeable over time. If it's been several days since the last time your dogs crawled onto their beds, start by vacuuming off any loose dirt and hair that might have collected near the seam of the cover or base of their sleeping area. Next, use dish soap with warm water and a soft sponge to scrub away any stubborn pet stains.
You may also use a stain remover but stay away from the regular which has a lot of chemicals that may be harmful to your furry friend. There are stain removers that are made with pets in mind such as Skout's Honor, which is pet and eco-friendly.
3- Presoak in warm and soapy water
Fill up either sink or bathtub with warm water and mix in some pet-friendly laundry detergent.
Make sure the bed is fully submerged and gets completely wet. Let it soak for 10 to 15 minutes.
If the bed is extremely dirty and you notice the water is turning brown quickly, drain it and refill the tub with clean water. Repeat as necessary and leave the bed soaking for another 5 to 10 minutes.
4- Wash your dog's bed
Dog beds usually have covers that can be taken off. Remove the cove and put it in the washing machine. Wash bed on a larger load setting with cold water. Make sure to use a pet-safe laundry detergent so it doesn't irritate your dog's skin.
5- Dry the bed
First, start to wring the dog bed so that it's not too wet. Then place it outside on a mat or drying rack so that it can dry out in indirect sunlight.
If the dog bed fits and the manufacturer's instructions allow it, you can also use a tumble dryer. Just make sure you clean your dryer's lint trap after drying your dog's bed to prevent any dog hair from being trapped in the filter.
ALSO READ: Best Dog Beds for German Shepherds
How often should you wash a dog's bed?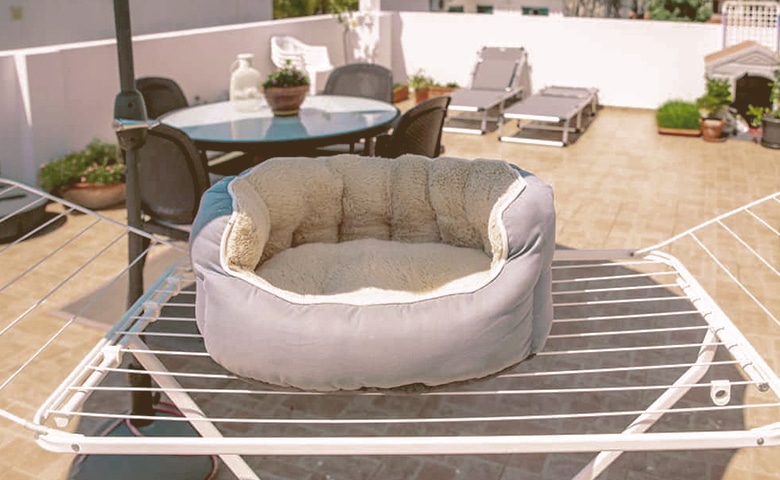 How often you wash a dog bed will depend on a few things. If you spend a lot of time outside or sheds a lot of hair you may want to clean it once a week or once every two weeks.
If your dog spends more time indoors, then once a month may be enough.
You may want to have a second bed handy if you need to wash the main bed very often.
How do you clean dog beds without a removable cover?
Dog beds without a removable cover should be spot cleaned as needed. To prevent the buildup of mud and dirt, use a towel with soap between washes to remove any spots. If your dog is hyperactive or has accidents on its bed, you might want to consider getting one with a washable cover.
Check the instructions for your dog's bed to see if you can machine wash it as some of these don't have to be hand-washed.
What should I wash my dog's bed with?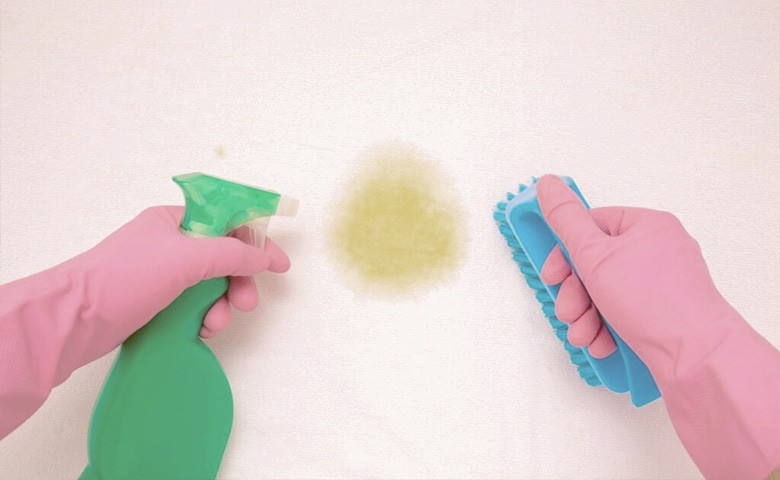 Dogs are notorious for shedding hair and having accidents on their beds.
To keep your dog bed clean, it's important to wash it regularly with an enzyme cleaner or a similar product like Rocco & Roxie Professional Strength Stain & Odor Eliminator – our favorite.
You should also vacuum the mattress as well as any floors around where the bed is kept- more than once per week if needed.
Alternatively, you can also clean with baking soda and white vinegar. Mixing the two makes for a powerful formula to neutralize pet odor and given the acidic nature of vinegar, it's also amazing to kill bacteria.
ALSO READ: Best Dog Bed for Great Danes
How to keep the dog bed clean between washes?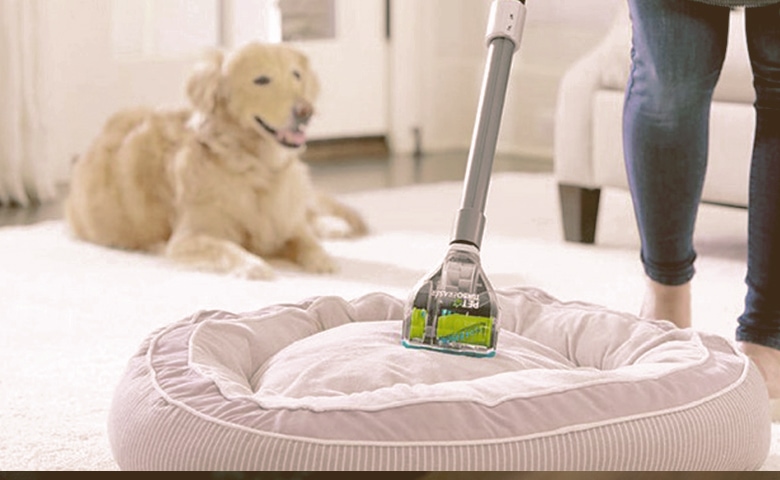 Keeping your dog's bed clean can help keep odors at bay. You can vacuum it and use a steamer to get out stains and smells. You can also buy protective covers for your dog's bed that will make it easier to clean in between washes.
Frequently Asked Questions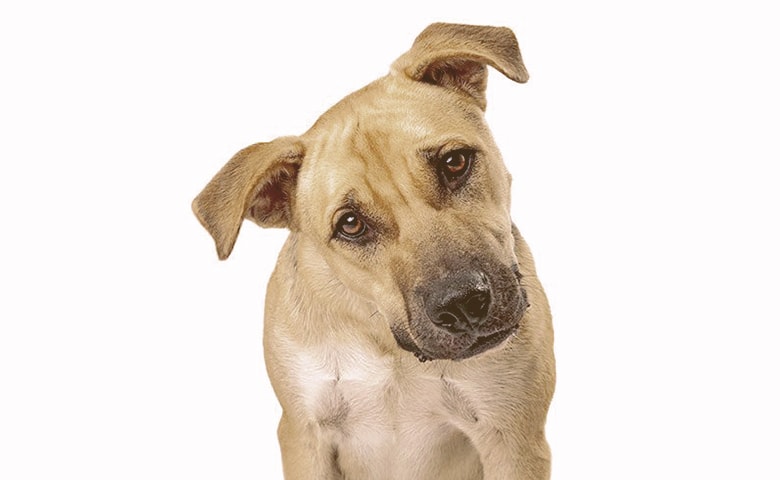 Can I wash my dog's bed in the washing machine?
You can wash most beds in the washing machine, but you should use a short program.
If you use a longer program, it could affect the shape and quality of the bed.
When a dog's bed has a removable cover, you should remove it first before placing the entire bed in the wash.
Always consult the manufacturer's instructions before washing.
How do you get the smell out of a dog bed?
A smelly dog bed is never pleasant and the foul odor is usually caused by old pet hair, food, urine, poop, or other fluids.
You can soak the bed in hot water and a mix of baking soda and vinegar, which will cause the bad odor to disappear a leave the dog's bed clean.
How do you clean pee out of a foam dog bed?
Spot clean and remove as much of the urine as possible so that the smell is less prevalent.
Mix one cup of vinegar with three cups of water in a spray bottle. Vinegar can help break down existing stains and kill bacteria, too!
Soak the urine-stained area in this mixture for 30 minutes to 1 hour. For larger items, like carpets or couches with urine stains, the acetic acid will work best when sprayed directly onto saturated areas and then allowed to air dry.
How do you clean a large foam dog bed?
If the bed has a removable cover, make sure you remove it and wash it in the washing machine separately.
If you can't fit your large foam dog bed in the washing machine, soak it with a pet-friendly laundry detergent in a bathtub or large basin and then let it air dry.
What temperature should I wash my dog's bedding?
It's best to wash a memory foam dog bed on the gentlest cycle possible. Gentle cycles actually use less water and gentle detergents that do not contain harsh chemicals like chlorine, bleach, or any enzymes that may harm a memory foam. So with most washers these days, this is usually the coldest cycle.
Can you wash a dog bed with stuffing in the washer?
The short answer is, yes! You can machine wash your dog bed with the stuffing inside. If the cover is removable, then you can remove it before washing it and put it back on once the bed has been machine washed.
Wrapping It Up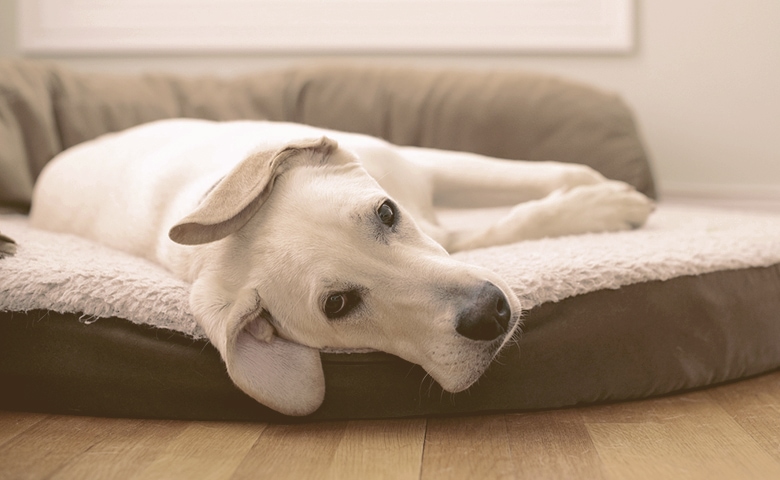 Washing your dog's bed and keeping it clean is important for their health, as well as yours.
In this article, we've covered everything you need to know to clean a dog bed and keep your pet's bed fresh, dirt, and odor-free.
We hope this blog post has helped give you a step-by-step guide on how to wash your dog bed with or without the removable cover. You may have also found some tips for keeping the smell under control and cleaning up accidents that happen throughout the house.