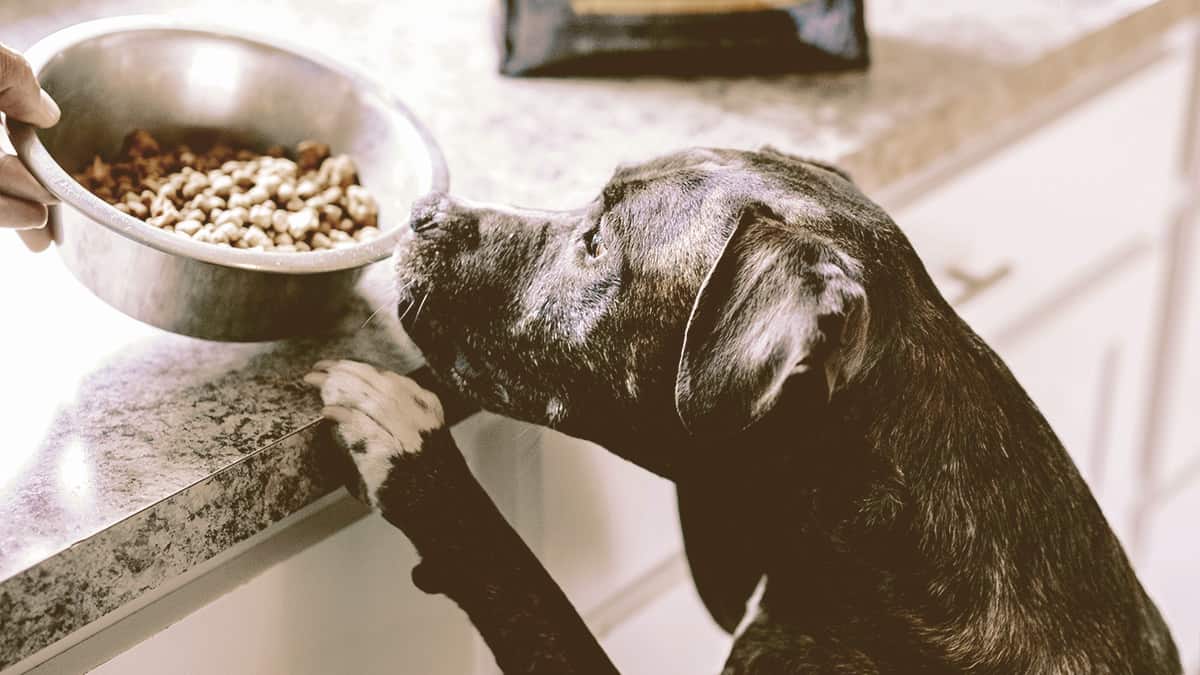 Best Dog Bowl Material: Top Choice + Alternatives
Alex Vicente • Updated on August 17, 2023
This review contains affiliate links. Read more here.
Not a substitute for professional veterinary help.
The material of your dog's food bowl is often overlooked. Many assume that it doesn't really matter, but some materials can hold harmful bacteria and others are too fragile and lead to safety concerns. It's in you and your dog's interest to know what the best material for their food bowl is!
The best material for a dog bowl is stainless steel. It's easy to clean, doesn't hold on to bacteria, and much more durable than some other options. Plastic bowls can hide lots of bacteria while ceramic bowls can break or have an unsafe glaze on them.
So, now you know steel is the best, but to find out exactly why some of the other options aren't up to par, keep reading as we explore the world of dog bowls a bit more in-depth.
Table of Contents
The Best Material for Your Dog's Bowl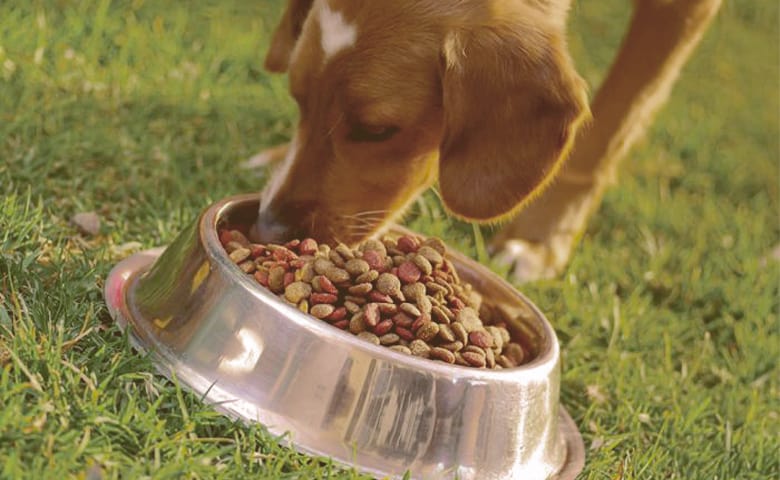 There is pretty much no question on what the best material for a dog bowl is. While all the experts agree, it really doesn't take an expert to guess the correct answer to this one; it's steel.
Steel is hands down the best, most suitable material to make a dog bowl from, and it outright destroys the competition in every aspect except for one; we'll get to that later.
For now, let's talk about the pros of a steel dog bowl:
Steel dog bowls are incredibly durable, and with very little upkeep, a steel bowl could last your dog's entire life
They won't break or shatter
Bowls made out of steel are easy to keep clean and don't allow bacteria to hold on to them very well
They can also go into the dishwasher
However, not all steel was created equal, and not all bowls that advertise as steel are 100 percent steel. The best and most common grade of steel is 304 stainless-steel (or 18/8).
The lesser grades of stainless steel may look just as good and be cheaper, but they don't do very well long term, which is one of the benefits of getting high-quality steel. 304 steel is the standard steel used in almost all metal cutlery. It's specifically treated and entirely safe for use as a dish or utensil, so it's perfectly safe for your dog.
Make sure that when buying stainless-steel that the grade is present on the label. If not, don't buy it; most manufacturers using cheaper steels don't advertise the grade. All stainless-steel products should be dishwasher safe. If the bowl's label says that it isn't dishwasher safe, then it isn't for you. That is a clear sign that the bowl is of inadequate materials.
The Downside of Steel Dog Bowls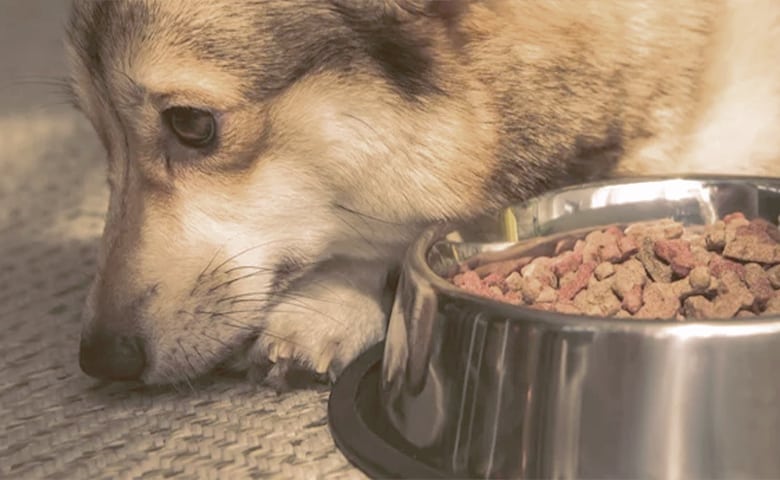 Stainless steel is a high-quality product, with a minimal downside to it, but nothing is perfect, and that's true for a stainless steel dog bowl. The absolute biggest downside is that an excellent stainless steel food bowl will cost more than the other materials.
A new stainless steel dog bowl could cost $15-40, depending on the brand and extra features it has. That is a considerable amount more than what you'd pay for a plastic food bowl. While they can be a bit pricey, a good stainless steel bowl is built to last and worth the price.
Another problem with steel is that some manufacturers will try to use cheaper steel in their products. You must ensure that what you are purchasing is dishwasher safe and, ideally, has the grade of steel shown on its label.
Stay Away from Plastic Dog Bowls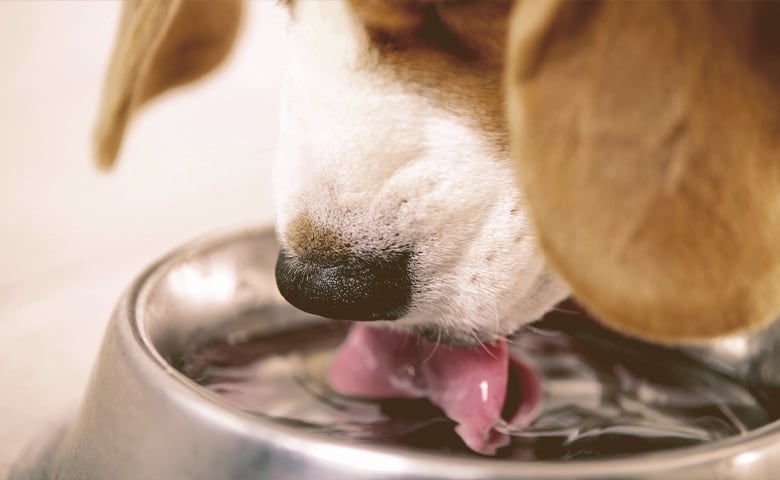 Plastics are the absolute worst material that you could use to feed your dog for several reasons.
Here's why you'll want to stay away from plastic dog bowls:
There is some evidence to suggest that certain types of plastics contain compounds that mimic hormones in your pup. If your dog consumes these chemicals, it could give it a hormone imbalance that could lead to some pretty severe health problems.
Plastic bowls also tend to get scratched up over the years of use. They develop deep grooves that harbor harmful bacteria and are almost impossible to clean.
Using plastic could result in your dog developing a rash on its muzzle due to the bacteria that accumulates in the porous plastic. If this happens and you see a veterinarian, they will most likely tell you to get a different food bowl.
If your dog is the chewing type, then you should doubly stay away from any sort of plastic bowl. Plastic dog bowls are easy targets for chewers and quickly get scarred and scuffed up, creating those nasty places for bacteria to hide and breed.
Not only that, but the shredded bits of plastic that come off of the bowl isn't great for your dog's digestion. In most cases, the bits will pass fine—but there's a non-zero chance that those bits of plastic could cause an intestinal blockage leading to thousands of dollars in vet bills (or worse).
So, plastic has the potential to cause problems for your dog, and there are several other options that are far superior to plastics. Not all of them are as expensive as steel, but they do come with their drawbacks.
Other Materials Used to Make Dog Bowls
While steel may be the best option and plastic the worst, there are two other materials we need to discuss: ceramic/stoneware and glass. These two are not as bad as plastic, but they do still have their own issues.
Why Not Use Ceramic or Stoneware Dog Bowls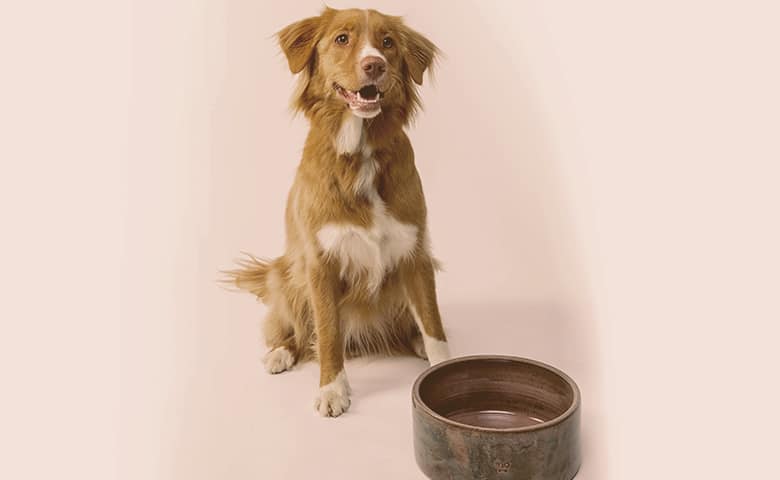 While ceramic is generally a better option for food in a food bowl than plastics, it has its weaknesses too:
Ceramic is a heavy, brittle material and can be broken into razor-sharp pieces
More importantly, lead is still present in many ceramic glazes. If you are going to go with ceramic, make sure that it's clearly labeled lead-free.
Without the glaze, the bowl is impossible to keep clean, so if you notice a chip or crack it's time for a new bowl.
Stoneware has all the same issues as ceramics, though they are a bit tougher. Ceramic and stoneware is by no means a replacement for a stainless-steel bowl but is better than buying plastic.
Glass Dog Bowls: A Good Second Option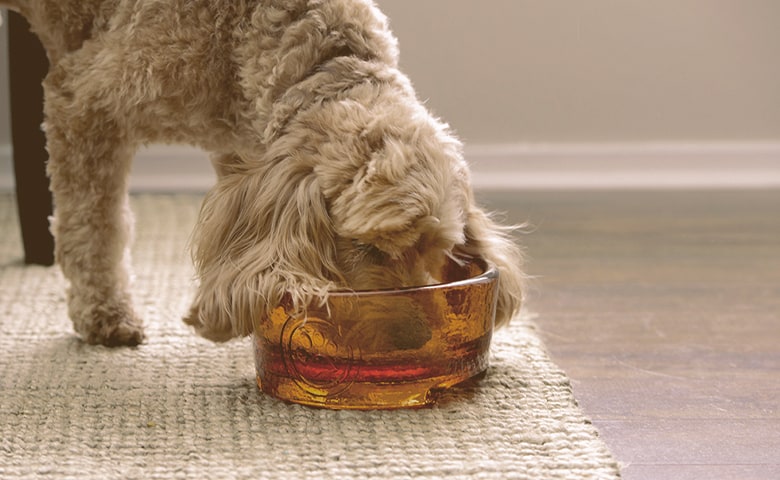 Much like ceramic glass, bowls are far less durable than stainless-steel. However, they have the same benefit of being easy to clean.
If you are careful, a glass bowl could last just as long as stainless-steel, but that does require a bit of luck. If it were to break, which is the much more likely case, you'd have a huge mess that would pose a potential hazard for you and your dog.
The Best Food Bowl Material for Dogs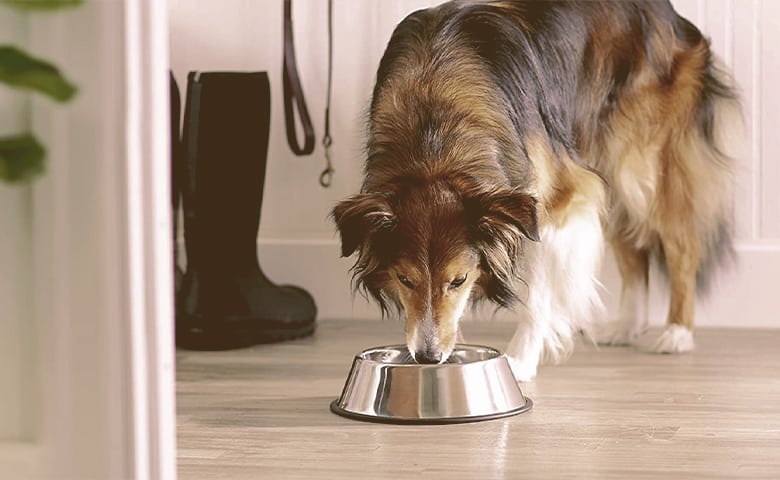 The selection of a food bowl may not appear to be critical at first, but it can have serious consequences. While a high-quality steel bowl may be more expensive up front, it will save you and your dog money in the long run.
A high-quality stainless steel food dish is the best option for dogs since it's extremely durable, easy to clean, and very hygienic.
Materials like ceramic and stoneware are far better for your pooch than plastic, but they still present some significant issues like:
Lead in the glaze
They can shatter
If chipped, you have to replace them
Plastic is the worst material for a food bowl; it's a breeding ground for bacteria and can cause your dog health issues and hormone imbalances.
Sources
Petmeds.com
Basispet.com
Petsafe.net