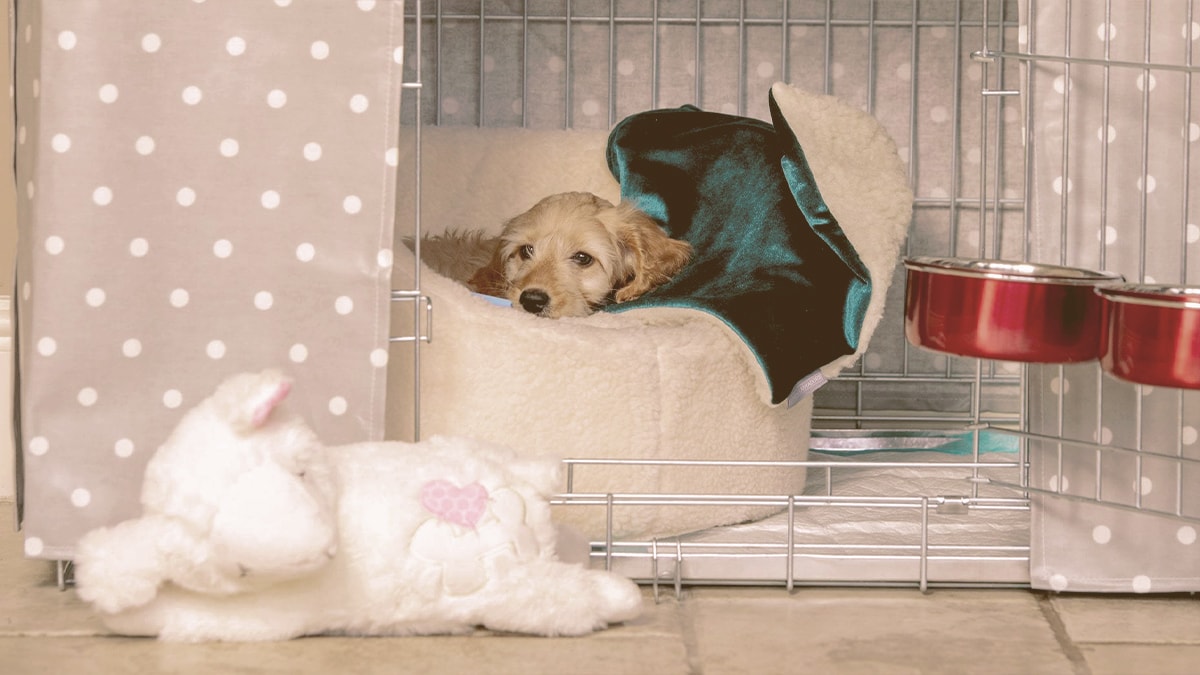 A Guide to Keeping Your Puppy Warm in Its Crate
Alex Vicente • Updated on August 1, 2023
This review contains affiliate links. Read more here.
Not a substitute for professional veterinary help.
Crates are fantastic training tools for puppies, but they can often leave your little one subjected to the night's chill in its most basic form.
Ensuring your puppy is warm while they're in the crate is not only essential to their comfort but their health as well.
So, you want to keep them as toasty as possible any time they settle down for the night or lounge in the crate while you're away.
The importance of keeping your puppy's crate at the optimal temperature can't be understated, which is why we've created an in-depth guide to show you exactly how it's done.
Luckily, these tips and tricks are fairly simple and mostly involve proper crate placement and key pieces of equipment for a happy, healthy pup.
Table of Contents
Place Your Puppy's Crate in a Warm Room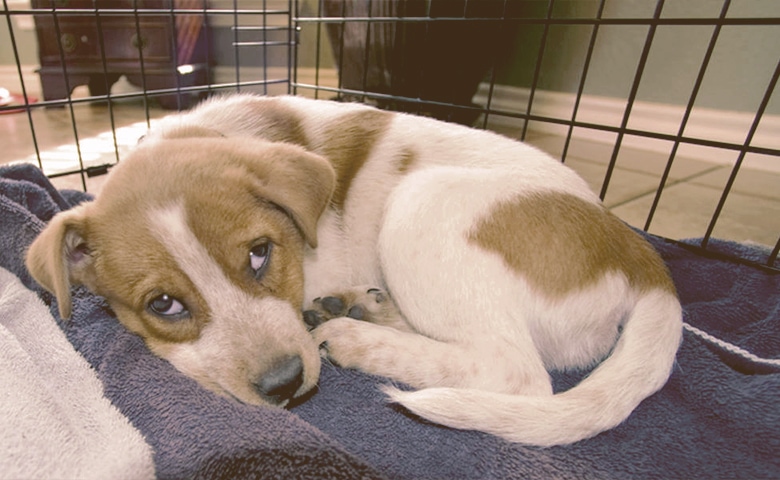 Before you bring your adorable puppy home, you should have their crate all set up for them. The first step to this process is deciding in which room you're going to place your puppy's crate.
Airflow is different in every home or living space, so there are bound to be certain rooms or sections that are cooler and draftier than others. These are the rooms you'll want to avoid placing your puppy's crate in to ensure they aren't shivering throughout the night.
What is the Ideal Temperature for My Puppy's Crate Room?
The ideal room temperature for your puppy will vary depending on their age.
Birth to one week – If you happen to have a newborn, they should be kept in temperatures of 85 -90°F from days 1 – 4, as this is the most vulnerable time of their life.
From days 7-10 – You can gradually decrease the temperature to around 80°F and then maintain this temperature until they're about four weeks old. At this point, you can keep the room at a
After four weeks – If your puppy has developed properly and is in good health after four weeks old, you can assume that any room that feels comfortable to you temperature-wise is probably fine for them as well. Temperatures from 68-72°F are average for most people's living spaces and completely acceptable for your puppy.
Ways to Keep Your Puppy's Crate Room Warm
If you're in a house or apartment that either has no central heat or struggles to maintain a comfortable temperature, especially in the winter, it can be exceptionally difficult to keep your puppy warm while they're in the crate.
Rather than buying them a whole closet full of blankets, try some of these methods to keep their room heated.
Get A Certified Space Heater
Space heaters are an efficient, quick fix to any chilly room and will do wonders for your puppy. You can either opt for a tower space heater that's easily portable or a baseboard space heater that blends better with the room's aesthetic.
For your puppy's safety, make sure your space heater has features, such as:
Underwriters Laboratory (UL), Intertek (ETL), or Canadian Standards Association (CSA) Certifications
Automatic shut-off
Tip-over protection
A timer
Adjustable thermostat
This will help you better adjust the heater to your needs and keep it on for extended periods. Be careful leaving the heater on overnight if your puppy is in an unsupervised room. If you do this, keep the heater away from flammable objects and definitely purchase a heater with automatic shut-off, so it turns off prior to overheating.
Keep the Door Closed
This might be a source of anxiety for those of you who like to keep an eye on your puppy, but leaving the door closed in their crate room can help it maintain a higher temperature, even when your puppy isn't tucked away inside.
If you're truly uneasy about leaving your puppy behind closed doors, consider purchasing a pet camera or puppy monitor to help ease your mind.
Seal Windows and Doors
Cold air can easily leak into your puppy's room under the door or through cracks around the windows. Checking to ensure these areas are properly sealed will help prevent the room's temperature from plummeting on cold or winter nights.
Door draft stoppers are great for blocking the space under the door, and curtains can help prevent external air from entering the room through cracks around the window.
Add Some Carpets
They aren't as effective as a space heater, but carpets are actually fantastic at insulation and trapping heat. Therefore, you'll likely find that choosing a carpeted room or adding a rug or two, especially under their crate, can boost the room's temperature for your puppy. This can add that extra degree or two of heat to the room without using risky heaters or increasing the thermostat.
Raise the Puppy's Crate off of the Ground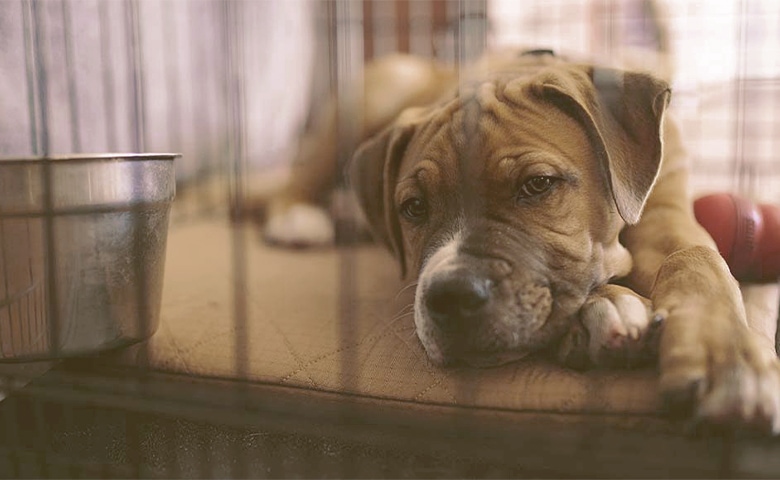 Don't worry; we aren't talking about putting crates on tables here. Heat rises in a room, so it stands to reason that the floor is the coldest place for your puppy's crate to be.
A cold floor can actually take body heat from your puppy and make it harder for them to maintain their body temperature. Raising your dog's crate a couple of inches off the floor can help prevent this and keep your puppy away from drafts.
This step can certainly pose a challenge if your puppy is in the older stages of their adolescence and already 80+ pounds in a 54″ wide, 44″ tall crate. Luckily, as we said, all you have to do is raise the crate a few inches from the ground for this tip to work.
Crate platforms or pallets are great options for this as they will provide support throughout the entire crate's underside while keeping it off the ground. If you have a smaller crate and a lighter pup, you could probably just opt for some wooden blocks as long as you're confident they can handle the weight and provide sufficient support.
Reconsider the Classic Wire Crate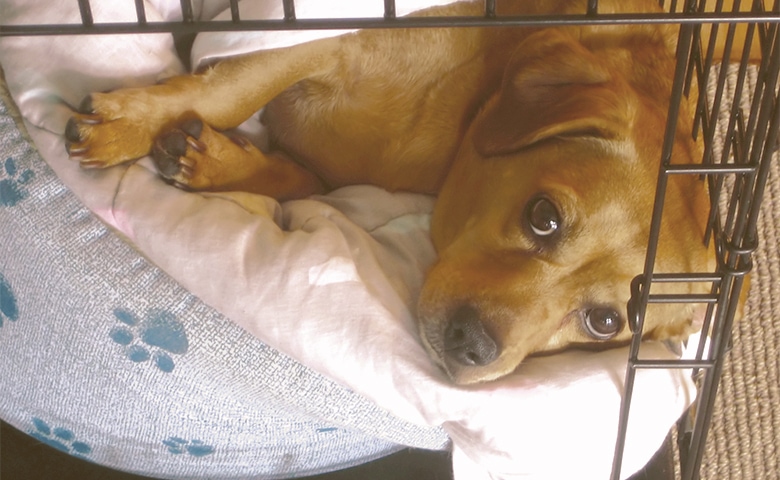 Wire crates are an incredibly common choice and typically what you find at any pet store. They are durable, easy to clean and fold up for portability.
Despite the fact that wire crates are great for keeping an eye on your pup while it's safely confined, they aren't spectacular at retaining heat.
The bars and countless spaces in wire crates make it easy for your puppy's body heat to slip out and drafts or the room's cold temperature to seep in.
Therefore, if keeping your puppy's crate warm is a predominant concern, you might want to opt for one of these crate-type alternatives instead.
Soft-Sided Crate
In addition to being extremely comfortable for your puppy, soft-sided crates are great at retaining heat as they are made with mesh walls. Although there is still some space between the mesh material for air to seep through, it is much more efficient than the metal crates with open gaps between every bar.
You might find your puppy is more comfortable in a soft-sided crate because they more closely resemble a natural den as well.
The downside of these crates is that they aren't nearly as durable as the metal crates, so if your teething puppy decides to go to town on the soft fabric, they might quickly destroy it when unsupervised. But, if their baby teeth are gone, or you're confident they'll leave their crate alone, then we highly recommend this choice.
Plastic Dog Crates
If you're looking for a crate that's a bit more durable than the soft-sided crates, go for the plastic kennels. These crates are much more enclosed than both soft-sided and wire crates, as the plastic material creates a uniform den save for the wire door and some holes for breathing and ventilation.
Plastic crates are arguably the best option for a warm enclosure as the material will efficiently insulate the heat and block out any drafts or external temperatures. They are also easy to clean and optimize the den-like feel to comfort and calm your pup.
If there's any issue people have with these crates, it's that they won't fold flat like a wire or soft-sided crate, making portability a bit more difficult. The plastic could also absorb odors, so although you can easily spray off the crate, you might find that it traps your dog's scent, and you can't scrub it out.
That being said, for the purposes of keeping your puppy warm at home, the plastic crate is the optimal choice.
Wood Crates
Although they are certainly not as common as the previous choices, wooden crates do exist and are basically the best of both worlds between a plastic and a wire crate.
While many people probably choose wooden crates for their aesthetics, they're actually a fine choice for keeping your puppy warm as wood is a natural insulator.
Wooden crates are probably the most expensive options listed here, and they have the same odor issues as plastic crates, but they are also extremely durable and have a wide range of design options.
For the purposes of keeping your puppy warm, we suggest you buy a crate with as much wood as possible to assist with heat retention. The less air that is flowing through the bars and other gaps, the better.
Give Your Puppy Plenty of Bedding and Blankets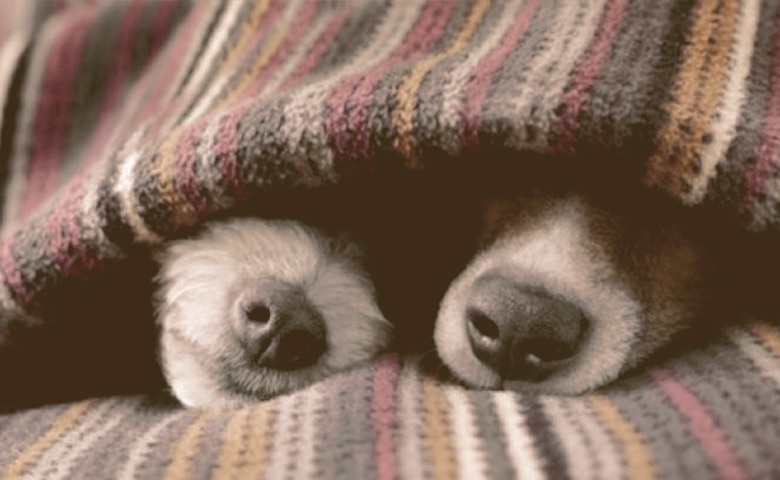 That fluffy puppy coat can only do so much when the poor thing is kept in a cold room for hours on end. When prepping your puppy's crate, you'll want to provide them with a bunch of soft and warm materials to snuggle up and keep warm, especially overnight.
There are two essentials you should have in your puppy's crate to keep them warm, bedding and blankets.
Best Crate Bedding to Keep Puppies Warm
Regardless of the season and temperature, your puppy should have a bed inside its crate. These simple tools help them feel safe and secure in their den and can help prevent your pup from developing sores from sitting on the hard crate floor.
That being said, the crate bed is your best friend for helping your puppy maintain optimal body temperatures and staying warm. Of course, just like crates, they are not all made the same.
There are four types of beds you can purchase for your pup, and you might find the best choice is to have one bed for the summer months to keep them cool and one for the winter to keep warm. Since we're focusing on minimizing the crate's chill, here's the bed types we recommend.
4-Inch Traditional or Bolster Beds
Traditional dog beds can come in a variety of shapes and sizes, but when you're trying to keep your puppy warm in its cage, we recommend the thickest ones you can find.
Traditional Bed – Opt for a traditional bed that is at least four inches thick, so it further raises your puppy off the ground. The fluffy material inside will also help insulate your pup's body heat and maintain their overall temperature for a comfortable crate session.
Bolster beds – Since they are always a couple of inches high, bolster beds have raised edges to trap more of your puppy's body heat and keep them calm and secure.
Just like how raising your dog's crate off the ground can help minimize the effects of drafts and chilly floors, having a thick dog bed will do the same.
Self-Heating Beds
Another bed option with an exceptionally clever design is the self-heating beds. These are made with a highly reflective metal film inside that will use your puppy's body heat to help keep them warm. The material will redirect any heat, either from your puppy or other natural sources, like sunlight, and use that to keep the bed warm.
Many owners like this type of bed because it looks like any other traditional or cuddler dog bed, but it keeps their puppy warm without the need for electricity.
It's a great product that not only has the comfort and warmth of traditional beds but has the extra boost of the reflective material for maximum heated results.
Electric Beds
The concept of an electric dog bed is the same as electric blankets used by humans. The bed is wired and plugged into an adjacent outlet or power source, and the enclosed heating elements will heat the entire bed.
There are certainly pros and cons to electric beds:
So warm. They're great for cold evenings in a winter cabin where you want to give your pup a little extra warmth when they lay down.
Risky? There is always an element of risk when using products such as this since they are electrically based, and the bed's overall materials are flammable.
Most electric dog beds are incredibly safe as long as you have acquired an efficient and reputable product. However, we recommend only plugging them in when your puppy really needs them, as leaving them on for extended periods could wear them out quicker and lead to unwanted problems.
Best Crate Blankets to Keep Puppies Warm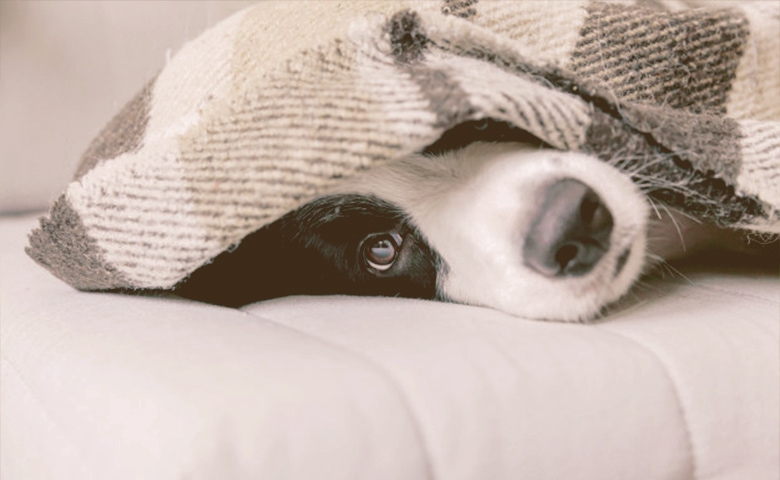 Blankets are another go-to option when you're trying to keep your puppy warm and comfortable in their crate. Of course, just like beds and crates, there is a vast selection of dog blanket options you could choose.
If you just want to give your puppy some standard blankets to keep warm, we suggest purchasing those made out of fleece. They are usually extremely fluffy, soft, and warmer than microfiber blankets made from synthetic materials.
Only Use Electric Blankets Made Specifically for Small Dogs
Another option is electric dog blankets. The key distinction to point out here is that you want to make sure the electric blanket you purchase is meant for dogs, or else it won't be safe for your puppy.
Electric dog blankets are built for canines:
They heat up slower
They run on lower voltage
They have other safety features, such as chew-resistant materials.
They also stop at a different peak temperature since normal body temperatures for a dog are 0 to 102.5°F versus a human's at 97 F to 99 °F. So, do not use a human-intended electric blanket for your puppy.
Although electric dog blankets are safe, we recommend the same level of caution as the electric beds.
Make sure the product is safe and from a reputable source before you leave it heating in your puppy's crate for hours, and always test them yourself first.
Does Putting a Blanket Over a Dog Crate Help Keep Them Warm?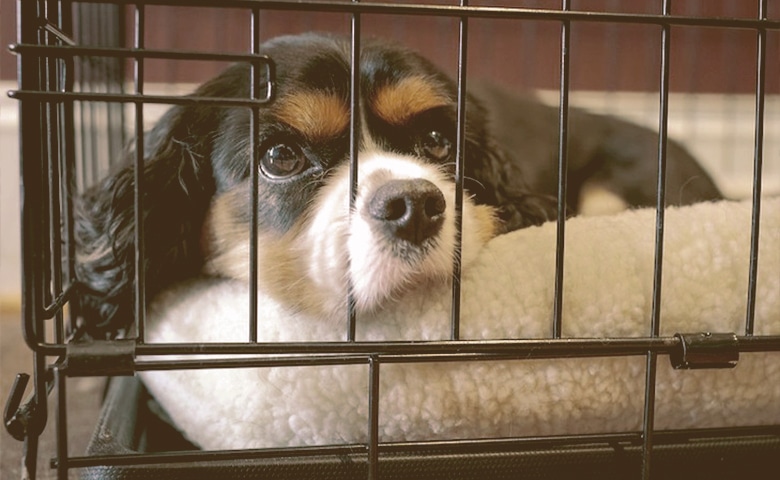 Placing a hefty blanket over your dog's crate is a fantastic way to help insulate heat and keep them warm. This method is ideal if you have a wire crate, as there are numerous gaps between the bars for easy airflow and minimal heat retention.
Placing a blanket over the other crate options, such as plastic or wood, might help, but not as much as the wire crates as the other two are already made from materials that insulate heat well.
Blankets Help to Create a Dark Coziness for a Puppy
Another reason you'll want to place a blanket over your puppy's crate is that it will help create a darker, den-like atmosphere, which is their natural environment. As a result, your puppy is far more likely to feel safe and comfortable in their crate rather than seeing it as a negative space for confinement or punishment.
Why Is it Important that Your Puppy's Crate is Warm?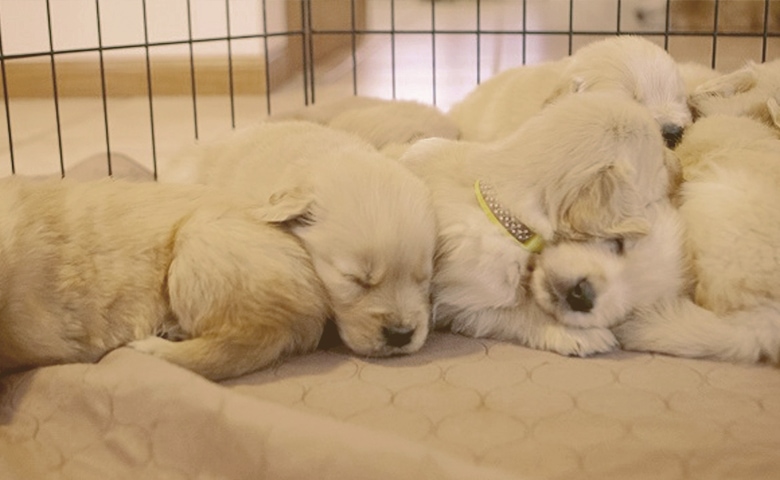 Puppies are in the most vulnerable stage of their life, just like any young animal, and so you want to make sure they're as healthy and comfortable as possible right from the start.
Health Risks of a Cold Puppy Crate
If your puppy is kept in an environment that is too cold, especially for extended periods, it can lead to a wide range of health issues, including:
Joint stiffness
Reduced energy/increased fatigue or lethargy
Decreased alertness
General discomfort
Increased anxiety
Change in blood pressure
Irregular heartbeat
Low oxygen levels in the body
Suppressed immune system
Increased susception to infection
Slower wound healing (if injured)
Reduced digestion which could affect their gastrointestinal system
Altered metabolism (which could lead to weight loss)
Skin irritation from low humidity
Hypothermia
As you can see, the list is relatively extensive, but the general consensus is that your puppy doesn't like being kept in a cold room any more than you do. In fact, certain breeds are more susceptible to the cold than others, particularly small, short-haired dogs like Jack Russel Terriers.
However, just because your Alaskan Malamute puppy might like the snow doesn't mean their crate should be a frosty temperature.
External Temperature and Body Heat Is Very Important to a Puppy
When they're young, a puppy's immune system is still developing, and their adult coat hasn't come in yet.
So, even though they'll get more resilient as they age, they're still extremely vulnerable in the first year of their life and being kept in the cold can hinder their ability to fight off illnesses, develop properly, or lead to other health issues mentioned above. For optimal puppy health, be safe and keep them warm.
Training Risks of a Cold Puppy Crate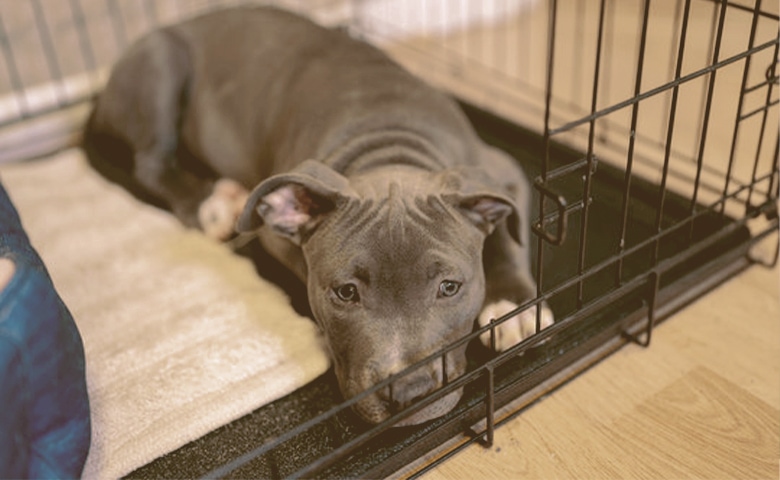 It's the same with humans. If your bedroom is constantly cold, you're less likely to want to spend time there. Your puppy will think the same thing about their crate.
Crates need to be your puppy's safe space where they're comfortable retreating to in times of fear or anxiety when they're tired or just need some quiet alone time. You also want to make sure your puppy enjoys their crate for the times when you need to tuck them away because you can't directly supervise them.
If your puppy is always cold and uncomfortable in their crate, they're more likely to be unhappy there when you're away, which could lead to undesirable behavior, such as:
Excessively barking/crying
Gnawing at the bars
Rubbing the crate bars with their nose
Shredding anything inside the crate (ex. bedding)
It is imperative that a puppy's crate is warm, comfortable, and inviting so they deem it a space that is entirely their own. That way, they're less likely to be anxious pups, and they won't mind being reasonably confined while you're away or unable to watch them. They might even enjoy it so much they'll slink away to their crate for a comfy nap of their own accord.
Sources
Outdoor Dog Fun
Hers Index
The Dog Kennel Collection
Top Dog Tips
k9 of Mine
Top Dog Health