5 Best Harnesses for Pitbulls (2023 Edition)
Not a substitute for professional veterinary help.
If you are in a hurry and just want to find out what the best harness for your pitbull is, then we recommend the BABYLTRL Big Dog Harness as the best one.
As Pitbull owners, we love our dogs but aren't fans of being pulled down the sidewalk. Taking your dog for a walk should be a time of fun, not frustration. If you find your Pittie a little challenging to manage on-leash, we have some solutions that will make you feel like a professional dog trainer.
We have found some of the best options you might want to consider to find the best harness for Pitbulls. Read on to learn more about these harnesses and why we recommend them, especially what makes them excellent choices for a pitbull.
Other resources that you may be interested in:
Best Harness for PitBulls
OUR PICK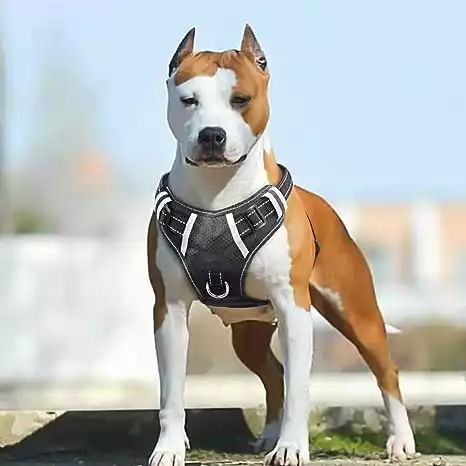 The perfect harness for Pitbulls or other large dogs, but also a good fit for medium dogs. The adjustable straps are one of the key features that allow you to create a perfect fit for this breed.
Made from a breathable material, this no-pull dog harness features a 22 to 32-inch girth, making it an ideal size for a pit bull. In addition to offering an adjustable fit, the harness has a design that distributes pressure to avoid both choking, pulling, and neck injuries.
Locking features on straps help keep your dog secure during all outdoor activities. In addition to this secure fit, it comes with an easy-grip handle that provides greater control, as well as reflective strips for better nighttime visibility.
Pros

The straps allow for a custom fit
The no-pull design provides maximum control

Easily to put on and secure, as well as take-off
The harness cleans very easily
Cons

May wear out with an exceptionally strong dog
The no-pull design provides maximum control

Easily to put on and secure, as well as take-off
The harness cleans very easily
RUNNER-UP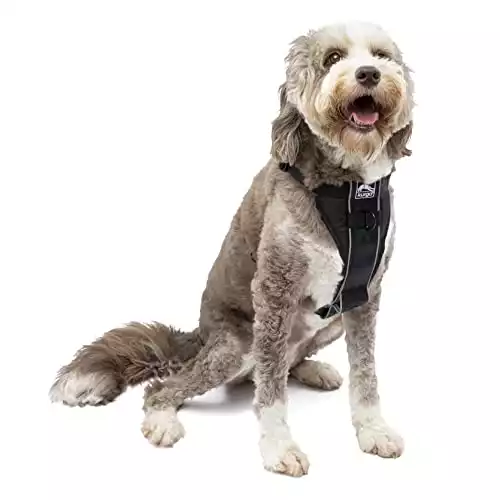 Kurgo Tru-Fit Smart Harness
Simple on and off everyday harness.
You need something that is lightweight & easy to put on your dog because adventures happen every day. The Kurgo Tru-Fit Smart Harness with quick release buckles is the ideal starter everyday harness for your pet.
CLICK HERE FOR LOWEST PRICE
Some pit bulls manage to slip out of the harness, no matter how well it may fit. Fortunately, this high quality harness prevents any escape attempts by using five different adjustment points so that you can get a highly-customized fit, making the Kurgo Tru-Fit a great walking harness, ideal for everyday activities such as walking around town or running at the park.
On-road trips, this durable harness uses a nesting buckle system and a seat belt loop that can help keep your pit bull secure in the car (and safe in case of a car crash). When your dog pulls on the lead, the increased padded chest reduces the risk of injury by decreasing the pressure on the chest and neck.
Pros

The no pull harness design provides maximum control
Very easy to adjust to a safe, comfortable fit
Extra padding on chest girth reduces the risk of injury
Cons

The strongest dogs could break the buckles and get loose
Plastic clip closures
Extra padding on chest girth reduces the risk of injury
ALSO GREAT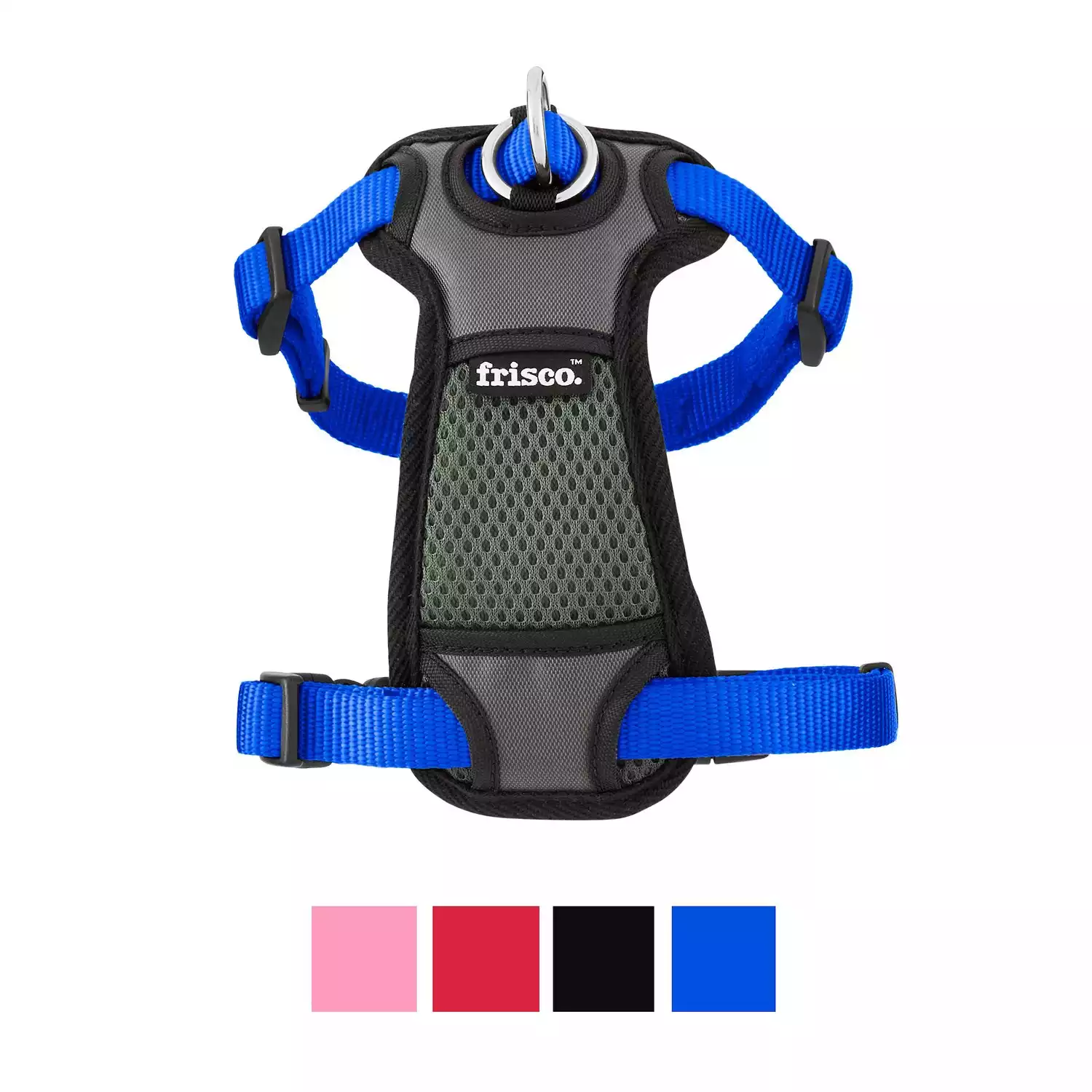 If you're looking for a good harness for pitbull that will still give you some extra power, this Frisco harness may be your best option. High-quality nylon webbing is both comfortable and strong, so not only are you giving comfort to your furry friend, but you're likely to get a lot of use of your pitbull harness.
The O-ring leash attachment on the front of the harness redirects your dog's attention back to you and your walk without causing neck strain and the buckles on either side are quick-release making it easy to get the harness on and off your Pitbull pup. Another nice added benefit is the addition of a D-clip on the back of the harness so that it can be used more like a standard harness if you want.
Pros

Versatile for front and back clips
Train the dog without pulling
Slip-on harness
Padded for comfort
Cons

If you don't fit it properly it might slip around
Train the dog without pulling
Slip-on harness
Padded for comfort
ALSO GREAT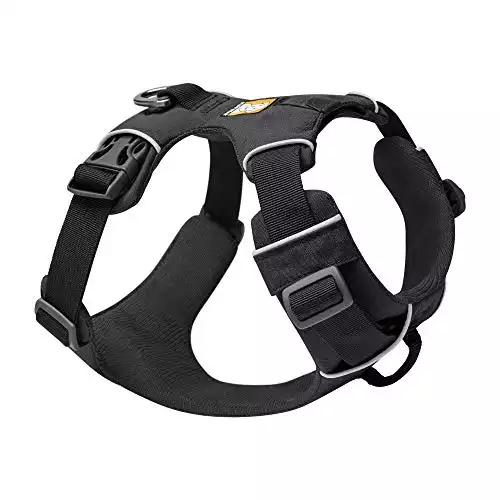 If you're a pet owner who spends a lot of time in the great outdoors and your pit bull is an extremely active pair, you may want to consider this model. Despite being very durable, the harness is extremely lightweight and perfect for extended wear all day long.
You can quickly tie a leash to the front of the harness to prevent your dog from dragging you on your new adventures. It's also equipped with reflective material for night walks.
To avoid tears from heavy pullers in the fabric, it also features strengthened webbing on the chest. However, if this is not a problem you and your dog face, you can also mount it to the D ring leash attachment on the back.
This type of harness with padded straps makes wearing this product significantly more comfortable for your pittie. Adjust the size in four different points to ensure a perfect fit.
Pros

Padded straps and strengthened webbing

Four adjustment points

Front loop or back loop attachment points

Reflective trimming
Cons

It's a little expensive.
Four adjustment points

Front loop or back loop attachment points

Reflective trimming
ALSO GREAT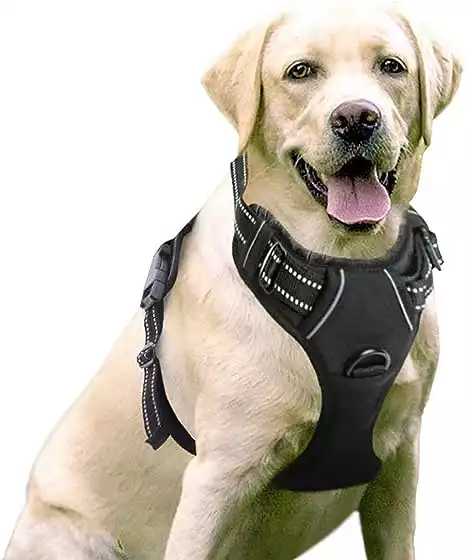 rabbitgoo No-Pull Dog Harness
Many dogs tend to pull a lot when they are excited to feel the nature or to meet new furry friends. Our harness features No-Pull Design so that you can have better control of your dog by attaching the leash to the Front Clip.
CLICK HERE FOR LOWEST PRICE
This comfortable dog harness with a lightweight design can be worn all day and can be washed in your machine. That saves time and allows you to keep it cleaner.
The Rabbitgoo no pull harness features 2 metal leash rings for safer dog walks. You can use the chest attachment clip to stop your dog from pulling or choking. It's perfect for dog training or dogs who tend to pull. The back one is great for casual walks, jogging, or hiking.
So, we may say that this harness is affordable for just about anyone and will work for more mellow pits. There is nothing wrong with this harness, but if you have a more powerful pit you might consider the other options.
Pros

Lightweight design can be worn all day

Easy to clean, machine washable

Low price
Cons

Not as durable as other harnesses
Easy to clean, machine washable

Low price
Buying Harnesses for Pitbulls: What You Need to Know
Many dog owners wait until their dog has become particularly hard to manage on walks to buy a harness. Unfortunately, having no leash training can ultimately prove to be a mistake. The better your pit bull's leash manners, the happier everyone will be.
Using a harness is not a failure. Your use of a quality harness shows that your dog's safety always matters. Knowing how powerful most bullies are helps make an effective case for maintaining control during walks or exercise.
Your dog might pull because something distracts them during walks, and many of these powerful dogs don't know their own physical strength. One thing that's helpful to remember is that you're supposed to be taking your dog for a walk, not the other way around.
What Types of Harnesses Do Pitbull Owners Often Use?
There are several harnesses on the market that pit bull owners will want to keep under consideration. All harness types have different features and benefits that you'll want to consider, mainly depending on your dog's energy level.
Front clip harnesses are popular for Pit bulls and other large and powerful dogs. In this style, the D-ring used for leash attachement has front placement, especially near the chest. This harness style provides reasonable physical control necessary for a dog needing training.
Dual or multi clip harnesses are also popular. The location on the front and back of the harness hold provide the greatest amount of control. You can switch out between the front and back more quickly, depending on how much control you require.
Another option to consider is whether you require a harness for greater safety during car trips. These harnesses offer the best of both worlds because you can use them both in and out of the car, perfect if you live in a state the requires dog restraint in vehicles.
What Are the Most Helpful Types of Features for Pitbull Harnesses?
The features make all the difference in harnesses, especially considering the stubborn streak that many of these dogs possess, along with physical strength.
Safety should always be the first priority. You want the harness to look great, but you don't want your dog to get hurt from overly enthusiastic behavior, either. Durability and features that keep your dog under control matter.
Harnesses designed to discourage pulling will help you avoid unnecessary pressure on your pet's neck. Even though all harnesses offer an advantage, the design has a major role in the handling of weight distribution, reducing the chance of escape.
A harness that is easy to adjust as your dog grows is also worthy of consideration. Even though switching to another harness eventually is likely, if your dog is a puppy, easy adjustment makes a difference in between these times.
How to Get Your Dog Used to the Harness
Even though the use of a harness might be necessary for your pitbull, your dog will need some time to get used to everything. Your dog will likely enjoy the greater comfort, but there may be an effort on your part required.
Give your dog some time to see and smell the harness beforehand. Once you put the harness on, let your Pittie wear it around the house to get somewhat used to it. Consider taking them out in a fenced yard the first few times they wear the harness on-leash so you can get hold of them quickly if need be.
Go to familiar, well-liked places at first. If your dog associates wearing a harness with good times, they will look forward to the experience. The happier your dog feels about walks, the better things will be for you and your furry friend.
Still Trying To Decide On A Pitbull Harness?
This turned out to be the best harness for Pitbull dogs. Like the other choices that we reviewed, the material was durable, and we found it easy to attach. However, a few things stood out.
The straps are easy to adjust, perfect for a dog that is still growing. The weight distribution is just as useful for dogs of all ages. Another bonus for this harness is that the material is easy to clean.
No matter how often you walk your pit bull, the right harness will make all the difference on the long term.