English Bulldog Pitbull Mix: Everything You Need To Know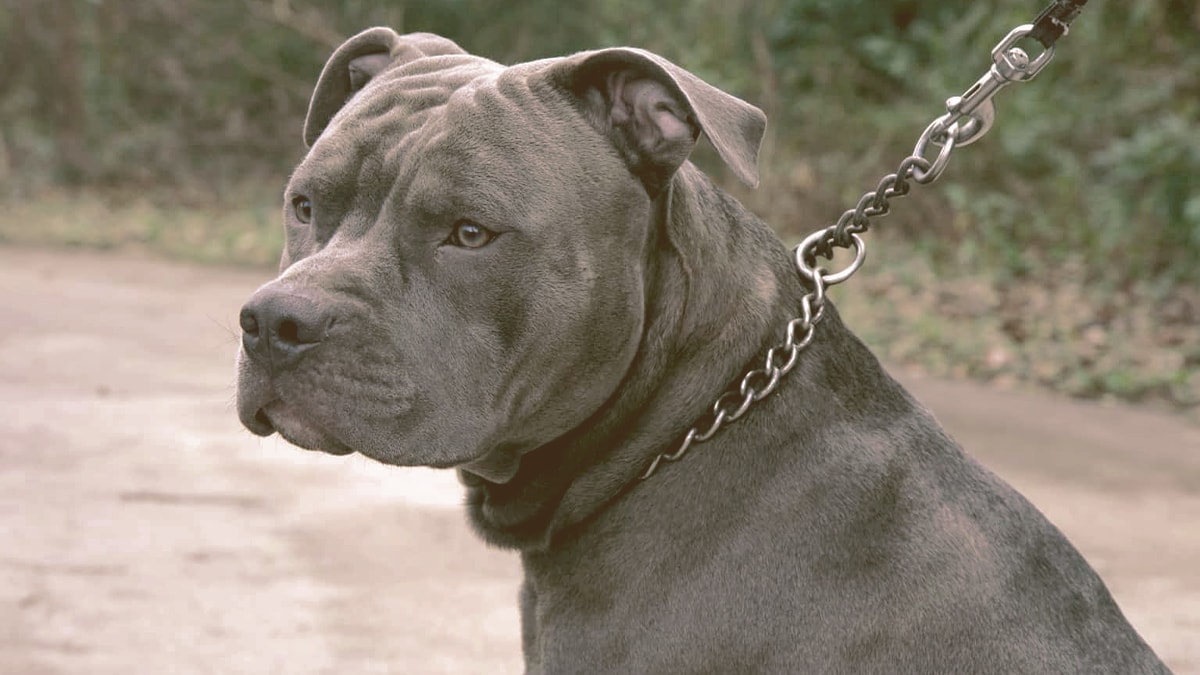 English Bulldog Pitbull Mix: Everything You Need To Know
Alex Vicente • Updated on March 30, 2023
This review contains affiliate links. Read more here.
Not a substitute for professional veterinary help.
The English Bulldog Pitbull Mix is a very popular mixed breed. It's not hard to see why, either!
This dog has the best of both worlds: it has an attractive and distinctive appearance, while also being gentle and affectionate.
In this article, we'll be covering some interesting facts about this mixed breed and everything you need to know about it if you're considering adopting one.
ALSO READ: Best Harnesses for English Bulldogs (2023 Edition)
Table of Contents
Origin of the English Bulldog Pitbull Mix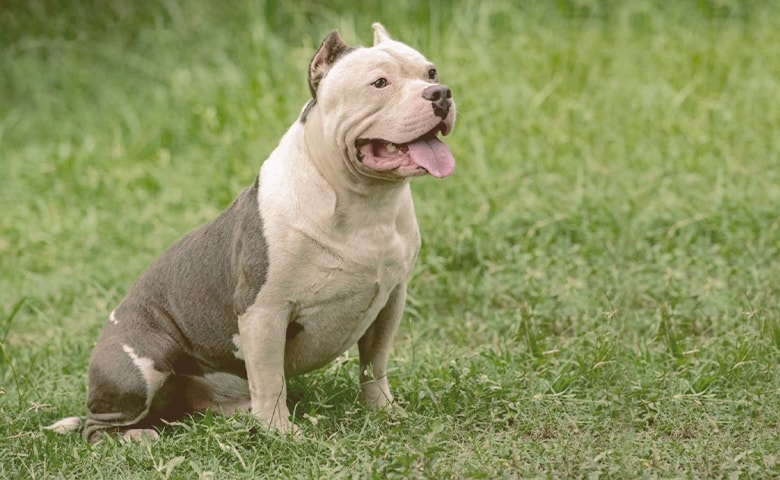 The English Bulldog Pitbull Mix is a mixed breed dog that can be obtained by breeding an English Bulldog with a Pitbull. This was done in the late 1800s to produce more "gameness," or tenacity, and fighting instinct for dogs used in blood sports such as pit fights.
English Bulldog History
English Bulldogs have been bred since the 1800s when they were selectively cross-bred with Olde English Bulldogges to create what we know as the modern-day American Pitbull Terrier.
It is an old breed of dog. The word "bull" in the name refers to its purpose as a bull-baiting animal, and if you look at its facial structure, it's easy to see why this was such an effective fighting style!
English Bulldogs were later used for other purposes like hunting and guarding livestock too.
The Bulldog is used often to represent England and the UK, as a symbol of Winton Churchill's defiance of the Nazis.
Pitbull History
The Pitbull is an American and British breed of dog. It's known for its strength, intelligence, and bravery. The word "pit" refers to the animal fighting pits where they were often used in baiting animals or other dogs. Pit bulls are also sometimes called "America's Dog."
In the 1800s, many people wanted to pit dogs against each other for sport. This is a long-standing tradition in some parts of the world and it was done quite frequently back then too.
Other articles that you may be interested in:
Interesting Facts About the English Bulldog Pitbull Mix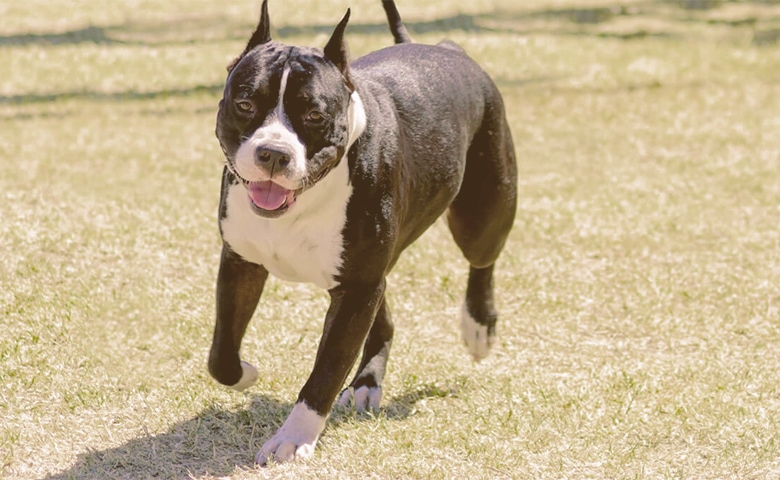 This is a really interesting breed. Here are some facts that you may not have known.
What is a Pitbull English Bulldog Mix called?
An English Bulldog Pitbull Mix is also commonly known as an American Bully. Other names this breed has are Bullypit and the less common Olde Pit Bulldogge.
The breed is recognized by the American Bully Kennel Club since 2004, by the European Bully Kennel Club since 2008, and by the United Kennel Club since 2013. It has not been yet recognized by the American Kennel Club.
Are Pitbull mixes banned in the UK?
Pitbulls and Pitbull mixes are not banned in the UK, but there are restrictions. For example, it's illegal to use a Pit Bull as a family pet if you live in an area that has implemented breed-specific legislation against them.
A lot of people confuse Pitbulls with other types of terriers like the Staffordshire Bull Terrier and the American Staffordshire Terrier.
Did you know that Pitbulls are actually descendants of the Bulldog?
That's right, a Pitbull is a result of breeding an English Bulldog with another breed, usually the American Staffordshire Terrier or Amstaff, and the Staffordshire Bull Terrier also called Staffy.
Famous Pitbulls and Bulldogs
Some famous Pitbulls are Nipper (made famous by the entertainment brand HMV), and Daddy, the well-known pit that helped Cesar Milan with his calm temperament and chilled personality.
Some Bulldogs worth knowing about are Hector (Looney Tunes cartoon character), Uga (the long-time mascot of the University of Georgia Football team, and, at the time of writing, Formula 1 driver Sir Lewis Hamilton parents a bulldog named Roscoe.
English Bulldog Pitbull Mix Appearance
The English Bulldog Pitbull Mix is a medium-sized dog. They are usually muscular and compact, but not too stocky or heavy.
Their coat can be either smooth and short, known as "stickers," or long with loose skin folds around their neck. These have small ears that are usually shaped like their Bulldog parent's ears, which are called "rose" or "button," and a tail that is long with the end tapered.
What does an English Bulldog Pitbull Mix look like?
Their appearance really varies depending on the Bulldog parent breed, but they are usually black with white markings all over their face and body. Some can have tan or brown-brindle colors too.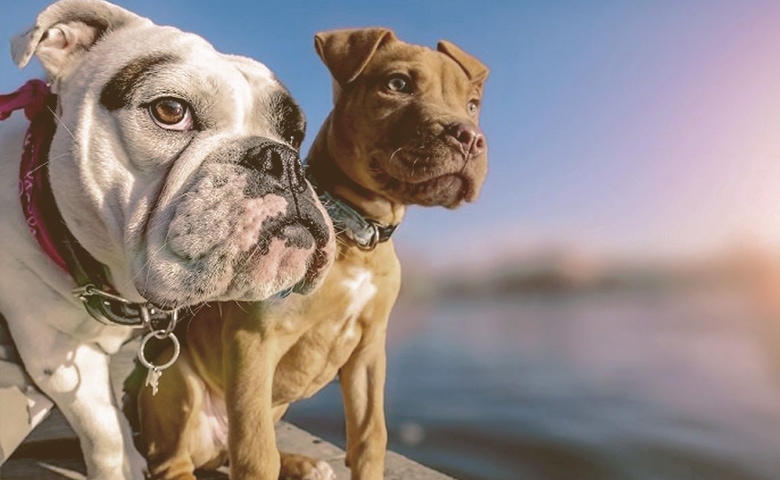 How big does a Pitbull Bulldog Mix get?
Bully breeds can grow up to 18 inches (46 cm) in height. That's about the same size as a Poodle or Rottweiler, and they can weigh anywhere from 50-100 pounds (23-45 Kg). This is dependant on their parent breeds
If one of the parent breeds is a Bulldog they usually get to about 50 pounds (23 Kg). If a Pitbull is one of their parents though, then this can be around 60-80 pounds (27-36 Kg).
English Bulldog Pitbull Mix Temperament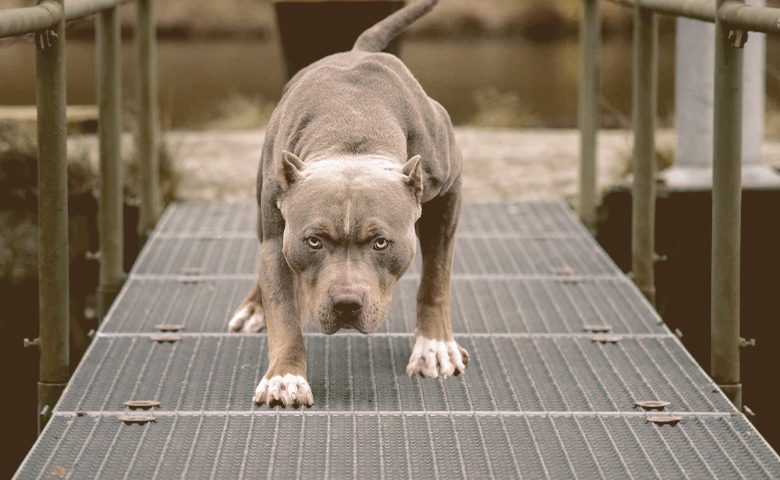 They are generally really calm and relaxed dogs. They are also usually pretty friendly too, but they can be aggressive if they haven't been trained properly.
They do well around children because of their easy-going nature. If you introduce them to other dogs early on in life then that's going to help as well.
Are Pitbull mix dogs aggressive?
Dogs of this mixed breed are generally not aggressive. That's because they are usually really calm and relaxed, but if you don't train them then that can change.
Pitbull mixes are often associated with aggression, but that's not always the case. For example, they have a reputation for being really aggressive because of how their ancestors were bred to be fighters and bull-baiting dogs in the 1800s.
That doesn't mean all Pitbull mixed breeds will turn out like this though.
Training Your English Bulldog Pitbull Mix
These dogs are intelligent, but training them can be a challenge because they are so stubborn. They do best with positive reinforcement and rewards for good behavior or obedience.
Don't resort to punishment your dog doesn't understand what you want it to do as this will just make things worse and create more confusion between you and your pet.
Training Tips for the English Bulldog Pitbull Mix:
Use positive reinforcement when training this breed by giving them treats as rewards for good behavior or obedience (positive reinforcement). This will reinforce that obeying commands will get them rewards.
Use a leash and collar when training this breed if you have trouble with their stubbornness.
Follow commands in an "if-then" statement form like, "If they stop eating food then take it away from them." or, "If they jump on the couch without permission give them a verbal command like 'no'".
Be patient with your dogs and be consistent when training them.
English Bulldog Pitbull Mix Health Concerns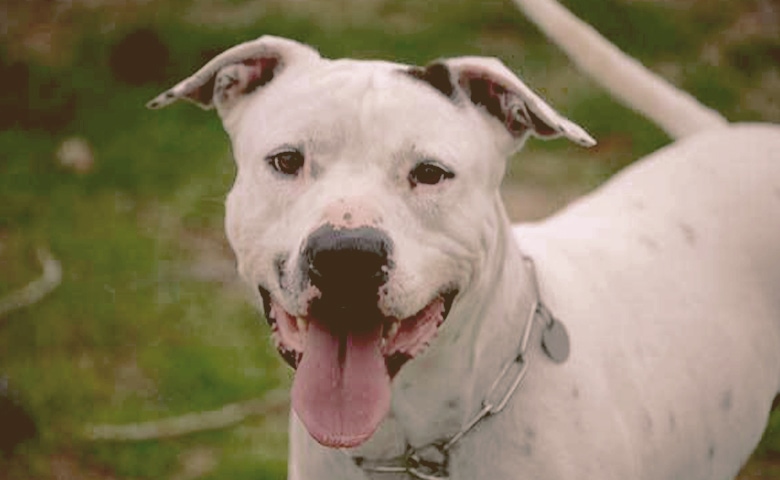 This is not a particularly healthy hybrid. They are prone to some common health conditions like hip dysplasia, heart disease, and joint problems.
They can also have severe allergies on their skin, which means they need baths more often than other breeds because of their short coat. Their average life expectancy is only about eight years too.
Minor Conditions
The English Bulldog is prone to:
Overheating
Skin Issues
The Pitbull is prone to:
Skin issues
Serious Conditions
The English Bulldog is prone to:
Respiratory issues
Hip dysplasia
The Pitbull is prone to:
Hip dysplasia
Hypothyroidism
Congenital heart defects
Do English Bulldog Pitbull Mixes Make Good Family Dogs?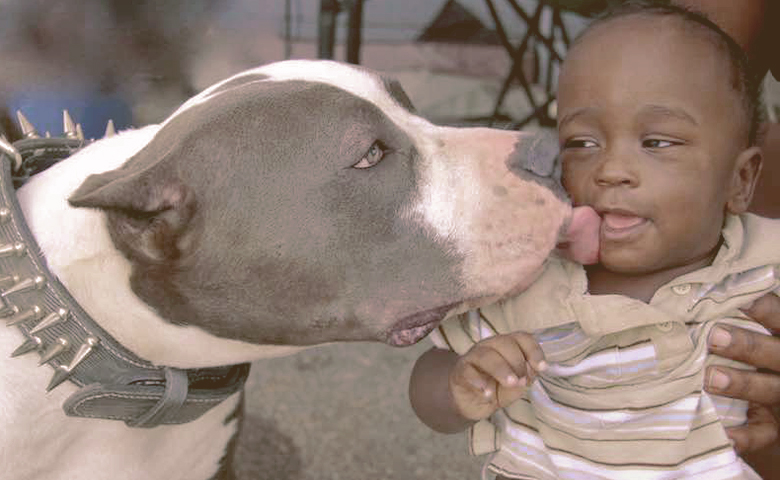 The English Bulldog Pitbull Mix makes for great family dogs! They are really calm and relaxed, so you can trust them around children.
They also get to be about the same size as other breeds like a Poodle or Rottweiler, so that makes them easier to travel with if you need to take them on trips.
The English Bulldog Pitbull Mix is usually pretty easy-going and relaxed when it comes to other pets.
Like with people, this can be different if they haven't been introduced properly or socialized as a puppy. Introducing them at an early age will help with any aggression issues that might arise from their lack of socialization.
If you're not sure then it's a good idea to talk with your vet, a reputable breeder, or an animal behaviorist who can help make decisions about whether this is the right breed for you and your family.
Nutrition for the English Bulldog and Pitbull Mix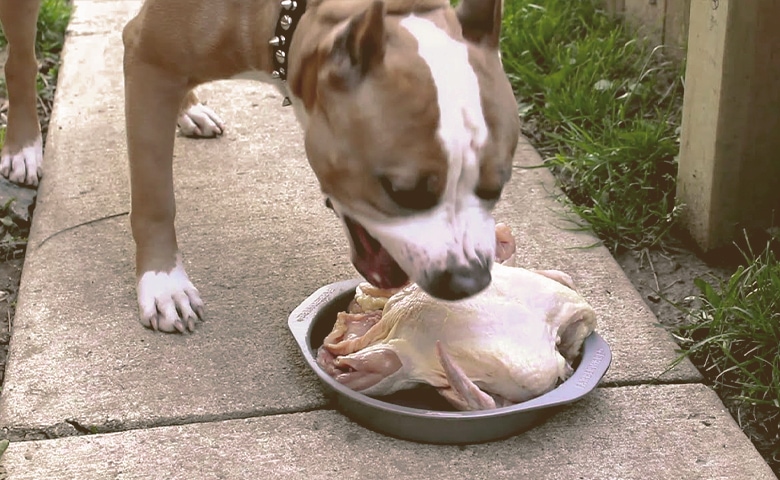 The English Bulldog Pitbull Mix is prone to some health issues like hip dysplasia, heart disease, and joint problems.
This means you should be careful with their diet so they don't get any worse by adding on unnecessary weight or too much sugar in one sitting. There are many dog food options out there for any budget, so it should be easy to find something they'll enjoy.
A good diet for the English Bulldog Pitbull Mix is about 25% protein and 20% fat with lots of fruits and vegetables in their food plan too. These nutrients will help them stay healthy and strong throughout life.
As always when it comes to any dog's diet, make sure they drink plenty of water too.
ALSO READ: Best Dog Food for English Bulldogs in 2023
Grooming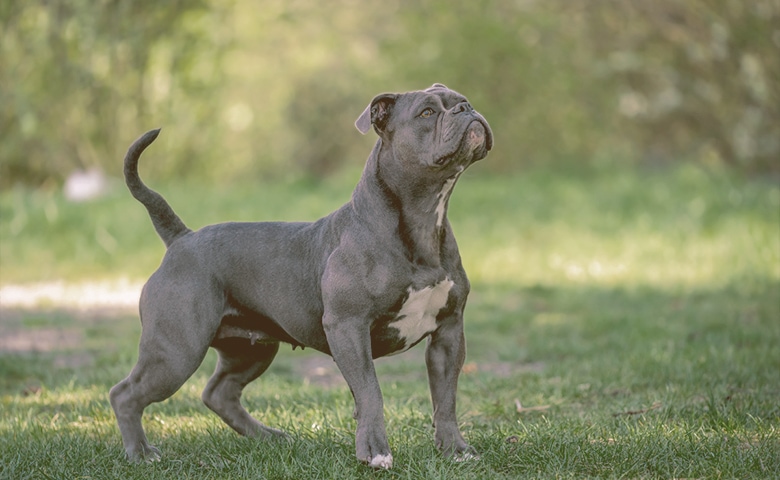 The English Bulldog Pitbull Mix is known to shed a lot. It isn't the best breed for people with allergies or who don't want hair on their clothing and furniture.
This means you should brush them often, especially before baths so they'll get used to it each time and be less likely to put up a fight during bathing time.
They will also need to be bathed often if they don't have short hair (remember to brush them beforehand).
Bathing should happen about once a week and more often when they are shedding heavily, in springtime or fall. It's usually best not to shave their coat because it will just grow back thicker and more often, which is not good for their long-term health.
Rescuing an English Bulldog Pitbull Mixed Breed Dog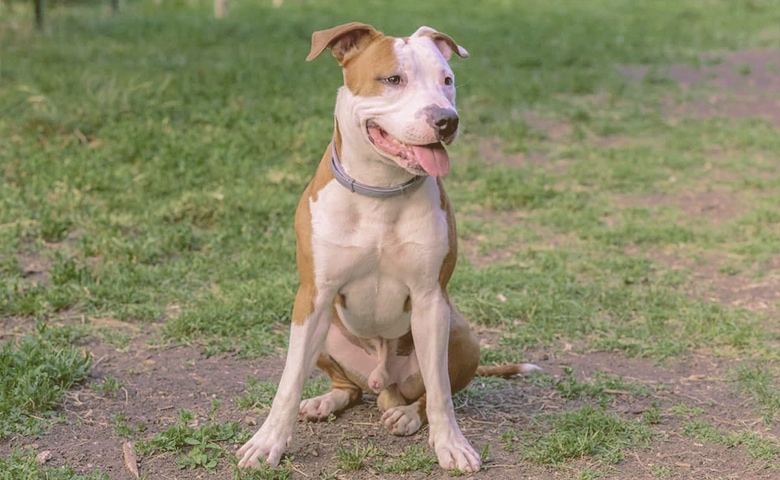 If you want to rescue an English Bulldog Pitbull Mix, it's important to make sure the dog is well-trained.
When they're not trained and socialized correctly, they can develop some behavioral problems like aggression or separation anxiety. Make sure you know what type of temperament your chosen breed has before adopting them because this may help you choose the best rescue.
It's also a good idea to find out if they are housebroken so your new family member can settle in seamlessly as soon as you take them home.
If it seems like this is going to be too much work, then there are plenty of other breeds that would love some extra attention and will make a great addition to any family.
English Bulldog Pitbull Mix Rescues
We don't know of any specific rescue centers for the mix breed but there are a few for Bulldogs and Pitbulls. Have a look below.
Bulldog Rescues
Tornado Alley Bulldog Rescue
Bulldog Rescue Network
Bulldog Club of America Rescue Network
No Borders Bulldog Rescue
Pitbull Rescues
Born Again Pitbull Rescue
Pitbull Rescue Central
Bobbie's Pitbull Rescue & Sanctuary
Villalobos Rescue Center
New York Bully Crew
Finding an English Bulldog Pitbull Mix Puppy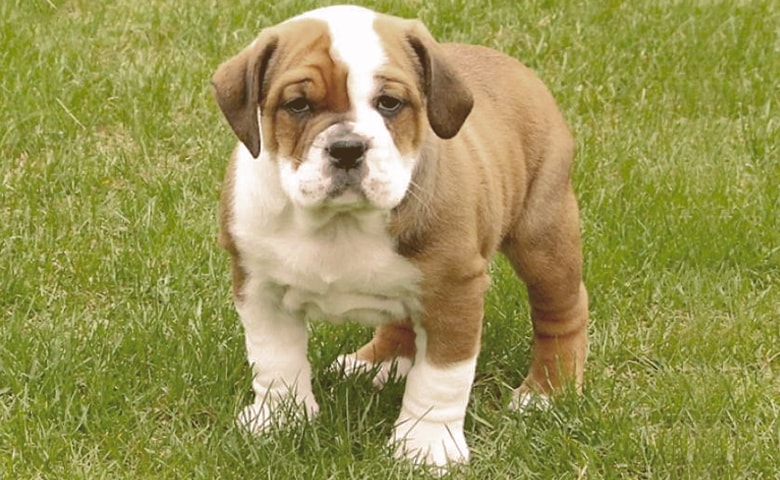 If you're looking for an English Bulldog Pitbull Mixed pup then it's a good idea to start researching from the comfort of your own home! There are lots and lots of reputable breeders out there who will have the perfect English Bulldog Pitbull Mix puppy for you.
To find these breeders, start by asking around your community (pet stores, vets offices) and see if they know of any good ones in the area. You can also search online for websites that specialize in this type of dog breeding.
Another great place to look would be a local animal shelter.
Also, please be aware of puppy mills, which are places that just mass-produce puppies for a profit.
It's important to read reviews and talk with a breeder before you make any commitments so there are no surprises along the way.
The best time to purchase a puppy of bully breeds is when they're between eight weeks old and six months, as this will be their least expensive age range.
If you live in a cold climate and want to buy your pup in the winter, make sure they come with a coat that's designed for cold climates.
How much does a Pitbull Bulldog mix puppy cost?
English Bulldog Pitbull Mix puppies can cost anywhere from $500-$1500. This price may seem high, but remember that there are many factors to consider when purchasing a new pup, like how much training they'll need and the breeders' reputation for quality dogs.
Rescuing an English Bulldog Pitbull mix dog would be significantly cheaper than purchasing a pup at this price.
Is an English Bulldog Pitbull Mix Right for Me?
This is a great dog breed for someone who wants to have their hands full with lots of love.
They're capable of being very energetic and require quite a bit of exercise, but they also make wonderful companions because they are gentle and will always be there when you need them most.
If you want to live a life with lots of fur, then this is the perfect dog for you!