7 English Bulldog Rescues in North Carolina (UPDATED List)
Alex Vicente • Updated on August 1, 2023
If you're looking to find an English Bulldog Rescue in NC (North Carolina) you're in the right place.
Before you check the rescue centers below, please make sure you're aware of how big a responsibility is to foster or adopt a dog, particularly English Bulldogs.
You need to know they may have pre-existing medical conditions and may need to be followed by a vet periodically.
You should also be aware that animal cruelty is a punishable crime.
If you plan to rescue a french bulldog, you should also know about the best harnesses for english bulldogs.
The rescue centers below are presented in no particular order.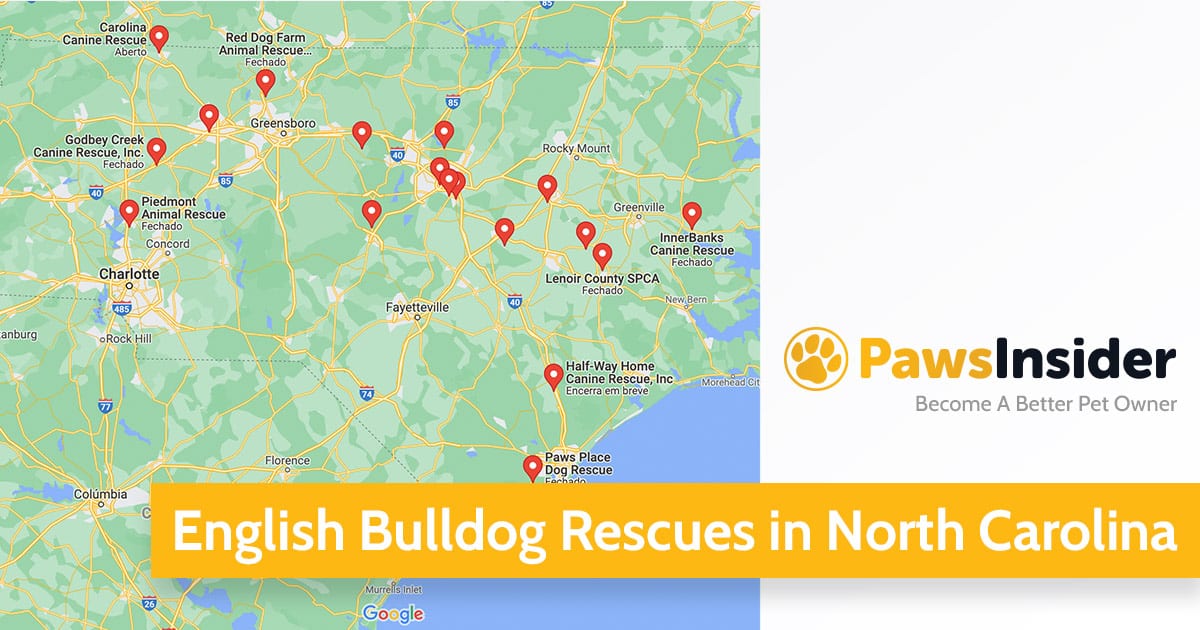 Table of Contents
Bullies 2 the Rescue (Indian Trail, NC)
Bullies 2 the Rescue is a non-profit corporation with its headquarters in North Carolina, in a pet supply store co-owned by the Rescue. Indian Trail is home to Carolina Pet Pantry/Bullies 2 the Rescue.
They have satellite offices in South Carolina and Alabama, and we also service Virginia and Maryland.
They are constantly in need of volunteers, contributions, supplies, and assistance.
B2R relies entirely on donations to care for and treat the rescued Bulldogs admitted to the group.
At any given time, they have roughly 50+ English or French Bulldogs in foster care, and they supply the fosters with food, treats, supplements, medical care, training, and harnesses and leashes.
Rescue and Adoption Details
Rags To Royals (Nationwide)
Rags To Royals was founded with the help of incredible supporters to honor Piper The Painting Bulldog and continue her inspirational humanitarian work.
Their nationwide program rescues, heals, and places ragged, sick, and abused French and English Bulldogs in loving royal palaces.
RTR specializes in Bulldogs with physical and emotional challenges.
Their small, volunteer-run non-profit organization relies on donations, and in addition to saving bulldogs, they fight to inspire and lift heavy hearts through awareness, education, and therapy dog visits.
Rescue and Adoption Details
Red Dog Farm Animal Rescue Network (Stokesdale, NC)
Red Dog Farm Animal Rescue Network is a North Carolina non-profit corporation founded on August 23, 2006, with the mission of rescuing and rehabilitating neglected, abused, or otherwise unwanted animals in and around Guilford County, with a special emphasis on domestic farm animals.
RDFAR is a North Carolina leader in animal rescue.
This organization is based on a wide network of caring individuals and families who give their hearts, homes, and farms to foster until a forever family is found and has placed over 4,000 animals in loving homes.
Rescue and Adoption Details
Address: 8653 NC Hwy 65, Stokesdale, NC 27357, United States
Phone: 336 288 7006
Email:
Website: reddogfarm.com
Events: See upcoming events here
Forms:
Cause N Dog Rescue (Snow Hill, NC)
Cause N Dog Rescue and Adoptions in Snow Hill, North Carolina, tackles the most difficult rescue cases.
The majority of the dogs arrive with broken bones, fractures, abrasions, mange, are pregnant, or are homeless.
They are also one of the few facilities that can accept and rehabilitate stray dogs.
Due to limited space, CNDR tries to ensure that each adult large and medium dog space is mostly reserved for the injured and broken.
They often do not accept owner surrenders on dogs weighing 20 pounds or more.
Small breeds and puppies are adopted considerably faster, so they can handle more owner surrenders.
Rescue and Adoption Details
Paws Place Dog Rescue (Winnabow, NC)
Paw's Place Inc. was established in 1999 as a no-kill shelter in Brunswick County.
The following year, they received their 501(c)3 non-profit status. The organization obtained the 501(c)3 non-profit status the same year.
Paws Place is located in Winnabow, North Carolina, operates entirely on the generous contributions of donors and we are run by volunteers with a genuine love for animals.
Paws Place is a no-kill, non-profit shelter dedicated to the rescue, rehabilitation, and adoption of dogs.
One life at a time.
Rescue and Adoption Details
Address: 242 George II Hwy SE, Winnabow, NC 28479, United States
Phone: 910 845 7297
Email:
Website: pawsplace.org
Events: See upcoming events here
Forms:
Piedmont Animal Rescue (Mooresville, NC)
Piedmont Animal Rescue was founded to raise public awareness of pet adoption and animal rescue.
Jason Benge, the PAR's visionary and president, had a desire to form a family of rescues and volunteers who would help animals have a better chance in life!
PAR is a non-profit organization that helps lost animals in finding a safe forever place.
Their mission is to save and rehome animals and dogs in their community.
They also assist other small friends, such as hamsters and rabbits, in finding them worthy and loving humans!
Rescue and Adoption Details
Godbey Creek Canine Rescue (Mocksville, NC)
Godbey Creek Canine Rescue is located on a lovely 52-acre site in Davie County, North Carolina, and has full access and use of the property and facilities to protect, provide, promote, and place the amazing canine companions.
The owner has generously provided the property for an indeterminate amount of time to expedite Godbey Creek Canine Rescue's purpose.
CCR mission is to protect, provide, promote and place.
Protect: Get the pet to a safe and secure environment.
Provide: Vet, feed, house, shelter, nurture, socialize and train.
Promote: Market pets; educate owners and the community.
Place: Match the right pet to the right owner and the right home.
Rescue and Adoption Details