Corgi Rescue Colorado (List Updated for 2023)
Alex Vicente • Updated on August 1, 2023
If you're looking to find a Corgi Rescue in Colorado you're in the right place.
Before you check the rescue centers below, please make sure you're aware of how big a responsibility is to foster or adopt a dog, particularly Golden Retrievers.
You need to know they may have pre-existing medical conditions and may need to be followed by a vet periodically.
You should also be aware that animal cruelty is a punishable crime.
The rescue centers below are presented in no particular order.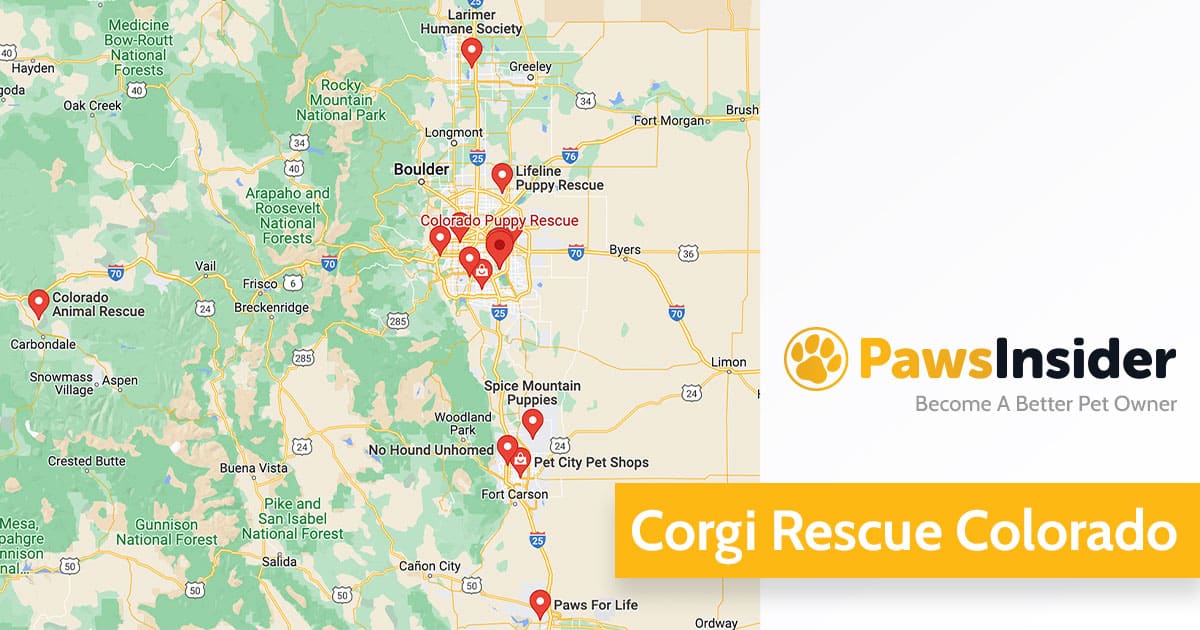 Table of Contents
Colorado Corgis and Friends (Denver, CO)
Colorado Corgis and Friends (CCF) is a 501c3 Dog Rescue that specializes in Corgis and other lowrider breeds.
It was founded in late 2019 by a group of Corgi-loving individuals that cherish and understand the Corgi breed as well as all other dogs.
It is their passion to assist homeless dogs in need, to assist struggling owners in rehoming their pets, and to provide advise on training concerns common to this herding breed.
CCF's goal is to find loving forever homes for Corgis and other breeds, to share their knowledge of the Corgi breed through outreach and education, to help reduce the pet population by supporting spay/neuter, and to educate the community about responsible pet care and relationships.
Rescue and Adoption Details
Mile High Canine Rescue (Mead, CO)
Mile High Canine Rescue's mission is to offer caring foster homes and medical attention, enabling adoptions and sponsoring low-cost spay and neuter services in the hopes of minimizing the number of abandoned, mistreated, and abused dogs in shelters in Colorado, Texas, and New Mexico.
This organization recognizes that a multifaceted approach is required to address the pet overpopulation issue, and thus creating a full circle rescue was the answer to tackling this crisis, which unfortunately cannot be addressed exclusively through adoption.
MHCR also educates their adopters, volunteers, and community members on good dog medical care, efficient training methods, overall dog behavior, the horrors of puppy mills, and the current crisis in major shelters.
Rescue and Adoption Details
Mail Address: P.O. Box 116, Mead, CO 80542, United States
Email:
Website: milehighcanine.org
Events: See upcoming events here
Forms:
Donate: Donations here
Colorado Puppy Rescue (Aurora, CO)
Colorado Puppy Rescue is a non-profit, no-kill organization dedicated to the rescue of young puppies.
CPR nurtures and cares for their dogs while they look for their perfect new home.
They adopt exclusively out of the Hopeful Hound adoption center in Aurora, just outside of Denver, and work side by side with trainers to provide a positive adoption experience.
Colorado Puppy Rescue has rescued and placed over 16,000 puppies with loving homes thanks to the generosity of the community and could not have done it without the support of its loyal volunteers and adopters, for whom they will be eternally grateful.
Rescue and Adoption Details
Address: 10021 E Iliff Ave, Aurora, CO 80247, United States
Emails:
Website: www.coloradopuppy.org
Events: See upcoming events here
Forms:
Donate: Donations here
All Breed Rescue & Training (Colorado Springs, CO)
All Breed Rescue & Training (ABRT) is a Colorado Springs-based charity canine rescue and training organization.
They've been rescuing, rehabilitating, and finding permanent homes for dogs declared unadoptable and facing euthanasia since 1994.
Their 98% adoption success rate demonstrates the effectiveness of their positive reinforcement and relationship-based training.
ABRT collaborates with local shelters to accept dogs who are on the verge of being euthanized.
They only rescue dogs who have been judged unadoptable due to behavioral, medical, or training concerns.
Rescue and Adoption Details
National Mill Dog Rescue (Peyton, CO)
JR's Pups-N-Stuff Inc. was founded with a single objective in mind: to help animals in life-threatening situations.
That ideal is what pushed them to where they are now.
They've had a number of happy endings and will continue to give good homes to future rescued canines.
They do not discriminate against or rescue animals based solely on their breed or age.
JRPNS saves animals who are on the verge of being euthanized for a variety of reasons, including space constraints or health difficulties.
Rescue and Adoption Details
Address: 5335 J D Johnson Rd, Peyton, CO 80831, United States
Phone: 719 683 3334
Emails:
Website: nmdr.org
Events: See upcoming events here
Forms:
Donate: Donations here
Annie's Orphans (Durango, CO)
Annie's Orphans, based in Durango, Colorado, has been providing a safe haven for the abandoned, neglected, and abused pet population for over thirty years.
They have placed thousands of dogs in carefully selected homes and offered life-long refuge and care to countless others since their beginnings.
By accepting the criteria, they are embracing the potential that a rapid re-homing may not be possible for some.
If an animal is too sick, traumatized, or otherwise unadoptable, Annie's will be his everlasting home.
The facility's Sanctuary component keeps and tends for these dogs indefinitely, while Sanctuary pups with a chance of being adopted are given as much training attention as possible.
Rescue and Adoption Details