8 French Bulldog Rescues in Ohio: Updated for 2023
Alex Vicente • Updated on August 10, 2023
If you're looking to find a French Bulldog Rescue in Ohio you're in the right place.
Frenchies have been increasing in popularity over the past few years and according to the American Kennel Club (AKC) they are ranked as the #2 breed in America (1). For this reason, the umber of abandoned puppies and adult french bulldogs has also increased. Rescues and shelters are always looking for loving families to adopt frenchies.
Before you check the French Bulldog rescue centers below, please make sure you're aware of how big a responsibility is to foster or adopt French Bulldogs.
You need to know they may have pre-existing medical conditions and may need to be followed by a vet periodically.
You should also be aware that animal cruelty is a punishable crime.
If you plan to rescue a french bulldog, you should also know about the best harnesses for french bulldogs.
The rescue centers below are presented in no particular order.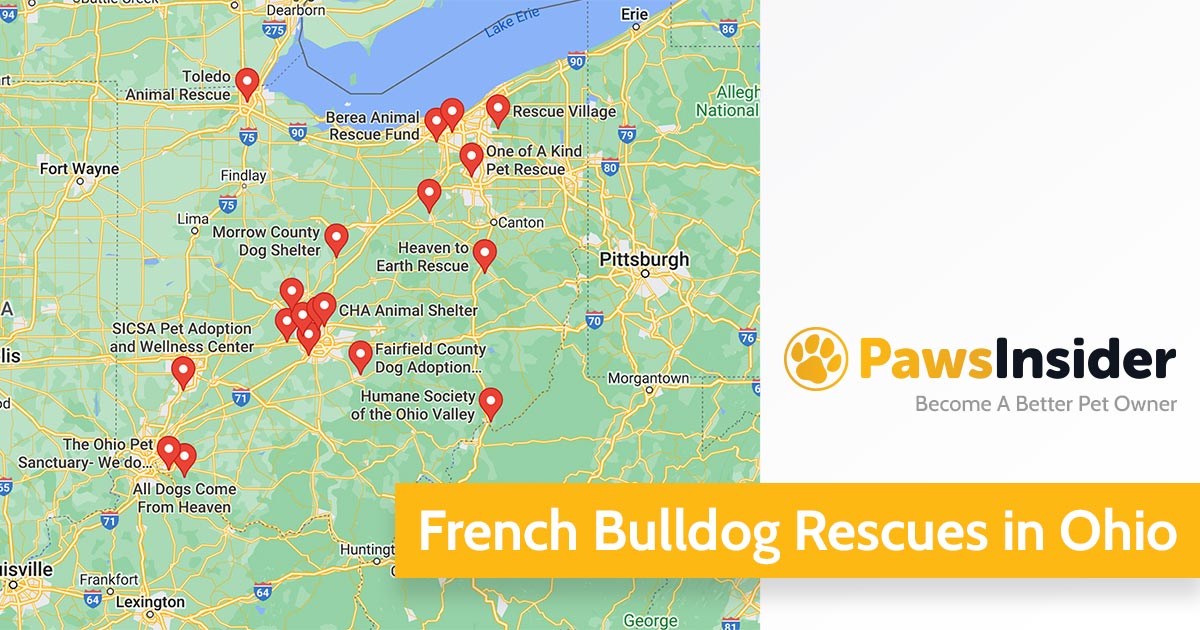 Table of Contents
Buckeye Bulldog Rescue (Grove City, OH)
Buckeye Bulldog Rescue (BBR) is committed to rescuing homeless and abandoned English and French Bulldogs from high-kill shelters and from owners who are unable to care for them. They are able to rehabilitate and rehome bulldogs in Ohio and surrounding states by working with dedicated volunteers, foster homes, veterinarians, and trainers to find them well-matched, carefully screened forever homes.
BBR also serves as a community resource by educating and informing residents about responsible pet ownership and what it takes to own a bulldog, one of the more expensive and high-maintenance breeds.
Rescue and Adoption Details
Queen City Bulldog Rescue (Bellevue, KY)
Queen City Bulldog Rescue (QCBR) was founded in February 2017 with the goal of rescuing homeless and abandoned bulldogs, which are arguably the most high-maintenance breed of dog, being predisposed to a variety of medical conditions that necessitate specialized and costly care.
QCBR advocates for these stray bulldogs in different situations.
Some had been in a loving home and had lost it due to circumstances beyond their control, such as when the owner died or a family lost their home.
Others were strays who went unclaimed, and still others were abandoned when they were no longer useful.
Rescue and Adoption Details
Dogs Unlimited Rescue (Solon, OH)
Dogs Unlimited Rescue, Inc. is a non-profit 501(c)3 organization made up almost entirely of volunteers dedicated to educating the public and rescuing abused and neglected animals.
Animals are rescued from high-kill shelters, hoarding situations, abuse or neglect instances, owner surrenders, and breeding parents in Ohio puppy mills who would otherwise be euthanized.
The adoption team and volunteers work hard to match families with animals that are a good match for their homes, lifestyles, and personalities.
Every animal, regardless of breed or size, is treated with compassion.
Rescue and Adoption Details
PAWS Adoption Center (Monroe, OH)
PAWS Adoption Center is a "no-kill" animal shelter. Its mission is to address the issue of pet overpopulation by offering a no-kill shelter for dogs and cats dedicated to reducing the number of homeless pets through adoption, spay/neuter, and responsible pet ownership.
The long-term goal of PAC is to continue finding forever homes for lovable, adoptable dogs.
This group also wants to expand its impact in the communities it serves by providing educational opportunities for responsible pet ownership.
Rescue and Adoption Details
Berea Animal Rescue Fund (Columbia Station, OH)
Berea Animal Rescue Friends (ARF) is a no-kill animal shelter that rescues stray and homeless companion animals, provides medical care, spay/neuter, vaccinations, and lodging, and prepares animals for adoption into loving homes.
Berea ARF is a 501(c)(3) non-profit that is entirely funded by contributions from supporters and revenue produced by adoptions and fundraising activities.
The organization has a modest staff, but it is mostly run by an amazing, dedicated team of 300-plus volunteers who labor 365 days a year to care for the animals.
Rescue and Adoption Details
Rescue Village (Novelty, OH)
Rescue Village is a non-profit animal care organization based in Geauga County, Ohio.
This organization is more than just a shelter; it seeks to educate and give Humane Education programs to individuals of all ages throughout Northeast Ohio.
RV strives to provide the best veterinary care possible for the animals, as well as spay and neuter treatments for stray and outside-owned animals.
The objective of this group is to bring together organizations, businesses, and individuals in our community to work toward a more humane world.
Rescue and Adoption Details
All Dogs Come From Heaven (Amelia, OH)
All Dogs Come From Heaven is a non-profit organization dedicated to rescuing dogs from kill shelters.
The organization works hard to educate the public about proper animal care, the necessity of training, and the long-term commitment they are making to the animal.
ADCFH employs trainers to work with the dogs and adopters both on and off-site.
The purpose of this group is to ensure that every pet is appropriately and permanently put.
When they rescue dogs from shelters, they vet them, update all immunizations, perform a heart-worm test, spay/neuter, and microchip them.
Rescue and Adoption Details
Meigs County Canine Rescue & Adoption Center (Pomeroy, OH)
Meigs County Canine Rescue & Adoption Center is a dog rescue and adoption center in Meigs County, Ohio.
Their operating funds are obtained through the sale of dog licenses as well as contributions.
This organization exists to serve the public and operate the shelter as outlined in ORC.
MCCRAC encourages public participation at their shelter and works hard to find homes for their dogs through rescues or adoptions.
Rescue and Adoption Details
Address: 33133 Hiland Rd, Pomeroy, OH 45769, United States
Phone: 740 992 3779
Email:
Social Media: Facebook