7 Dachshund Rescues in Ohio [Updated for 2023]
Alex Vicente • Updated on August 1, 2023
If you're looking to find a Dachshund Rescue in Ohio you're in the right place.
Before you check the rescue centers below, please make sure you're aware of how big a responsibility is to foster or adopt a dog. Pet adoption is a serious matter.
You need to know they may have pre-existing medical conditions and may need to be followed by a vet periodically.
You should also be aware that animal cruelty is a punishable crime.
The rescue centers below are presented in no particular order.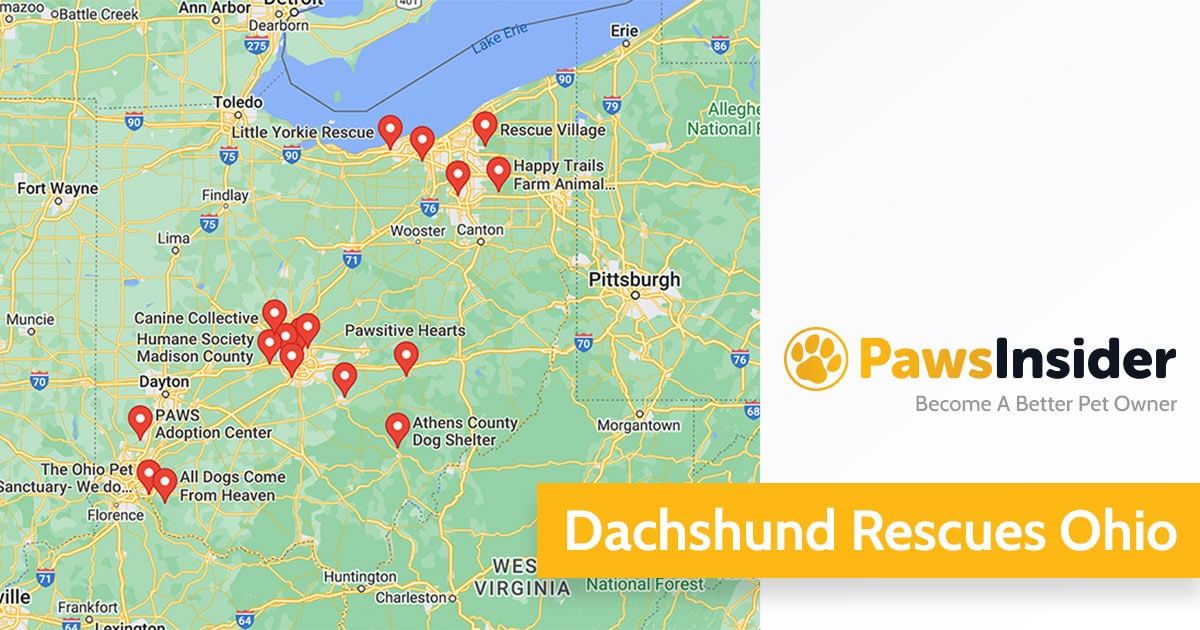 Table of Contents
Dachshund Rescue of Ohio (Lebanon, OH)
Dachshund Rescue of Ohio (DRO) is a 501(c)(3) nonprofit organization that has been helping Dachshunds in Ohio for over 25 years.
This rescue has no physical facilities; all of their dogs are placed in private foster care.
Prior to adoption, all dogs available at DRO are assessed, vetted, spayed or neutered, and any known behavioral concerns are communicated to adopters.
Rescue and Adoption Details
Dachshund Haus and Corgi Rescue (Nationwide)
Dachshund Haus and Corgi Rescue (DHCR) is a Michigan-based non-profit 501(c)(3) organization that also serves Ohio, Illinois, and Indiana.
They support doxies and corgis of all ages in finding their forever homes.
DHCR is a 100% volunteer-run organization that works to help all animals in need while also responding to all inquiries in a timely way; however, there may be periods when their response is a bit delayed.
They recognize that deciding whether to surrender your dog or add a dog to your family is a big choice, and they are here to help with both.
Rescue and Adoption Details
Address: Utica Rd, Sterling Heights, MI 48312, United States
Phone: 734 489 1432
Email:
Website: dhacr.org
Events: See upcoming events here
Forms:
Berea Animal Rescue Fund (Columbia Station, OH)
Berea Animal Rescue Friends (ARF) is a no-kill animal shelter that rescues stray and homeless companion animals, provides medical care, spay/neuter, vaccinations, and lodging, and prepares animals for adoption into loving homes.
Berea ARF is a 501(c)(3) non-profit that is entirely funded by contributions from supporters and revenue produced by adoptions and fundraising activities.
The organization has a modest staff, but it is mostly run by an amazing, dedicated team of 300-plus volunteers who labor 365 days a year to care for the animals.
Rescue and Adoption Details
Rescue Village (Novelty, OH)
Rescue Village is a non-profit animal care organization based in Geauga County, Ohio.
This organization is more than just a shelter; it seeks to educate and give Humane Education programs to individuals of all ages throughout Northeast Ohio.
RV strives to provide the best veterinary care possible for the animals, as well as spay and neuter treatments for stray and outside-owned animals.
The objective of this group is to bring together organizations, businesses, and individuals in our community to work toward a more humane world.
Rescue and Adoption Details
All Dogs Come From Heaven (Amelia, OH)
All Dogs Come From Heaven is a non-profit organization dedicated to rescuing dogs from kill shelters.
The organization works hard to educate the public about proper animal care, the necessity of training, and the long-term commitment they are making to the animal.
ADCFH employs trainers to work with the dogs and adopters both on and off-site.
The purpose of this group is to ensure that every pet is appropriately and permanently put.
When they rescue dogs from shelters, they vet them, update all immunizations, perform a heart-worm test, spay/neuter, and microchip them.
Rescue and Adoption Details
Columbus Dog Connection (Columbus, OH)
Columbus Dog Connection, founded in 1998, is a 501c3 limited admission dog and cat rescue organization.
They are a group of dog lovers who rescue all breeds of dogs and cats.
CDC promotes all rescues and shelters in Ohio and will work tirelessly to save every adoptable dog until dogs and cats are no longer euthanized due to a lack of space.
They also provide a high-quality mobile spay/neuter service in locations with a high animal population but a scarcity of spay/neuter resources.
On the first Saturday of each month, they offer a low cost vaccine clinic.
Rescue and Adoption Details
Gigi's (Canal Winchester, OH)
Gigi's is a 501(c)(3) charity organization that was created in 2018 with the purpose of improving the lives of shelter dogs.
Gigi's combines the knowledge of national experts in dog sheltering and adoption to create a collaborative resource network, which includes our 15,000-square-foot dog campus in Central Ohio, with the goal of assisting all adoptable shelter dogs in the United States find a happy home.
Gigi's collaborates with existing shelters and adoption organizations to promote the health and well-being of shelter dogs while also increasing network efficiencies.
Rescue and Adoption Details
Address: 6175 Wright Rd, Canal Winchester, OH 43110, United States
Mail Address: 2700 E. Dublin-Granville Rd., Suite 300, Columbus, OH 43231, United States
Emails:
Website: gigis.org
Events: See upcoming events here
Form:
Donate: Donations here