German Shepherd Rescue in Raleigh, NC
Alex Vicente • Updated on August 1, 2023
If you're looking to find a German Shepherd Rescue in Raleigh, NC you're in the right place.
Before you check the rescue centers below, please make sure you're aware of how big a responsibility is to foster or adopt a dog, particularly German Shepherds.
You need to know they may have pre-existing medical conditions and may need to be followed by a vet periodically.
You should also be aware that animal cruelty is a punishable crime.
If you plan to rescue a german shepherd, you should also know about the best harnesses for german shepherds, as well as the best bed for german shepherds.
The rescue centers below are presented in no particular order.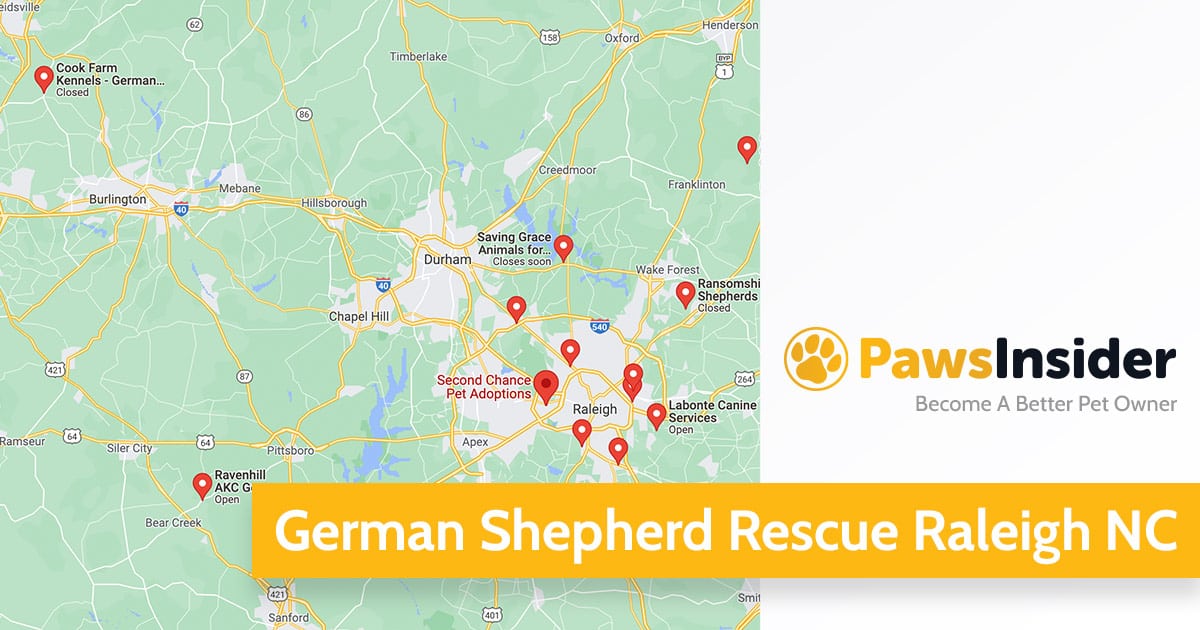 Table of Contents
Second Chance Pet Adoptions (Raleigh, NC)
Second Chance Pet Adoptions is a non-profit animal rescue organization that has been rescuing stray or abandoned cats and dogs in the Triangle Area of North Carolina since 1987.
SCPA is the oldest no-kill rescue organization in Wake County.
Their mission is to support homeless cats and dogs who are healthy or treatable in their search for forever homes, as well as to interact with our community to promote ethical pet ownership, thereby minimizing future generations of homeless animals.
Rescue and Adoption Details
SPCA Wake (Raleigh, NC)
Through collaborative partnerships, the SPCA of Wake County (SPCA Wake) assists dogs and humans in more than half of the counties in North Carolina. SPCA Wake is a non-profit animal protection organization based in Raleigh, North Carolina.
Donations keep families together, enable frontline rescue efforts, and save pets and people in need around North Carolina.
SPCAW is a 501(c)(3) non-profit animal welfare organization and shelter. Its mission is to improve the lives of pets and people by providing protection, care, education, and adoption, therefore creating more humane community.
Rescue and Adoption Details
Address: 200 Petfinder Ln, Raleigh, NC 27603, United States
Phone: 919 772 2326
Email:
Website: spcawake.org
Events: See upcoming events here
Forms:
Mitchell Mill Animal Hospital Rescue (Raleigh, NC)
Mitchell Mill Animal Hospital Rescue is a non-profit 501 (c) 3 organization dedicated to the rescue, rehabilitation, and pet adoption of cats and dogs of all shapes, sizes, and colors.
They often help with medically challenged animals in our rescue program, such as those with skin disorders, HW positive canines, orthopedic situations, mange, shattered bones, and so on.
MMAHR is totally dependent on donations from people who have opened their hearts and finances to assist animals in need. Donations from local clients and individuals are our most important source of funding.
Rescue and Adoption Details
Best Friend Pet Adoption (Cary, NC)
copy
Rescue and Adoption Details
Perfectly Imperfect Pups
Perfectly Imperfect Pups imagines a future where flaws are celebrated and all canines receive the love and respect they deserve.
With that in mind, they founded the Triangle's first rescue dedicated to high medical and special needs dogs.
Higher medical costs are associated with this type of rescue, which is where their fantastic benefactors come in.
PIP takes pride in working with the community and partnering with small businesses to assist each other thrive.
Rescue and Adoption Details
Rescue Ur Forever Friend (Garner, NC)
Rescue Ur Forever Friend is a non-profit, all-volunteer rescue group dedicated to minimizing pet abandonment through foster care, medical treatment, and adoption into forever homes.
Through community outreach and education, the organization promotes responsible pet ownership.
RUFF enhances the lives of homeless pets by offering a safe haven through exceptional foster and medical care until their permanent homes are found, ensuring a long lifespan of safety, love, and friendship.
Through education, advocacy, programming, and services, RUFF also promotes responsible pet ownership.
Rescue and Adoption Details
Mail Address: PO Box 463, Garner, NC 27529, United States
Email:
Website: www.ncruff.org
Events: See upcoming events here
Form:

Adoption Application here
Paws for Life NC (Youngsville, NC)
Paws for Life North Carolina was founded in 2002 as the Franklin County Humane Society.
They now primarily operate under the banner Paws for Life NC.
The foundation of PFLNC is a foster-based adoption program.
To combat pet overpopulation, Paws for Life NC established the Spay and Neuter in Franklin County (SNIF) program over time, and in recent years, they added cat and dog transports to their life-saving toolkit.
Rescue and Adoption Details