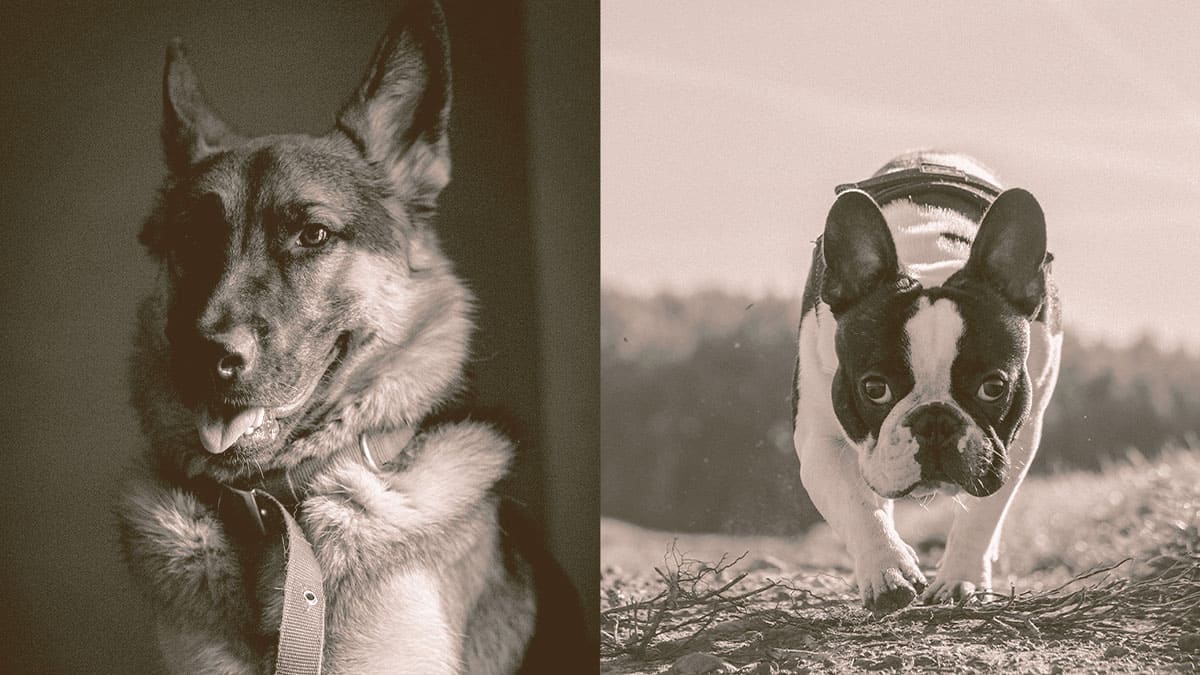 French Bulldog German Shepherd Mix: Full Guide
Alex Vicente • Updated on August 1, 2023
This review contains affiliate links. Read more here.
Not a substitute for professional veterinary help.
French Bulldogs and German Shepherds are both European dog breeds with different historical backgrounds and traits.
But breeders decided to mate these two breeds together to produce a mix that comes from two popular and adorable yet very different dogs.
So, what is the French Bulldog German Shepherd mix? Is it the right dog for you?
We'll answer all these questions in this article, so keep on reading.
Table of Contents
Where Does the French Bulldog German Shepherd Mix Come From?
When a German Shepherd mate with a French Bulldog, the resulting dog is called a Frenchie Shepherd.
There's no clear information about who first tried this mix, but it was probably a breeder that wanted to combine the best traits in both breeds in a single one.
Both the French Bulldog and the German Shepherd came from Europe and originated in the late 19th century.
The French Bulldog is the result of breeding Toy Bulldogs with Rat Terriers, and the result was a small breed of playful, loyal, and fun dogs that will always keep you company wherever you go.
German Shepherds were bred in Germany for different reasons.
These dogs' ancestors were hardworking herding dogs that had a strong sense of smell, speed, intelligence, endurance, and strength.
When these two breeds mate, the resulting breed is called a Frenchie Shepherd, which has the best traits of both breeds.
It's a playful and fun dog that has the needed energy for an active playmate.
Traits of the French Bulldog German Shepherd Mix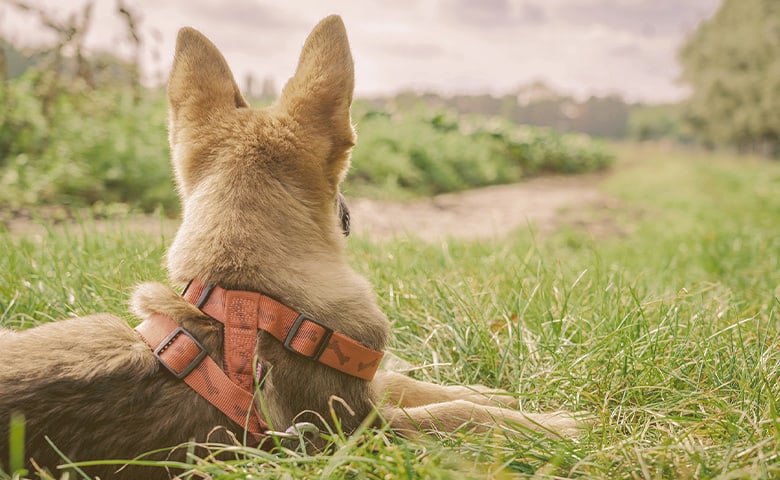 While breeding two different breeds, it's pretty impossible to determine which parent the new puppy will favor.
The mix between the genes doesn't always yield the same results, so the traits of Frenchie Shepherds differ from one individual to another.
Appearance
The French Bulldog is a small dog with a muscular body and broad chest with recognizable bat ears.
These dogs have wrinkled faces and the classic Bulldog look. Although Frenchies don't require much grooming, they're not the cleanest dogs as they are prone to drooling.
A German Shepherd is almost double the size of a Frenchie and has a strong body and chiseled head that shows its intelligence.
The dog's ears are smaller than the ears of a French Bulldog, but they get erect when the dog is alert.
You'll have to deal with continuous shedding, but this is one of the smartest dogs that you might ever deal with.
Due to the difference in the appearance of both breeds, the resulting offspring will look like a mix of both.
A Frenchie Shepherd will be bigger than a French Bulldog but smaller than a German Shepherd.
Its face won't be as noble-looking and chiseled as a German Shepherd, but it might not have as many wrinkles as a French Bulldog.
Temperament
Frenchies are lovely family dogs, and they need early socialization, so they don't feel shy or scared while dealing with people and other dogs.
They're easy to train, but some individuals can be quite stubborn, especially if not given enough attention.
This is a highly adaptable dog, so it can be your perfect companion if you work from home or have a big family.
However, this dog is more prone to separation anxiety and likes to spend time with its humans.
The German Shepherd is a loyal, curious, alert, and protective dog.
It has a lot of energy and can be an excellent guard dog because it will go the extra mile to protect its humans.
The German Shepherd can adapt to apartment living as long you take it for daily walks.
A Frenchie Shepherd will possess traits of both breeds, but how much it favors a single parent will affect the dog's temperament.
For example, Frenchie Shepherds that are likely to favor the German Shepherd parent are going to be more active and alert.
On the other hand, a mixed dog that favors the French Bulldog parent is going to be more laid-back and relaxed.
Exercise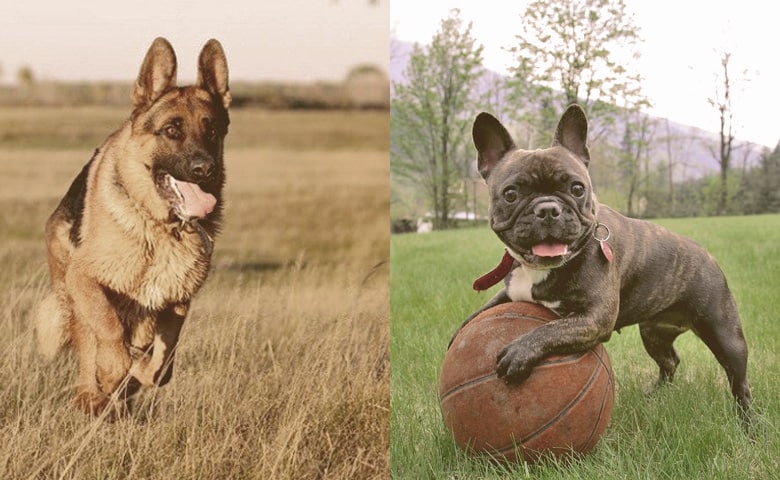 A French Bulldog needs about 30 minutes of daily exercise, while a German Shepherd needs an average of two hours of exercise and play per day.
The Frenchie Shepherd's need to exercise depends on which parent it favors.
For example, if your dog has a flatter face, it will suffer from breathing problems, and you shouldn't exercise it much.
It might not be able to tolerate hot or humid weather like a pure German Shepherd, although it will be more active than a Frenchie.
German shepherds are good swimmers, but Frenchies can't swim.
This is why it's best to avoid swimming in water if it's above head level if you have a Frenchie Shepherd.
Obedience and Trainability
French Bulldogs are lovable dogs, but they might be more difficult to train and sometimes even stubborn.
This is why they're not always the easiest to train and teach.
German Shepherds are exceptionally smart and intelligent.
However, training the German Shepherd requires a lot of commitment from the dog's owner because this dog needs continuous stimulation.
The Frenchie Shepherd will be a mix of both breeds.
It will be fun and playful but a little bit smarter and more obedient than the Frenchie.
However, the degree of intelligence of your particular dog depends on how much it favors one parent over the other.
Crate training might need more time and patience, and the dog will require early socialization to be more confident around other dogs and strangers.
What Are the Risks of Getting a French Bulldog German Shepherd Mix?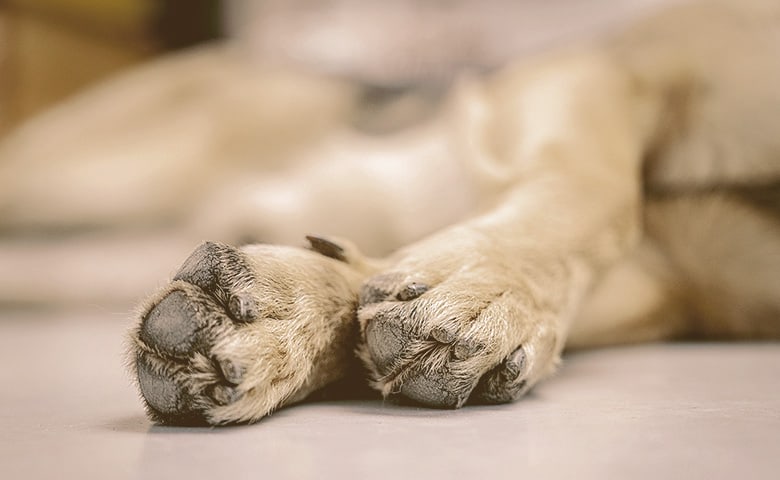 Just like all mixed breeds, the German Shepherd French Bulldog mix comes with some cons.
The most obvious ones are related to health issues.
Frenchie Shepherds are likely to suffer from breathing problems due to their flat faces.
Some mixed dogs will suffer from vertebral malformations and dwarfism.
The Frenchie Shepherd might have a shorter life span than a pure French Bulldog.
Mixed dogs can suffer from degenerative myelopathy and hip and elbow dysplasia; both conditions are common in German Shepherds.
Wrap Up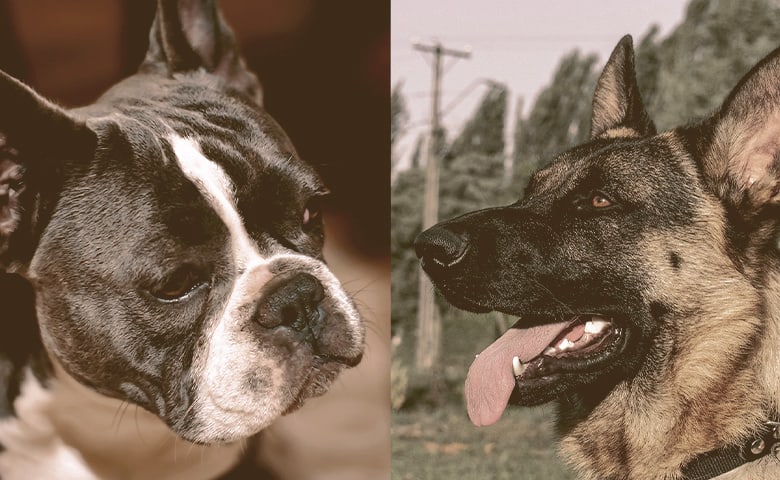 No one knows who first attempted to breed the German Shepherd with a French Bulldog, but the resulting Frenchie Shepherd is a lovely dog with both parents' traits.
This dog will be smaller than a German Shepherd but larger than a French Bulldog.
It might not be as intelligent as a German Shepherd, but it will still be a lovely companion that you'd spend a lot of time playing with.