Norcal German Shepherd Rescue
Alex Vicente • Updated on August 1, 2023
If you're looking to find a Norcal German Shepherd Rescue you're in the right place.
Before you check the rescue centers below, please make sure you're aware of how big a responsibility is to foster or adopt a dog, particularly German Shepherds.
You need to know they may have pre-existing medical conditions and may need to be followed by a vet periodically.
You should also be aware that animal cruelty is a punishable crime.
If you plan to rescue a german shepherd, you should also know about the best harnesses for german shepherds, as well as the best bed for german shepherds.
The rescue centers below are presented in no particular order.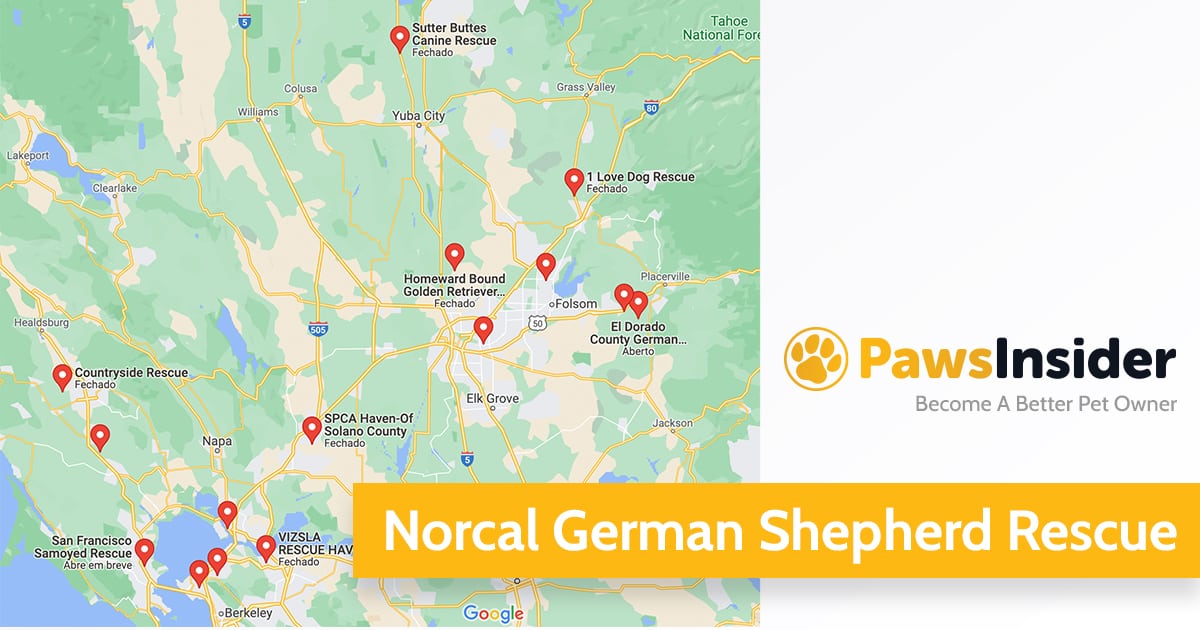 Table of Contents
German Shepherd Rescue Of Sacramento Valley (Pleasant Grove, CA)
German Shepherd Rescue of Sacramento Valley is a non-profit organization dedicated to finding good homes for German Shepherd Dogs and GSD mixes who are at risk of being placed in shelters or who are already in shelters and may face euthanasia.
GSRSV is run by a single person, Brian Foran.
Despite the fact that innumerable volunteers and philanthropists have supported – and continue to support – GSRSV, he has been running and funding the program since February 2001.
This organization places dogs around northern California and western Nevada, but does not exclude people who live even further away from adopting.
He encourages prospective adopters who live a considerable distance from GSRSV to first contact their local rescue groups in order to find the dog they are seeking for.
Rescue and Adoption Details
El Dorado County German Shepherd Rescue (Shingle Springs, CA)
El Dorado County German Shepherd Rescue accepts unwanted, abused, abandoned, or neglected German Shepherds or GSD mixes and prepares them for adoption.
German Shepherds that are undesirable or unable to be adopted by local animal control services are brought to their facility and completely vetted, rehabilitated, and socialized before being adopted out to provide fantastic companions in their forever home.
EDCGS reaches out to the public through scout troops, elementary and high school students through a volunteer program, local businesses, and a community service program, resulting in education on the importance of spaying and neutering their pets, as well as exposure to the care required for abandoned animals.
Rescue and Adoption Details
Second Chance German Shepherd Rescue (Auburn, CA)
Second Chance German Shepherd Rescue is a non-profit, volunteer-run, foster-based German Shepherd Dog rescue serving Northern California's greater Bay Area region.
Their major goal is to save German Shepherd Dogs from life-threatening situations in overcrowded shelters where they face euthanasia.
SCGSR places their dogs in loving, responsible forever homes.
German Shepherd Dogs under their care are spayed or neutered and receive basic veterinary care while waiting to be adopted.
The organization collaborates with local shelters and other rescue organizations to create a network of support for German Shepherd Dogs in need.
Rescue and Adoption Details
Address: 2625 Frontier Rd, Auburn, CA 95603, United States
Phone: 888 815 6222
Email:
Website: www.scgsr.org
Events: See upcoming events here
Forms:
Bay Area German Shepherd Rescue (Fulton, CA)
Bay Area German Shepherd Rescue is a 501(c)(3) all-volunteer organization supported entirely by donations from people like you.
Their staff is made up of dog enthusiasts who volunteer their time to locate the pups loving forever homes.
Over a thousand German Shepherd Dogs and Belgian Malinois have been fostered and saved by this team.
The majority of BAGSR dogs come from shelters where they were abandoned.
Some come from owners who are no longer able to care for their dog and donate it to us in the hopes that it will find a loving permanent home.
The good news is that the organization seldom finds dogs who have been abused or mistreated severely.
Rescue and Adoption Details
Family Dog Rescue (San Francisco, CA)
Angela Padilla, a young mother facing breast cancer, launched Family Dog Rescue in 2010.
This grassroots-grown, 501c3 dog rescue group saves over 1,000 dogs from certain euthanasia each year and places them with loving households.
They support Loup Garou Rescue and the Kern Project and have been visited or featured by The Discovery Channel, The Huffington Post, PayPal, Martha Stewart Living, Uber, Instagram, the Ian Somerhalder Foundation, and Chicken Soup for the Soul, among others.
FDR receives support from Friends of San Francisco Animal Care & Control, PetCo, Maddie's Fund, and many local Bay Area businesses.
Family Dog was named as one of "San Francisco's Favorite Charities" by 7×7 Magazine in 2014.
They are grateful for their high Yelp and Facebook ratings, as well as a solid community in California, the United States, Mexico, Guatemala, and beyond.
Rescue and Adoption Details
Address: 2253 Shafter Ave, San Francisco, CA 94124, United States
Mail Address: PO BOX 40177, San Francisco, CA 94140-0177, United States
Email:
Website: www.ilovefamilydog.org
Events: See upcoming events here
Forms:
1 Love Dog Rescue (Auburn, CA)
1 Love Dog Rescue, founded in 2013, is a non-profit organization dedicated to saving dogs from overcrowded shelters and those who would harm them.
Thousands of canines have been cared for and placed in loving homes by the organization.
Unfortunately, America is euthanizing a large number of dogs for a variety of reasons, including an overabundance of breeders and a shortage of space in animal shelters.
Some of these canines simply need to be in the right place at the right time.
At 1 LOVE, they work with dogs from all walks of life to ensure that they get the necessary vaccinations and microchips, as well as a spay or neuter and a loving home.
Rescue and Adoption Details
Rocket Dog Rescue (Oakland, CA)
Rocket Dog Rescue, founded in 2001 by Bay Area animal activist Pali Boucher, is a 501-C3 non-profit organization that is entirely funded by donations.
Their all-volunteer, home-based organization ensures that all donations go entirely to protecting pets.
RDR's ultimate purpose is to contribute to the creation of a future in which all companion animals have loving and permanent homes.
A future in which no good-natured companion animals, regardless of age, are slaughtered in shelters because they are deemed excess or unadoptable.
They also try to make environmentally friendly and vegetarian selections whenever possible.
Rescue and Adoption Details
Address: 3561 Foothill Blvd, Oakland, CA 94601, United States
Mail Address: P.O. Box 460826, San Francisco, CA 94146, United States
Phone: 415 756 8188
Emails:
Website: www.rocketdogrescue.org
Events: See upcoming events here
Forms:
Wonder Dog Rescue (Penngrove, CA)
The current lifesaving mission of Wonder Dog is the culmination of 30 years of rescue work.
In 1990, the founder began working in dog rescue and established a Boston Terrier rescue in San Francisco.
As the group expanded, so did their ability to assist other dogs in need.
They now rescue various breeds of little dogs ranging in age from 6 weeks to 16 years!
All of their pets are in foster care while waiting to be adopted.
WD saves dogs who are most likely to be euthanized in shelters because of medical concerns, both physical and emotional.
While some of these dogs are adopted, many of them remain with us as foster/hospice or fospice dogs… wonderful pets who require care and compassion at the end of their lives.
Rescue and Adoption Details
Address: 354 Palm Ave, Penngrove, CA 94951, United States
Mail Address: PO Box 17, Penngrove, CA 94951, United States
Phone: 415 621 3647
Email:
Website: www.wonderdogrescue.org
Events: See upcoming events here
Forms: