German Shepherd Rescue in Wisconsin
Alex Vicente • Updated on August 1, 2023
If you're looking to find a German Shepherd Rescue in Wisconsin you're in the right place.
Before you check the rescue centers below, please make sure you're aware of how big a responsibility is to foster or adopt a dog, particularly German Shepherds.
You need to know they may have pre-existing medical conditions and may need to be followed by a vet periodically.
You should also be aware that animal cruelty is a punishable crime.
If you plan to rescue a german shepherd, you should also know about the best harnesses for german shepherds, as well as the best bed for german shepherds.
The rescue centers below are presented in no particular order.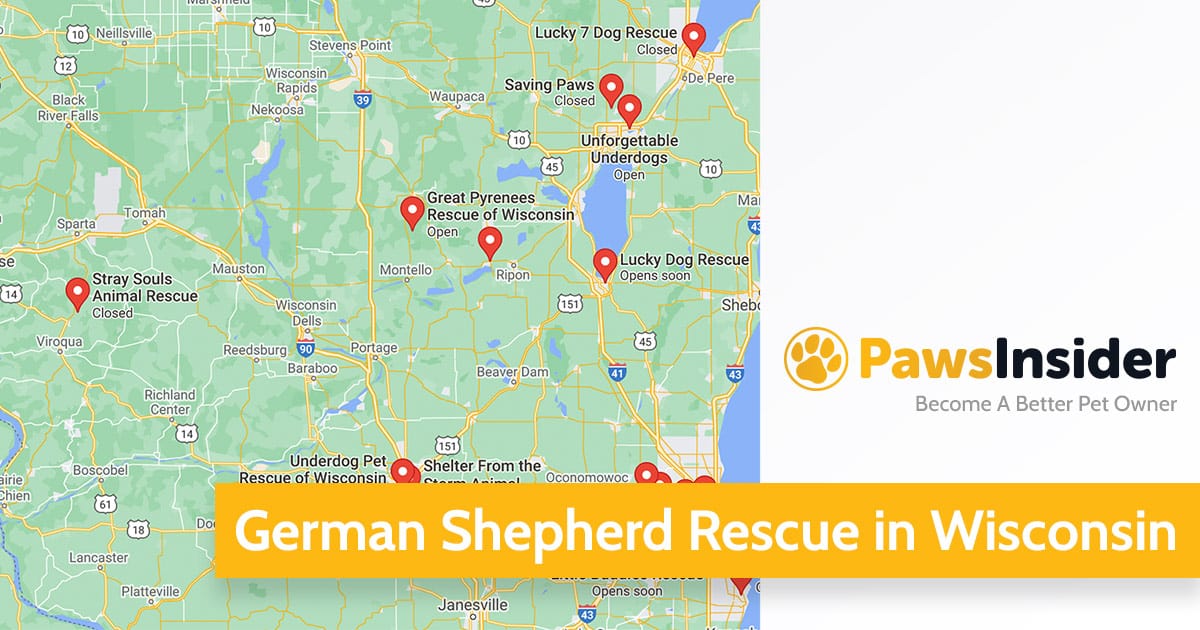 Table of Contents
Crossroads K9 rescue (Mosinee, WI)
Crossroads K9 Rescue is a volunteer-driven non-profit organization dedicated to rescuing dogs who have been left homeless or abandoned, dogs in overcrowded shelters where they face euthanasia, and those in danger of abuse or neglect.
They take the time to ensure that each of their rescues is physically and emotionally healthy while waiting for their forever home.
CK9R places dogs in loving, responsible, and committed permanent homes after a thorough adoption process that includes taking great effort in locating suitable matches, educating prospective adopters, and providing ongoing assistance.
Rescue and Adoption Details
Hoovers Hause Rescue Center (North Prairie, WI)
Hoovers Hause Rescue Center saves dogs and puppies from difficult or neglected situations and places them in loving forever homes.
This organization relies on foster families to love and care for rescued dogs and puppies until they may be adopted.
HHRC's passion is saving dogs who have nowhere else to go and no other way of life and turning them into loved and happy animals.
Rescue and Adoption Details
Woof Gang Rescue (Racine, WI)
Woof Gang Rescue, Inc. is a non-profit, no-kill dog rescue organization that serves not just Wisconsin and Illinois, but also Arkansas, Missouri, and Ohio.
They are committed to rescuing dogs that have become homeless for a variety of reasons, with a particular focus on dogs in shelters who are at high risk of euthanasia due to pet overpopulation and owner surrenders, as well as those who are at risk of abuse or neglect.
WGR also finds it very rewarding to give breeder dogs a second chance by matching them with a lifelong loving family.
These dogs were surrendered for a variety of reasons, including medical difficulties, completed breeding, or simply dogs that did not sell.
Rescue and Adoption Details
Saving Paws (Appleton, WI)
Saving Paws Animal Rescue Inc. is dedicated to rescuing homeless, abandoned, and special needs animals and placing them in new adoptive homes or providing them with a lifelong sanctuary; and to training and providing service dogs to children, adults, and Veterans with disabilities to aid in both physical and emotional independence.
SPAR also seeks to educate the public about animal welfare and the use of assistance dogs in public spaces.
Rescue and Adoption Details
Address: N3141 Meade St, Appleton, WI 54913, United States
Mail Address: P.O. Box 0362, Appleton, WI 54912-0362, United States
Phone: 920 830 2392
Emails:
Website: www.savingpaws.com
Events: See upcoming events here
Forms:
JR'S Pups N Stuff (West Allis, WI)
JR's Pups-N-Stuff Inc. was founded with a single objective in mind: to help animals in life-threatening situations.
That ideal is what pushed them to where they are now.
They've had a number of happy endings and will continue to give good homes to future rescued canines.
They do not discriminate against or rescue animals based solely on their breed or age.
JRPNS saves animals who are on the verge of being euthanized for a variety of reasons, including space constraints or health difficulties.
Rescue and Adoption Details
Underdog Pet Rescue of Wisconsin (Madison, WI)
Underdog Pet Rescue is an all-breed companion animal rescue based out of Dane County, Wisconsin.
This center was founded by Underdog in 2012 by Lauren Brinkman, after volunteering for roughly ten years with different humane organizations throughout Wisconsin.
Lauren's strong love for animals inspired her to establish a rescue and vet clinic that supports the most vulnerable animals while also offering a quality experience for their adopters, volunteers, and clients.
Under Lauren's guidance, Underdog has evolved to save thousands of lives by providing support before, during, and after adoptions in our 150+ foster homes.
Rescue and Adoption Details
Rescue Gang (West Milwaukee, WI)
Rescue Gang is a no-kill, no breed-specific group that prefers to operate from foster homes rather than keep its animals in restrictive kennels.
RG attempts to provide the best medical care for each animal's unique needs, including rigorous age-appropriate vetting.
Dogs are also given a Certified Veterinary Inspection before being adopted.
Rescue and Adoption Details
Address: 4525 W Burnham St, West Milwaukee, WI 53219, United States
Email:
Website: rescuegang.org
Events: See upcoming events here
Forms: