French Bulldog Rescue Rochester NY
Alex Vicente • Updated on August 1, 2023
If you're looking to find a French Bulldog Rescue Rochester NY you're in the right place.
Before you check the rescue centers below, please make sure you're aware of how big a responsibility is to foster or adopt a dog, particularly French Bulldogs.
You need to know they may have pre-existing medical conditions and may need to be followed by a vet periodically.
You should also be aware that animal cruelty is a punishable crime.
If you plan to rescue a french bulldog, you should also know about the best harnesses for french bulldogs.
The rescue centers below are presented in no particular order.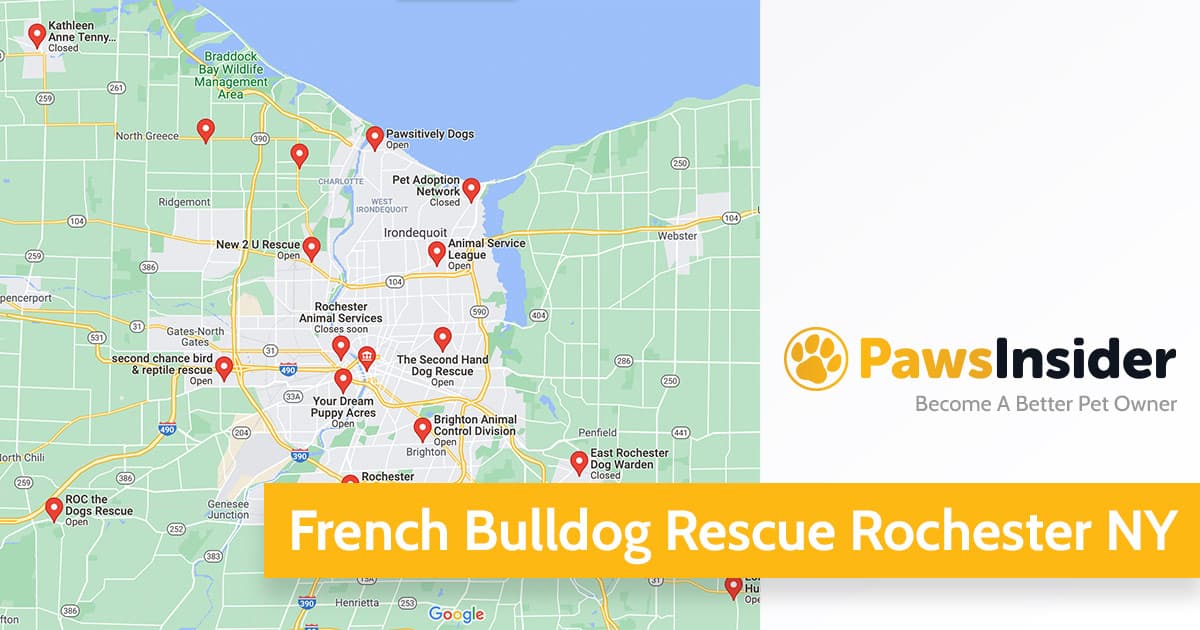 Other resources that you may be interested in:
Table of Contents
Animal Service League (Rochester, NY)
Animal Service League (ASL), was started in 1953 by a woman with a vision and a desire to aid homeless animals in the neighborhood. ASL was incorporated under New York State legislation in 1957.
Today, the organization seeks to maintain this original vision and goal, as well as to carry on the work of the founder.
ASL also focuses on educating and promoting proper domestic animal care and welfare.
Encourage domestic animal spaying/neutering at the earliest appropriate age as a technique of lowering their number.
Provide counseling assistance to guardians who are struggling to care for their current pets.
Rescue and Adoption Details
Rescued Treasures Pet Adoptions (Rochester, NY)
Rescued Treasures Pet Adoptions is a non-profit pet rescue operated entirely by volunteers who are passionate about helping society's abandoned cats and dogs.
Every year, 3-4 million dogs and cats are euthanized at shelters in the United States.
While Rescued Treasures Pet Adoptions cannot solve the problem, they have committed to saving as many as possible.
Every rescued pet that comes into Rescued Treasures was recovered from a kill shelter or from an owner who could no longer care for him or her.
Rescued Treasures takes the time to thoroughly vet each pet to guarantee that it is healthy.
The pet is then placed in a loving and devoted foster home, where he or she is cared for and trained to be a good companion.
Rescue and Adoption Details
ROC The Dogs Rescue (Rochester, NY)
ROC The Dogs Rescue is a non-profit, all-volunteer dog rescue group that only services Rochester, New York.
The organization is committed and passionate about saving pets in the community for a variety of reasons.
They rescue dogs from local shelters, pets surrendered by their owners due to tough circumstances, stray dogs, and dogs in danger of abuse or neglect.
Animals in the care of ROC are spayed or neutered, receive all necessary veterinary care and treatment, and are placed in nurturing foster homes while they await permanent placement.
They assist dogs in need regardless of age, breed, or convenience of placement.
Rescue and Adoption Details
The Second Hand Dog Rescue (Rochester, NY)
Second Hand Dog Rescue is a non-profit organization that assists in the placement of homeless dogs and puppies.
They find ways to help abandoned, neglected, or surrendered pets through fostering programs while also promoting spay/neuter awareness among the general public through adoptions from their volunteer network across North America.
SHDR also collaborates with other groups such as police departments and animal shelters to transfer needy animals across North America.
Rescue and Adoption Details
Address: 1041 Culver Rd, Rochester, NY 14609, United States
Phone: 585 305 5111
Email:
Events: See upcoming events here
Form:

Adoption Application here
New 2 U Rescue (Rochester, NY)
New 2 U Rescues is a foster-based all-breed dog rescue with the primary goal of assisting dogs in need.
All animals taken in by the rescue are housed in foster homes until an appropriate adoptive home can be found.
They provide training and veterinary care to all of the animals in our care as needed.
This charity accepts local dogs in need when fosters have an opening and specializes in assisting pregnant or nursing mother dogs. When possible, they also accept Puppy Mill Dogs.
Dogs that have spent their lives in a cage, producing litter after litter of puppies, and are 'disposable' to the miller if they are no longer able to produce a litter.
Rescue and Adoption Details
Address: 1857 Dewey Avenue, Box 15496, Rochester, NY 14615, United States
Phone: 585 371 8884
Email:
Website: new2urescue.org
Events: See upcoming events here
Forms:
Rochester Hope For Pets (Rochester, NY)
Rochester Hope For Pets was founded in 2008 as a non-profit organization supported by the generosity of private donors.
Their purpose is to improve the quality of life for pets in the Rochester, New York area.
RHFP is dedicated to helping the community by providing pet owners with financial support for veterinary care costs in times of need, as well as assisting veterinarian healthcare staff with continuous education and technology.
Rescue and Adoption Details
Operation Buddy Rescue (Rochester, NY)
Operation Buddy Rescue's purpose is to provide a safe haven for abandoned, abused and neglected animals.
Additionally, they have established programs that provide medical care as well as referrals for owners or other resources in need!
OBR is a non-profit organization that relies solely on community donations to save lives by providing rehabilitation services such as spaying/neutering at no cost (including all vaccines), pet transport (including airfare out if necessary), and eventually finding them loving homes where everyone can live.
Rescue and Adoption Details