French Bulldog Rescues in St. Louis (Updated List for 2023)
Alex Vicente • Updated on August 1, 2023
If you're looking to find a French Bulldog Rescue in St. Louis you're in the right place.
Before you check the rescue centers below, please make sure you're aware of how big a responsibility is to foster or adopt a dog, particularly French Bulldogs.
You need to know they may have pre-existing medical conditions and may need to be followed by a vet periodically.
You should also be aware that animal cruelty is a punishable crime.
If you plan to rescue a french bulldog, you should also know about the best harnesses for french bulldogs.
The rescue centers below are presented in no particular order.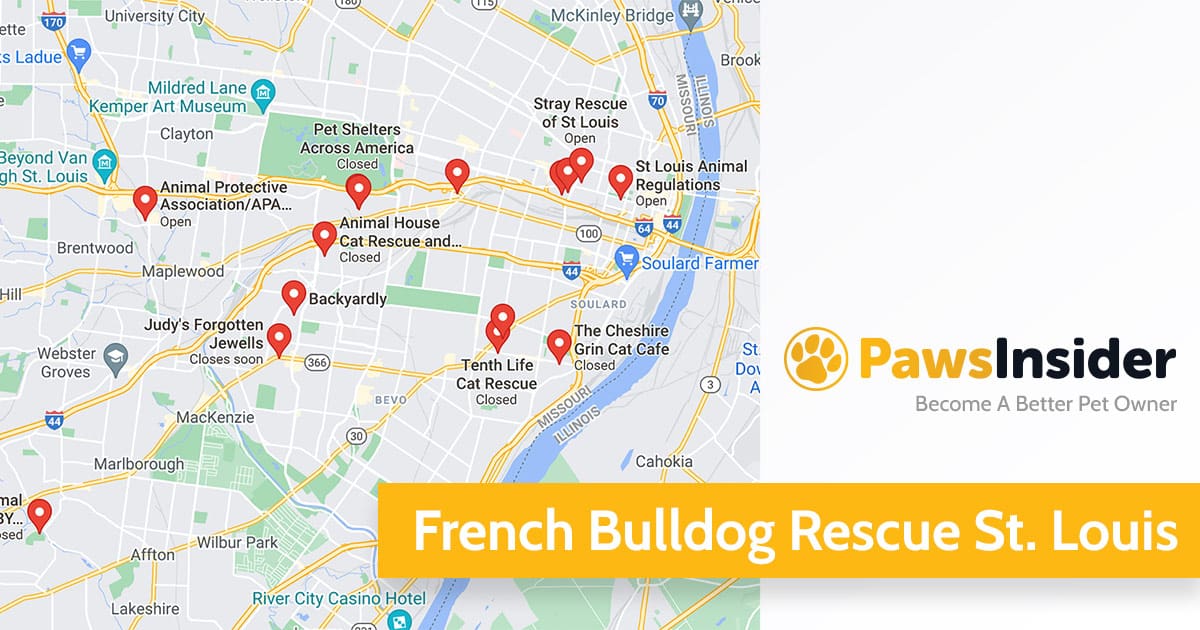 Table of Contents
Gateway Pet Guardians (East St Louis, IL)
Gateway Pet Guardians' purpose is to redefine what animal rescue truly means in order to keep families together and prevent owned dogs from entering an overcrowded shelter system.
They believe that everyone, regardless of zip code, money, employment situation, or housing type, deserves the love of a pet.
GPG goes above and beyond to ensure equitable access to resources so that no one in our community is forced to make the impossible decision of giving up their beloved pet.
Rescue and Adoption Details
Stray Rescue of St Louis (St. Louis, MO)
Stray Rescue of St. Louis seek for and accept those whom no other charity will assist or who would be euthanized because they are too expensive to heal.
They come to the aid of those who have been abandoned, beaten, bred, fought, maimed, afraid, defeated, and betrayed.
SRSL guarantee them ALL the second chances they deserve for health, home, commitment, and love, no matter the time or expense.
Rescue and Adoption Details
CARE STL Adoption Center (St. Louis, MO)
CARE STL is committed to protecting and caring for the city of St. Louis' unwanted, mistreated, neglected, and homeless companion animals.
This organization exists to foster a supportive society based on collaboration, compassion, and concern for both people and animals.
CARE STL sees a world in which all animals are cared for on all levels: body, mind, and heart.
Rescue and Adoption Details
Humane Society of Missouri (St. Louis, MO)
The Humane Society of Missouri offers a safe and caring home to all animals in need, large and small, who have been abused, neglected, or abandoned.
Through their rescue and investigation activities, spay/neuter programs, and educational workshops, their objective is to break the cycle of abuse and pet overpopulation.
HSM is dedicated to fostering long-term relationships between humans and animals through our adoption and shelter pet behavior programs, as well as by providing world-class veterinary care.
Rescue and Adoption Details
Address: 1201 Macklind Ave, St. Louis, MO 63110, United States
Phone: 314 647 8800
Email:
Website: www.hsmo.org
Events: See upcoming events here
Forms:
Judy's Forgotten Jewells (St. Louis, MO)
Judy's Forgotten Jewells is a registered non-profit no-kill animal rescue organization that was created in 2009.
This organization believes that ALL animals are deserving of high-quality pet care and a loving home. Volunteers, Jewell Animal Hospital staff, and pet-loving members of our community donate money and materials to the rescue.
There is no support for the rescue from large corporations or private charities.
JFJ does charge an adoption fee, which covers only a portion of the costs of spaying/neutering, vaccinating, implanting and activating a microchip, feeding the animals, and providing any medical treatment prior to adoption.
Rescue and Adoption Details
STL Lost Pets (St. Louis, MO)
The Animal Protective Association of Missouri, founded in 1922, is a non-profit organization dedicated to bringing people and pets together, furthering humane education, and developing initiatives that benefit the human/animal connection.
The open-admission shelter, offers pet adoption, lost and found pet assistance, a low-cost veterinary clinic and domestic violence pet assistance.
Rescue and Adoption Details
Crestwood Animal Shelter (St. Louis, MO)
Crestwood Animal Shelter is an all-volunteer organization that thrives thanks to the hard work of a varied network of volunteers.
They are all on the same mission: to better the lives and well-being of their four-legged friends.
Each volunteer contributes their own talent to the endeavor in ways that our own busy schedules allow.
On a regular basis, the shelter houses a number of cats and dogs who are being prepared for or ready for adoption.
Rescue and Adoption Details