7 Dachshund Rescues in North Carolina [Updated for 2023]
Alex Vicente • Updated on August 1, 2023
If you're looking to find a Dachshund Rescue in North Carolina you're in the right place.
Before you check the rescue centers below, please make sure you're aware of how big a responsibility is to foster or adopt a dog. Pet adoption is a serious matter.
You need to know they may have pre-existing medical conditions and may need to be followed by a vet periodically.
You should also be aware that animal cruelty is a punishable crime.
The rescue centers below are presented in no particular order.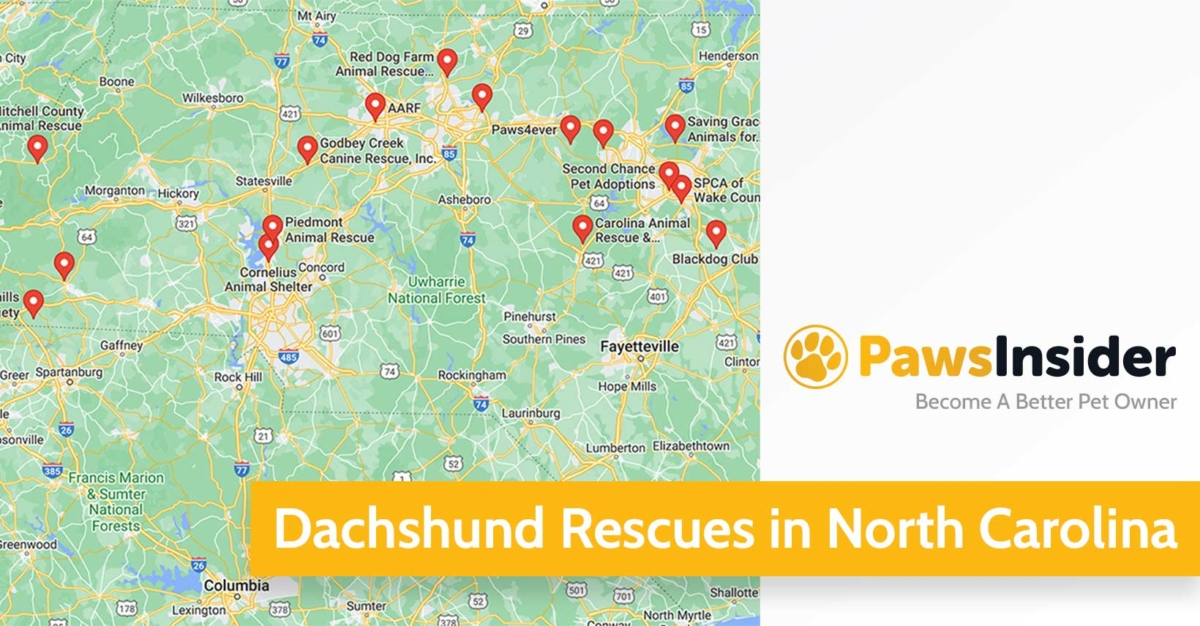 Table of Contents
Doxie By Proxy Rescue
Doxie By Proxy Rescue (DBPR) was founded in January 2019 out of a love of rescue and the dachshund breed. The volunteers work diligently to rescue, rehabilitate, and rehome dachshunds and dachshund mixes in North Carolina.
DBPR is a foster home-based rescue that accepts shelter admissions as well as owner surrenders from North Carolina. When possible, they try to educate and advise owners who are thinking about surrendering their dachshund to their program as a way to maintain dogs in loving homes and keep them from going into rescue.
Rescue and Adoption Details
Carolina Animal Rescue & Adoption (Sanford, NC)
Carolina Animal Rescue & Adoption (CARA) is a 501(c)(3) non-profit, all-volunteer organization whose purpose is to give refuge and care to domestic companion animals until a loving, responsible home can be found or lost dogs are reunited with their owners, as well as to encourage responsible pet ownership through ethical education.
CARA depends on individual and business donations and fundraising proceeds to operate.
They rely on a devoted group of volunteers, board members, and supporters.
Rescue and Adoption Details
Address: 42 Deep River road, Sanford, NC 27330, United States
Mail Address: P.O. Box 2642, Sanford, NC 27331, United States
Phone: 919 774 9433
Emails:
Website: www.cara-nc.org
Events: See upcoming events here
Forms:
Donate: Donations here
Lost Dogs Run (Murphy, NC)
Lost Dogs Run (LDR) is a no-kill rescue, not a shelter.
This means that animals are not euthanized unless they are extremely hostile toward people and other animals or have life-threatening injuries or illnesses.
Heartworm-positive dogs are given a low-cost heartworm prophylactic (a slow-kill therapy for heartworms), which eliminates them as a source of infection for heartworms.
Although they firmly encourage spaying and neutering, LDR is more than simply pet care.
They were founded in Cherokee County, North Carolina, to help keep unwanted animals out of shelters.
Their shelter experience has shown that animals, like people, who are imprisoned for extended periods of time, become dysfunctional and are frequently euthanized.
The shelter option necessitates community involvement.
Individuals with compassion foster animals until permanent homes may be found.
Rescue and Adoption Details
Valley River Humane Society (Marble, NC)
The Valley River Humane Society (VRHS) originated as the Cherokee Humane Society in 1969.
Currently, this group takes in about 2000 homeless pets and strays per year, equally divided between dogs and cats.
Cats and dogs are adopted locally, while dogs are taken to the Connecticut Humane Society and other "good" rescues in the Northeast for adoption.
VRHS urges pet owners to please fix their animals and report animal abuse to authorities, as well as refrain from purchasing dogs from unregulated and abusive puppy factories.
It takes time and effort to find homes for stray animals.
They need your help.
Rescue and Adoption Details
Cashiers Highlands Humane Society (Sapphire, NC)
Cashiers Highlands Humane Society (CHHS), founded in 1987, is a private 501(c)(3) non-profit animal welfare no-kill shelter.
They are not funded by the federal, state, or local governments, nor by any national animal organization.
For more than a quarter-century, the Cashiers-Highlands Humane Society has rescued, cared for, and placed thousands of abandoned and neglected animals.
CHHS connects people and pets by reaching out to local schoolchildren with Humane Education programs that educate about ethical pet ownership and the necessity of spay/neuter, as well as brightening the days and boosting the spirits of our community's elderly members through pet therapy and visits.
Rescue and Adoption Details
Address: 200 Gable Drive Sapphire, NC 28774, United States
Email:
Website: www.chhumanesociety.org
Events: See upcoming events here
Forms:
Red Dog Farm Animal Rescue Network (Stokesdale, NC)
Red Dog Farm Animal Rescue Network is a North Carolina non-profit corporation founded on August 23, 2006, with the mission of rescuing and rehabilitating neglected, abused, or otherwise unwanted animals in and around Guilford County, with a special emphasis on domestic farm animals.
RDFAR is a North Carolina leader in animal rescue.
This organization is based on a wide network of caring individuals and families who give their hearts, homes, and farms to foster until a forever family is found and has placed over 4,000 animals in loving homes.
Rescue and Adoption Details
Address: 8653 NC Hwy 65, Stokesdale, NC 27357, United States
Phone: 336 288 7006
Email:
Website: reddogfarm.com
Events: See upcoming events here
Forms:
Cause N Dog Rescue (Snow Hill, NC)
Cause N Dog Rescue and Adoptions in Snow Hill, North Carolina, tackles the most difficult rescue cases.
The majority of the dogs arrive with broken bones, fractures, abrasions, mange, are pregnant, or are homeless.
They are also one of the few facilities that can accept and rehabilitate stray dogs.
Due to limited space, CNDR tries to ensure that each adult large and medium dog space is mostly reserved for the injured and broken. They often do not accept owner surrenders on dogs weighing 20 pounds or more.
Small breeds and puppies are adopted considerably faster, so they can handle more owner surrenders.
Rescue and Adoption Details