French Bulldog Rescue RI
Alex Vicente • Updated on August 1, 2023
If you're looking to find a French Bulldog Rescue in Rhode Island you're in the right place.
Before you check the rescue centers below, please make sure you're aware of how big a responsibility is to foster or adopt a dog, particularly French Bulldogs.
You need to know they may have pre-existing medical conditions and may need to be followed by a vet periodically.
You should also be aware that animal cruelty is a punishable crime.
If you plan to rescue a french bulldog, you should also know about the best harnesses for french bulldogs.
The rescue centers below are presented in no particular order.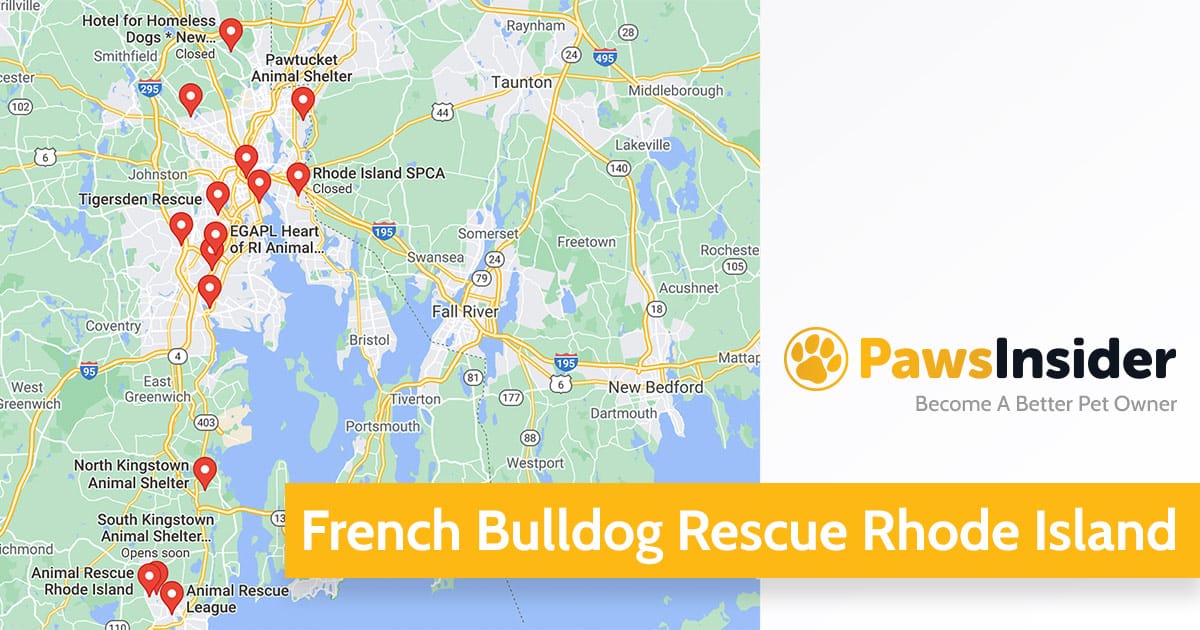 Table of Contents
Animal Rescue Rhode Island (Peace Dale, RI)
Animal Rescue Rhode Island (ARRI) is dedicated to the humane care of homeless animals and the rescue of companion animals in need.
This organization takes pride in offering a safe, healthy, and loving environment.
​It also provides a strong commitment that no animal will ever be euthanized due to a lack of time, space, breed, or a humanely curable condition.
ARRI saves abandoned, abused, and relinquished animals from all over the world.
They will go to great lengths to nourish and rejuvenate the animals in our care so that they can be successfully adopted pets in loving homes.
Rescue and Adoption Details
EGAPL Heart of RI Animal Rescue League (Cranston, RI)
As a non-profit organization, EGAPL Heart of RI Animal Rescue League is dedicated to the rescue, quality care, and adoption of companion animals into permanent homes and is always searching for volunteers.
EGAPL will always promote and share the valuable lessons of animal kindness, respect, and responsibility, and they will continue to work towards establishing humane communities.
Rescue and Adoption Details
Rhode Island SPCA (Riverside, RI)
The Rhode Island SPCA, founded in 1870, is the oldest non-profit animal welfare organization in the state of Rhode Island and the third oldest in the country.
It provides services such as adoption and rehoming, veterinary treatment, humane education, training help, and pet owner assistance programs.
The Rhode Island SPCA is also the only organization in the state that has the legal authority to investigate and prosecute acts of animal cruelty and neglect, and it actively participates in legislative issues affecting the welfare of all animals in our state.
Rescue and Adoption Details
Providence Animal Rescue League (Providence, RI)
The Providence Animal Rescue League, established in 1913, is a private, non-profit, 501(c)(3) organization that operates as an open adoption animal shelter, which means they strive to provide a friendly and barrier-free adoption procedure that is entirely conversation-based.
PARL believes that every individual who seeks a companion animal deserves one and they work to discover the ideal match for both adopter and animal through communication.
The organization creates trustworthy connections with adopters via this process, encouraging them to communicate openly and honestly with us whenever they require our guidance or support.
Rescue and Adoption Details
Address: 34 Elbow St, Providence, RI 02903, United States
Phone: 401 4211 399
Emails:
Website: www.parl.org
Events: See upcoming events here
Forms:
Hotel for Homeless Dogs (Cumberland, RI)
The Hotel for Homeless Dogs (NEHS) is an animal care facility and adoption center in Cumberland, Rhode Island.
It also offers foster homes around New England in addition to the institution.
They are a dedicated group of animal lovers who save animals from euthanasia in overcrowded county shelters and pounds, as well as abandoned animals, litters found in fields, terrible situations, and other homeless animals in need.
The mission of NEHS is to care for these rescues until they find their forever homes, as well as to educate the public about proper pet care.
The animals in their care have been completely vetted and are either spayed or neutered.
They are cared for regardless of their age, breed, or medical costs. The hotel receives no state or government financing.
Rescue and Adoption Details
North Kingstown Animal Shelter (North Kingstown, RI)
The North Kingstown Support Foundation is a 501(c)(3) non-profit organization whose mission is to ensure that every cat or dog that enters the North Kingstown Animal Shelter receives appropriate medical care, inoculations, and spaying or neutering before adoption.
NKSF will always try to make the animals awaiting adoption as comfortable and stress-free as possible.
In addition, to reach out to the community in order to assist individuals whose pets require medical attention that they cannot afford.
Rescue and Adoption Details
Address: 395 Hamilton Allenton Rd, North Kingstown, RI 02852, United States
Phone: 401 295 5579
Email:
Social Media: Facebook
Events: See upcoming events here
Little Rhody Rescue (Harmony, RI)
Little Rhody Rescue and Quarantine Inc is a 501(c)(3) tax-exempt non-profit organization.
This group rescues dogs from high-kill shelters, screens them for disease, spays and neuters them, microchips and vaccinates them, deworms them, and gives them flea, tick, and heartworm protection.
LRRQ and its affiliates have placed over 12,000 shelter dogs with loving and caring families to date.
Is your next?
Rescue and Adoption Details