7 French Bulldog Rescues in Denver [Updated for 2023]
Alex Vicente • Updated on August 1, 2023
If you're looking to find a French Bulldog Rescue in Denver you're in the right place.
Before you check the French Bulldog rescue centers below, please make sure you're aware of how big a responsibility is to foster or adopt French Bulldogs.
Frenchies have been increasing in popularity over the past few years and according to the American Kennel Club (AKC) they are ranked as the #2 breed in America (1). For this reason, the umber of abandoned puppies and adult french bulldogs has also increased. Rescues and shelters are always looking for loving families to adopt frenchies.
You need to know they may have pre-existing medical conditions and may need to be followed by a vet periodically.
You should also be aware that animal cruelty is a punishable crime.
The rescue centers below are presented in no particular order.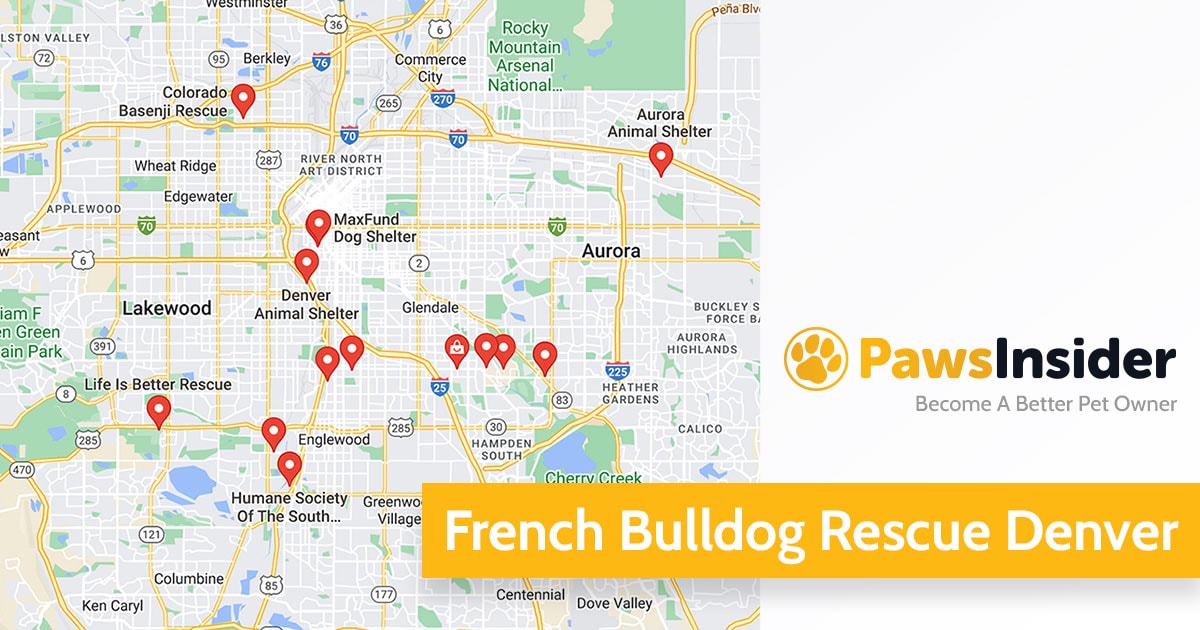 Table of Contents
French Bulldog Rescue Network (Nationwide)
The French Bulldog Rescue Network (FBRN) works to rescue, rehab, and rehome French Bulldogs that are in need from breeding facilities, import brokers, shelters, private rescue organizations, owners, or good samaritans.
FBRN is made up entirely of volunteers who care for and foster these dogs while also imparting knowledge and instruction to foster families or new owners.
Their mission is to find healthy, love-needing French Bulldogs their forever homes.
Rescue and Adoption Details
MaxFund Dog Shelter (Denver, CO)
MaxFund Dog Shelter (MFDS) was founded in May 1988 as a non-profit, no-kill shelter.
This organization takes in wounded animals with no known owner and, after they have been rehabilitated, finds them loving permanent homes.
MFDS is growing as a result of generous donations and estates that have been converted into infrastructure upgrades.
They will continue to save and care for as many animals as possible.
Rescue and Adoption Details
PawsCo (Denver, CO)
PawsCo is a Denver, is a Colorado-based 501(c)(3) animal rescue organization.
They are fully committed to minimizing pet homelessness by partnering with the Food Bank of the Rockies for a year-round Pet Food Drive and acting as a partner to shelters and rescues to foster the animals with the greatest need, such as those not succeeding in a shelter setting.
Rescue and Adoption Details
Address: 8200 E Pacific Pl #205, Denver, CO 80231, United States
Phone: 720 675 8758
Emails:
Website: pawsco.org
Events: See upcoming events here
Forms:
Donate: Donations here
A Friend of Jack (Denver, CO)
A Friend of Jack (AFJ) is a foster-based 501(c)(3) non-profit rescue focused on finding dogs in need of loving forever homes.
They want to ensure that no dog becomes just another tragic statistic.
They always rise to the occasion and never give up.
AFJ is entirely supported by contributions from kind partners, friends, family members, and strangers.
They would not be capable of saving these sweet animals without donations.
Rescue and Adoption Details
My Fairy Dawg Mother (Denver, CO)
My Fairy Dawg Mother (MFDM), established in early 2011, is a non-profit foster-based rescue in Denver, Colorado.
They are determined to find the best long-term home for each dog taken into their care.
At MFDM, you may start the adoption process by reading about and viewing photos of their available dogs.
Learn about our wonderful dogs that were abandoned or dropped off in a shelter for no good reason and brought to one of their Denver homes.
Rescue and Adoption Details
Barktown Rescue (Denver, CO)
Sloppy Kisses Animal Rescue (SKR) is a volunteer-run organization created in 2018 by a group of Colorado animal lovers.
It was founded with the goal of rescuing as many animals in need as possible, and they´ve been collaborating with shelters in locations that are overwhelmed with abandoned and surrendered animals.
SKR transports the animals to Colorado, fosters them in temporary homes, keeps them up to date on immunizations, spays/neuters them if they haven't already, and ultimately adopts them into permanent, caring homes.
Rescue and Adoption Details
Dumb Friends League ()
The Dumb League is a non-profit animal protection group that serves Colorado regions.
As a result of the generosity of their donors, they can offer low-cost spay/neuter services to all owned, pet, and feral/community cats.
Rescue and Adoption Details
Address: 4817 National Western Dr, Denver, CO 80216, United States (by appointment only)
Phone: 303 751 5772
Email:
Website: www.ddfl.org
Events: See upcoming events here
Forms:
Donate: Donations here