When Do French Bulldogs Ears Stand Up? (FLOPPY No More!)
Alex Vicente • Updated on August 22, 2023
This review contains affiliate links. Read more here.
Not a substitute for professional veterinary help.
I know you're eager to watch your Frenchie grow, but you'll have to wait until 4–6 weeks for the ears to start going up. Even then, the puppy may take his time with the ears thing.
There isn't a deadline, and a lot of dogs don't get their ears up until they're 10 weeks or older.
I understand why all Frenchie owners want to see erect ears.
Aside from the fact that they're a sign of maturity, they look so adorable.
But you'll have to wait until your dog's ears are fully mature for that to happen, and it may take some time.
If it's your first time raising a Frenchie, you'll want to get an all-inclusive view, so you know what to expect. It also helps to know when you should consult a vet.
Here's everything you need to know about the matter.
Table of Contents
When Do French Bulldogs Ears Go Up?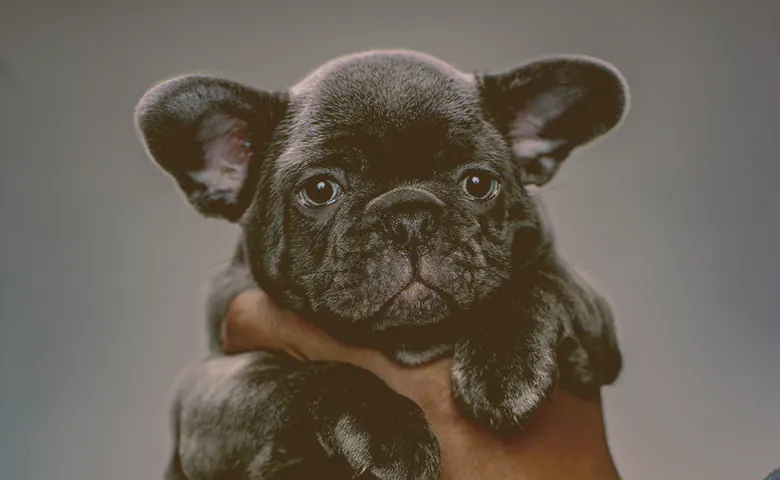 There's not a rule of thumb when it comes to French Bulldogs' ears. Your dog may have his ears up after a couple of weeks, and he may not have them standing up for as late as 7–8 months. The average age is 6–7 weeks old, but that doesn't go for all dogs.
Generally, the ears of a French Bulldog should go up once the puppy is done teething. However, they won't go up at once. They'll perk up first, then keep standing and flopping until they're fully up.
Most puppies should have their ears up between 5–15 weeks, depending on how fast your Frenchie matures.
Should I Be Worried If My French Bulldog's Ears Don't Go Up?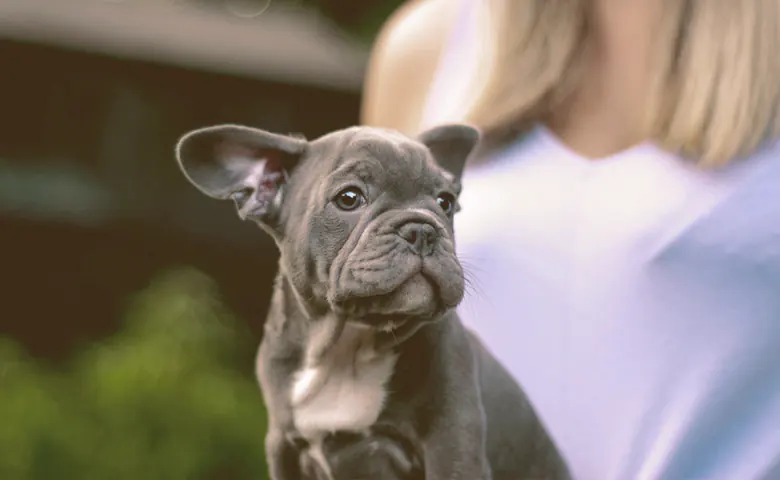 There's no need to worry about Frenchie's ears not going up. Some dogs take up to a year to develop perky ears, and there isn't a general deadline each dog has to follow.
Most dog owners will get concerned if their Frenchies don't get erect ears by a couple of months, and they'll try to fasten the process by taping the dog's ear up.
The best that you can do is wait until the ears go up on their own. They may be late, but they'll eventually do. If they're too late, you can always speak to the vet and see if there's something you can do.
Why Are My Frenchie's Ears Floppy?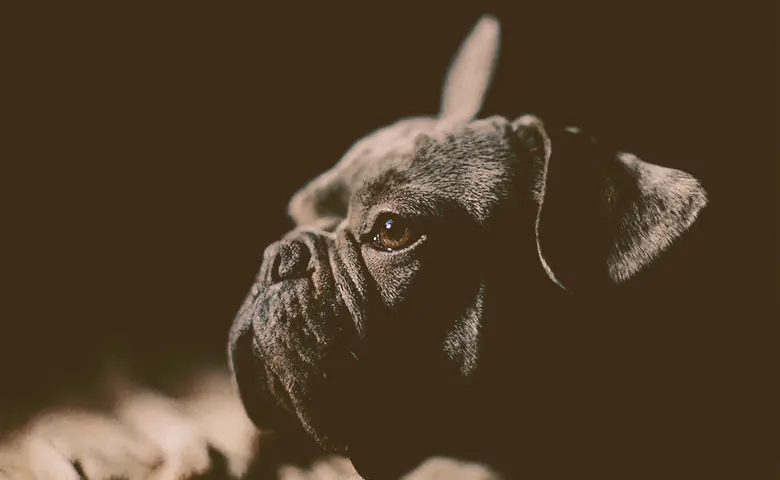 Frenchies are naturally adorable, and they get even more adorable when their ears flop down. Granted, they should be standing up, so is there a reason to worry?
Well, no. The truth is, Frenchies' ears get floppy as an integral part of their growth process, and it happens when they start teething. They may also stay floppy for a while, at least until all the teeth are out.
You don't have anything to do except wait for the ears to stand up again when this happens. It may happen after months, and some dogs get their ears up after a few weeks. It depends on how quickly your dog grows his teeth.
In some rare cases, the Frenchie's ears will flop when he's old, so teething definitely won't be the reason. In this case, you'll have to wait until the ears stand up again, and they might never do. Look at the bright side; that means you have a unique buddy!
How Are Frenchie's Ears and Teeth Related?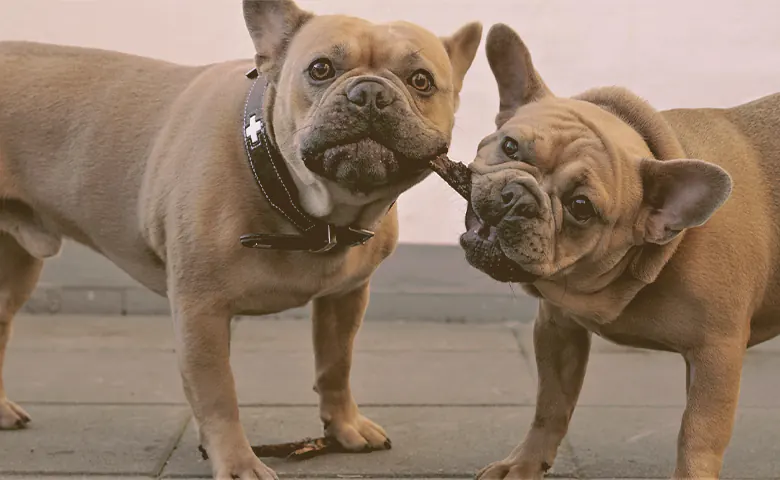 I just mentioned that Frenchie's ears flop when they're in the teething phase, but does that make sense? Well, it does once you understand the anatomy of the Frenchies.
When these fellas start teething, the calcium gets heavily concentrated towards their teeth, providing enough minerals for the teeth to grow out healthy. As a result, its concentration fades in the ear cartilage, causing the dogs' ears to go softer and stay that way for a while.
The ears then go up again when the cartilage grows hard enough to lift them.
The Frenchies' ears and teeth are directly related. When they chew or bite down, their muscles pulsate, and their ear muscles are strained. So, when they're teething, the effect shows instantly on their ears.
You'll know that your Frenchie is teething when you notice he's drooling more than usual and excessively chewing even when he's not eating. You may also notice inflamed gums, and some dogs get a mild fever.
When you notice these things, you'll also notice the dog's ears are floppy, and it's a normal part of the process.
Can I Help My Frenchie's Ears Go Up Faster?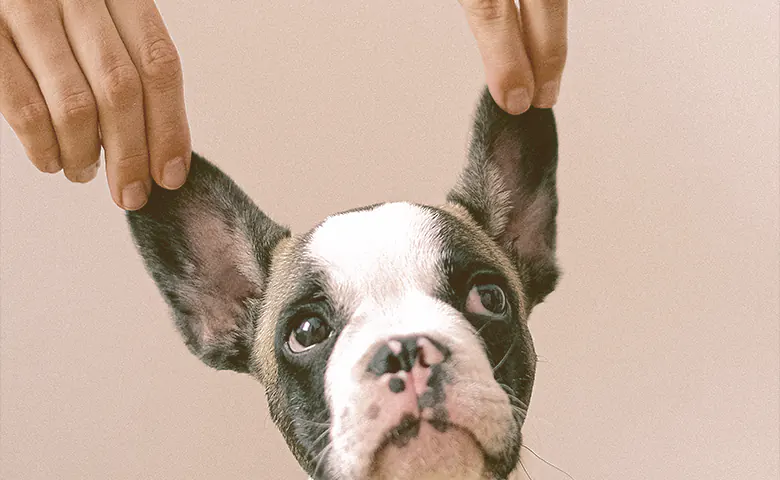 If your Frenchie's ears don't stand until he's 10 months old, it's time to try some tricks on your own. Of course, you should speak to the vet before doing anything to ensure you're not compromising the dog's ear health.
Most vets recommend tapping the dog's ears, and it's shown pretty good effects for a lot of dogs. It doesn't affect the calcium level in your dog's body, but it supports the ears up, so the cartilages can develop to hold the ears faster.
Here are the tips you should follow to help your Frenchie's ears go up:
Before trying anything, clean the dog's ears using an ear solution.
Get masking tape and raise the dog's ears, taping them up in a straight position.
Make sure to leave 1.5 inches between both ears.
Leave the tape for 3–4 days, then remove it gently.
If you don't want to try the tapping solution, you can always ask the vet if you can get a calcium injection for your Frenchie. The vet can also suggest a calcium supplement or calcium-rich elements in your dog's diet.
There are plenty of solutions for getting your dog's ear up, but consulting the vet first is essential for the sake of your dog's health.
Conclusion
Frenchies have adorable bat ears, but you'll need to wait for a while to see these fellas up. You may have to wait for months, according to your dog's growth rate. In all cases, try to track the dog's ears. If they keep going up and flopping, then it's a sign they'll go up soon.