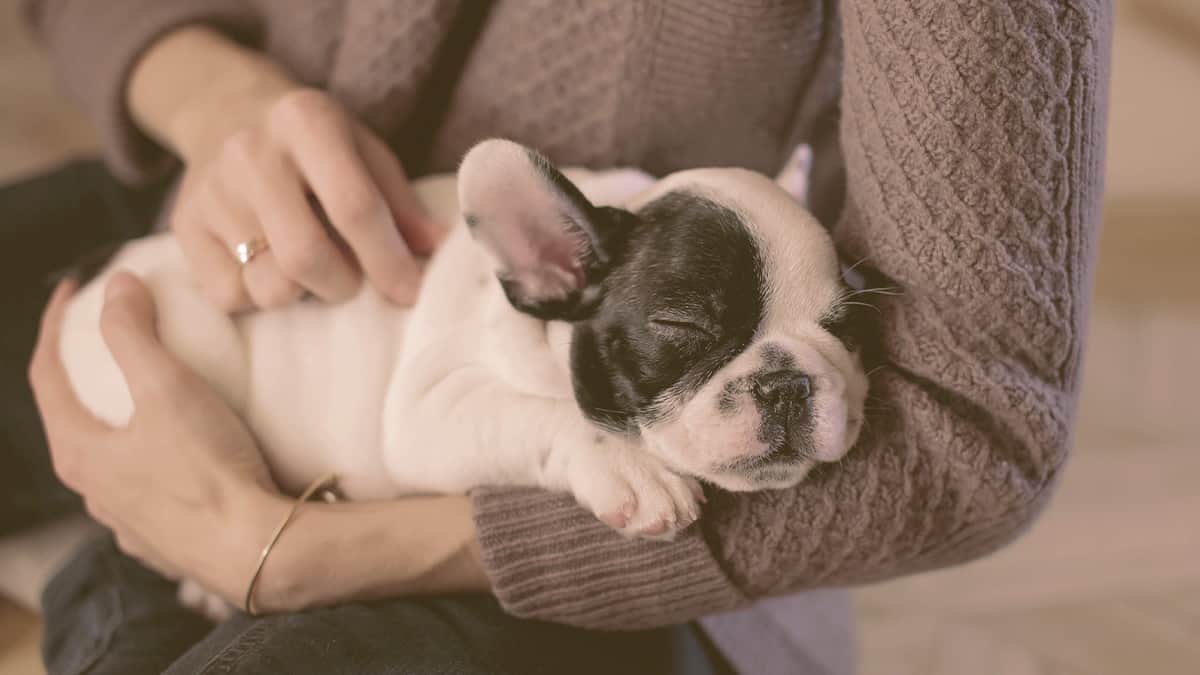 Do French Bulldogs Sleep a Lot? Sleeping Habits & More
Alex Vicente • Updated on August 1, 2023
This review contains affiliate links. Read more here.
Not a substitute for professional veterinary help.
A common misconception about French bulldogs is that they're lazy puppies who lounge on couches most of the day.
This drives Frenchie owners to be concerned for their dog's well-being and makes them think they need to keep their puppy awake.
So, the question here is do French bulldogs sleep a lot? If so, why is that the case?
And will long sleeping hours affect your puppy's health?
Below, we'll answer those concerns for you and more.
Table of Contents
So…Do French Bulldogs Sleep a Lot?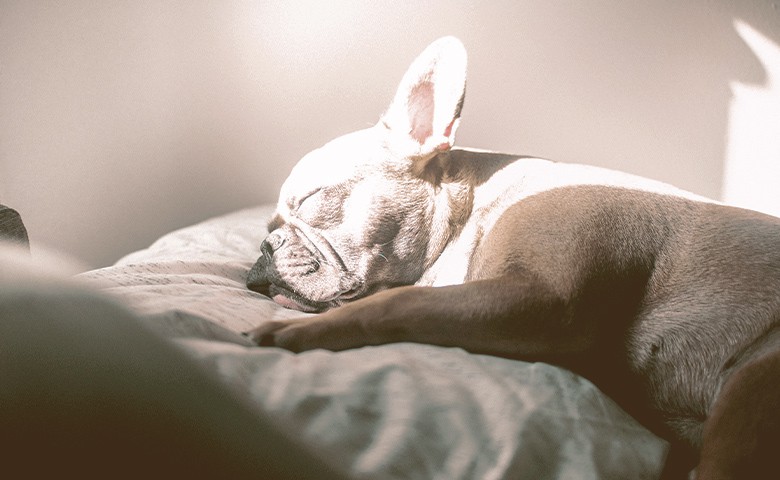 Considering how each dog has its own personality, Frenchies are no different.
Some Frenchies are lazy folks who like to kick back, while others will keep you up all night.
A general rule with French bulldogs, though, is that they do sleep a lot.
On average, your puppy will sleep around 10-13 hours a day.
In some cases, an adult French bulldog may sleep around 20 hours a day too.
This often leads many owners to worry about their pet's health, especially since Frenchies sleep with their eyes open.
Keeping the above facts in mind, it makes sense that French bulldogs are currently America's second most popular dog with apartment owners.
Besides, these dogs are also quite known for their overall lack of energy.
Even still, your French bulldog still needs to go on a walk once or twice a day.
Is It Normal for French Bulldogs to Sleep All Day?
It's perfectly natural for a French bulldog to sleep all day.
However, this does mess up their sleeping habits in the long run.
It'll undoubtedly affect your sleep schedule too.
So, while it's not recommended to wake your puppy up from its nap, try to adjust their routine so that they're sleeping peacefully through the night with you.
Remember that they still need their naps throughout the day.
That doesn't mean that it's okay to let them rest alone at home.
Instead, train your dog to limit their night bedtime to under 9 hours.
This way you're giving them a chance to get a full night's rest, but still allowing them to nap a few times during the mornings and lazy afternoons.
As an added bonus, this means more cuddling moments spent with your adorable little pup.
After a rough day of work and play, this is certainly what you both need.
How Many Hours Should a Frenchie Sleep a Day?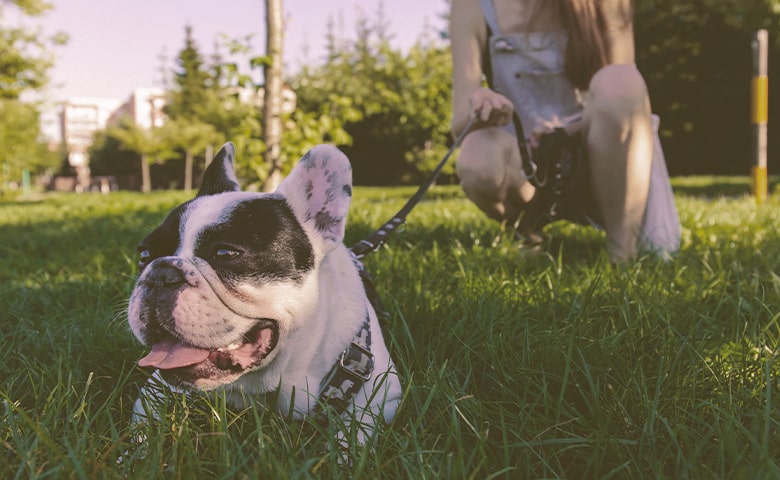 Generally speaking, an adult French bulldog can sleep a minimum of 20 hours a day.
This isn't atypical of canines, though. Most dog breeds sleep no less than 12 hours per day.
That said, how many hours your Frenchie should sleep in a day depends on a few factors. These include the following:
Age
Similar to human babies, young French bulldogs sleep a lot and that's mainly for health reasons.
Frenchie puppies need over 20 hours of sleep during the first 5-6 months of their life.
This is necessary for their muscle growth, immunity, and bone development.
As they grow older, the sleeping hours lessen.
Fully grown French bulldogs should sleep for no more than 13 hours.
Anything less or more than that may point to a health problem.
Fatigue
The natural way of life is that dogs are energetic pets that demand more activity time than most other pets.
French bulldogs are the same, only not as much.
You may have a Frenchie who's highly active or you don't, but either way, they need their playtime.
Plus, the more active they are, the quicker and harder they crash at the end of the day.
That's why it's recommended that you have them play around for a while before bedtime.
This helps adjust your Frenchie to a certain sleeping schedule and, in turn, takes some weight off your shoulders.
Additionally, make sure not to have them eat before bed.
It's best that your dog goes to bed two hours after their last meal.
What Affects a French Bulldog's Sleep?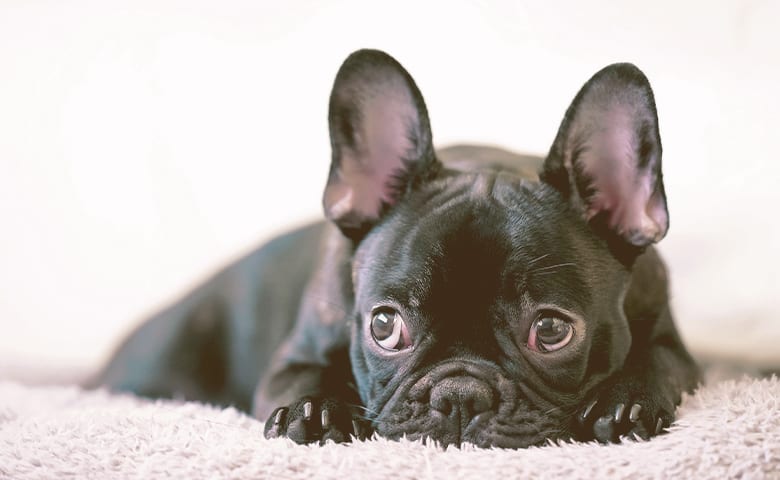 French bulldogs sleep a lot, that's been established already, but what happens when they start sleeping less?
Most of the time, if your Frenchie is starting to sleep for fewer hours than what's normal for them, that's a sign that something is wrong.
That could be a major life change that has affected your puppy psychologically.
In other cases, the reason might be a health problem.
So, let's go through both reasons in further detail:
Psychological Causes
Dogs, like humans, are extremely attuned to their surroundings.
These pets experience separation anxiety just as often as we do.
They can be greatly affected by any big changes we go through too.
These may include moving to a new place or a family member moving away.
If you get a new job and your schedule changes, this will stress your puppy out too.
The passing of a close companion or the French bulldog's owner will also alter how many hours of sleep they're getting.
Plus, a new addition to the family will take some time for your Frenchie to grow accustomed to as well.
Medical Causes
French bulldogs are a brachycephalic breed, so they're quite known for their multiple health problems. These issues vary from being digestive, respiratory, and/or physical.
Unusual sleeping cycles or staying awake for over ten hours, typically signals that your Frenchie may be at risk of having one of the following:
Canine depression
Digestive difficulties
Cell cancer
Hormone imbalance
Obesity
Conclusion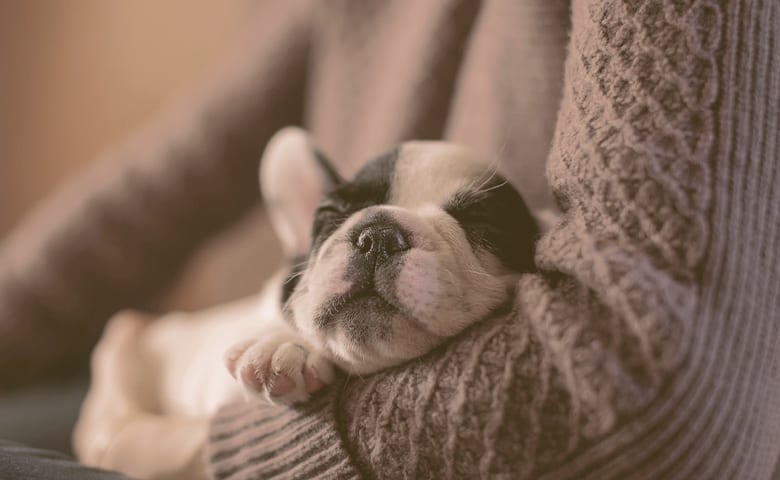 Do French bulldogs sleep a lot?
As a matter of fact, they do!
But it's nothing to be concerned about, as a dog parent.
You should know that it's perfectly normal for Frenchies to sleep over 10 hours.
Additionally, the amount of time your French bulldog spends sleeping will ultimately depend on their age and health.
Their sleeping habits don't mean they don't need their daily dose of activity, though.
So, remember to keep them happy by not disturbing their bedtime and giving them enough time to be active.