6 French Bulldog Rescues in Dallas, TX (Updated for 2023)
Alex Vicente • Updated on August 1, 2023
If you're looking to find a Dallas French Bulldog Rescue you're in the right place.
Before you check the rescue centers below, please make sure you're aware of how big a responsibility is to foster or adopt a dog, particularly French Bulldogs.
You need to know they may have pre-existing medical conditions and may need to be followed by a vet periodically.
You should also be aware that animal cruelty is a punishable crime.
If you plan to rescue a french bulldog, you should also know about the best harnesses for french bulldogs.
The rescue centers below are presented in no particular order.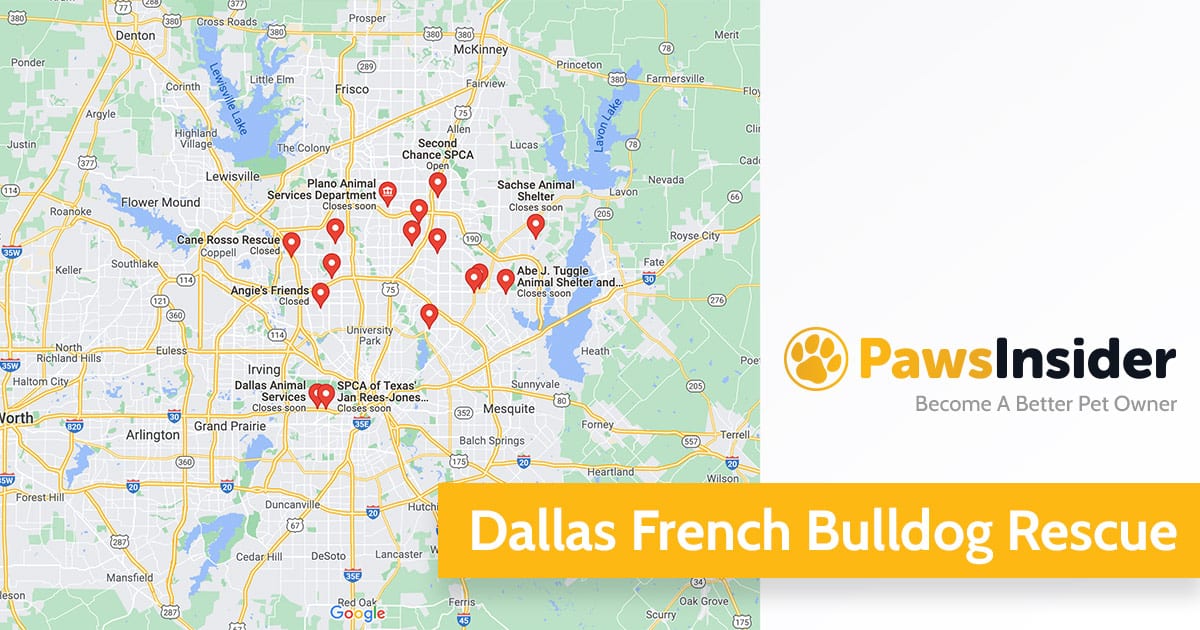 Table of Contents
Bulldog Rescue Squad (Aubrey, TX)
Bulldog Rescue Squad is a non-profit organization based in the Dallas-Fort Worth area.
They dedicate themselves to providing ideal homes for both Bulldogs and French Bulldogs, requiring a thorough application procedure that includes home visits from our team as well as vet exams before any adoption can take place.
Rescue and Adoption Details
No Borders Bulldog Rescue (Dallas, TX)
No Borders Bulldog Rescue is a non-profit that rescues and places bulldogs across the United States.
Every year, hundreds of these lovely dogs are lost or abandoned, ending up in animal shelters, where they may be euthanized.
NBBR comes practically every day, loading as many bulldogs as they can into their bus, so they can properly rehabilitate the bulldogs before sending them on their next adventure with a loving family.
Rescue and Adoption Details
Dallas Pets Alive (Dallas, TX)
Dallas Pets Alive's mission is to challenge the community's perception of rescue animals.
This organization is mostly operated by volunteers, and all of their animals are housed by dedicated foster families around North Texas.
They rescue and assist healthy and treatable pets who are at the greatest risk of being euthanized at their partner shelters.
DPA provides support and resources to pet owners who have major concerns and must surrender their pets to a shelter, as well as aid and information through the Positive Alternatives to Shelter Surrender (PASS) program, so that owners may avoid surrendering their pet.
They also focus on opening kennel space by transporting pets to partners in the United States and Canada in need of acceptable animals.
Rescue and Adoption Details
Mail Address: 11700 Preston Rd., Suite 660 #263, Dallas, TX 75230, United States
Phone: 214 444 9372
Emails:
Website: dallaspetsalive.org
Events: See upcoming events here
Forms:
Dallas Street Dog Advocates (Richardson, TX)
Dallas Street Dog Advocates is dedicated to rescuing stray and abandoned dogs from the streets, providing them with the necessary medical treatment and training, and placing them in permanent homes where they will be cared for the rest of their lives.
DSDA is a non-profit organization founded by volunteers who care about loose and stray dog problems in Dallas, with the goal of educating society that most street dogs are highly adoptable and deserve a chance at happiness.
Rescue and Adoption Details
Angie's Friends (Dallas, TX)
Angie's Friends is a non-profit animal welfare group founded in 2008 by three of Angie's friends, to honor her tireless work with the underprivileged dogs living on Dallas' West Side.
For over a decade, this single mother went going door-to-door feeding and watering these animals until they were healthy enough for adoption or to be rescued by organizations that could permanently save them from those terrible situations.
Many were chained up outside all day, with no human interaction other than Angie's visit.
Angie is now 80 years old, and she and the crew need your support to keep working to provide these dogs with safety, food, and shelter.
Donations go directly to the care of Angie's Friends and the dogs' growing bond.
Today, you can help them make a difference.
Rescue and Adoption Details
Dogs Matter (Dallas, TX)
Dogs Matter provides a unique alternative.
This non-profit organization, created in 2014, connects pets with their owners in need of treatment.
Founded by Stephen Knight, Dogs Matters was created to fill the great need for service dogs and support services specifically among those seeking addiction help, as well as recovering addicts who have animals at home waiting patiently for them when they return from rehab or detox centers – no matter where you live!
Rescue and Adoption Details
Address: 4347 W. Northwest Hwy., Ste 130 #118, Dallas, TX 75220, United States
Phone: 214 714 8460
Emails:
Website: www.dogsmatter2.org
Events: See upcoming events here
Forms: