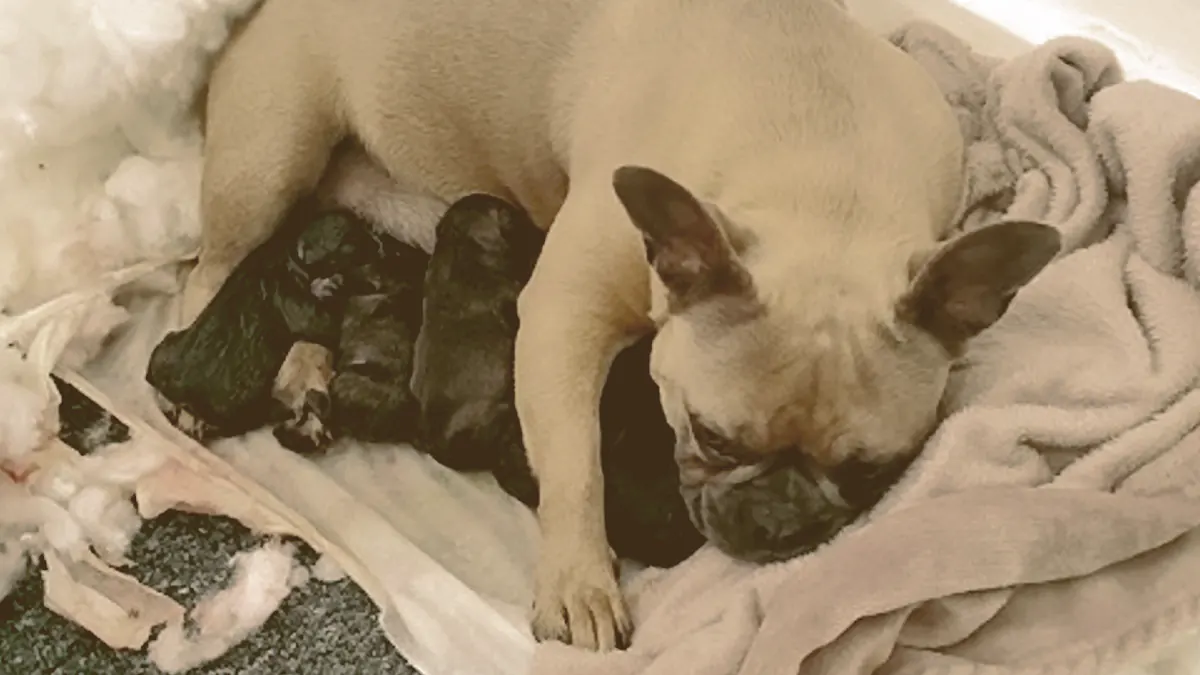 How Many Puppies Can a French Bulldog Have In A Litter?
Alex Vicente • Updated on August 22, 2023
This review contains affiliate links. Read more here.
Not a substitute for professional veterinary help.
French bulldogs are known to be a rare breed, which also makes them quite expensive.
Since they're gaining a lot of popularity nowadays, a lot of people are thinking about breeding French bulldogs.
This begs the question, how many puppies can a Frenchie have?
What's the best age to start breeding Frenchies? And what are the factors that influence a Frenchie's litter size?
Let's find out.
An average Frenchie dam (female) will have a litter of two to four puppies.
A common number is three puppies, but 4 is not so uncommon.
This is fewer than the number of puppies similar small breeds can have in one litter, with pugs having an average of five puppies per litter.
Table of Contents
Why Do Frenchies Have a Small Number of Puppies per Litter?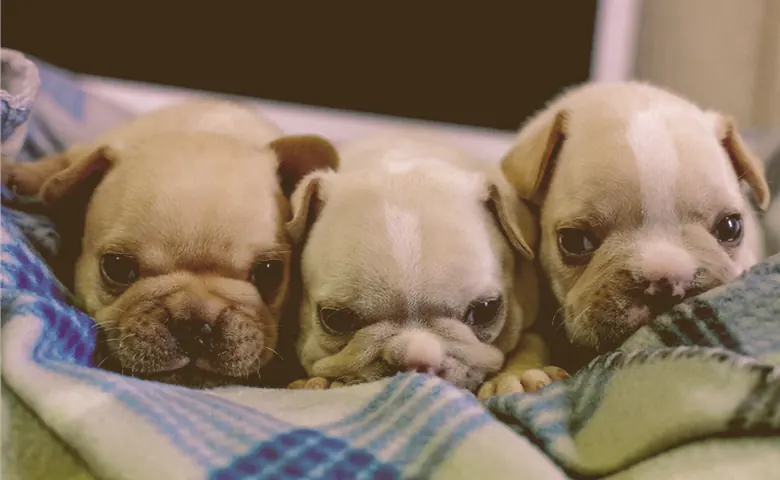 French bulldogs are a dwarf breed, which means their size is smaller than average and that they have narrow bones.
A female Frenchie usually has a narrow pelvis. Couple that with the puppies having large heads, it makes a litter size of 3 quite reasonable.
The largest recorded number of puppies in a single Frenchie's litter is seven puppies, although there's a great risk to both the mother and puppies' health at this number.
How Do French Bulldogs Get Pregnant and Give Birth?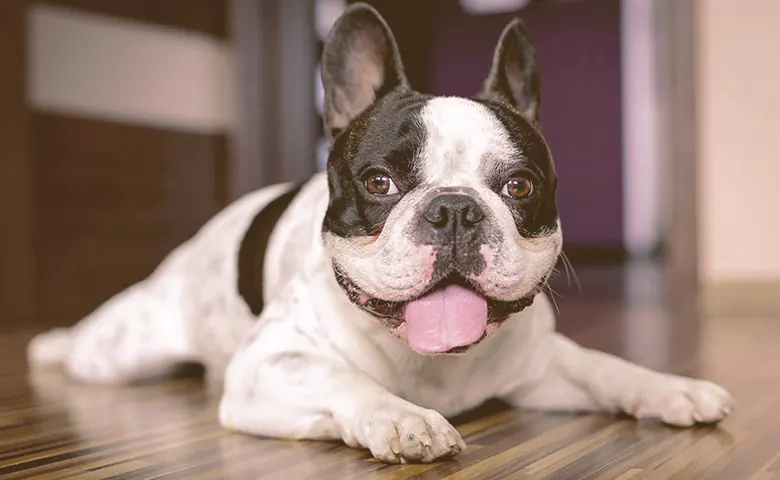 Although regular mating is viable, most Frenchie owners prefer the method of artificial insemination.
This means that once the dam is in heat in her estrus stage, they take her to a veterinarian to have the procedure performed.
As discussed earlier, French Bulldogs have narrow hips that make natural mounting difficult and painful for the female.
Along with the dangers of a fight breaking out or the male being aggressive to the female and vice versa.
So artificial insemination helps eliminate that fear.
Almost 80% of all Frenchies give birth via C-section. This is the safest way possible since they are brachycephalic (short-muzzled and flat-nosed).
Natural birth can over-exert the mother and she might not get enough oxygen during delivery.
What Is the Best Age to Breed My Frenchie?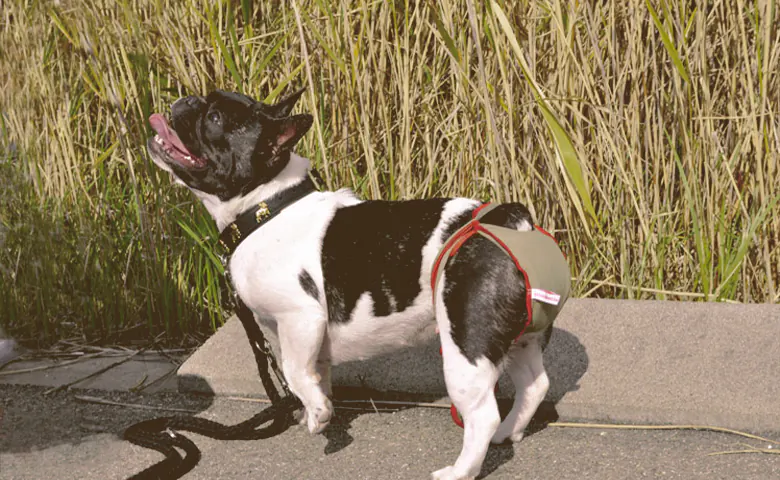 The best years for Frenchie fertility are between the ages of 2–8 years old.
If the pregnancies are separated by an adequate resting period, they usually have between 3–4 litters in their lifetime.
However, if your Frenchie is not spayed and is younger than 2 years old, she can get pregnant if left to her own devices during her heat cycle.
This is why it's best to fit your dam with a doggy diaper during her active heat, as it helps reduce the mess their bloody discharge makes and prevents unwanted litter.
How to Know the Litter Size of My French Bulldog?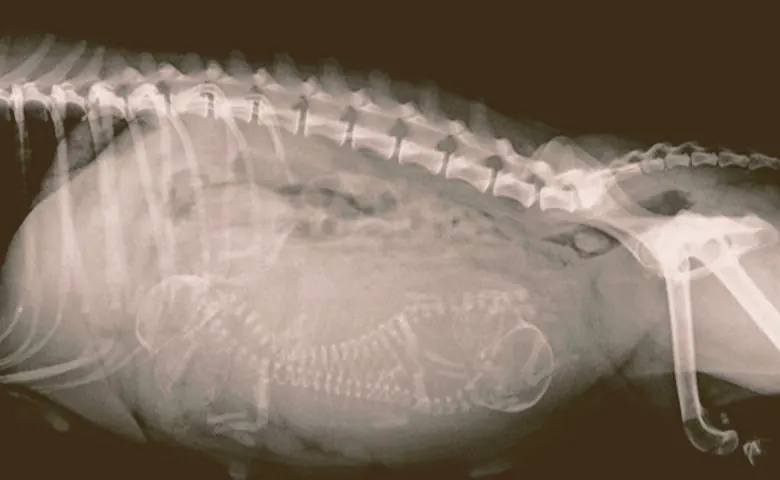 There are a couple of ways you can find out the number of puppies your Frenchie is carrying.
However, none of them are as sure as counting the puppies when they're delivered, since a puppy can be miscarried and absorbed back into the womb at any point during early pregnancy.
Ultrasound
This is a safe and common way to monitor a Frenchie pregnancy.
It can be done as early as 3 weeks after conception.
Ultrasound imaging will give a rough estimate, but not a definite number.
Keep in mind a Frenchie's body is small and puppy fetuses are usually crammed inside.
X-Ray
Usually done around the 50-day mark into the pregnancy, an x-ray will help you determine the number of puppies more definitely.
Keep in mind that these methods only offer estimates and you can't be 100% sure until the puppies are born.
If you plan on selling them, wait until the first few days after delivery to know which ones are in good health and will make it.
What Are the Factors at Play in Frenchie Litter Size?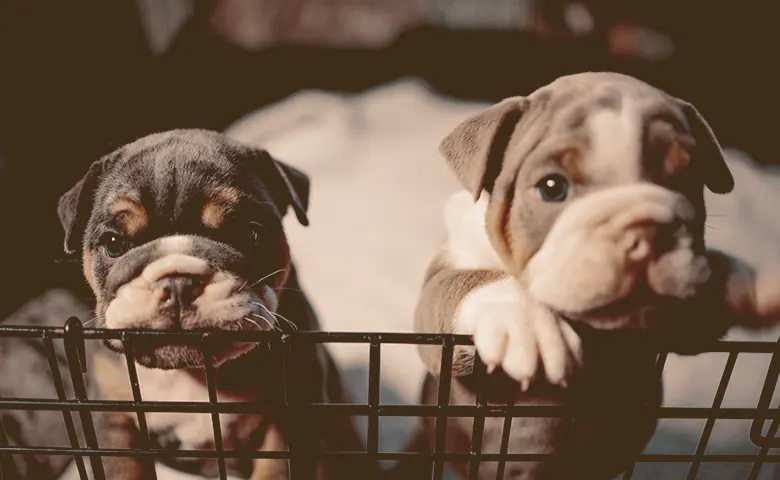 There are some factors that control how many puppies a Frenchie dam will have.
Some of them are predetermined and some can be improved upon.
Genes
The number of puppies a Frenchie's mom and dad had can determine the number she will have herself.
Also, other genetic factors like size and overall health will contribute to how many puppies arrive and how healthy they will be.
Size
A smaller Frenchie will have a smaller litter size owing to the fact that her pelvis is narrow and can only accommodate 1-2 puppies.
A larger litter will pose a greater health risk on her and her puppies, who might get stuck in her birth canal.
This condition is known as dystocia and can be fatal to the mother and puppies alike.
Nutrition
Balanced nutrition is very important in keeping the mother and puppies healthy throughout the pregnancy.
Since Frenchies happen to have periods of increased appetite during the pregnancy, and others where they stop eating almost completely close to delivery, it's important to keep your Frenchie well-nourished and hydrated.
Final Thoughts
French bulldogs are one rare breed and for multiple good reasons.
Aside from being a dwarf breed with specific health risks, their mating and birthing habits are also very particular with many factors involved.
Taking good care of a female Frenchie during her pregnancy and between litters is incredibly important if you care about the health of both mother and puppies.
If you don't allow enough rest between litters, this falls under the umbrella of unethical breeding.
Unethical breeding is what happens at puppy mills, where the owners don't care at all about the mother or puppies' health. Instead, they wear out the Frenchie's health with one litter after the other, usually with pretty large litters, just to make more money.