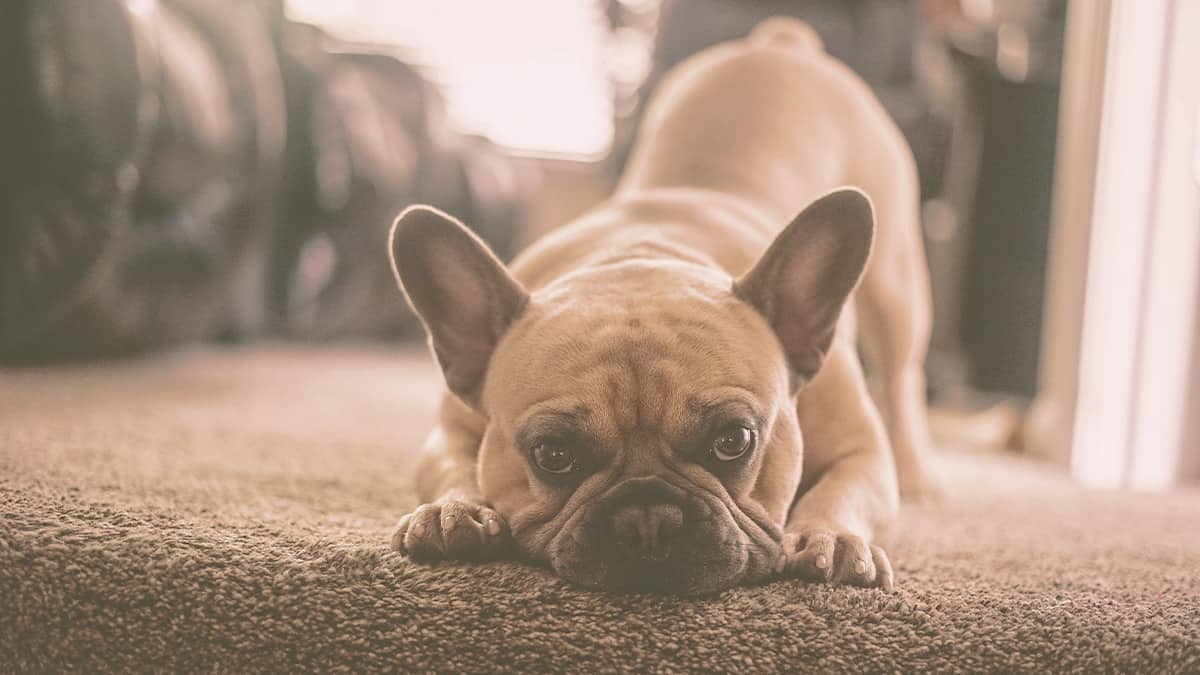 Can French Bulldogs Fly? Dog Friendly Airlines + Travel Tips
Alex Vicente • Updated on August 1, 2023
This review contains affiliate links. Read more here.
Not a substitute for professional veterinary help.
Air traveling is becoming more and more stressful for most people. It's definitely no place to bring your little Frenchie to.
However, if you find yourself in a difficult position where you have no choice but to take your puppy with you, then you need to familiarize yourself with the proper procedures.
It's how you'll guarantee that both you and your pet arrive safely at your destination.
And so, in this article, you'll find all the information you need about what airlines accept French bulldogs and how you can travel with them.
Table of Contents
Which Airlines Allow French Bulldogs?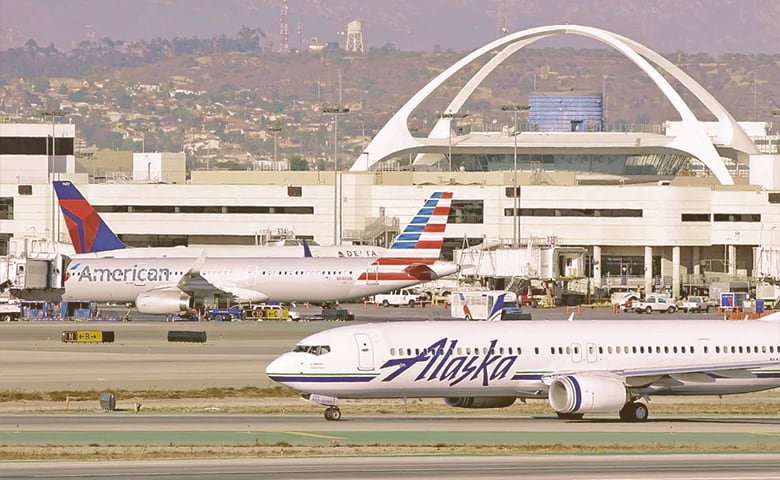 In short, the following airlines will allow French bulldogs to travel on board with their owners:
Alaska
American
Hawaiian
Frontier
Southwest
Spirit
JetBlue
Delta
United
That said, French bulldogs are a brachycephalic breed, meaning, they have short snouts.
As a result, they face a variety of breathing problems since birth. In other words, the difference in air pressure can be quite harmful to your Frenchie.
That's also why most airlines have banned brachycephalic dogs, such as boxers and pugs from air travel.
Additionally, those that are allowed on the plane are only permitted to fly if the dog is stored in the cabin.
Keep in mind then that your pet will be considered a carry-on.
If you need to take other bags with you on the plane, you'll need to pay an extra fee for them.
You can't pay for an additional seat either since most airways don't allow it.
Not just that, but most of the aforementioned airlines have a weight limit of 20 lbs—all except for American and United airlines.
A heavy French Bulldog won't be allowed on the plane, so we suggest you weigh your dog beforehand.
Further, your Frenchie must be an appropriate size so that it can adequately fit under your seat or in the cabin.
Otherwise, your pet will be treated as cargo instead of carry-on and the airline will then be 'shipping' your dog to the desired destination.
Doesn't sound too friendly, we know, and it quite isn't.
Dogs that fly in the cargo hold or are carried below the plane are more susceptible to harm.
Airlines promise a safe, comfortable trip but bags shifting around will certainly scare your Frenchie—especially since you're not by its side.
What Airlines Are the Most Pet Friendly?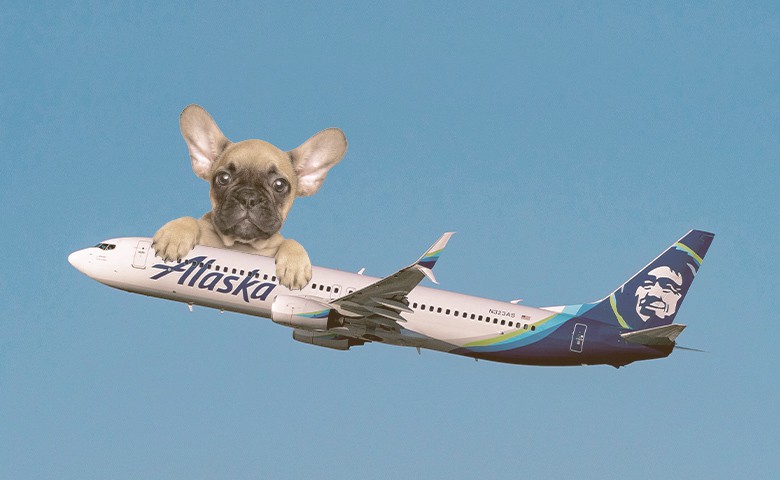 Despite the fact that over half a million dogs have safely traveled across the planet before, it's still best that you choose an airline that's the most pet friendly.
We recommend going with Alaska Airlines so your French bulldog can have a nice flight.
The airway doesn't charge much for having your pet on board the plane.
They also have more flexible pet policies than most lines.
Additionally, Alaska Airlines don't have many limitations on what kind of pets you can bring.
You can tag along with cats, rabbits, household birds, and other dogs besides your Frenchie.
Plus, you'll only be paying a hundred dollars per pet carrier.
In other words, you can travel with all your pets if the need arises—although the process will be quite expensive.
Unlike other airlines though, you can buy an extra seat for any of your kennels.
Not just that, but Alaska Airlines have multiple pet-friendly lounges and pet relief areas.
These are places designed for your Frenchie to relax and familiarize itself with the airport environment.
They typically have fake grass and hydrants where your little pup can go too.
With that said, other airlines you can consider besides Alaska are Frontier and American Airways.
So long as your pet is under 20 pounds and is no older than ten weeks old, your Frenchie is safe to travel with either of them too.
How Do You Travel with a French Bulldog?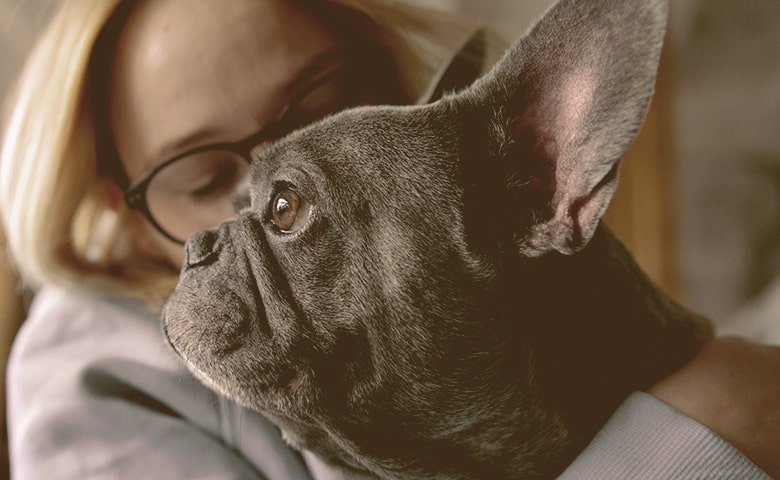 Just like you, your French bulldog needs the proper documents in order to safely pass through customs.
Besides making sure that their ticket is reserved, you need to have your Frenchie check in with a vet beforehand.
Your doctor has to examine your dog's health and see whether or not it'll be able to handle flying.
With pug snouts, it can be hard for French bulldogs to breathe properly in high altitudes.
They also need to be weighed in before they go onto the plane.
Keep in mind that your Frenchie's papers are valid for 30 days only and should be signed seven to ten days before you leave.
If they expire, you'll need to make another trip to the vet during your stay. Otherwise, keep your trip short and make sure that your documents are straight.
On top of that, you need to ensure that your French bulldog is traveling comfortably.
As a rule of thumb, your pet's crate needs to have enough ventilation and strong handles.
It should also have a leak-proof bottom and be made of durable material.
You should check the list of pet carrier requirements put forward by the International Air Transport Association.
Most airlines abide by this guideline and if you follow them properly, your puppy will be more than safe.
How Stressful Is Flying for Dogs?
The new environment of the plane and the airport can be a bit overwhelming for your French bulldog.
So, you'll need to keep your puppy close and constantly reassure them as you go.
Remember to pack enough blankets and your Frenchie's favorite chew toys with you.
In addition, you may have to take enough dog treats with you too.
Either way, make sure to check with your puppy regularly throughout the flight.
Final Say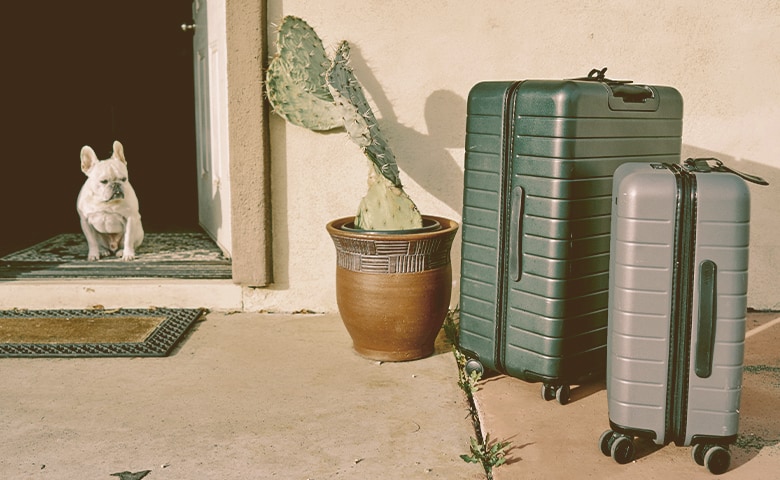 What airlines accept French bulldogs?
Alaska, American, Hawaiian, Frontier, Southwest, Spirit, JetBlue, Delta, and United airlines all approve of having your Frenchie tag along on your travels.
That said, it's a complicated business to travel with a French bulldog.
There are factors such as their age, weight, and health that play a role in whether or not they'll get approved for travel.
Plus, flying can be pretty stressful on your little pup.
In short, the golden rule would be that if it's not absolutely necessary, avoid taking your Frenchie with you on the plane.
Instead, keep them safe and happy at home!