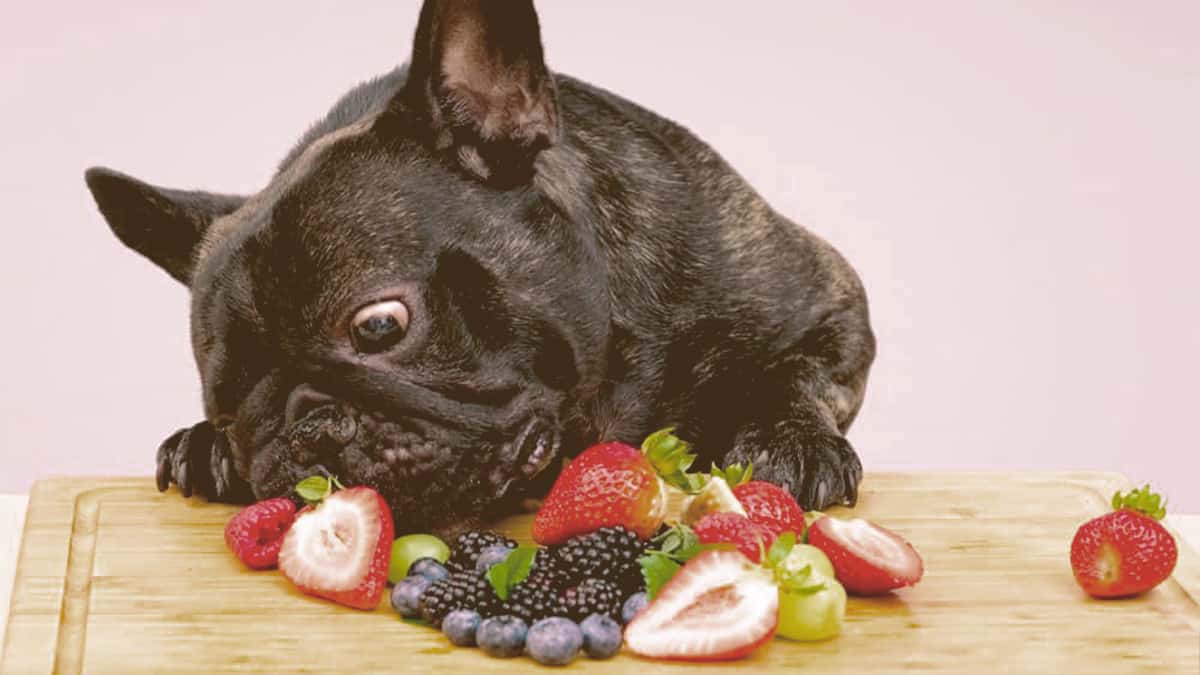 What Fruits Can French Bulldogs Eat? Here's The Full List
Alex Vicente • Updated on August 1, 2023
This review contains affiliate links. Read more here.
Not a substitute for professional veterinary help.
It's natural to want the best for our Frenchies, particularly when it comes to their diet.
To provide them with healthy and nutritious foods, you have to find a balance between protein and other essential nutrients.
The best way to do that is to serve your pooch store-bought, dry dog treats along with raw and home-cooked foods.
Today, we're focusing on one type of raw food: fruits.
Do Frenchies even like fruit, and, if yes, what fruits can French Bulldogs eat?
That's what we're here to find out, so let's get started.
Table of Contents
Can French Bulldogs Eat Fruits?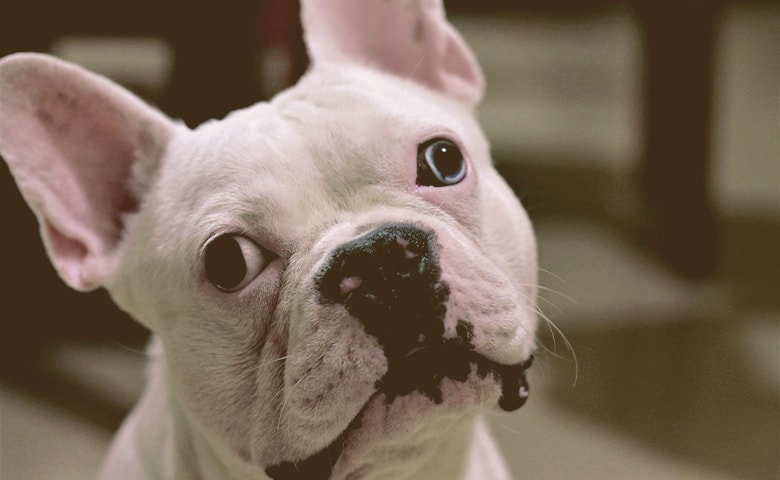 Yes, they can! Frenchies aren't picky eaters and will eat almost everything, even things that harm them.
So, as a dog owner, you have to keep a close eye on what they eat and how much.
Luckily, fruits are an excellent snack for your Frenchie.
They're delicious, nutritious, and refreshing.
Not to mention, they're a much healthier replacement for the high-calorie, processed dog food you find in stores.
Which Fruits Are Safe for French Bulldogs to Eat?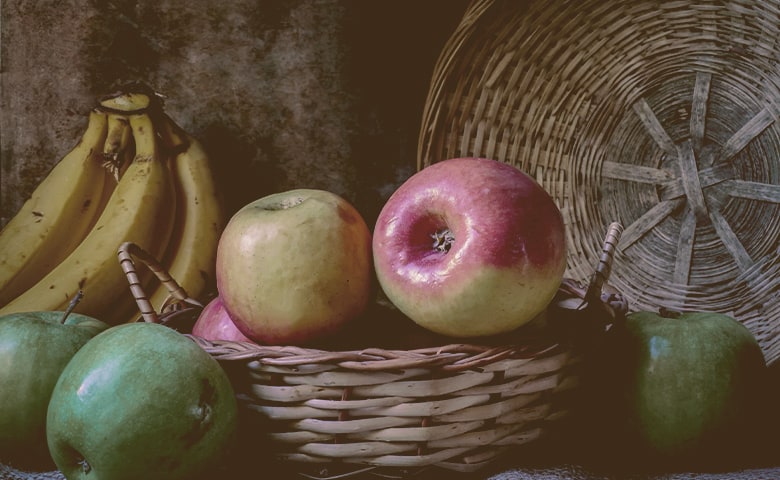 French Bulldogs can eat and safely digest almost all types of fruits.
They contain high levels of minerals and nutrients that your dog can't get from their typical dry dog food.
Here's a list of fruits you can offer your Frenchie:
Apples
Apples are rich in antioxidants, vitamins, and fiber.
Plus, these crunchy fruits have pectin, a type of soluble fiber that helps adjust blood sugar and cholesterol levels.
Another benefit is that apples are low in fat. So, they're an excellent snack for your Frenchie if you're managing their weight.
Keep in mind that the core and skin should be removed before serving.
The seeds, especially, should be taken out because they contain cyanide, which can cause stomach upsets and can even be fatal.
Apricots
Apricots contain beta carotene, fiber, and iron.
Furthermore, they have moderate levels of potassium, which is essential for your dog's heart health, as well as maintaining muscle mass.
The only problem with apricots is the big pit.
So, remove the pit before serving, then slice the apricots or cut them into cubes to make them easier to swallow.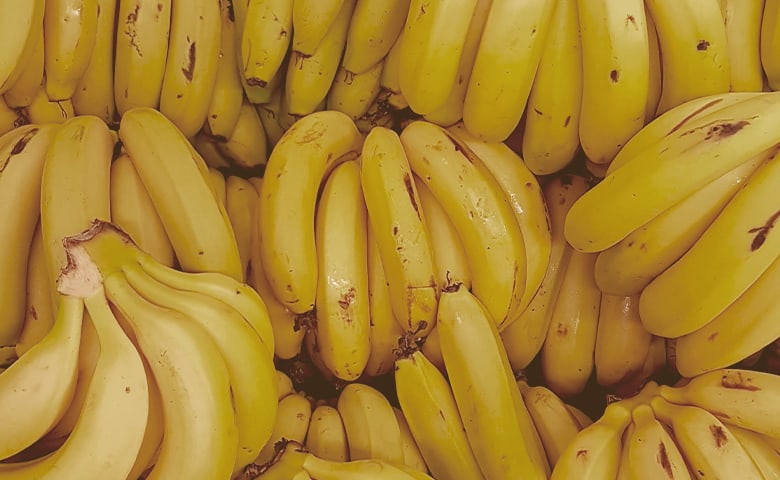 Bananas
Frenchies love bananas, and they're safe to eat as long as it's in moderation.
After all, they're rich in potassium and iron, which are both vital for your dog's wellbeing.
However, bananas are high in sugar and calories.
In addition, they may cause constipation if eaten in large amounts.
Berries
All berries are high in antioxidants that fight off free radicals and help repair any cell damage.
They're also rich in fibers and vitamins as well.
The great thing about berries is that they're low in calories and sugar.
In fact, vets recommend them as a healthy treat, especially if you're trying to manage your Frenchie's weight.
Cherries
Another fruit loaded with antioxidants is the tasty cherry.
The flesh of these bite-sized fruits can make a great addition to your Frenchie's diet.
Removing the pit can be tricky, considering how small cherries can be.
Yet, it must be done to protect your Frenchie against potential toxins or choking hazards.
Guavas
Guavas are high in vitamin C, mostly, as well as fiber and iron.
Interestingly, their seeds have no known adverse effect on Frenchies.
Yet, as with anything, moderation is key.
Mangoes
High in fiber, potassium, and several vitamins, mangoes make a terrific healthy snack for your Frenchie.
First, remember to skin them and remove the pits.
Then, you can either slice them up or chop them into chunks before serving.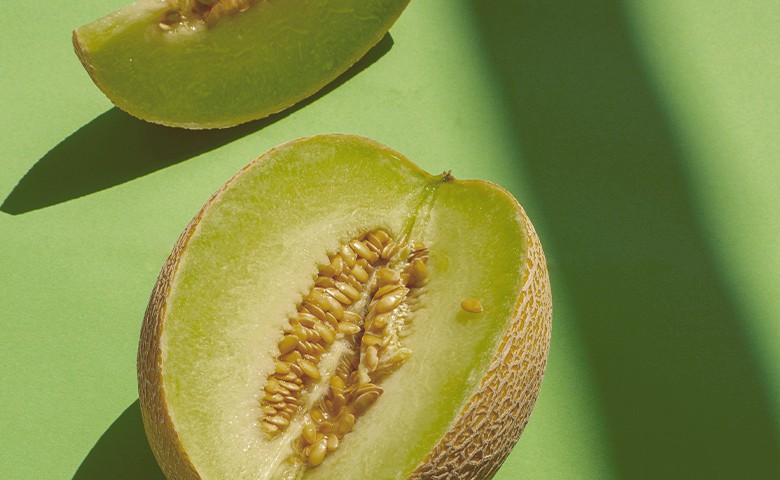 Melons
Cantaloupes, honeydew, and watermelons make great snacks for Frenchies.
They're sweet, refreshing, and chock full of good-for-you minerals and vitamins.
Their main drawback is their high sugar content.
So, make sure you offer them as an occasional treat after removing the seeds and skin.
It's also a nice idea to cut them up into bite-size cubes before serving.
Nectarines
Nectarines are high in sugar.
Plus, they're loaded with fibers, which can lead to diarrhea and upset stomachs.
So, they should be offered sparingly.
Similar to other pitted fruits, remember to take out the pit.
If you can go the extra mile and skin them, then you'd be doing your Frenchie a huge favor.
Oranges and Tangerines
Oranges and tangerines are high in fiber, which is great for the digestive process if eaten in moderation.
They also contain vitamin C which helps flush out toxins from their body and boost their immune system.
Moreover, these refreshing fruits are rich in natural sugars.
This is why they should only be offered as an occasional treat, especially if your Frenchie is predisposed to weight gain or diabetes.
Papayas
Papayas are a great source of antioxidants like vitamin C and A. in addition, they have an enzyme known as papain, which helps maintain a healthy digestive tract.
Remember to remove the seeds.
Like other seeds on this list, they contain cyanide, which can be fatal to your dog.
You should also peel the skin before serving.
It's hard to digest and may lead to complications.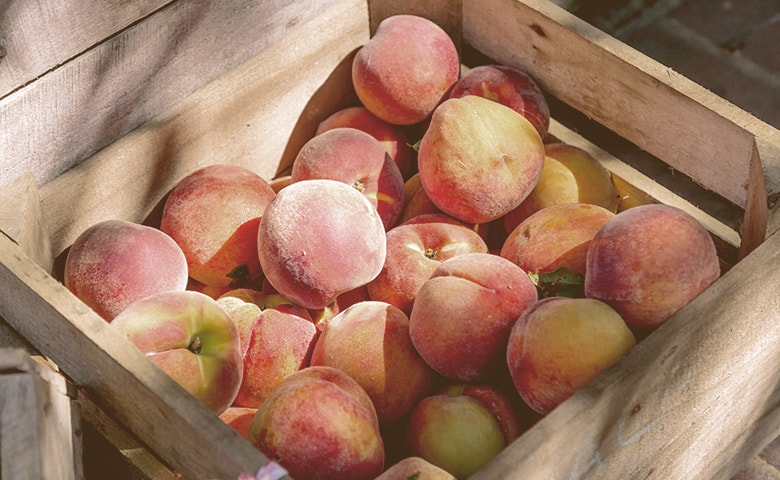 Peaches
One of the few fruits on our list that contain omega-3 fatty acids, peaches are delicious and nutritious.
Besides, your Frenchie will love them!
They're also known for their high fiber content, along with vitamins C and A.
Together, they promote healthy skin and eyes.
The best way to offer them is pitted and chopped up as a healthy afternoon snack.
Pears
Pears contain vitamin K, which promotes healthy blood cells and lowers the risk of clotting.
What's more, they're rich in copper, fiber, and antioxidants.
Once again, remember to remove the seeds and skin.
Then, cut them up before serving.
Pineapples
Pineapples make great dog treats once you've removed the husk, skin, and seeds.
They're loaded with minerals and vitamins, and they're juicy and refreshing.
Yet, what makes them stand out is that they have bromelain.
It's an enzyme that facilitates digestion by breaking down proteins.
Which Fruits Should French Bulldogs Avoid?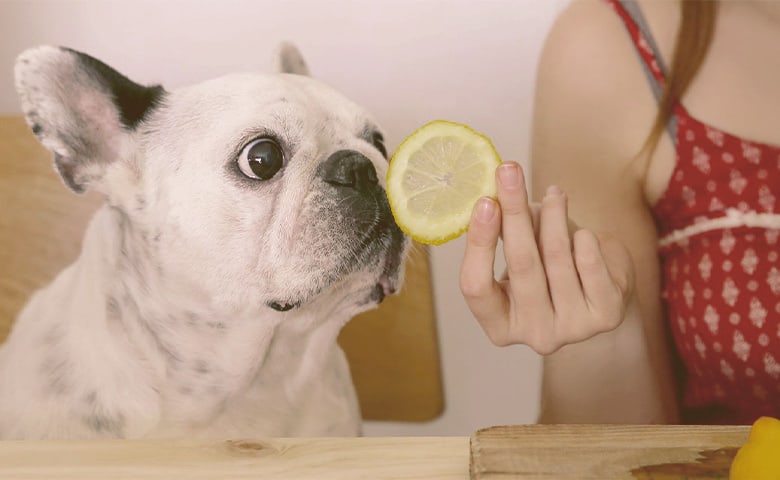 Below are some fruits you shouldn't offer your Frenchie.
Avocado
Figs
Gooseberries
Grapes and raisins
Kiwis
Kumquats
Lemons and limes
Passion Fruits
Plums
Pomegranates
Tomatoes
Conclusion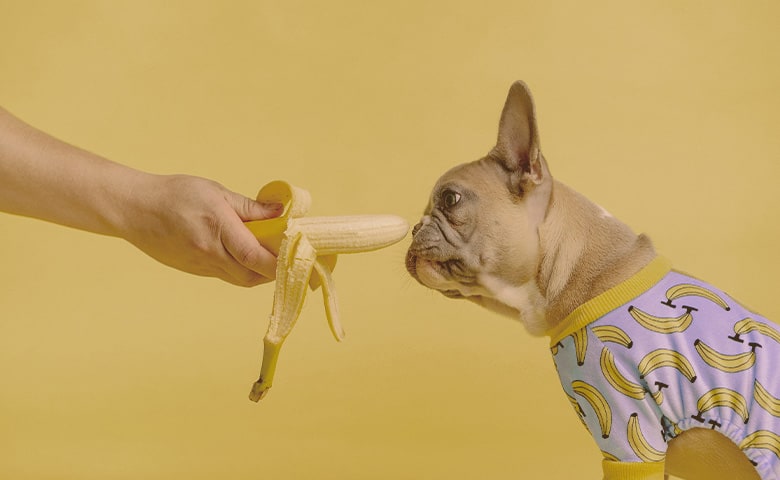 So, what fruits can French Bulldogs eat?
Plenty, as you've seen from our list.
Fruits are rich in vitamins and minerals that regulate their digestion, adjust blood sugar levels, and reduce inflammations.
The important thing is to serve them the right way to prevent any health complications.
Knowing what's safe to eat and what's not can help you provide your Frenchie with the best possible diet to maintain their optimal health.