What to Feed a French Bulldog Puppy?
Alex Vicente • Updated on August 28, 2023
This review contains affiliate links. Read more here.
Not a substitute for professional veterinary help.
Raising a French Bulldog comes with a lot of responsibilities because they're quite a delicate breed, despite being a pleasure to be around. These responsibilities become even more critical if your Frenchie is a newborn or still a puppy.
The quality of the French Bulldogs puppy's diet actually has a lot of influence on their growth rate, overall health, and much more, which is why you always need to make sure that you feed them properly during this period. So, what to feed a French Bulldog Puppy?
In today's article, we'll answer this question by providing you with a brief guide about French Bulldog puppies' nutrition and how to make sure that they're well-fed. Let's dive right in!
Table of Contents
What Should a French Bulldog Puppy Eat?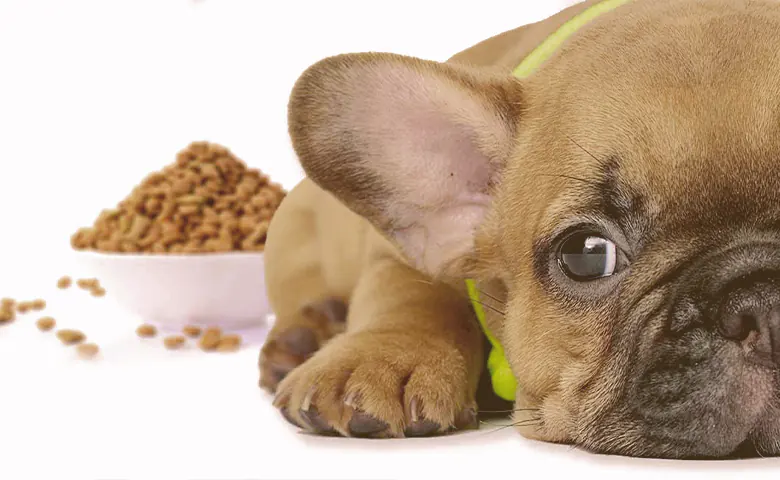 Puppyhood is classified in different stages due to different growth rates and distinct nutritional needs during each one.
Keep in mind that French Bulldog puppies, like other dogs, grow quite rapidly for the first 5 months of their life, which is about 1 to 2 grams per day for every pound in their body mass.
To answer the question properly, let's have a breakdown of each stage and what your French Bulldog puppy needs to each in each one:
The First Few Weeks of Puppyhood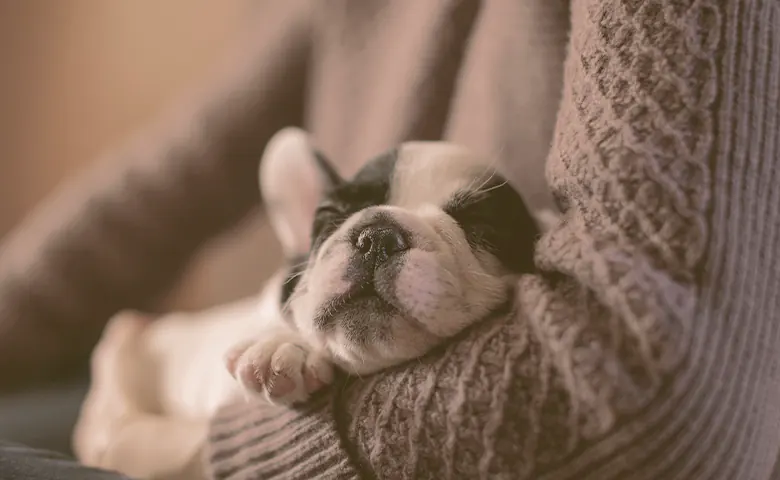 French Bulldog puppies spend the first two or three weeks of their lives feeding on their mother's milk in addition to sleeping and seeking warmth.
During that time it's quite rare for a Frenchie puppy to need any external food sources beyond milk, and if they need one, it's usually milk formulas that are designed for orphaned French Bulldog puppies.
By the 4th week of their lives, you can introduce your Frenchie pup to water. Simply fill a low profile bowl with 0.5 to 1 inch of water, so they get used to drinking from bowls.
Other resources that you may be interested in:
The Early Stage of Puppyhood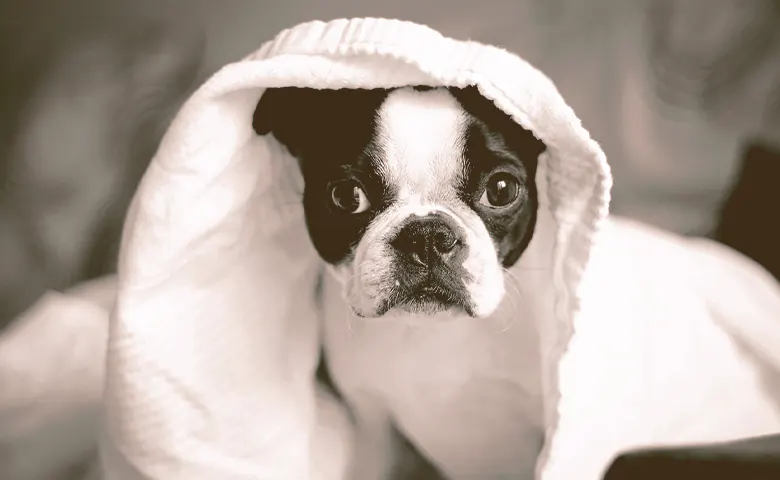 As soon as the French Bulldog puppy is weaned off their mother's milk, you should feed them proper food formulas, which are usually dry kibbles and/or wet food that is designed specifically for puppies, although dry food is preferably introduced after 3 months of age.
The quick-change might cause your puppy to refuse to eat at first but they'll soon start consuming the food to meet their nutritional needs, especially if you introduce them to puppy food formulas and mush during the final stages of nursing.
At this stage, many owners will start serving cooked meat to their dogs, such as lamb, and avoid serving them meat that a human wouldn't eat.
However, protein isn't the only requirement at that time, so make sure that you mix the beef with special formulas for puppy nutrition.
The Late Stage of Puppyhood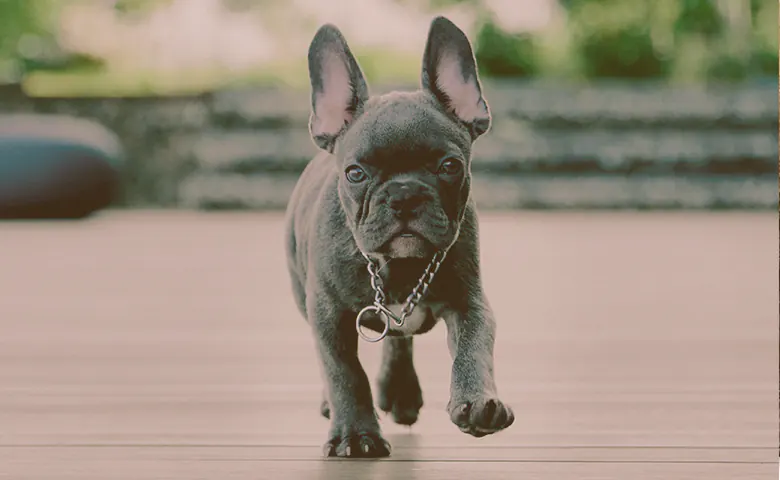 The late stage of puppyhood starts from the third month and extends to the fifth, where you can now introduce more solid food that is safe for your french puppies. You can also feed them ground raw food that is rich in vitamins and proteins.
This should be a time where your dog is introduced partially to adult dog food, including raw meat, adult dry kibbles, and more.
How Much Should You Feed a French Bulldog Puppy?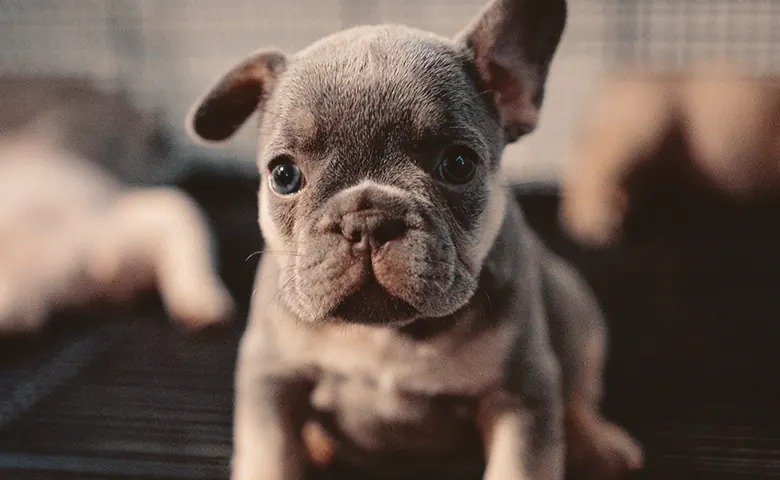 Overfeeding your Frenchies is as bad as underfeeding them, so you always need to keep an eye on the amounts of food they get every day.
Of course, you should never stop a puppy from getting breastfed. However, as soon as they're weaned off their mother's milk, the puppy should get around 1 1/2 cups of calories and nutrient-rich every day.
During that period, your dog should be fed around 3 to 4 times a day, so make sure that you spread out this amount on suitable-sized meals per day to avoid causing any digestive problems, such as gastric volvulus (dilatation).
Once your Frenchie pup has grown enough during their first 6 months and became close to their adulthood size, you can now increase the amount of food in every meal and gradually reduce the number of courses into 2 courses a day.
Should You Feed Your Frenchie Puppy Treats?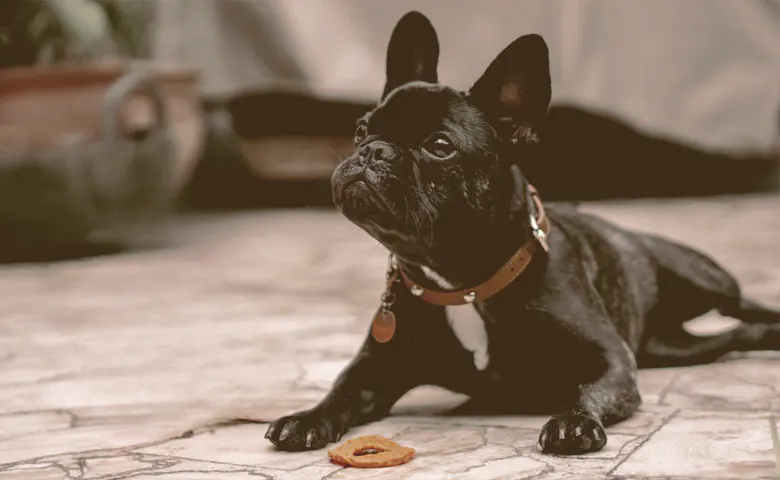 Treats are a great way to please your Frenchie pup and also make potty training and learning new skills a lot easier.
However, you shouldn't introduce treats during the early stage of puppyhood. Instead, wait around 4 months before introducing them because they don't usually have a nutritional value.
While feeding them treats, make sure that they don't make more than 10% of the daily calorie intake.
What Are the Best Dog Food Formulas for Your Frenchie Puppy?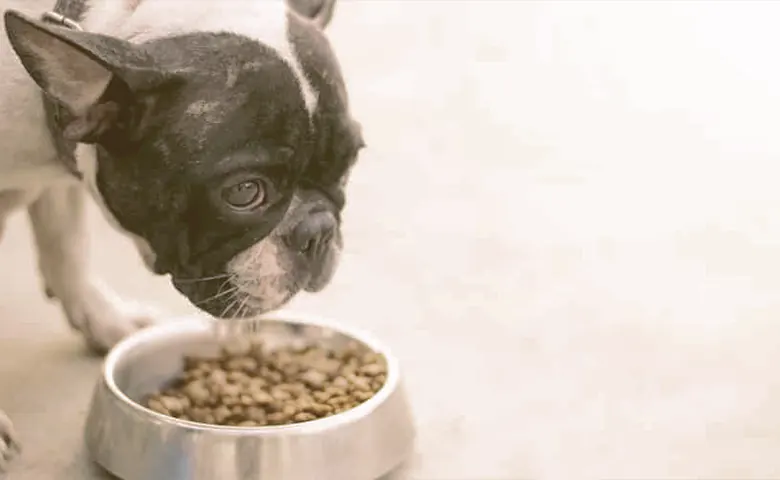 Now that you know more about the French Bulldog puppies diet, here are some of the best commercial puppy food options to consider for your little pooch:
What to Do If Your Frenchie Puppy Eats Too Quickly?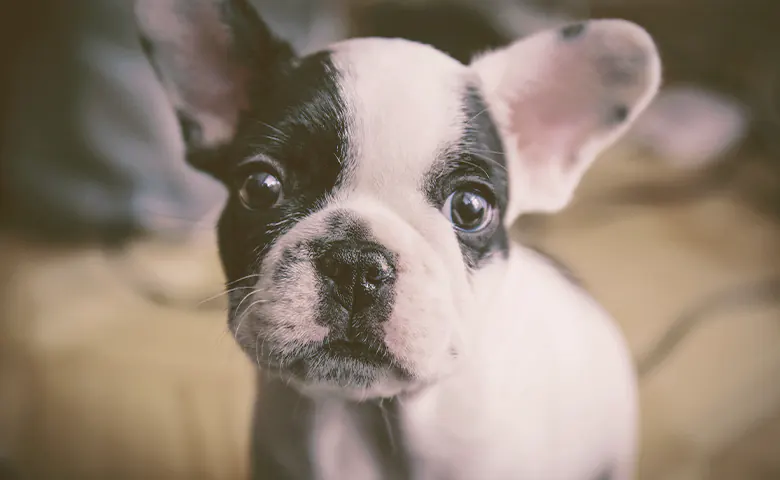 Of course, eating too much is quite unhealthy because it can cause stomach upsets. Instead, you should make sure that your dog eats at a relatively moderate speed. Luckily, there are several solutions to help in controlling your pup's munching speed, such as:
Hand-feeding your dog to ensure that they get properly-sized morsels at a time
Using food puzzles that will delay the time between each to meals
Spreading the food on a large cook sheet, so they can take large gulps at a time
Wrap Up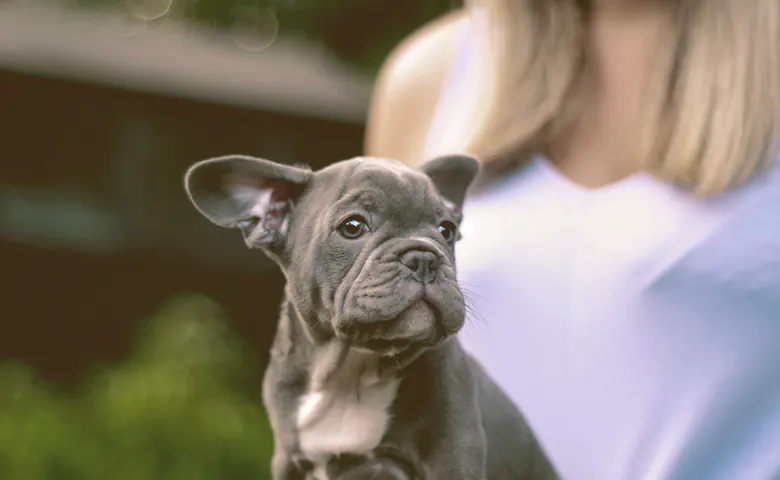 There you have it! A complete guide with everything you need to know about French Bulldog puppy feeding habits and how to properly feed your dog during that critical period.
Of course, you should know that even among french bulldogs, every puppy is different, so you should always contact your dog's vet and make sure that any special dietary needs for your puppy are met as well.