11 French Bulldog Rescues in California [Updated for 2023]
Alex Vicente • Updated on August 10, 2023
If you're looking to find a French Bulldog Rescue in California you're in the right place.
Frenchies have been increasing in popularity over the past few years and according to the American Kennel Club (AKC) they are ranked as the #2 breed in America (1). For this reason, the umber of abandoned puppies and adult french bulldogs has also increased. Rescues and shelters are always looking for loving families to adopt frenchies.
Before you check the French Bulldog rescue centers below, please make sure you're aware of how big a responsibility is to foster or adopt French Bulldogs.
You need to know they may have pre-existing medical conditions and may need to be followed by a vet periodically.
You should also be aware that animal cruelty is a punishable crime.
If you plan to rescue a french bulldog, you should also know about the best harnesses for french bulldogs.
The rescue centers below are presented in no particular order.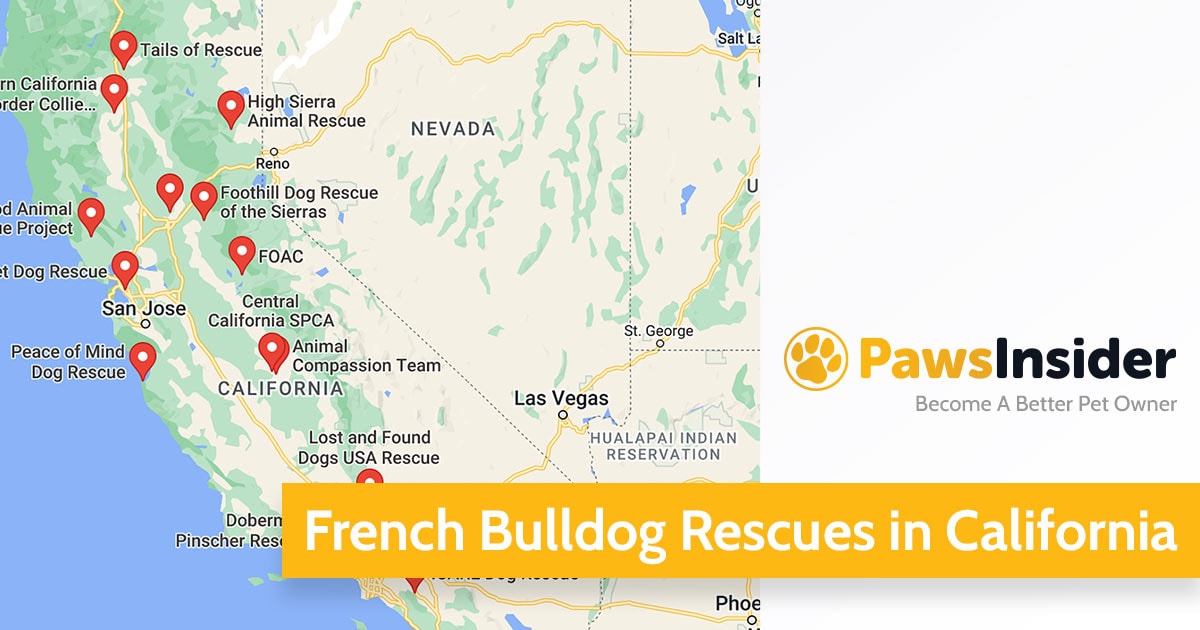 Table of Contents
Norcal French Bulldog Rescue (CA)
Norcal French Bulldog Rescue (NCFBR) is formed by volunteers that adore the French Bulldog breed and are committed to its well-being.
Every year, the volunteers find new homes for roughly 25 French Bulldogs.
NCFBR strives to accept frenchies whose owners are unable to care for them and locate them responsible, stable, and loving new homes, as well as to rehabilitate them before placement by providing required medical treatment and training to maximize the chances of successful placement.
Rescue and Adoption Details
Southern California Bulldog Rescue (Santa Ana, CA)
Every year, Southern California Bulldog Rescue (SCBR) offers refuge, re-homing help, and medical treatment money for approximately 100 bulldogs.
These canines come from animal shelters, other rescue organizations, and people willing to surrender their purebred bulldogs.
SCBR assists bulldogs in the Southern California area in finding appropriate homes.
Their network includes numerous volunteers that foster, do house inspections, transfer, and put bulldogs in their program.
Rescue and Adoption Details
French Bulldog Rescue Network (Glen Allen, VA)
The French Bulldog Rescue Network (FBRN) works to rescue, rehab, and rehome French Bulldogs that are in need from breeding facilities, import brokers, shelters, private rescue organizations, owners, or good samaritans.
FBRN is made up entirely of volunteers who care for and foster these dogs while also imparting knowledge and instruction to foster families or new owners.
Their mission is to find healthy, love-needing French Bulldogs their forever homes.
Rescue and Adoption Details
Ace of Hearts Dog Rescue (Beverly Hills, CA)
Short Noses Only Rescue Team (SNORT) is a registered 501(c)(3) non-profit rescue organization based in the Northeast.
Its mission is to rescue and rehome brachycephalic dogs (mostly French Bulldogs, Boston Terriers, English Bulldogs, and Pugs) from shelters and owners who can no longer care for them.
SNORT believes that all dogs should be given a fair chance.
Although dogs do not always communicate in the ways we would like, the staff takes pride in making the effort to comprehend their needs.
They hope to reduce the number of brachycephalic dogs euthanized unnecessarily by educating, training, and matching dogs with suitable homes.
Rescue and Adoption Details
Mail Address: PO Box 2357, Beverly Hills CA 90213, United States
Phone: 310 358 3344
Email:
Website: acesangels.org
Events: See upcoming events here
Form:

Adoption Application here

Donate: Donations here
League of Extraordinary Mutts (Los Angeles, CA)
League of Extraordinary Mutts (LOEM) is a 501(c)(3) nonprofit, no-kill volunteer dog rescue organization that serves the Los Angeles metro area.
They are focused on rescuing dogs considered to be part of a vulnerable population within the shelter system – pregnant and senior dogs, breeds such as pit bulls or german shepherds who typically get put down first at shelters due to pet overpopulation; these groups need extra love and care because they're not always welcomed by humans all across America.
Rescue and Adoption Details
Lange Foundation (Los Angeles, CA)
The Lange Foundation, a 501(c)3 non-profit organization, was established in 1993.
Over the course of its existence, the organization has rescued and placed over 27,000 cats, dogs, and horses that would otherwise have been destroyed in overcrowded public animal shelters.
Every day, a group of dedicated staff and volunteers works and will continue to work to help homeless animals.
Rescue and Adoption Details
The REAL Bark (Los Angeles, CA)
The REAL Bark is a Los Angeles-based 501(c)(3) non-profit dog rescue organization.
The acronym REAL stands for: RESPONSIBLE – ETHICAL – ANIMAL – LEAGUE.
This organization takes in discarded, abused, and forgotten animals.
Their mission is to heal them and gently guide them back to a new life.
REAL has rescued animals from the streets, shelters, and even other countries because the world is in constant need of assistance.
Rescue and Adoption Details
Address: 10250 Santa Monica Blvd #2603, Los Angeles, CA 90067, United States
Phone: 609 390 7946
Email:
Website: www.therealbark.org
Events: See upcoming events here
Forms:
Donate: Donations here
HART for Animals (Nationwide)
HART was formed in response to the overwhelming amount of homeless animals coming to the county shelter, which outnumbered the facility's capacity and funds.
As a result, the vast majority of the 1,000 abandoned animals are killed each year.
HART's mission is to prevent healthy animals from being euthanized by transferring them to larger rescue groups in more populous regions, where they have a higher chance of being adopted.
HART's objective is to rescue and transport animals, provide accessible spay/neuter procedures, establish and operate a humane animal hospital, and shelter and adopt homeless animals in Western Maryland and nearby areas.
Rescue and Adoption Details
Muddy Paws Rescue
Muddy Paws Rescue (MPR) was founded to support a growing community of dog-loving humans committed to stopping excessive companion dog euthanasia.
MPR provides educational materials, techniques, and direction to help all dogs and their owners have better lives.
They regard every encounter as a chance to provide advice, gather and generate instructional resources on dog behavior and appropriate pet management, and augment the individualized help they offer to the community.
Rescue and Adoption Details
Animal Advocates (Pittsburgh, PA)
Animal Advocates (AA) is a non-profit, all-volunteer animal welfare organization based in Pittsburgh that specializes in the rescue, care, and placement of companion animals.
Animal Advocates has been serving the Pittsburgh area since 1984, following a no-kill policy and engaging in community-based advocacy on behalf of animals.
AA's mission is to offer high-quality care for rescued cats and dogs until they are placed in forever homes.
All adoptable animals are cared for in loving volunteer foster homes, with the exception of a small number of cats fostered at their headquarters.
Rescue and Adoption Details
White Oak Animal Safe Haven (White Oak, PA)
White Oak Animal Safe Haven (WOASH) is a non-profit, no-kill animal shelter dedicated to finding loving, forever homes for pets from all sorts of backgrounds.
With the help of volunteers, donors, and sponsors, WOASH has been able to offer homeless animals a second chance by not only finding homes for over 13,000 pets since 2003, but also providing nurturing, medical care, training, grooming, and other services that have prepared them for life with their new families.
Rescue and Adoption Details