French Bulldog Rescue South Carolina
Alex Vicente • Updated on August 1, 2023
If you're looking to find a French Bulldog Rescue in South Carolina you're in the right place.
Before you check the rescue centers below, please make sure you're aware of how big a responsibility is to foster or adopt a dog, particularly French Bulldogs.
You need to know they may have pre-existing medical conditions and may need to be followed by a vet periodically.
You should also be aware that animal cruelty is a punishable crime.
If you plan to rescue a french bulldog, you should also know about the best harnesses for french bulldogs.
The rescue centers below are presented in no particular order.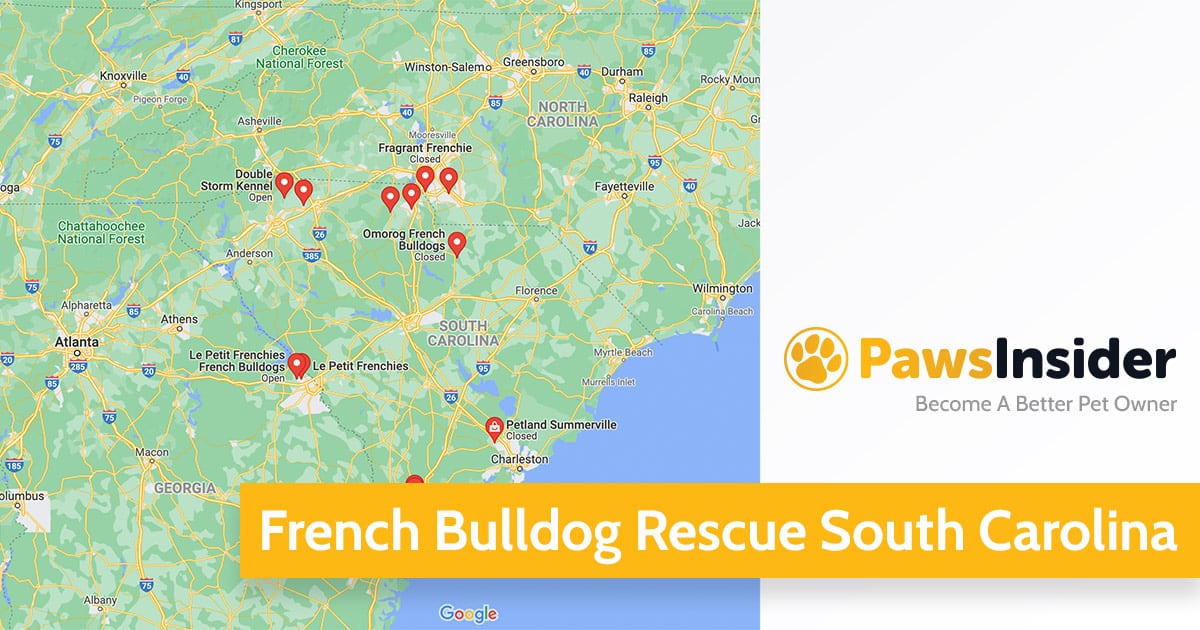 Table of Contents
Pet Helpers (Charleston, SC)
Founded in 1978 by Carol Linville, Pet Helpers has become an integral part of the Charleston community.
With over 40 years of experience providing refuge and rehabilitation for thousands of animals through adoption services and foster care programs that work to find homes to match matches with individual needs.
Pet Helpers also offers low-cost spay/neuter options as well as medical assistance when needed – the organization is truly a lifeline not only to pets but also people who need help caring about their furry friends.
Rescue and Adoption Details
Address: 1447 Folly Rd, Charleston, SC 29412, United States
Phone: 843 795 1110
Emails:
Website: pethelpers.org
Events: See upcoming events here
Forms:
Jasper Animal Rescue Mission (Ridgeland, SC)
Jasper Animal Rescue Mission is a non-profit organization dedicated to the stray and neglected dogs and cats of Jasper County.
They provide shelter for these animals by placing adoptable ones in good homes with caring people or if they can't immediately find any home, then foster families will take care of them until their forever families.
JARM promotes spaying/neutering through its educational material while providing these same services through its low-cost clinics, where sterilization is provided as an adoption incentive.
Rescue and Adoption Details
Address: 1352 Carters Mill Rd, Ridgeland, SC 29936, United States
Phone: 843 726 7799 – For adoption, foster, and volunteer inquiries.
Email:
Website: www.jarmission.org
Events: See upcoming events here
Kind Keeper Animal Rescue (North Myrtle Beach, SC)
copy
Rescue and Adoption Details
Pickens County Humane Society (Liberty, SC)
copy
Rescue and Adoption Details
Address: 500 5 Forks Rd, Liberty, SC 29657, United States
Phone: 864 843 9693 – For general information and adoption inquiries.
Email:
Website: www.pchumanesociety.org
Events: See upcoming events here
Form:

Adoption Application here
Lakeside Animal Rescue (Eutawville, SC)
Lakeside Animal Rescue is a foster-based rescue located out of Holly Hill, SC. Despite not having any physical shelter location, their objective is to improve the quality of life for all homeless animals – by reducing their population, releasing them back into society only once they've been rehabilitated, or finding permanent homes through adoptions screenings tests.
LAR also collaborates with other local shelters to ensure that this crucial and arduous mission is carried out by more than one organization.
Rescue and Adoption Details
Mamas Animal Shelter (Bamberg, SC)
Mamas Animal Shelter started out in a small portable office building with perimeter fencing, growing over time to new locations.
The first kennels were added soon after the foundation, then came the puppy building which houses tiny pups who arrive at this facility for their special needs.
This project includes both physical and mental challenges, so it takes the commitment of all the good people involved in this project to deal with the daily struggles.
This organization also provides a transportation service – MAMAS On the move – taking the dogs that have been adopted to their forever homes is a truly rewarding moment.
Rescue and Adoption Details
Pawmetto Lifeline (Columbia, SC)
Pawmetto Lifeline, formerly known as Project Pet was founded in 1999 with the mission of creating a no-kill community.
Too many companion pets were euthanized due to overcrowding and homelessness over the years, so their objective has been not only to provide them homes but also to give these animals a future.
PL has found forever families for more than 23 thousand dogs/cats that entered local animal shelters last year alone, mostly due to the non-stop work of the volunteers.
These generous souls are truly responsible for giving these animals a chance to start over.
Rescue and Adoption Details