8 French Bulldog Rescues in Maine [Updated for 2023]
Alex Vicente • Updated on August 10, 2023
If you're looking to find a French Bulldog Rescue in Maine you're in the right place.
Before you check the French Bulldog rescue centers below, please make sure you're aware of how big a responsibility is to foster or adopt French Bulldogs.
Frenchies have been increasing in popularity over the past few years and according to the American Kennel Club (AKC) they are ranked as the #2 breed in America (1). For this reason, the umber of abandoned puppies and adult french bulldogs has also increased. Rescues and shelters are always looking for loving families to adopt frenchies.
You need to know they may have pre-existing medical conditions and may need to be followed by a vet periodically.
You should also be aware that animal cruelty is a punishable crime.
The rescue centers below are presented in no particular order.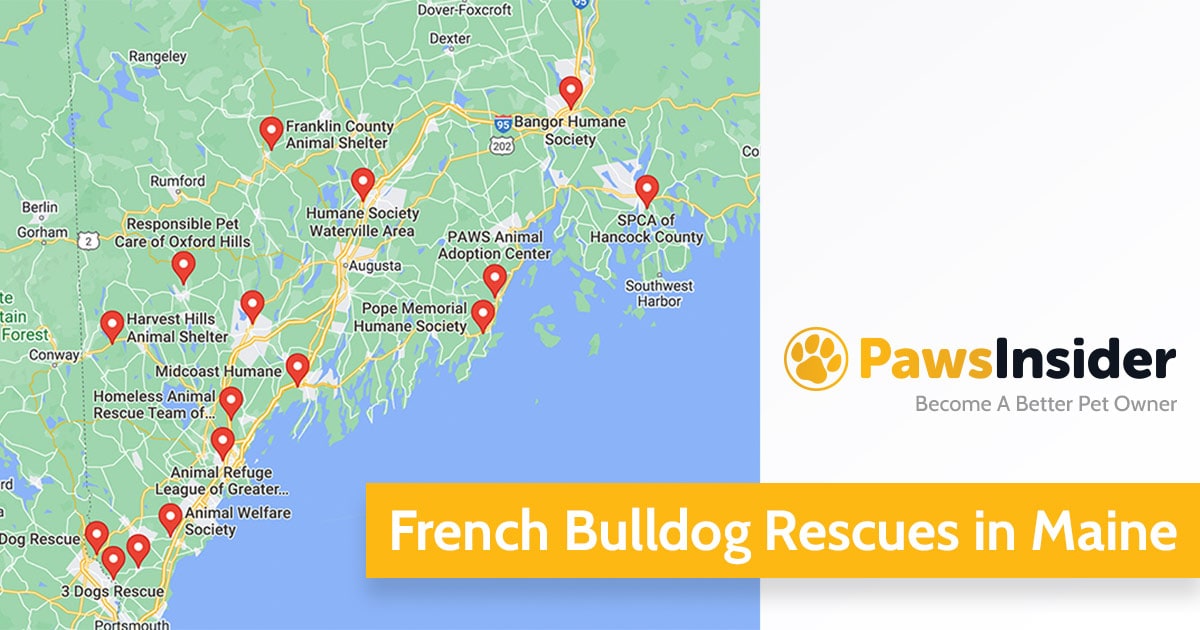 Table of Contents
French Bulldog Rescue Network (Nationwide)
The French Bulldog Rescue Network (FBRN) works to rescue, rehab, and rehome French Bulldogs that are in need from breeding facilities, import brokers, shelters, private rescue organizations, owners, or good samaritans.
FBRN is made up entirely of volunteers who care for and foster these dogs while also imparting knowledge and instruction to foster families or new owners.Their mission is to find healthy, love-needing French Bulldogs their forever homes.
Rescue and Adoption Details
Animal Refuge League of Greater Portland (Westbrook, ME)
The Animal Refuge League of Greater Portland (ARLGP) encourages the bond between people and their pets in order to promote animal welfare and the quality of life in our community.
ARLGP offers transitional care and housing for stray, abandoned, seized, and surrendered animals, and strives to relocate as many pets as possible into responsible and caring families. Through education and the promotion of spaying and neutering, they raise awareness and support for the humane treatment of all animals and work to prevent animal overpopulation.
Rescue and Adoption Details
Address: 217 Landing Rd, Westbrook, ME 04092, United States
Mailing Address: PO Box 336, Westbrook ME 04098, United States
Email:
Website: www.arlgp.org
Events: See upcoming events here
Forms:
Donate: Donations here
Harvest Hills Animal Shelter (Fryeburg, ME)
Harvest Hills Animal Shelter (HHAS) is a non-profit (501c3) organization that works with municipalities around Western Maine to accept neglected, stray, and abandoned cats and dogs. Animal control officers from the communities bring these animals in.
HHAS does everything in its power to avoid euthanasia. Every animal is socialized and assessed so that they can match them with their future family. This procedure helps with the transition of the animal from shelter life to a new home for both the animal and its new owners.
Rescue and Adoption Details
3 Dogs Rescue (Berwick, ME)
3 Dogs Rescue (3DR) is a 501(c)3 all-breed rescue run entirely by volunteers. They feel that rescue is stressful and frequently an overflow on an animal's senses.
3DR strives to remain aware of the dogs' senses while they relocate them to a better situation. Rescue takes the animal from its familiar surroundings, takes it to the vet, spays and neuters it, transports it in cars, crates, and kennels, and quickly places it in a new setting. Their ultimate goal is to match the right dog with the right person to ensure a successful and lasting adoption.
Rescue and Adoption Details
Midcoast Humane (Brunswick, ME)
Midcoast Humane (MH) is a non-profit 501(c)3 organization committed to rescuing homeless and abandoned dogs and assisting Mainers in finding loving companions. Every animal brought to the shelter receives great medical treatment, spay/neuter procedures, vaccinations, attention, and comfort. MH believes that every life is valuable and is proud of its 97% live release rate.
In everything they do, they aim to enhance the human/animal bond and to be a resource for pet owners and animal lovers in their communities, assisting people in becoming better caretakers and supporters for all of their animal friends through classes, camps, workshops, and collaboration with their knowledgeable staff.
Rescue and Adoption Details
P.A.W.S. Animal Adoption Center (Camden, ME)
The main goal of P.A.W.S. Animal Adoption Center is to care for homeless dogs and cats until they can be placed in permanent, responsible homes, while also promoting humane values in our community via outreach and educational activities.
P.A.W.S. has staff available to assist you in identifying the ideal pet for you and your family. They welcome you to visit or, even better, volunteer. You might discover that walking a puppy, petting kittens, or cleaning a room can provide you with a sense of fulfillment and tranquility.
Rescue and Adoption Details
Address: 123 John St, Camden, ME 04843, United States
Mailing Address: P.O. Box 707, Rockport, Maine 04856, United States
Phone: 207 236 8702
Email:
Website: www.pawsadoption.org
Events: See upcoming events here
Forms:
Donate: Donations here
Pope Memorial Humane Society (Thomaston, ME)
Pope Memorial Humane Society (PMHS) was established in 1989 to address the needs of homeless animals, including their protection, treatment, and adoption.
Their purpose is to provide compassionate care, treatment, and placement for companion animals in transition, as well as to improve the lives of pets and humans in the community.
PMHS cares for all animals admitted to the facility until they are adopted. Unless there is a significant physical or behavioral condition that cannot be rectified, no animal is euthanized. Animals are not euthanized due to a lack of time or space.
Rescue and Adoption Details
Franklin County Animal Shelter (Farmington, ME)
The Franklin County Animal Shelter is your one-stop shop for all pet-related services, such as how to treat your pet, what to do if you find a stray animal, and how to assist a new pet fit in.
Their crew is modest, but they are devoted to the care and well-being of their animals. Additionally, their board of directors donates their time to guarantee that their funds are spent wisely.
Rescue and Adoption Details