7 French Bulldog Rescues in Louisiana [Updated for 2023]

7 French Bulldog Rescues in Louisiana [Updated for 2023]
Alex Vicente • Updated on March 8, 2023
If you're looking to find a French Bulldog Rescue in Louisiana you're in the right place.
Before you check the French Bulldog rescue centers below, please make sure you're aware of how big a responsibility is to foster or adopt French Bulldogs.
Frenchies have been increasing in popularity over the past few years and according to the American Kennel Club (AKC) they are ranked as the #2 breed in America (1). For this reason, the umber of abandoned puppies and adult french bulldogs has also increased. Rescues and shelters are always looking for loving families to adopt frenchies.
You need to know they may have pre-existing medical conditions and may need to be followed by a vet periodically.
You should also be aware that animal cruelty is a punishable crime.
The rescue centers below are presented in no particular order.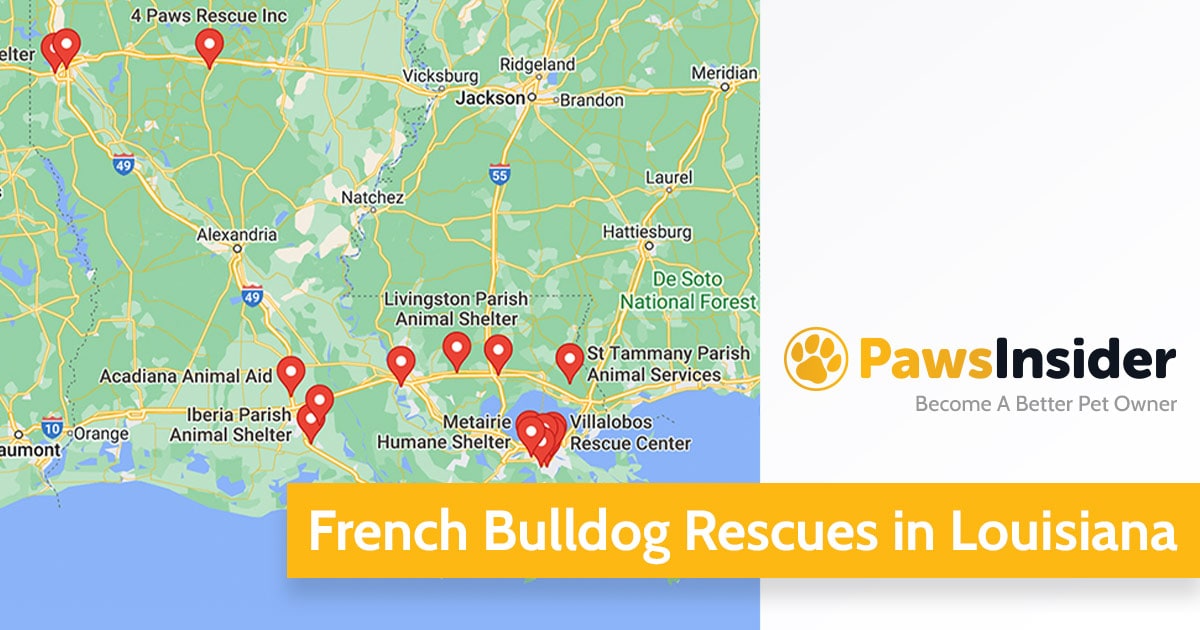 Table of Contents
French Bulldog Rescue Network (Nationwide)
The French Bulldog Rescue Network (FBRN) works to rescue, rehab, and rehome French Bulldogs that are in need from breeding facilities, import brokers, shelters, private rescue organizations, owners, or good samaritans.
FBRN is made up entirely of volunteers who care for and foster these dogs while also imparting knowledge and instruction to foster families or new owners.
Their mission is to find healthy, love-needing French Bulldogs their forever homes.
Rescue and Adoption Details
New Orleans Bulldog Rescue (New Orleans, LA)
New Orleans Bulldog Rescue (NOBR) is a non-profit organization that specializes in bulldogs but welcomes dogs of all breeds.
It offers an array of programming intended to enhance the human-dog bond.
NOBR coordinates a Bully Care Brigade to visit local hospitals and care centers, a Safe Haven program for pets of domestic violence victims in transition, educational programming on ethical pet ownership, and awareness programs for humane sheltering practices, breeding regulations, and other measures to minimize animal suffering.
Rescue and Adoption Details
4 Paws Rescue Inc (Ruston, LA)
4 Paws Rescue Inc (4PRI) is a non-profit devoted to the welfare of stray, abandoned, and mistreated animals in Lincoln Parish.
This organization educates the community on spaying and neutering, heartworm prevention, and proper pet ownership.
4PRI works hard to place their rescued animals in loving and caring homes.
Until then, they commit to providing these priceless creatures with love, shelter, and all other necessary care.
Rescue and Adoption Details
Animal Rescue New Orleans (New Orleans, LA)
Free To Live is the largest no-kill sanctuary in Oklahoma, and a non-profit sanctuary for lost, abandoned, and abused dogs and cats.
Over the last three decades, a small group of pet lovers has carried on the vision of founders Bill and Pat Larson.
FTL consults with each animal to determine which treatment is required.
All animals are spayed or neutered, vaccinated, and undergo basic health exams.
Dogs and cats have their own isolation buildings, each with an enclosed indoor/outdoor run. After dogs are released from the isolation section, they are placed in one of the kennel's indoor/outdoor units based on their size and personality.
Rescue and Adoption Details
Bluetails Pet Rescue (Marrero, LA)
Bluetails Pet Rescue (BPR) works to rescue stray dogs, animals in public shelters facing euthanasia due to pet overpopulation, pets surrendered by their owners because of challenging circumstances, and those in danger of abuse or neglect.
These animals are spayed or neutered, and receive proper veterinarian care and treatment.
BPR places its animals in loving, caring, and responsible permanent homes after a thorough adoption process that involves careful matching and educating potential adopters about the responsibilities and costs of bringing a pet into their homes and lives.
Rescue and Adoption Details
Oklahoma Humane Society (Shreveport, LA)
The Humane Society of Northwest Louisiana (HSNL) is a non-profit animal shelter in Shreveport, Louisiana.
It relies exclusively on contributions and volunteers as a 501-(c)(3) organization.
Its vision is to "transform dogs' lives from hopelessness to happily-ever-after."
Volunteers started HSNL in August 1997 to address the issues and needs of animals in their community.
They strive to assist dogs in need by providing shelter, adoption, spay/neuter, education, and community outreach.
Rescue and Adoption Details
Address: 2544 Linwood Ave, Shreveport, LA 71103, United States
Email:
Website: www.hsnwla.com
Events: See upcoming events here
Forms:
Take Paws Rescue (New Orleans, LA)
Take Paws Rescue (TPR) is a non-profit rescue organization situated in New Orleans, Louisiana.
These rescued animals are cared for in devoted foster homes until they find a forever home.
Their new Stray Café in New Orleans also assists a few dogs at a time in transitioning from homelessness to loving permanent homes.
TPR's goal is to protect and preserve the lives of pets in need of rescue in Louisiana by retrieving pets from shelters and preparing them for transport to fosters, adopters, rescue groups, and other shelters in need of suitable dogs throughout the United States.
Rescue and Adoption Details
Address: 2730 Banks St, New Orleans, LA 70119, United States
Emails:
Website: takepawsrescue.org
Events: See upcoming events here
Forms:
Donate: Donations here