IVDD in French Bulldogs: What It Is, Symptoms + Prevention
Alex Vicente • Updated on August 1, 2023
This review contains affiliate links. Read more here.
Not a substitute for professional veterinary help.
French bulldogs have become quite famous among dog owners and breeders alike throughout the past few years.
After all, who can resist their chubby cheeks and their sweet eyes?
As adorable as Frenchies can be, though, they come with a list of diseases they're susceptible to.
Intervertebral disc disease (IVDD) comes on the top of the list. It's familiar to this breed due to its genetic predisposition.
This begs the question, "What is IVDD in french bulldogs?"
This article helps answer this very question as well as shed light on all you need to know about IVDD in French bulldogs.
Stick around.
Table of Contents
Intervertebral Disc Disease Explained
The neck and back of a dog, like in humans, are made up of multiple bones lined up in a row.
These are known as vertebrae.
The vertebrae surround and protect the spinal cord, which delivers information from the brain to the legs and back again.
An intervertebral disc, shaped like a jelly donut, sits between each pair of vertebrae.
The disc comprises an inside jelly portion and an outside donut portion.
Intervertebral discs are pillow-like cushions that serve as stress absorbers between adjacent vertebrae.
Intervertebral disc disease (IVDD), often known as slipping or herniated disc, is a neurological condition caused by the degeneration of one or more intervertebral discs.
IVDD is a degenerative, age-related disease.
Frenchies are more prone to early degenerative changes, leading to calcification.
IVDD is typically caused by conformational anomalies, obesity, heredity, and recurrent trauma.
Slipping intervertebral discs in Frenchies can eventually lead to disc herniation, spinal cord compression, misplacement, degeneration, collapsing, protruding, and rupturing owing to slow deterioration.
The Different Types of IVDD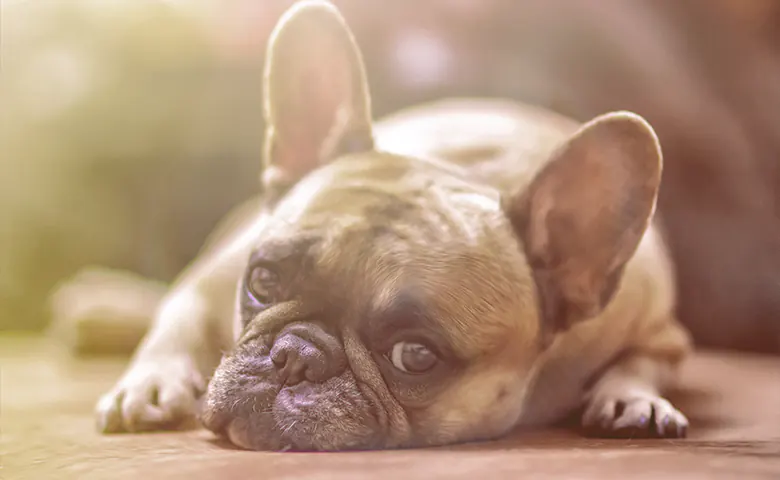 There are three types of intervertebral disc disease you need to be mindful of.
Type I
Type I refers to a "slipped disc" in which the center section of the disc ruptures as a result of rips in the disc's outer layer.
This type of IVDD can affect any part of the spine, which, in turn, affects your Frenchie's ability to walk.
It could also result in the loss of the water content of the nucleus pulposus, leading to calcification.
The symptoms can range from discomfort to paralysis.
That could take place when the disc is put under undue pressure and the spinal cord becomes crushed.
Type II
Type II of IVDD is on the slower side.
It results in the bulging out of the outer part of the disc, which then places pressure on the spinal cord.
This persistent compression can lead to the deterioration of the spinal cord.
It most commonly affects middle-aged to older (5 to 12 years) dogs of medium to large size.
Its symptoms are the same as Type I, ranging from discomfort to paralysis.
A dog with this type may not require surgery; undergoing physiotherapy and rehabilitation might be enough as the spinal cord damage doesn't result in persistent spinal cord compression.
What Are the Symptoms of IVDD in Frenchies?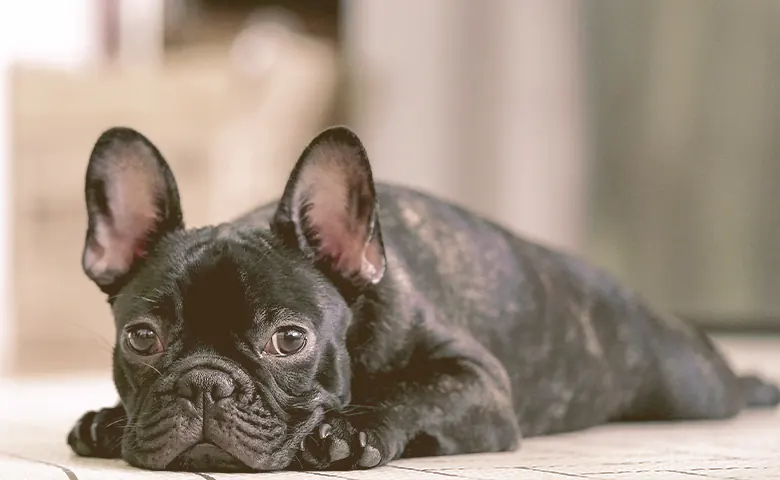 The symptoms of IVDD in dogs vary greatly. It mainly depends on the location of the disc.
The severity of the spinal cord damage also determines the range of symptoms.
The symptoms will differ based on your dog's type of IVDD.
Among the most common warning signs are (in ascending order of severity):
Reluctance to move
Inability to completely elevate the head
Stiffness
Sensitivity to touch
Hunched shoulders/neck
Lameness
Difficulty breathing
Heavy panting/shivering
Impaired bladder function
Partial/total paralysis
Expectations for Vet Visit
Paying a visit to your Frenchie's vet is essential if you suspect IVDD.
The most important thing is providing the vet with your little one's comprehensive medical history.
There are a few types of tests to run depending on your Frenchie's condition.
First, the vet may perform a thorough neurological evaluation, especially if they suspect a spinal injury.
The neurological examination in cases with IVDD will be consistent with a single focal lesion in the spinal cord.
It will assist the veterinarian in localizing the source of injury to a specific spine area.
However, a neurological test won't reveal if intervertebral disc disease is to blame for the dog's injury.
Second, your vet may recommend doing a CSF analysis to rule out diseases other than IVDD.
Bone tumors, infections, and various inflammations may cause the same symptoms.
Third, spine radiographs (X-Rays) are usually suggested and are generally conducted under anesthesia or strong sedation.
Radiographs can reveal anomalies in the vertebrae and the spaces between them, which can help rule out IVDD and other potential causes of spinal cord injury like bone tumors, fractures, discospondylitis, or other possible causes of spinal cord damage.
Fourth, ​​myelography is another diagnostic imaging recommended for most dogs suspected of having spinal cord injury.
CT/CAT and MRI are two more sophisticated imaging technologies that can be very helpful in diagnosing patients with IVDD.
Based on the tests mentioned above, your vet will be able to determine one of two treatment plans: medication and rest or surgery.
The first option goes well with the less severe cases.
The vet will probably recommend crating your Frenchie so they don't move around and hurt themselves.
The second option is crucial to the severe case; ones with severed ability to move.
9 Ways to Help Prevent IVDD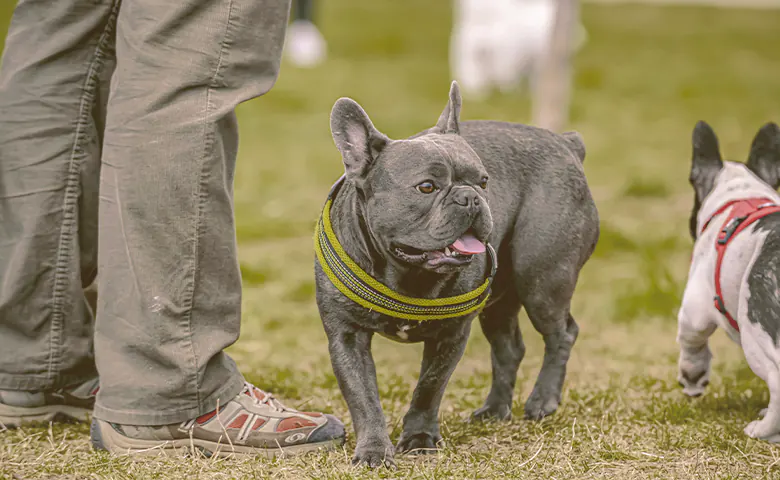 Managing a dog's excitement is vital to preventing severe spinal cord injury.
Regular, moderate exercise is beneficial to healthy dogs.
Leaping and jumping, particularly from high areas, isn't recommended, especially for dogs with degenerative disc disease. So, limit the use of stairs/platforms if possible.
Keep your Frenchie's nails trimmed. It helps maintain a healthy back posture.
Give your little one the necessary supplements and vitamins.
Maintain a healthy weight; obesity in dogs should be avoided at all costs.
Don't over-vaccinate your dog to avoid weakening its immune system.
Use a harness instead of a collar to prevent pulling your dog's head/neck.
Back and neck discomfort should handle neck discomfort exceptionally seriously.
Owners who suspect spinal cord damage should seek the advice of a veterinarian as well as a veterinary neurologist or orthopedic expert.
Summary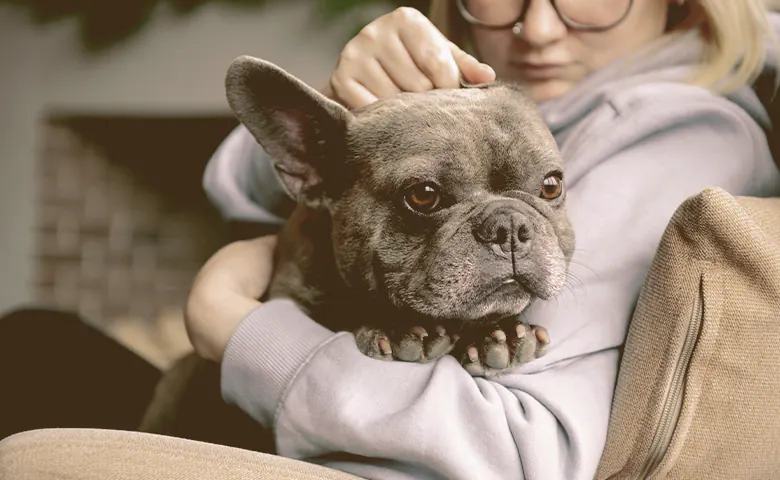 Intervertebral disc disease is a painful and uncomfortable condition.
Dogs that suffer from this condition may experience trouble walking and manipulating their rear limbs.
On a stricter note, your little one could also be completely paralyzed.
Severe instances can be deadly because, in such cases, the spinal cord weakens significantly damaging the nerves that allow your dog to breathe.
The symptoms of IVDD vary according to the type and severity of the case.
Accordingly, the vet will help decide the suitable treatment plan after carrying out the proper diagnostic measures.