What Do French Bulldogs Eat?
Alex Vicente • Updated on August 24, 2023
This review contains affiliate links. Read more here.
Not a substitute for professional veterinary help.
According to the most recent statistics, French bulldogs rank among the most popular dog breeds in the US. More people have come to like these small dogs with their wrinkly faces and bat ears, as they're good companions and adore family life.
Nevertheless, lots of people don't know about the special dietary needs of this breed. So, what do French bulldogs eat? What are the types of human food that you can give to your Frenchie? And which ones should you avoid? Keep on reading to find out.
Table of Contents
What Do French Bulldogs Eat?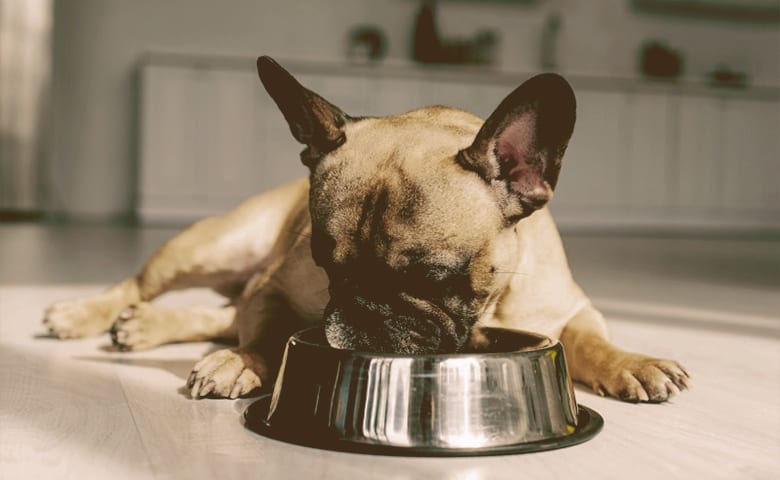 Frenchies are prone to obesity when they're not following a healthy diet. As a matter of fact, what you might adore about your French bulldog sneezing, wheezing, snorting, and coughing can be a sign that your dog isn't eating right.
Following a healthy and balanced diet will protect your French bulldog from the consequences of being overweight and will keep its coat shiny and healthy. This is why you should be careful about what you feed your dog and how you feed it because eating too fast can cause bloating, which can be lethal.
You can either choose safe human food for your Frenchie, or you can pick the right commercial food that contains all the nutrients that your French bulldog needs to grow and stay healthy.
Other resources that you may be interested in:
Human Food that Your French Bulldog Can Safely Eat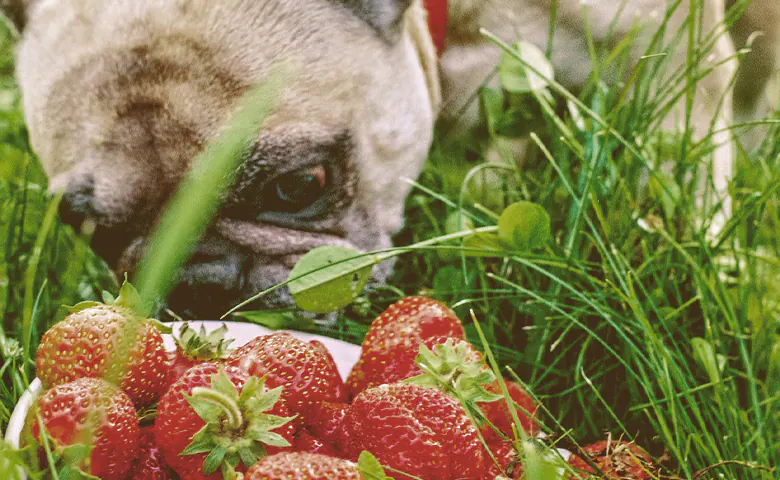 Being part of the family, there are certain types of food that you can safely share with your Frenchie. Despite being safe for your French bulldog, you need to be careful about the amounts consumed so your dog doesn't put on unnecessary weight. Here are some types of food that your French bulldog can eat.
Some Fruits and Vegetables
Not all fruits and veggies are safe for your dog, but the following list is.
Apples
Bananas
blueberries
Cantaloupes
Cranberries
Mango
Oranges
Peaches
Raspberries
Strawberries
Broccoli
Brussel sprouts
Carrots
Celery
Cucumbers
Green beans
Peas
Spinach
Sweet potatoes
Peanut Butter
French bulldogs love to lap on peanut butter because it's tasty and also contains necessary proteins and fats, but you need to be careful about the amount you're giving your dog.
Peanut butter can contain artificial sweeteners or preservatives that can harm your dog. Moreover, feeding your dog too much peanut butter can lead to obesity, especially if your dog doesn't exercise much.
Cheese
Your French bulldog can safely eat cheese, but you need to pick a low fat and sodium type. Avoid hard cheese and opt for cottage cheese which is healthier and easier to digest.
Yogurt
Yogurt is safe and contains healthy bacteria that keep your dog's gut healthy. Nevertheless, you should make sure that it doesn't contain any added sugar or artificial sweeteners before feeding it to your Frenchie.
Raw Meat
Turkey, chicken, and beef are suitable for your dog when they're raw. They're packed with proteins and fats and will help your dog grow healthy muscles and bones. However, you shouldn't cook the meat in oil or fats because this will lead to unnecessary weight gain. You should also avoid overfeeding your French bulldog.
Salmon
Salmon is a healthy source of protein and is also rich in omega 3 fatty acids. It helps your dog grow and stay in great shape because it improves the look of its coat and keeps its skin healthy. Salmon also promotes cognitive functions, keeps the eyes healthy, improves circulatory health, and reduces inflammation.
Rice
Plain-cooked rice is safe for your French bulldog and can also provide stomach relief if your dog is suffering from an upset stomach. Make sure that you don't overfeed your Frenchie so it doesn't gain too much weight.
Human Food that You Shouldn't Feed Your French Bulldog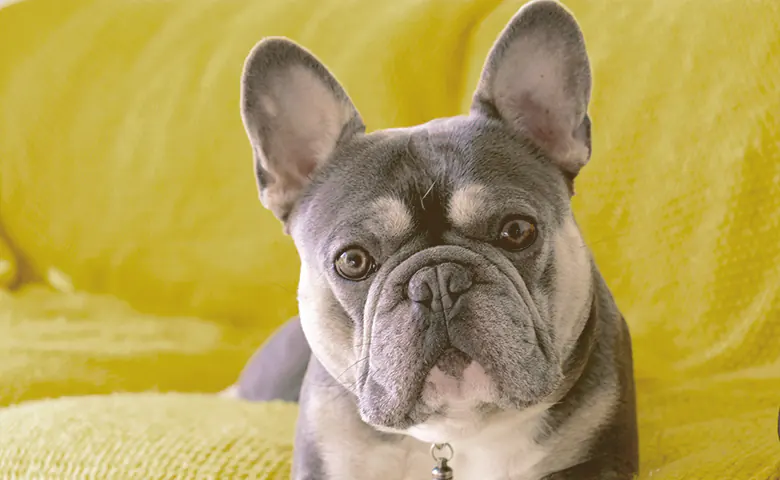 Although your Frenchie would love to share everything with you, some types of food aren't safe for dog consumption. These types of food can either be inappropriate and cause health issues or might cause unnecessary weight gain.
Some Fruits and Vegetables
Although some fruits and vegetables are safe for your Frenchie, others aren't. This is why you should avoid these types, as they can make your dog sick.
Avocado
Asparagus
Cherries
Grapes
Lemons
Lime
Mushrooms
Onions
Garlic
Plums
Tomatoes
Leeks
Chives
Chocolate
Feeding your dog chocolate can make it very sick because it contains theobromine, which leads to abnormal heartbeats and even kills your Frenchie.
Xylitol
This artificial sweetener can be found in sugar-free gum and sweets but shouldn't be given to any French bulldog. It can cause permanent liver damage and even kill a French bulldog puppy if consumed in a small amount.
Cooked Bones
Although you might think that bones are good for your dog, cooked bones aren't. When cooked, the bones become brittle, so they can easily shatter and even puncture your dog's intestines. This is why it's best to avoid them.
Macadamia Nuts and Walnuts
When eaten in large quantities, nuts can make your French bulldog gain weight because they're rich in fats. They also contain some substances that can lead to lethargy, diarrhea, and even canine pancreatitis.
The Best Commercial Food for Your French Bulldog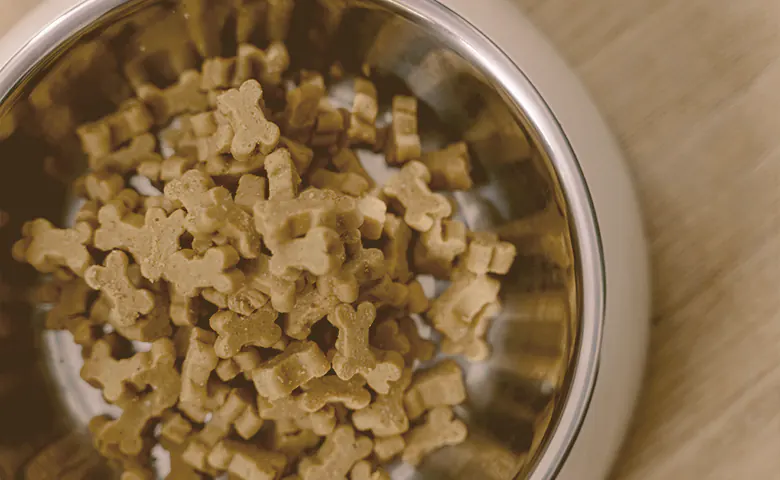 Instead of feeding your Frenchie from the kitchen, you can choose a unique mix that contains all the nutrients needed to keep your dog healthy.
Royal Canin French Bulldog Puppy Dry Dog Food is a special mix that is specifically made for French bulldog puppies from the age of 8 weeks up to the age of 12 months. This dry food mix is designed to promote immunity and boost digestive system health.
The kibbles are the perfect size for a small puppy and contain vitamin E to keep the skin healthy. Eating this dry food mix will reduce gas and stool odor. It contains natural chicken flavors, so your puppy will love it.
Royal Canin French Bulldog Adult Dry Dog Food is tailored to meet the needs of your French bulldog, increasing the muscle mass without adding unnecessary weight. The protein content and L-carnitine provide healthy muscle support, and the mix aids in skincare by promoting healthy skin and coat.
This mix is made of chicken and pork with natural chicken fat and natural preservatives that won't make your dog sick. All the natural ingredients will also help control stool odor.
Wrap Up
Although your Frenchie loves spending time with the family, you should be careful about the food you give to your dog. Some of the food in your kitchen is perfectly healthy and safe, while you should avoid others at all costs.
If you're confused about what your French bulldog should eat, you can pick a special mix that's specifically designed to meet the needs of your Frenchie.