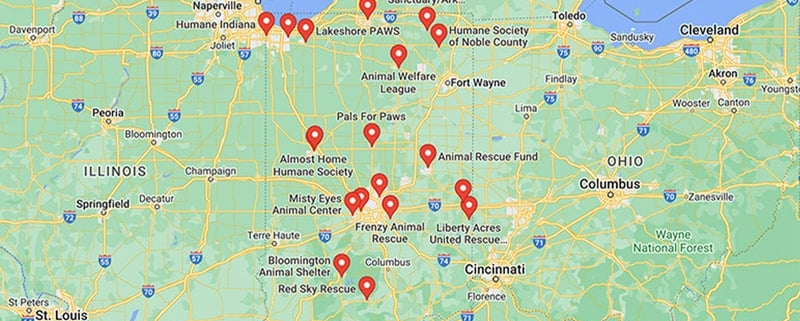 7 French Bulldog Rescues in Indiana: Updated for 2023
Alex Vicente • Updated on August 10, 2023
If you're looking to find a French Bulldog Rescue in Indiana you're in the right place.
Frenchies have been increasing in popularity over the past few years and according to the American Kennel Club (AKC) they are ranked as the #2 breed in America (1). For this reason, the umber of abandoned puppies and adult french bulldogs has also increased. Rescues and shelters are always looking for loving families to adopt frenchies.
Before you check the French Bulldog rescue centers below, please make sure you're aware of how big a responsibility is to foster or adopt French Bulldogs.
You need to know they may have pre-existing medical conditions and may need to be followed by a vet periodically.
You should also be aware that animal cruelty is a punishable crime.
If you plan to rescue a french bulldog, you should also know about the best harnesses for french bulldogs.
The rescue centers below are presented in no particular order.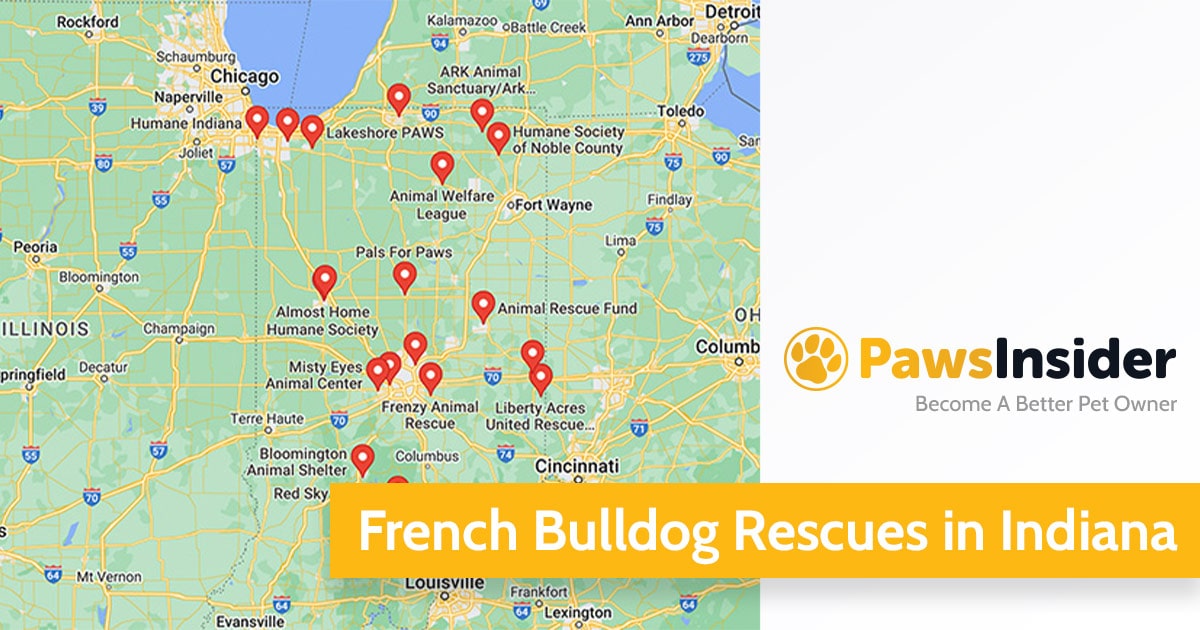 Table of Contents
Indiana Bulldog Rescue (Hillview, KY)
Indiana Bulldog Rescue (IBR) is a 501(c)3 nonprofit organization that was founded in 2007 with the goal of rescuing bulldogs.
This is a small group of volunteers who genuinely care about the well-being of bulldogs.
IBR's mission is to rescue and rehome English, Olde English, and French Bulldogs from animal shelters, families, puppy mills, breeders, and other situations.
Their dogs are placed in foster homes in Indiana, western Ohio, and Kentucky, where they are cared for until they can be located in a permanent home.
Rescue and Adoption Details
Hoosier Bulldog Rescue (Indianapolis, IN)
Hoosier Bulldog Rescue (HBR), founded in 2017, is a small group of volunteers dedicated to assisting English and French Bulldogs in the Indianapolis area.
They accept bulldogs from animal shelters, puppy mills/breeders, as well as directly from families who can no longer care for their bulldog.
HBR is not only about rehoming dogs at any cost, it is also about placing dogs with good, caring families who can provide the best care possible.
Rescue and Adoption Details
Address: 1350-C W. Southport Road Box 190, Indianapolis, IN 46217, United States
Email:
Website: www.hoosierbulldogrescue.com
Events: See upcoming events here
Forms:
Donate : Donations here
Buckeye Bulldog Rescue (Grove City, Ohio)
Buckeye Bulldog Rescue (BBR) is committed to rescuing homeless and abandoned English and French Bulldogs from high-kill shelters and from owners who can no longer keep their dogs.
Working with dedicated volunteers, foster homes, veterinarians, and trainers, this organization is able to rehabilitate and rehome bulldogs in Ohio and adjacent states by finding them well-matched, thoroughly selected homes.
BBR also functions as a community resource by promoting education and information on proper pet ownership and what it takes to keep a bulldog, a very expensive and high-maintenance breed.
Rescue and Adoption Details
Pals For Paws (Kokomo, IN)
Pals For Paws (PFP) is a dog rescue organization run entirely by volunteers who are dedicated to improving the lives of pets in their community.
They rescue animals from high-kill, overcrowded shelters across the United States.
Their foster homes provide homeless, abandoned, or mistreated dogs with the love and training they need to heal their wounds and successfully transition into a new permanent home.
PFP is a 501(c)(3) non-profit rescue that strongly believes in the no-kill and pro-spay/neuter movements.
They vet, transport, and foster pets until you and one of their adoptable pets make a perfect match.
Rescue and Adoption Details
Address: 268 East Alto Road, Kokomo, IN 46902, United States
Email:
Website: palsforpawsinc.com
Forms:
Donate : Donations here
Misty Eyes Animal Center (Avon, IN)
Misty Eyes Animal Center (MEAC) is a nonprofit organization that is entirely operated by volunteers.
Their purpose is to stop unnecessary euthanasia of domesticated pets in Indiana, decrease owner surrenders, and educate proper pet ownership and kindness to all living creatures.
MEAC's long-term objective has always been to build a permanent facility.
They turned away almost 5,400 animals in only two years, primarily due to space restrictions.
Their facility is being built in stages. The next step is to develop a specialized cat building, followed by a dog building.
Finally, there will be an education and training facility, as well as a garden area with walking trails.
Rescue and Adoption Details
Address: 616 S County Rd 800 E, Avon, IN 46123, United States
Mail Address: PO Box 1202, Brownsburg, Indiana 46122, United States
Phone: 317 858 8022
Emails:
Website: www.mistyeyes.org
Events: See upcoming events here
Forms:
Donate : Donations here
Natalie's Second Chance (Lafayette, IN)
Natalie's Second Chance (NSC) is a 501(c)3 non-profit, no-kill dog shelter that was created in 2009 and relies mostly on private individual donations and volunteer services to continue to help homeless canines.
NSC takes in surrendered personal pets, and stray animals, and also collaborates with other rescues or animal shelters to rehome dogs and pups.
They do not discriminate based on a dog's breed, age, or health, and we offer a pleasant, temporary home for all of our pets until a match with the perfect family can be made.
Rescue and Adoption Details
Lakeshore PAWS (Valparaiso, IN)
Lakeshore PAWS (LP) is a mainly volunteer-run, nonprofit 501(c)3 animal rescue organization founded in 2011 in Valparaiso, Indiana.
The initiative was founded by two businesswomen and animal enthusiasts who could no longer ignore the rising number of homeless animals.
LP's goal is to promote a compassionate and collaborative culture in Northwest Indiana that will one day ensure that every pet born has a stable home and care for the duration of its natural life.
Rescue and Adoption Details