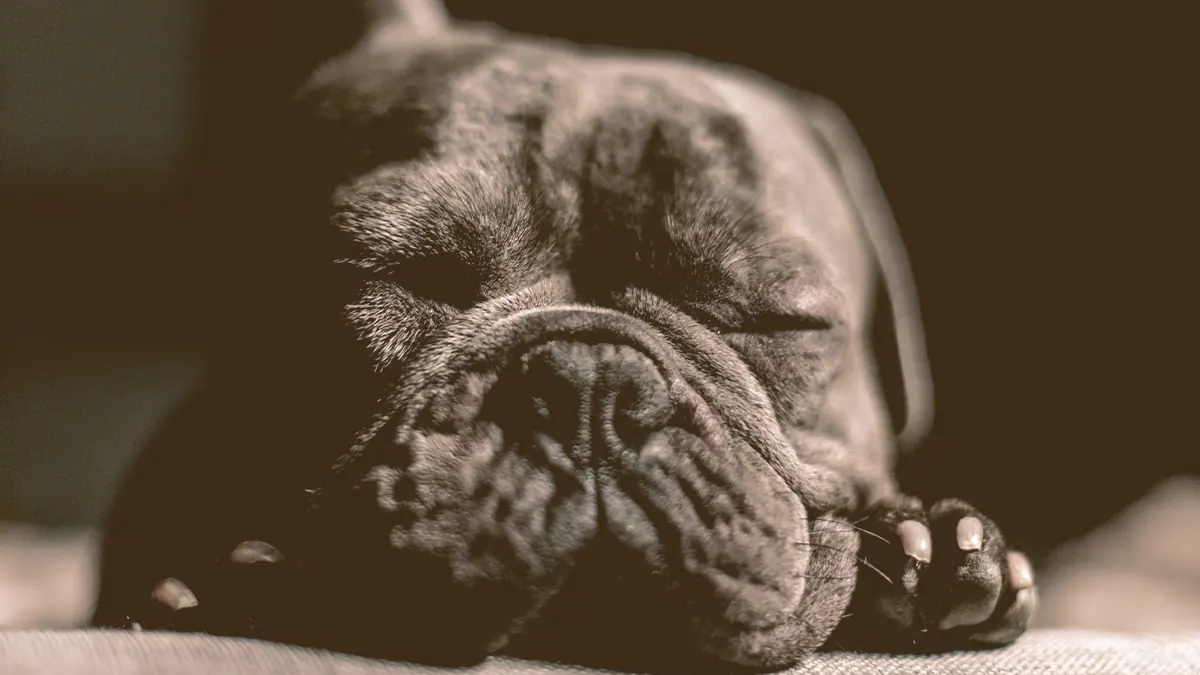 How Much Do French Bulldogs Sleep? Do They Sleep A Lot?
Alex Vicente • Updated on August 28, 2023
This review contains affiliate links. Read more here.
Not a substitute for professional veterinary help.
Sleeping puppies are adorable, especially French bulldogs.
However, it can be a bit annoying to find your dog asleep every time you want to play.
If you find yourself wondering how much do French bulldogs sleep, you'll need to consider a few factors.
Let's take a look at how much your Frenchie should be sleeping and what might be affecting its sleep cycle.
On average, adult French bulldogs need about 12-14 hours of sleep. Puppies, per contra, need up to 18-19 hours.
Usually, the pooch will sleep about 8 hours at night and then will nap throughout the day for an additional 6-7 hours.
Table of Contents
Is Your French Bulldog Sleeping Too Much?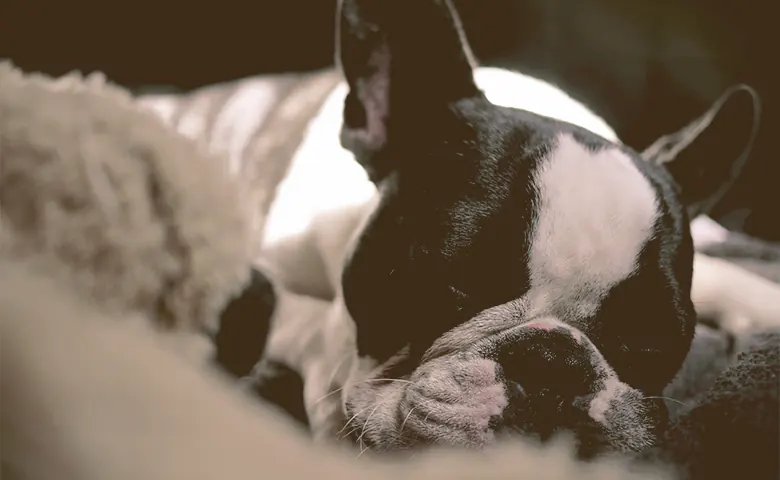 The answer to this question is usually no. How many hours your Frenchie sleeps will depend on many factors.
These factors include:
Age
Just like humans, your puppy's energy levels will change as they grow.
When they're puppies, French bulldogs have a lot of energy and will want to stay active every waking moment.
To make up for that energy, they need to sleep for many hours.
Puppies around three months old will need about 18 hours of sleep daily.
As they get older, they keep their energy level but require less sleep.
They start napping more often and sleeping for fewer hours.
Activity Level
As a breed, French bulldogs aren't the most active. They do like to run around and play, but it's usually for short bursts of time.
They usually prefer to cuddle.
How much sleep your pup gets will depend on how much time they spend being active.
Health
Your puppy's health will play a major role in how many hours it sleeps.
Both mental and physical health is crucial to getting a good night's sleep.
It's healthy for Frenchies to sleep for most of the day as it can help with their development.
Waking up your puppy when they need to sleep can negatively impact their health.
French bulldogs do sleep a lot, but sometimes they can be sleeping too much.
There are medical conditions that can be making your dog extra sleepy, such as:
Anxiety
Canine depression
Cancer
Hormonal imbalances
Sleep apnea due to obesity
Hypothyroidism
It might be difficult to figure out if your dog's sleeping too much since they're supposed to sleep a lot.
So, to make sure, you can look for these signs:
Not keeping a fixed sleep schedule
Missing meals
Waking them up is difficult
If you suspect something might be wrong with your puppy's health, call your vet as soon as possible.
Is Your French Bulldog Not Sleeping Enough?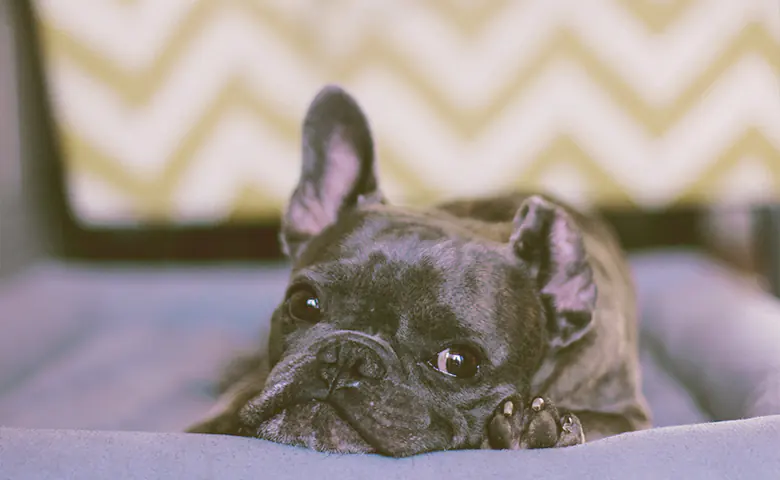 It can be frustrating when you want to play with your puppy when they're always asleep.
When it comes to French bulldogs, this is a good thing. If your dog isn't getting enough sleep, it can lead to many serious health conditions.
There are a few reasons why your French bulldog may not be getting enough sleep:
No fixed meal schedule
Isolation distress
New surroundings can cause over-excitement
Bathroom schedule
If your dog doesn't have a fixed meal schedule, it's likely to not get enough sleep.
The dog will not know when its next meal is coming, so it will stay awake looking for food.
The same goes for the bathroom schedule.
When you bring a new puppy home, it can be very exciting. For you and the puppy.
Sometimes dogs will take days, maybe weeks, to get used to a new environment.
This may lead to a few sleepless nights, which is completely normal.
Another reason your dog may not be getting enough sleep is isolation distress.
After a French bulldog has given birth, it spends 3 to 6 weeks breastfeeding its puppies.
When you take a puppy away from that environment, it can cause a lot of anxiety.
Tips to Help Your French Bulldog Sleep Better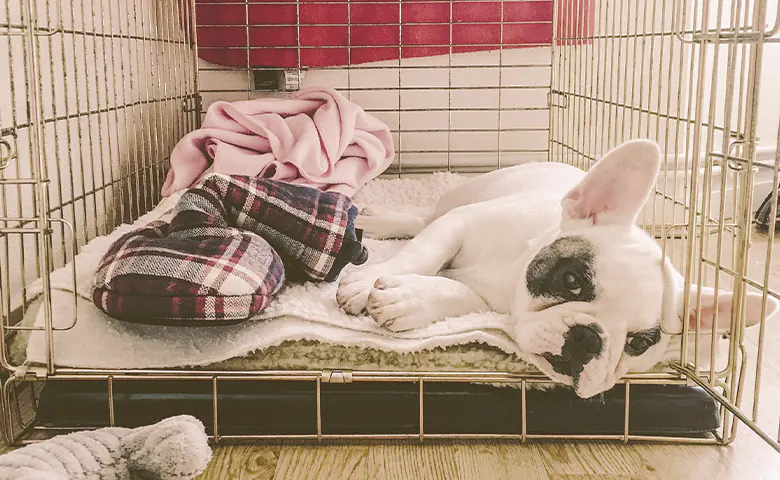 If you've noticed your French bulldog's not getting enough sleep, there are a few things you can try.
Set Up a Sleeping Crate
While it may be adorable to cuddle up with your puppy when you're going to sleep, it's not necessarily the best thing for it.
Human and French bulldog sleeping habits are very different. Syncing your dog's sleep schedule to yours could mean it won't be comfortable sleeping alone.
To avoid this problem, set up a sleeping crate for your puppy. With its own sleeping spot, your puppy will know that if it gets sleepy, it can go and rest there without you.
This doesn't mean you can't sleep next to your dog; that's completely fine. It's just to make sure your dog has a place of its own. If you're having isolation distress, you can always put the crate in your room.
What type of crate you choose is crucial for a good night's sleep. Some puppies prefer crates that have a full view of their house, while others like a bit more privacy.
Fixed Meal Schedule
Nobody likes going to bed on an empty stomach.
Making sure you feed your Frenchie properly will help it sleep at night.
Your dog will adapt to any feeding schedule as long as you follow it, meaning your dog will plan its naps according to snack time.
More Play Time
A reason your dog may not be getting enough sleep is that it has too much energy. Playing with your puppy before bedtime is a great way of using up that extra energy.
Pick up a few toys and see what your puppy wants to do.
Wrapping Up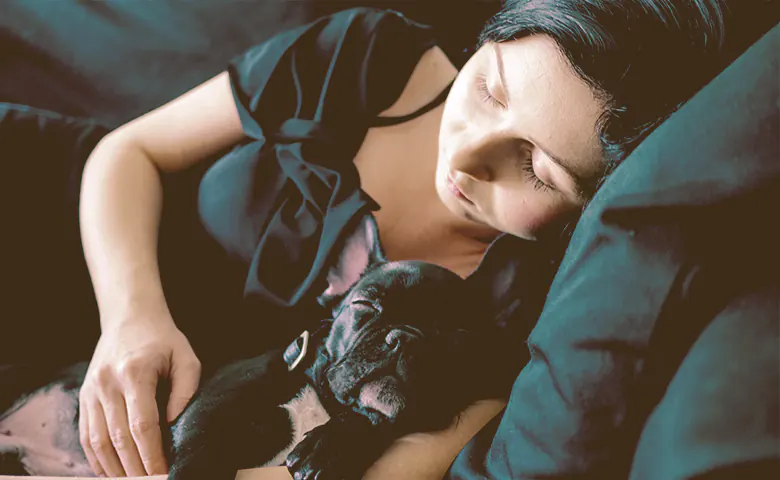 When you ask how much do French bulldogs sleep, the answer will depend on a few things.
Things like age, activity, and health are usually the main factors that affect a dog's sleep cycle.
As your dog gets older, it will need less sleep.
Too little and too much sleep could have a negative impact on your pet's health.
You have to be able to track your Frenchies sleep cycle to make sure they're getting the right amount of sleep.
If you think your dog has a medical condition, contact your vet immediately.