If you have a Bulldog, you may be wondering what kind of toys they like to play with, especially with all the choices on the market today to choose from. There are at least three main types of toys: chew toys, plush toys, and puzzle toys.
Bulldogs are brilliant animals that enjoy playing with their toys. If you would like to know more about what kind of toys they prefer then read the list below.
ALSO READ: Best Harness for English Bulldogs (2023 Edition)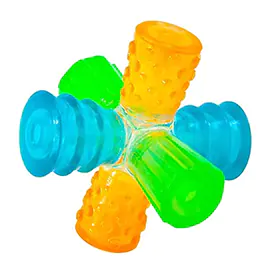 The Outward Hound Triple Jack Chew Dog Toy is a fun and unpredictable bouncing toy that promotes multi-sensory play.
The Triple Jack is designed with three separate squeakers and a variety of textures, providing new entertainment for your fur buddy.
Whatever end your dog chews on, he'll be surprised with an unexpected and funny sound. This great toy groans, squeaks, and squawks, and is sure to keep your dog entertained.
The Fluff and Tuff Beach Ball are 7 inches in diameter. It is made of cotton. The ultra-plush outer fabric makes it soft, but the thick Tuffweb liner makes it durable. The seams are concealed and double stitched to make it harder for your dog to tear it up.
It is filled with a non-toxic polyfill to help it keep its shape and for playability. The eyes have been embroidered to help make it safer.
This cute donut design has two crescent-shaped squeakers. The toy is made especially for small and medium dogs to play with without getting stuffing out of them so they will last longer.
These cute donuts come in three flavors: blueberry, strawberry, and chocolate.
ALSO READ: Why Can't Bulldogs Swim? We Have the Answers
This is a three-pack of super cute woodland animals: a fox, squirrel, and raccoon. There is no stuffing, which means no mess and no choking! However, they are still plenty of fun: each of the little creatures has two squeakers to keep your dog engaged.
These toys are made special for medium-sized dogs who love making toys squeak. You can buy replacement squeakers for them once your dog wears them out.
Tug of war just got a lot more fun and interactive. The ZippyPaws Monkey RopeTugz combines the excitement of a squeaky chew toy with the durability of a tug-of-war rope. This toy is made of the same tough 2/3″ rope used by rock climbers, so you can expect hours of fun with your dog.
The ZippyPaws Monkey RopeTugz comes in four vibrant colours: blue, green, purple, and red. Pick up the best color to suit your fur friend.
Each toy features a high-quality round squeaker that growls when pressed, producing loud sounds that will keep your best companion entertained. From little puppies to large dogs, this toy can survive hours of tug of war.
The Dog Suction Cup toy is made of rubber. It comes in three colors: red, green, and blue. The toy will give your dog hours of exercise and help keep him from getting fat which is sometimes an issue with Bulldogs since they are already short and stocky dogs.
This toy not only fights boredom but also works for teeth cleaning, which is a bonus!
The Size is 34 Inches or 13 CM. The suction toy needs to be pressed to the floor with intense pressure to make it stick. Then your dog can pull on it without it coming loose. Your dog can play with the toy part, and it will be firmly attached to the suction cup allowing him to play tug of war even if you are at work.
The Kong Cozie Plush toy- Baily the Blue Dog, Medium is a cuddly soft plush toy animal. It has an extra layer of material to help make them extra tough. They are great for games of fetch. Some Bulldogs may want them as a comfort toy.
Some benefits are that they have minimal filling for less mess around the house should your dog manage to tear the extra thick material. They come with a squeaker to make them more fun for your dog to play with.
This toy is made for dogs who chew heavily. The rubber dog toy will exercise their teeth and jaws. The toy has little nubbins on the bone to help keep his teeth clean to help prevent plaque and tartar. This process is essential to prevent gingivitis, making your dog's teeth fall out and allowing them to be susceptible to other health issues.
The Benebone Bacon Flavor Wishbone Dog toy is manufactured in the United States from durable nylon and has real USA-sourced bacon throughout the toy to make your dog want to chew on it.
It has an ergonomic design made especially for dogs so they can grip it easily. A portion of all sales from the Benebone Bacon Flavor Wishbone Tough Dog Chew Toy is given to help support animal support organizations nationwide. These are made for medium breeds of dogs.
Other 100% natural flavors available in the Benebone Dental Chew toy line include peanut butter, chicken, and mint.
This toy is more of an advanced-level toy for dogs that have already been playing puzzle games but is a favorite of Bulldogs. The Dog Twister gives your dog a chance to do problem-solving that will challenge him with sequential steps. Puzzles are a great way to redirect dogs that tend to be destructive when left unattended for any length of time to divert their attention and behavior.
Place treats underneath the triangular block compartments and then push in the white tabs to lock the puzzle in place. Your dog will soon learn how to unlock the tabs to the blocks to gain his treat. There are no small parts that he can swallow or get harmed on.
The durable construction will help protect him from being able to harm himself. It is made of completely safe materials and contains no BPA, PVC, or Phthalate.
ALSO READ: Pitbull Bulldog Mix: A Complete Overview
This Nina Ottossom Challenge Slider is another advanced dog puzzle that your dog will love. Dogs who get bored quickly need engaging toys to keep them stimulated and happy. Your Bulldog will have up to 24 compartments to find treats in and can potentially be entertained throughout the day while you are at works; he sniffs, paws, and works out how to open the puzzle to get his treats out.
There are no removable parts to prevent swallowing or choking. The durable construction helps keep the toy intact even after long hours of play and engagement. It is made of materials that are entirely safe for your pet. You can clean it easily with warm water and soap.
This bright yellow toy giraffe measures 12-inches tall. The material is made of soft, durable cotton and is non-toxic to your pet. It will help keep his teeth and gums strong and healthy while cleaning them. He will enjoy hours of interactive play while cleaning his teeth.
The Vanfine Dog squeaky toy is a tough and durable dog chew toy. They are made from all non-toxic materials. They come in either a cube or a cylinder. They are made out of rubber and are almost indestructible. The classic red color makes it easy to see.
These squeaker toys have a built-in squeaker that excites your dog as he chews. The Vanfine is very durable and made to handle even the toughest chewer. It comes in a beef flavor that your Bulldog will love.
Vanfine offers a lifetime replacement guarantee. Just contact them for a complete replacement if it does not stand up against your pets' sharp teeth.
The Outward Hound Hide-a-Squirrel Squeaky Puzzle Plush Dog Toy makes a great hide-and-seek toy for your Bulldog. The color is brown. It is made out of plush material. Dogs find themselves engaged for hours playing hide and seek with this toy.
It comes with a tree trunk and six stuffed squeaky squirrels. You can throw them for your dog, and he can fetch them and bring them back. Or you can hide them and let him hunt them. They are soft and work well for puppies or older dogs.
This adorable wild duck is stuffing-free, so you do not have to worry about your dog tearing a hole in him and making a mess. Your dog will love pulling, tugging, and chewing on this plush toy. There are two squeakers, one in the tail and one in the head.
This particular toy is available in other animals, such as a fox, raccoon, deer, hare, and snow leopard, sheep. Lion, pig, squirrel, wild boar, owl, alligator, zebra, monkey, cow, and even a penguin. These toys are available in three sizes so that any size dog can play with one. They can shake it around or carry it around.
This soft plush dog toy comes in an elephant shape or a mouse. They are squeaky interactive puppy dog toys with crinkle paper inside. They are durable chew toys to help keep your dogs' teeth strong and healthy. They are for small and medium dogs.
They are made from waterproof material. Your dog will enjoy cuddling with them. The material is great for cleaning their teeth to help prevent gum disease and other health issues.
They have both crinkle paper and squeakers inside to attract your dog to chew even more, which helps prevent boredom.
This adorable giraffe dog toy is made by Multipet. The fabric is a fleece. The giraffe squeaks when your dog squeezes it. It comes in three sizes, so you can get one that is exactly right for your Bulldog.
The giraffe will entertain your pet as he slings it around and plays with it.
The Interactive Puzzle Game is for beginners who have not learned how to figure out puzzles yet to get their snacks. This interactive dog puzzle will help your dog with more challenging puzzles later. This beginner puzzle works well with any breed or size dog.
Your pup will find it stimulating and fun to figure out. Simply hide your dog treats inside the nine hidden compartments and close them and elevate the bone a little to make it easier to grab. Your dog will quickly learn to nudge and paw the bones until they open successfully for him.
This toy is great for dogs that have owners who are gone all day to work and who get bored. He can work at it all day if needed until he learns how to open the compartments to get his treats. There is no BPA, PVC, or Phthalate in your pet's toy, making it completely safe. You can easily clean it with soap and water.
The Trixie Dog Activity Flip Board is a level two puzzle for a dog that has mastered one puzzle but isn't ready for a more advanced one yet. This challenge is a hide-and-seek type puzzle. The challenge requires you Bulldog to learn how coordinated actions help him open the way to his tasty treats.
The Trixie is an interactive puzzle that will challenge your dog to figure out how to open his treats. These puzzles reduce his boredom and help him to stay out of trouble while you are at work.
The board has a durable design built to last. All materials used to make it are 100% safe for your pet. It has a flipping arm so that you can make it more of a challenge for him by hiding treats under the doors.
The puzzle was designed to be durable and has a non-slip ring to keep the base in place.
It is easy to clean with soap and water. How to Make Sure a Toy is Safe for Your Bulldog
This Dog Puzzle is eco-friendly, using only the safest materials. It is BPA Free and PVC-free. The durable, non-toxic materials allow your dog to bite the toy without harming it because of its abrasion-resistant surface. It is easy to clean with soap and water.
It is a colorful dog treat dispenser that is good for your dog's vision and helps to quickly get his attention. It has a routable chassis which makes it more fun for your pet. This toy was designed to increase your dog's attention and stimulate his intelligence and help him maintain a fit shape.
100% customer satisfaction is guaranteed. There is a 24-hour support line if you have any questions.
The interactive puzzle helps promote a smart brain for your dog by teaching him to think for himself and learn to solve problems. Your pup will not be bored with this toy. Tavros works to create interactive puzzles to mentally stimulate your dog's brain.
This toy helps promote a healthy diet for your Bulldog. It promotes slower eating, which is much healthier for your dog. Brain exercise also helps slow down their eating. This game is perfect for smaller to medium dogs. It adjusts to accommodate different heights of dogs.
This puzzle is made with the best quality products making this puzzle highly durable. To set up the dispenser, simply place the food in the top round feeder. Your Bulldog will need to turn the feeder to get the food through the leak holes so it will fall out where he can eat it.
The Loobani is an IQ trainer food puzzle that was designed to challenge your pet's thinking. It works for both puppies and older dogs. For puppies, the slots help provide good intellectual development. For senior dogs, it helps to sharpen and keep their minds sharp.
This toy can also help dogs who experience anxiety. Interactive entertainment helps get their mind off what is causing their anxiety. The food dispenser offers hours of play. It comes with a stable base and adjustable height to make it hard to knock over and fit most dogs.
How Can You Know a Toy Is Safe for Your Bulldog?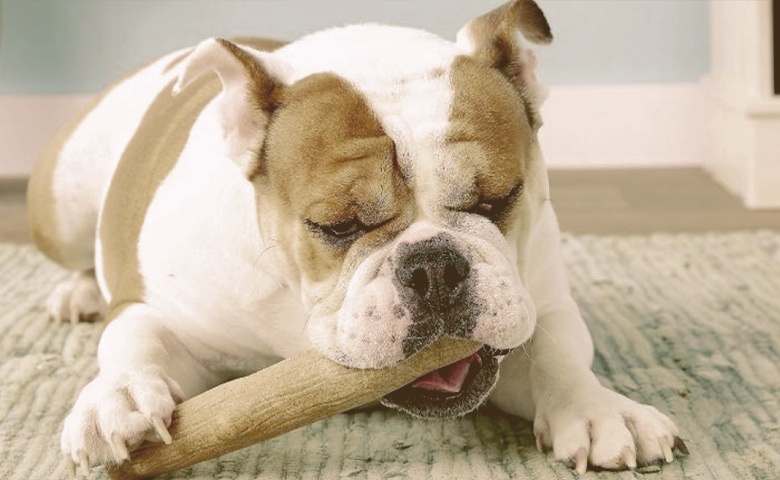 One of the most important factors to consider when purchasing a toy for your Bulldog is whether it is safe. Since your pup will be actively chewing on these toys, you need to double-check a few things for your bulldog's well-being.
To check a bulldog's toy for safety:
Know what your toy is made of. Check the toy's tag or visit the manufacturer online to find out what materials it's made from.
Chemicals in the materials. Stay away from products made with harmful chemicals such as BPA, PVC, or Phthalate.
Choking hazards on the outside. Check for small parts a bulldog could accidentally chew off, swallow and choke on, like buttons or plastic eyes.
Choking hazards on the inside. Pay close attention to what it is stuffed with if it is a plush toy. Check for loose squeakers and other materials inside it that could harm your pet if he chews it up and ingests something.
By doing a quick safety check before purchasing a toy, you not only safeguard your bulldog, but also avoid spending money on toys you'll ultimately have to throw away.
Things to Know Before Buying a Toy for Your Bulldog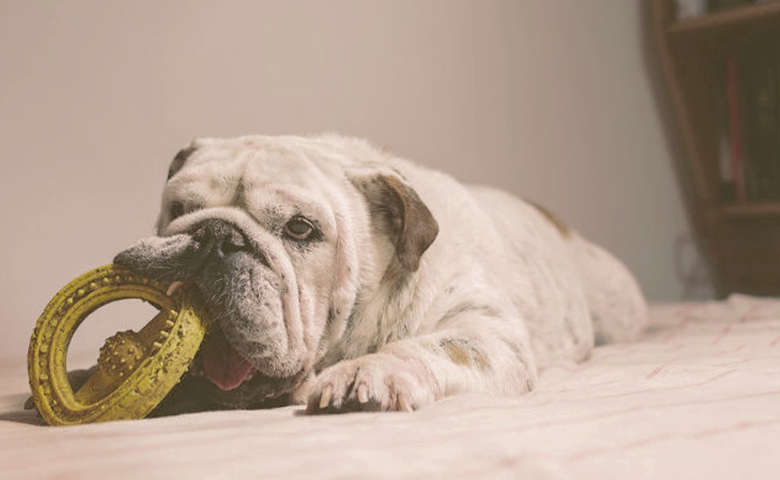 You will need to consider some factors ensuring you get the right toy for your Bulldog.
Age
A puppy has different needs than an older dog. For one thing, a puppy needs a toy that will not hurt its teeth and gums.
Older dogs have stronger teeth and need a rougher toy to help keep their teeth clean. If a puppy tried the same toy, he might make some of his teeth fall out because they are tender.
Puppies need softer toys to chew on.
Just as you would not feed an adult Bulldog puppy food because their nutritional needs are different, so are their developmental needs. Puppies often are teething and need something to chew on. An older dog probably will enjoy a puzzle game where puppies may not understand how it works.
Size
Some toys would not be appropriate for a puppy because it is too big for their mouth. You also would not buy a toy for a large dog necessarily for your Bulldog since they are a much smaller breed.
Choosing the correct size for your dog's needs is important for his development and his safety.
A too big of a toy may not interest or engage your pet. By the same standard, you do not want something he might swallow and choke on either.
Personality
Dogs like people have different characteristics and personalities. Some dogs are very nervous and may not like noisy toys like another dog.
Some dogs are very active, while others you may have to coach to get them up to play. Try to choose something appropriate for their activity level.
A Variety of Toys Keeps Your Bulldog Engaged and Active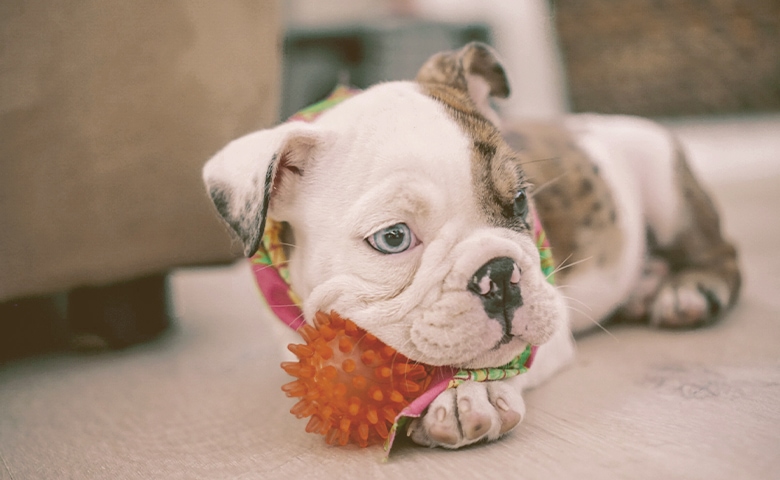 Having a variety of toys will help your dog stay healthier by getting more exercise. Having a variety of toys will help keep your Bulldog entertained and keep their form from becoming so bored. Bulldogs tend to like toys they can sink their teeth into.
Fetch
Make sure your pet has something appropriate to play fetch with. This is an effective way to get your dog to exercise. Dogs usually love to fetch a ball or a toy if they get a little encouragement from their pet parents. Just make sure it is easy to carry in your pet's mouth.
Tug of War
Bulldogs love to play tug of war. Bulldogs have strong jaws, and tug of war helps keep them in good shape by exercising them. A rope-type toy is an idea for this kind of play. This kind of physical exertion also tones his muscles.
Hide and Seek
Bulldog's love to play hide and seek games. Take a toy and hide it and let him find it. Giving him a treat when he locates it will encourage him to keep playing regularly.
Puzzle Toys
Puzzle toys encourage your Bulldog to use his brain to figure things out. When they want the snack inside, they will work hard to figure out how to open the puzzle. This not only stimulates your dog but can keep him occupied for long periods of time. Some puzzles have multiple compartments to hide snacks in, and your pet may come back throughout the day to try for another piece of food.
Plush Toys
Bulldog's love plush toys to shake, carry around, cuddle with, and use as a comfort toy. Make sure they are made of sturdy material with no loose buttons or eyes.
Chew Toys
Be sure to have some chew toys on hand to help keep their teeth strong and healthy. Chew toys are crucial to help prevent your personal things from being chewed up by your pet.
Tips for Your Bulldog's Toys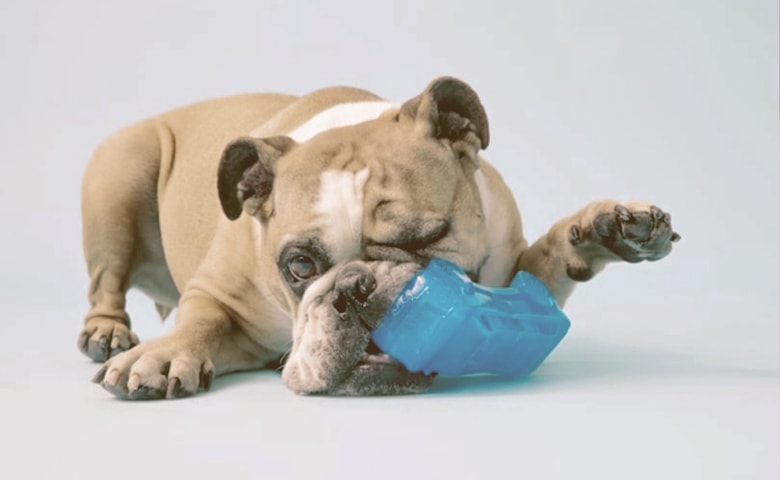 Your bulldog is going to love his new toys! Make sure to keep them where he can get to them even if you are at work. This will help encourage him to be more active when he is home alone. It will also help some dogs not destroy furniture and other things out of boredom.
Keep a watch on toys that are getting tore up and replace them, so he does not get something harmful from them. Keep his toys clean. Some can be washed in the dishwasher. Others can be washed in the washing machine. The rest you may have to wipe down with a damp clean rag.
To Conclude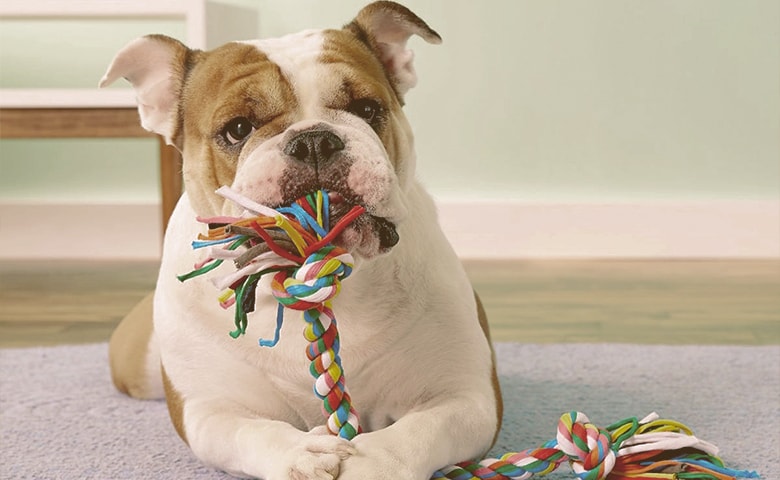 Having a pet is a huge responsibility. As pet owners, we are responsible for their health and nutrition, but we need to make sure they get adequate exercise and mental stimulation to stay happy and content. Toys are a great option for making sure they are challenged and not getting hurt chewing on things that are not safe.
Providing a variety of toys will help your pet Bulldog have solid teeth and bones by exercising and building up their muscles and helping to develop his mind by challenging him to learn new things with interactive puzzles and other stimulating dog toys. He is sure to be healthy but happy when he has a variety of activities to do.