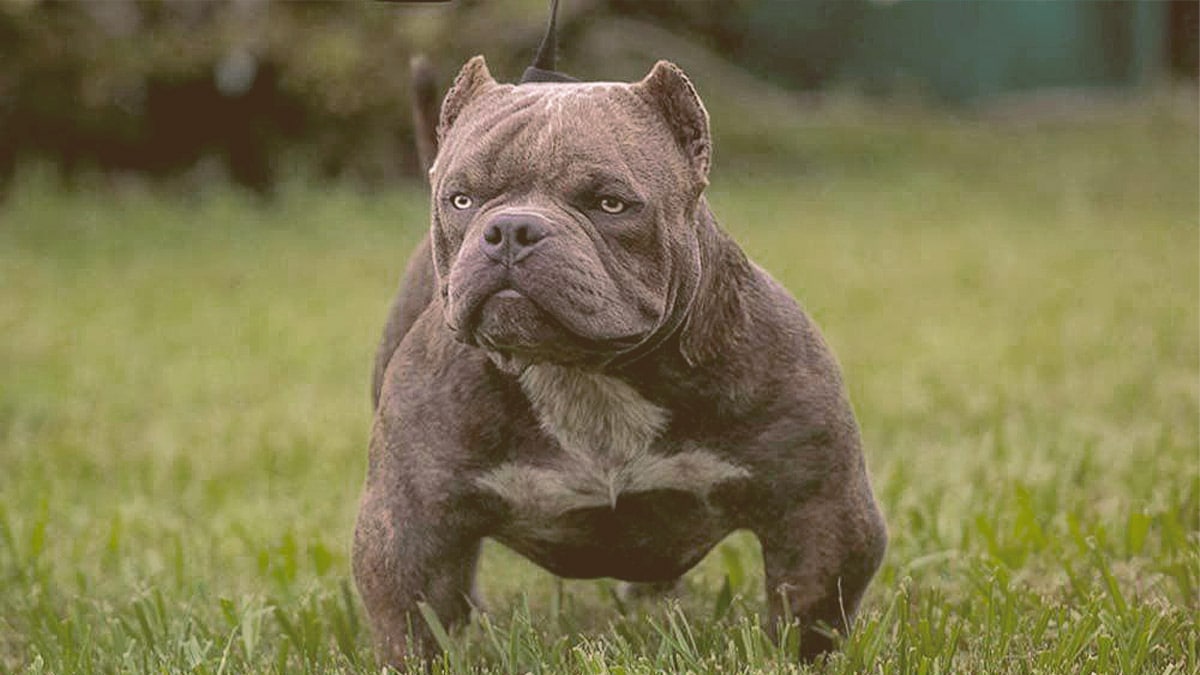 Exotic Bully Dog Breed Information: The FULL Guide
Alex Vicente • Updated on August 1, 2023
Many people are still unaware of what an Exoctic Bully is. It wasn't until 2008 that this breed of dog appeared.
Because they resemble their near relative, the American Bully, they have gained a lot of notoriety.
Due to their similarities, many people are confused about them. Being a relatively new breed, there are many contrasting views on them.
While some have come to admire and adore the Exotic Bully, some people loathe them and claim they are nothing special.
One may appreciate the unique elegance of any number of dog breeds.
You should keep reading if you're curious and want to learn more about Exotic Bully.
Table of Contents
Exotic Bullies: What Are They?
The Exotic Bully is a dog with some traits of a Bulldog but is a little bit distinct from the traditional American Bullies. People say their smaller Bulldog cousins, like the French Bulldog, Shorty Bull, and English Bulldog, have bigger and more exaggerated traits. Breeders have always mixed other types of animals into the Bull type.
This led to a completely different, over-the-top look, which is how the Exotic Bully we know today came to be. Exotic Bulls have far more prominent features than other types of Bulls. For example, their heads are much bigger than their chests but wider, and their muzzles are just a lot shorter. Even if they are small, they look like they have more muscle.
Since Exotics were first recognized as a distinct breed, they have been the source of much debate among dog experts. Standards for this unusual breed are still a point of contention. Since the species is still relatively new, we should have all the information we need from the documentation and monitoring of the breed's evolution. Since the Exotic Bully breed is still in its early stages of development, this is not the case.
But we know that today's Exotics are a result of breeding American Bullies with other breeds, including the Olde English Bulldog, the French Bulldog, the English Bulldog, and the Shorty Bull. Although compared to the first American Bullies, these canines are generally agreed to exhibit more classic bulldog traits. It would appear that they achieved overnight success in the breeders' community. As a result, they earned the endearing moniker Exotics.
They quickly gained a worldwide following of one million people. Because of how quickly they were well-liked, dog lovers began actively advocating for and breeding the breed. A well-bred dog ensures that interested parties can access reliable pedigree records and detailed background information. These are not to be devalued in any way.
What are the Types of Exotic Bullies?
It's worth noting that the American Bulldog and this breed are distinct; the American Bully is typically larger. The standard American Bully is 65-85 pounds and 16-20 inches at the shoulder. This American Bully development chart provides additional information. The American Bully was refined during the '80s and '90s, but it wasn't until 2004 that now the American Bully Kennel Club recognized it as a distinct breed.
The United Kennel Club followed suit in 2013, although the American Kennel Club hasn't acknowledged this breed yet. Breeders started with the American Pitbull Terrier and crossed it with other breeds to improve the dog's temperament, personality, and physical appearance. It's unclear whether or not scientists set out to produce an entirely new species, but that's precisely what happened.
Micro Exotic Bully
These canines go by various names, like the Mini Exotic American Bully and the Micro Mini Exotic Bully. It all boils down to the same thing, though. The Micro Exotic Bully is a miniature version of the standard breed, with a maximum height of 13.5 inches only at the shoulder. The Micro Exotic will save you more money than regular pets because little dogs are in style now.
Pocket Exotic Bully
The lack of a universally accepted breed standard leads to the problem of dog breeders creating animals of varying sizes and then labeling them as purebred. The Pocket Exotic Bully is essential, identical to the Micro version. This breed's resemblance to the American Bully may be confusing because it comes in various sizes, from XL to Standard to Classic to the diminutive Pocket Bully.
Some Exotic Bully breeders and fans apply these terms to their dogs, which is confusing and not helpful. Many people who care about the Exotic Bully breed think it's time for tight regulations to ensure that people utilize consistent terminology and adhere to the breed's requirements. Some breeders may try to pass American Bully mixtures as a smaller, pocket-sized version of the real thing, so be wary.
What is the Lifespan of an Exotic Bully?
The unexpectedly low lifetime of the Exotic Bully breed has been a significant source of debate. Although it has been stated that the typical Exotic Bully lives about ten years, this may be an exaggeration. The average lifespan of one of these canines is estimated to be between five and seven years. This is a shockingly brief lifespan for such a tiny canine.
On the other hand, the American Bully lives about as long as the typical dog, perhaps between ten and thirteen years. Giant dog breeds like the Great Dane and the French Mastiff tend to have short life spans. Why, therefore, does this dog have such a short life expectancy? Reasons for this are varied, but unethical breeding practices significantly contribute. Since the breed is not recognized by either the American Kennel Club or the United Kennel Club, there are no universally accepted breed standards.
The American Bully Registry and the International Bully Coalition have published their guidelines for the breed. However, the UKC and AKC still enjoy more widespread recognition and esteem among the general public. Health issues are another major contributor to these canines' short lifespan.
What is the Price of an Exotic Bully?
Prices start at roughly $5,000 and go up because this breed is so young and popular. Some breeders ask $35,000 to $40,000. Extreme caution is warranted because Exotic Bullies priced around $500 and $1,000 likely aren't from reputable lines of dogs.
When looking to buy a dog, it is always vital to do your research, but when considering an Exotic Bully, it is crucial to find a reliable breeder. Since unethical breeders are simply interested in making a profit, it's only right to consider the dogs' well-being. Remember what we've learned so far: how much would you spend on a puppy whose lifespan is estimated at just five years?
The internet has dramatically boosted the popularity of such a breed. Dog owners may find them on social media sites like YouTube, Pinterest, Instagram, etc. In other words, those who would like one for themselves. When anything becomes more well-known, the price tends to increase as well. However, it does have the unfortunate side effect of making con artists more noticeable.
Do your research and only deal with trustworthy breeders. Visit breeders in person if at all possible. Reputable breeders often insist on meeting the entire family before selling a puppy. In addition, dependable breeders won't resort to dubious selling points like unusual coloring to attract customers.
How Do You Breed an Exotic Bully?
A new sort of dog breed, the Exotic Bully, has been created by exaggerating the characteristics of previous Bully dog breeds. Breeders have been able to produce a dog that is short in size, highly bulky, has a large head, and a flat face by crossing American Bulldogs, French Bulldogs, Shorty Bulldogs, and English Bulldogs.
What is an Exotic Bully's Temperament?
As we've established, the American Bully and its near relative, the Exotic Bully, share a similar disposition. It's even more endearing than it already was! Excellent addition to any household, the Exotic Bully is a rare and exotic breed. It's great with kids and gets along with other pets. Supervising action between a child and a dog is essential, no matter how well-suited the canine is to working with youngsters.
Having additional pets in the house shouldn't be an issue. Your Exotic Bully would likely adore them as much as it does you. This dog is a rock-solid slab of muscle whose sole purpose in life is to adore you. It's a great pet, a cute lapdog that loves to snuggle all day.
Do you need a trustworthy watchdog? If so, you should pass on the Exotic Bully, even if they occasionally bark. These dogs like their human companions and will not discourage any would-be burglars.
What Health Problems Does an Exotic Bully Have?
Estimating the breed's lifetime has been challenging because of the present lack of information. According to specific sources, they have a supposed maximum lifespan of five years. There's a chance that the lifespan of exotics is greater than that of common ones. Just not yet, unfortunately. Although these dogs often make lovely companions, they do e a few health issues.
Hip dysplasia is by far the most frequent problem. Also, the exotics have plenty of joint issues, which their size can worsen. Further, canine bully breeds are prone to a wide range of ocular and dermatological issues. Because of their disproportionate appearance, exotics are often plagued by various illnesses.
For instance, they may be at risk of gaining weight. And their heft could make them more prone to orthopedic issues like arthritis. Luxating patellas, a condition that can cause lameness in the front legs, are also common in dogs of the bully breed. Unfortunately, they often display undesirable behaviors like excessive barking and hostility toward other dogs and even humans.
Also, several bully breeds have been linked to hearing and other neurological disorders. While some individuals may find immense joy in having one of these dogs as a companion, others should be aware of their potential risks. More examples of their health problems would be:
They have back problems
Strong backs are essential for dogs to be mobile and, thus, to survive. Even though the front and back halves of a four-legged animal are both important, the back is where all the loose ends are gathered together. An injured dog's back can limit its mobility in many ways, including its ability to move around, rest, and enjoy life.
Bracychepalic
This is a prevalent problem in dogs with flat faces, such as Bulldogs, Boxers, and Boston Terriers. Caused of their short noses, they have severe respiratory issues. As a result, caring for an Exotic Bully can be just as difficult as caring for any other dog. The partial obstruction of a short-nosed dog's airway can worsen with time.
Overheating
Again, short-nosed faces are to blame for the tendency of exotics to overheat for seemingly endless amounts of time. They perform poorly in hot environments, such as those that are too hot inside the house.
Common joint problems
Unfortunately, many dogs experience discomfort in their joints for various causes. Perhaps your dog is getting on in years, or maybe they are too heavy. The likelihood of your dog developing arthritis in his joints increases in proportion to size. As such, this is a common issue that veterinarians must deal with.
Short life span
It is a common misconception that this breed only lives for a brief period because they are a newly conceived breed that must be adapted to and treated appropriately before they can reproduce.
What are the Common Traits and Features of an Exotic Bully?
The formal recognition of Exotic bullies has not yet been established because of the breed's novelty. Let's compare the Exotic Bully against the Pitbull, American Bully, and Bulldog to see how they stack up physically:
Physical Build
In popular culture, Exotic Bullies, are represented by a short, sleek coat and a general appearance of dwarfism. Their heads are enormous and bulldog-like in shape. Additionally, they are large and stocky all over. There should be immense strength and absolute assurance about the whole thing. They look frightening, which may make them appear intimidating. Whenever you look at them, you can't help but feel compelled to pursue them. Its shoulders are very large, and its neck has always been broad and short. Because of their short forelegs, Exotics appear much smaller than they are.
The muscular, slightly-turned-out hindquarters show off the animal's might. A huge, hefty, and massive chest is a distinguishing physical feature of this group. The body is always of limited height and weight. A large gap between the eyes and their head seems slightly larger than the remainder of their body. Most people have a flat or somewhat retracted nose. Big, strong canines complement a wide, square jaw. Typically, the size of one's ear will fall somewhere around the middle. And that tail of theirs is sturdy, not wispy or weak in any way. The short, silky coat of an exotic bully. Typically, their skin is tender and slightly loose. The creases on their face and head are mildly noticeable.
A more detailed look at its physical traits would be:
Head
The Exotic Bully's distinctive head shape sets the breed apart. Head size is disproportionate to the rest of the body. The skull is narrow but deep all the way around and wide between the ears for its size. You can see the cheek muscles projecting from the side of your face past your ears and how the forehead is slightly rounded or domed. There should be a precise 90-degree angle from the muzzle to the stop. The furrow or indentation should reach up to the center of the forehead and run vertically from there to the crown of the head.
Eyes
Any eye color is acceptable except for albinism. Oval in shape, positioned far apart on the skull and located at the base of the orbits. Disfavorable forms are those that deviate significantly from an oval profile. Lack of melanin and blue eyes are undesirable traits. The eyelid must not droop.
Muzzle
The muzzle should be sharply tapered below the eyes, and the relatively short average muzzle length should be about a quarter of the total skull size. The top of the muzzle should be flat, with the nose turned up ever-so-slightly but not pointed. To breathe easily, the nostrils should be slightly large with a clear separation between them. The variety of nose colors is welcome.
Body
It's ideal for a lot of space between each rib and the back of the body to be somewhat deep. There is a lot of space between the shoulders and the forelegs, so the torso and the legs look short and broad. To facilitate chest growth, the forelegs are spaced somewhat far apart. A wide, deep, and full chest are ideal.
Back
Short to medium in length, with a gently sloping or level topline, the back is typical. There is a shallow decline from either the rump towards the tip of the tail. The ideal Exotic bully has a body tan approximately square body lengths from either the withers towards the ground and the shoulder to the buttocks being around the same.
Front legs and Feet
The forelegs should be strong and straight, with broad, rounded bones. The legs shouldn't be bent or bandy, and the feet should not be pulled too close together, but the legs must be set wide apart, with well-developed calves providing a bowed contour.
Strong, short, and virtually erect. The ideal foot size is medium and it has a healthy arch, is compact, and is firmly in a forward and tight position. High knuckles and short, stumpy nails on neatly separated toes.
Rear and Tail
Strongly built, slack at the hocks, and unable to turn either in or out. Every part of the body, including the back and the front, needs to be developed and wide to the same extent. There is considerable stifle angulation. The profile from behind must be perfectly straight and parallel. The tail is quite short in relation to the rest of the body, and it tapers to a fine edge as it gets shorter toward the base.
When the animal stands, the tail will normally reach the hock when gently tugged downward. It's fine if there's a hair's breadth of difference in length above the hock, but it's not preferred. A sleek and straight tail is ideal. The tail should hang low when at ease.
An exotic bully has a great personality
Large, powerful canines often give people the creeps just by looking at them. Assuming you know nothing about the breed, yes. The same is true of Exotic Bullys, who are not hostile toward people or other dogs. Understanding your dog's unique character is the first step toward successful training and a closer bond between you and your pet. Exotic Bully includes traits from all types of bullies, giving it an intimidating appearance. However, your exotic friend is entirely kind and harmless.
Moreover, the Exotic bully is a dog that gets along well with other pets and people. Despite looking like a bulldog, this breed is not known to be very hostile to other canines. If properly socialized at a young age, exotics get along nicely with other canine companions.
Conversely, they might be possessively possessive of their food, toys, and favorite spot. To be fair, though, that's just a dog being a dog. When it comes to their owners' attention, exotic pets are just as aggressive and dominant as any other breed. Cuddle time is essential if you're the proud owner of a four-legged canine. Even while exotics get along wonderfully with people, it's important to remember that they shouldn't be left alone with young children. This is especially true of younger children. Dogs have no concept of human limits, so children often test them without realizing the danger. You can count on high levels of intelligence and affection from a dog of this breed.
Conclusion
The Exotic Bully requires little attention and is a friendly, low-stress pet. But that doesn't mean it's perfect for everyone. It's always good to be knowledgeable about the dog breed you want to have, especially those you are unfamiliar with.