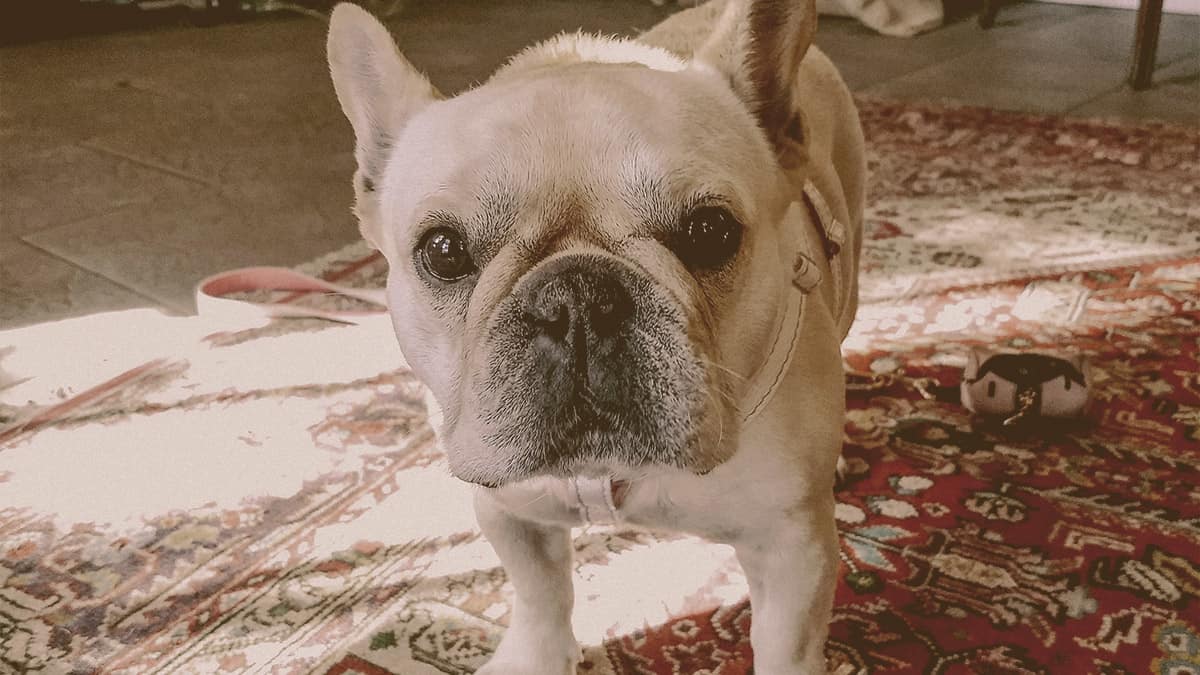 French Bulldogs Screaming: Reasons Why And How To Comfort Them
Alex Vicente • Updated on August 1, 2023
This review contains affiliate links. Read more here.
Not a substitute for professional veterinary help.
French Bulldogs are one of the most cuddly, lovable dog species you'll come across.
They're goofy, intelligent in their own wacky way, and, of course, cute as a button!
Yet, once they start screaming, it can catch you off-guard.
This post is dedicated to a common Frenchie question: why do French Bulldogs scream?
There are three main reasons behind their weird screams.
Below, we'll talk about each one in detail.
We'll also let you know what you should do when your Frenchie starts screaming their head off.
Let's get started.
Table of Contents
3 Reasons Why French Bulldogs Scream
Several reasons could be behind your Frenchie's screams.
Yet, we've narrowed them down to the top three.
Take a look.
1. Seeking Attention
Many French Bulldog owners will happily tell tales of how affectionate and loving their four-legged friends are.
Yet, that high amount of affection comes with a price: your undivided attention.
They want you to do nothing but play with them and keep them entertained.
Although, sometimes, that's easier said than done.
So, how do they get your attention? By screaming, of course!
They probably tried it once, and your initial reaction was concern and love.
You probably even swept them up in your arms, smoothing them in a gentle voice.
Remember, Frenchies are good at reading human emotions, which means they pretty much have us figured out.
Now they know that to get your attention, all they have to do is scream!
2. Feeling Over-Excited
If you have kids or other pets at home, chances are your Frenchie sees them as playmates.
So, to show their excitement, Frenchies will usually howl and scream.
It's also their way of inviting the other party to interact and play.
The opposite is also true.
If a Frenchie is bored, their screams will let everyone know how much they need to be entertained.
On a side note, their screams could also be that they need to go to the bathroom.
So, try to learn your Frenchie's screams and when they happen to best cater to their needs.
3. Breathing Problems
French Bulldogs belong to the brachycephalic breeds that have small skulls and flat muzzles.
Still, they have the same amount of tissue in their oral cavities as other dog breeds with regular-size heads.
Add to that their narrow nostrils and elongated soft palates, and you get a concoction of snorts, wheezes, and screams.
While these sounds are normal for Frenchies, you'll need to watch out for respiratory problems.
If your pooch is showing signs of labored breathing or excessive panting, talk with your vet right away.
They may set your Frenchie up with supplemental oxygen.
They may also prescribe anti-inflammatory and bronchodilators to help regulate your dog's breathing.
How You Can Comfort Your French Bulldog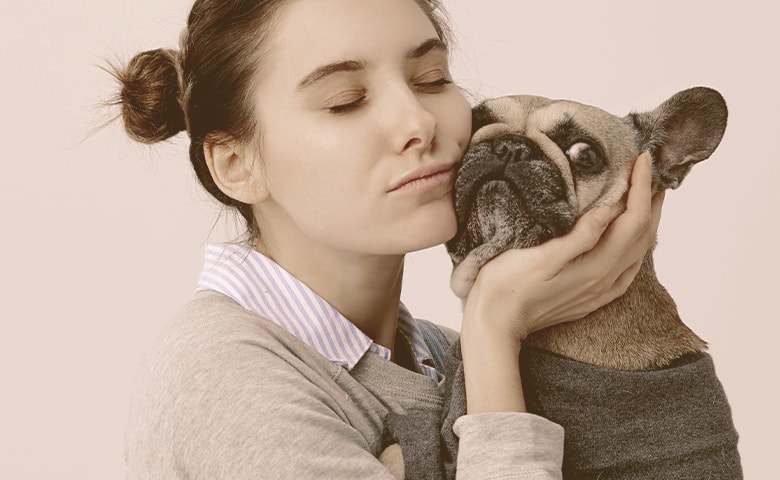 French Bulldogs are actually one of the calmest and least noisy of the canine breeds. They rarely bark.
Yet, when they do make noises, it's usually a physical response to something, like farting, wheezing, or gasping.
However, Frenchies never scream or cry without good reason.
So, here's what you can do to make them feel better.
Show Your Love
Have you noticed your otherwise quiet Frenchie suddenly start to scream and whimper?
Then, set some time aside just for them.
Make a point of paying a bit of extra attention to them for the next couple of days.
Frenchies are known to show exuberant amounts of love and affection toward their owners, and they expect the same in return.
So, when they shower you with wet, sloppy kisses, go ahead and kiss back.
You can also set aside some playtime for just the two of you.
It's a great way to bond with your pooch and ease away any anxiety they may be feeling.
Even better, studies show that playing with your dog boosts their sense of obedience and hard work.
So, your Frenchie gets to be the center of attention, which they absolutely love!
Plus, you get to train them to listen better and obey more secretly.
Introduce Interactive Toys
Frenchies are an energetic, intelligent, little breed.
They need constant mental stimulation.
Thus, if you can't be with them, you have to find a way to keep them busy and entertained.
Interactive toys are a great way to do that.
These playthings provide them with the mental stimulation they need.
Plus, it'll get them to stop screaming bloody murder every time they get even slightly bored!
Use Positive Reinforcement
Another thing to keep in mind is that Frenchies tend to whine or scream if you're scolding them during training or for doing something bad.
If this has been happening lately, try to cut back on the yelling.
They may be feeling guilty over upsetting you, which comes out sounding like a scream.
Rather than shouting whenever they do something wrong, try some positive reinforcement.
Do you know the saying: 'you catch more flies with honey than with vinegar?'
That definitely applies to Frenchies.
French Bulldogs do much better when they're motivated by your approving looks and tone of voice.
It's more effective and gets quicker results.
Plus, it doesn't hurt to have snacks along as a nice incentive.
Provide a Safety Zone
French Bulldogs can be a bit clingy to their owners.
Leaving them alone for long periods can cause them to feel emotionally detached, especially if there are no kids or other pets in the house.
To avoid all that, teach your Frenchie early on that it's okay to spend time alone in their crate.
Furnish their crate in the best possible way to make them feel comfortable.
Fill it with toys, cushions, and other fun additions.
Then, step by step, train them to seek their crate whenever they feel scared, bored, or lonely.
Recognizing their crates as a place of shelter and safety can help ease their anxiety.
Conclusion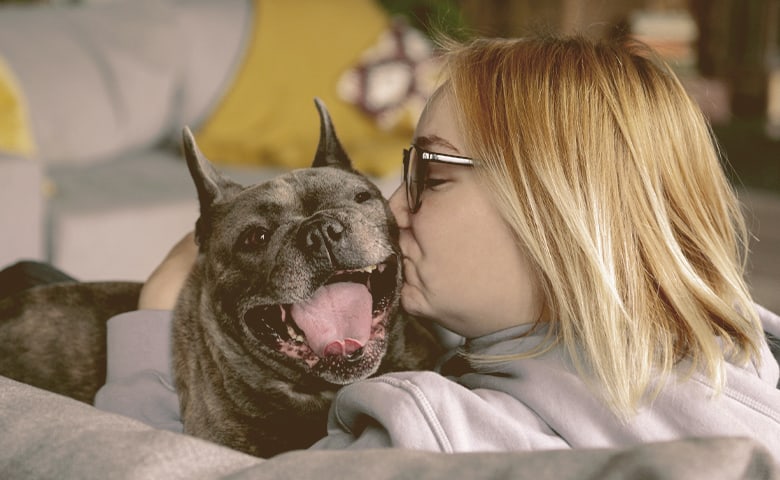 By knowing your pup's mannerisms, you'll know exactly how to answer the question on everyone's minds: why do French Bulldogs scream?
There are several reasons, which we listed above.
Go through them one by one to eliminate any issues concerning the dog's health.
The important thing is to keep track of when and why they scream.
Whether it's their way of letting you know they're lonely or they need to go to the bathroom, understanding what makes your Frenchie tick will help you create a special bond built on good communication and trust.